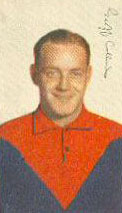 Pilot Officer Geoff Collins.
Jenny Rawlings, who before she was married was Jenny Collins, saw the story on her father, Geoffrey Anthony Collins, (right) that we had in Vol 24, Page 8.
Jenny had some additional material that she would like us to publish and we're only too happy to oblige.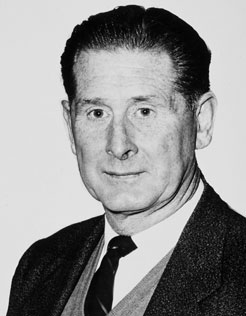 Geoff was born on the 10 August 1926 in Kew, a suburb of Melbourne and played football with the Melbourne football club (The Demons). In 1948, he was promoted to the "firsts" and that year the Demons took the flag. He had 'enlisted' into the RAAF and in December 1952, at the ripe old age of 26, he was posted to Korea and went on to fly the Gloster Meteor with 77 Squadron and eventually caught the freedom-bird home in August 1953.
On his return to Oz in 1954, he was made captain of the Demons and played under the legendary coach, Norm Smith (left) and alongside another legend of the game, Ron Barassi (right). In total, he played 88 games for Melbourne in years 48, 49, 50, 51, 52, and was captain in the losing 1954 Grand Final side.
He is mentioned in Melbourne FC's top 150 players.