Radschool Association Magazine - Vol 34
Page 3
Privacy Policy | Editorial Policy | Profit Policy | Join the Association | List of Members | Contact us | Index | Links | Print this page
Page 3 Girl.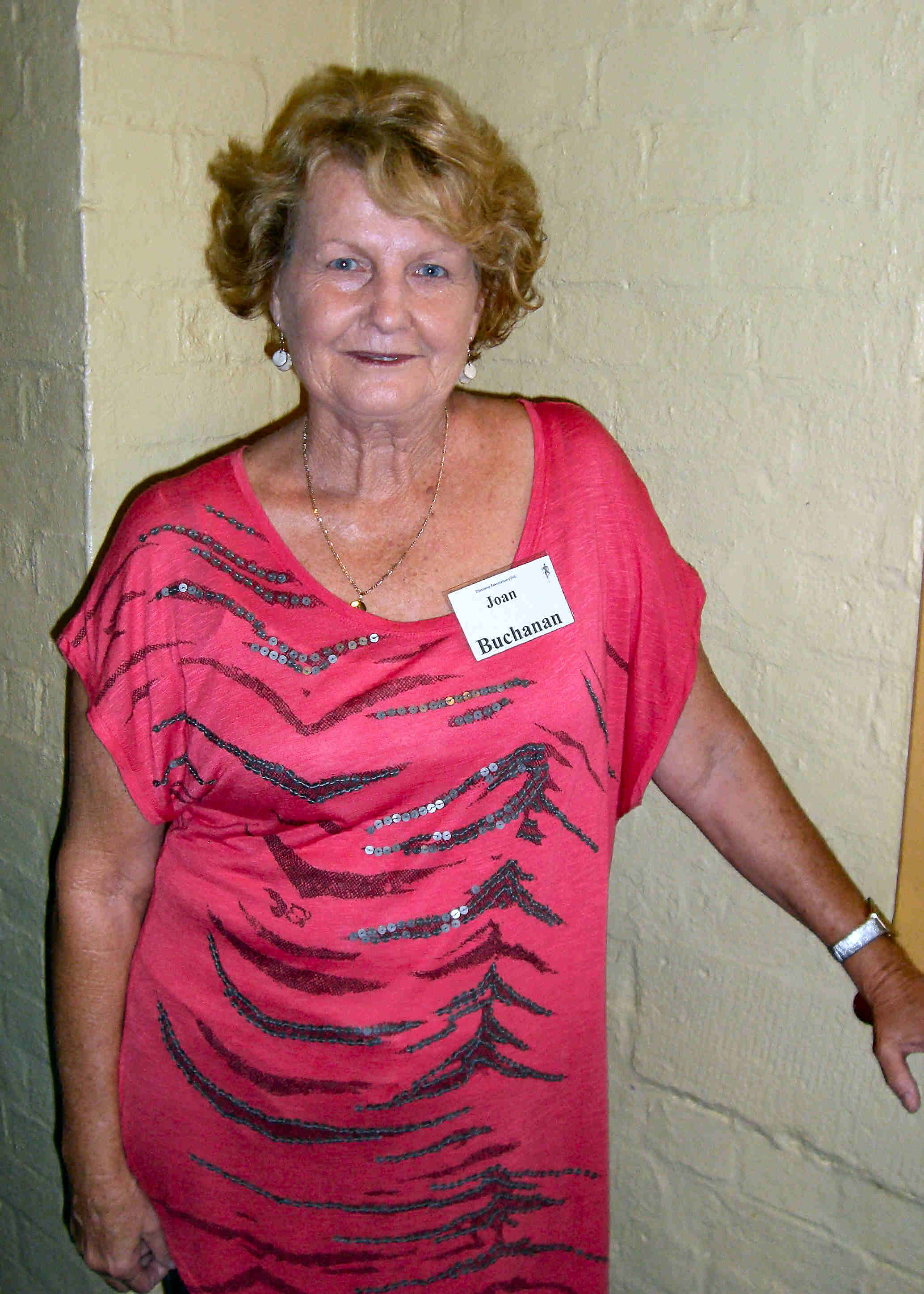 Our lovely page 3 girl this edition is Joan Buchanan. Joan was spotted at the Djinnang reunion which was held in Brisbane back in May of 2010. She was a COMMSOP in her RAAF days and spent a lot of time at Townsville.
69 Teleg.
We were asked if we could publish a photo of 69 Telegs. We didn't have one so we wizzed off an email to Ernie Gimm to see if he had one. He didn't either so he emailed a few blokes and before you knew it, there were millions of emails hurtling through the ether all looking for a photo of 69. We got requests from 3 different blokes asking us if we had one – eventually though, Ernie was sent a few copies and he got this one below from Steve Sounness. So, thanks to all, just "shows to go you" – this internet thing works…….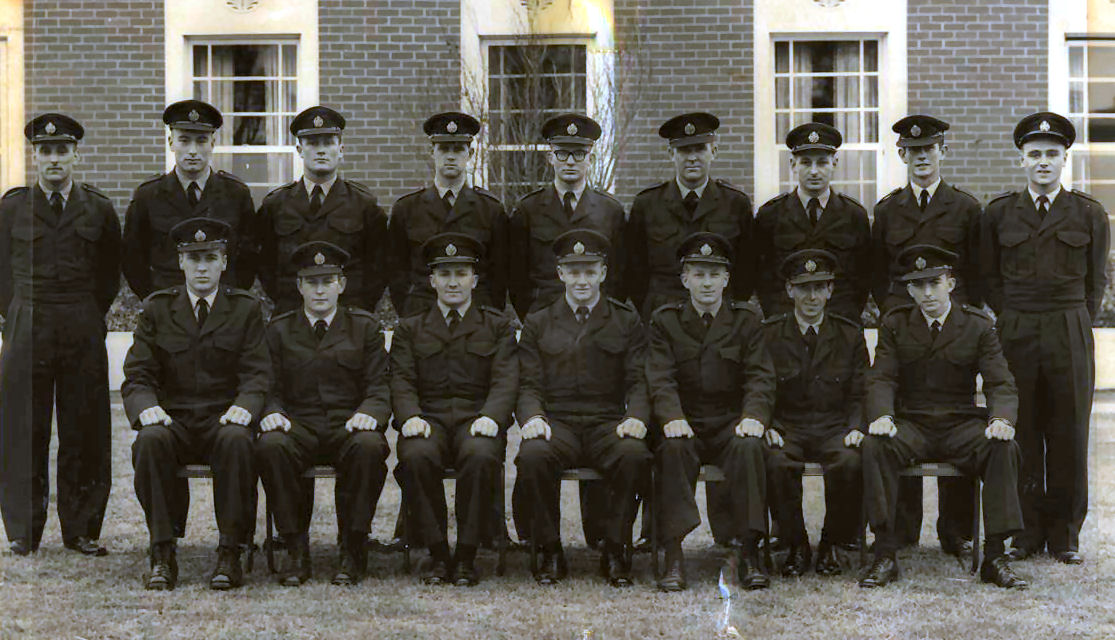 L-R, Back: Tom Matthews, Paul Davidson, Terry Gilbert, Ron Bevan, John Thompson, Norm Cuell, Frank Deluca, Doug Kent, John Hitchens.
L-R, Front: Dennis Henstridge, Dave Thomas, John Armour, Keith Thompson, Bob Smoothy, Wilfrid (Tim) Holt, Jack Eagles.
83 TELEGS/36 TPRINOPS COURSE - LAVERTON
(Instructor: Mal Bradbrook)
Steve McNaughton wanted a photo of 83 Telegs/36 Tprinops – well, we found one Steve, here it is. Unfortunately, we don't have all the names, possibly you can fill in some blanks…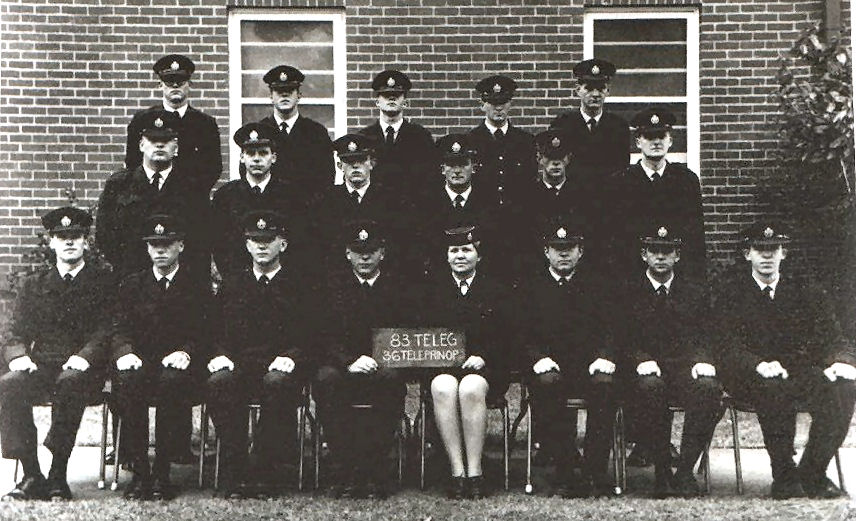 Back Row (L-R): Tony CHILCOTT; John VICARY; 3. …………. MAYNE; Dave FOX; Bob TWEDDLE
Middle Row (L-R): Roger LEE; Terry "Taffy" WILLIAMS; Bruce LEE; Mick MALONE; Peter DAVEY; Brian SMITH
Front Row (L-R): Derek WILKINSON; Murray MARTIN; Dave WHITE; Nev CURCHIN;
Helen …………….; 6…………………….; Reg BONNEY; Steve McNAUGHTON.
The Aussie Hostel, 1959.
Ray "RG" Thompson sent us the next two photos.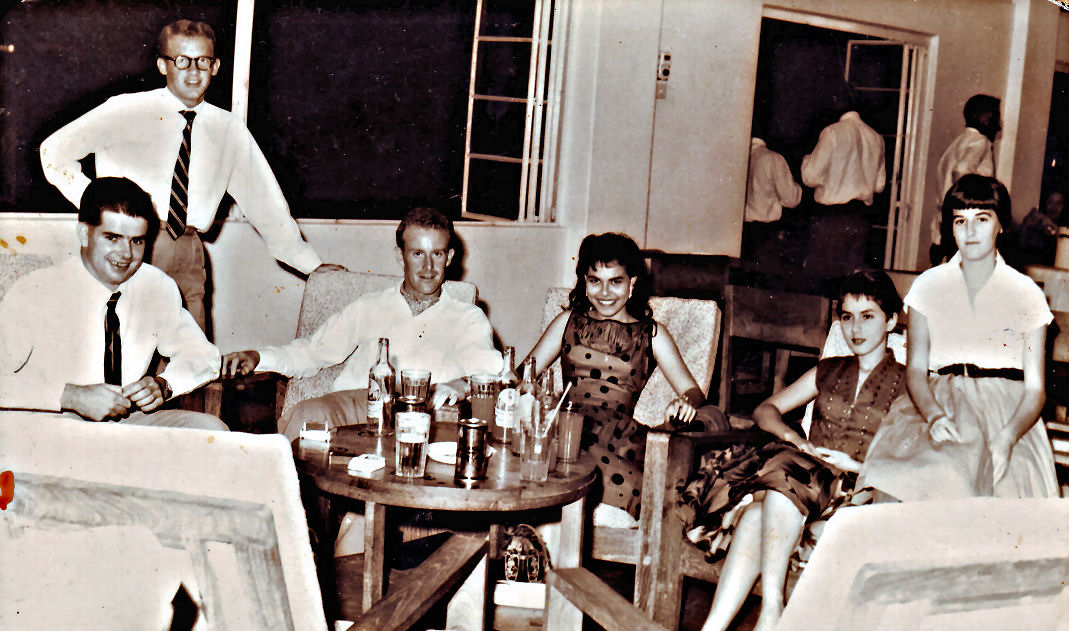 L–R: Ray "RG" Thompson (Teleg), Reg "Shorty" Bible (Aircraft Plotter 114MCRU), Denis "Percy" Wood (Rad Tech G, Basqn Butterworth), ? , Tammy Hatelie, ?.
The occasion was a Saturday night dance, which were held quite often. The Aussie Hostel was in Tanjong Tokong, NE of Georgetown, on Penang Island.
Advice given to RAF pilots during W.W.II.
When a prang seems inevitable, endeavour to strike the softest,
cheapest object in the vicinity as slowly and as gently as possible.
7 Appy.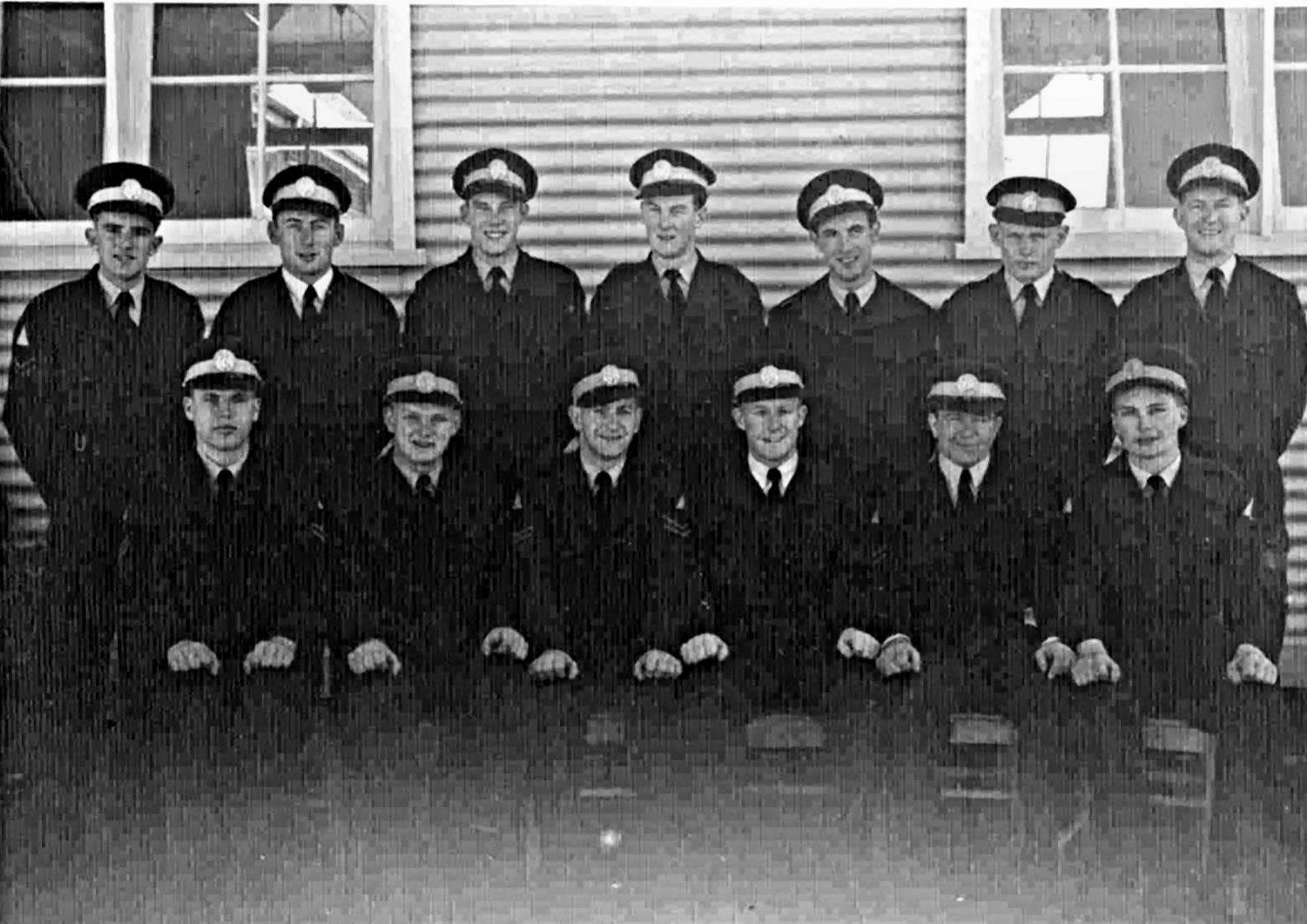 Back Row L-R: Cpl/App Robins, JP; L/App Long, PH; L/App Womersley, GL; L/App Breen, RA; Cpl/App Angwin, EP; Cpl/App Evans, MJ; Cpl/App Swanson, MD.
Front Row L-R: Cpl/App Arthur, RA; L/App Drury, PR; Cpl/App Spencer, PJ; L/App Wood, DP; Cpl/App Coleman, GN; L/App Littlewood, LG.
17 APPY.
We had the photo below in Vol 33 and we were unsure of a few names. Peter Duncan saw the photo and he says: "As I was on 17 Appy, I can fill in the gaps in the 17 Course Apprentice photo. Tony Natt was given the nickname Xerxes after the comic strip character in the RMIT Magazine, Xerxes Gnat".
So now we have: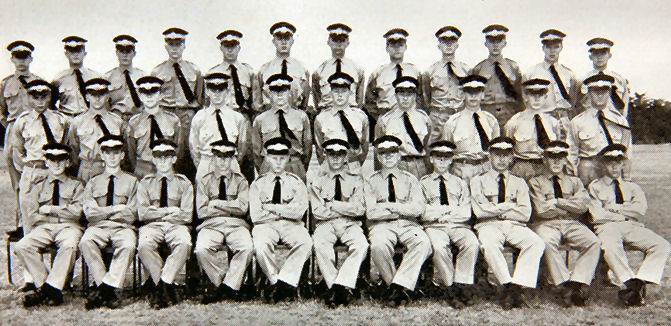 Back Row L-R: Bill Holker, "Mang" Robertson, Greg Turpin, Ian "Murch" Kerr, Quentin Fleming, Dan Slattery, Chris Short, Graeme Dennis, John Pickup, Ken Richardson, John Veitch, Tony (Xerxes) Natt.
Middle Row L-R: Terry Crewes, Bob Matters, Graham "Pansy " (because he bought a set of terylene "Pansy Drabs" when we all wore standard issue cotton) Sinclair, Keith Green, Ken Dinham, Ron Clayton, John Pergunas, Graham Trezise, Graham Grawford, Nev Wren
Front Row L-R: Glen "Shorty" Stevens, John Foley, Tony Reading, Ted Rowe, Peter Outtrim, Ray Carrington, Mick Nicholls, Graham Younghusband, Leon Drummond, Peter Chappelow, Peter Duncan.
Also, Peter says the Radio Compass on page 8 in Vol 33 is a Marconi AD7092 not a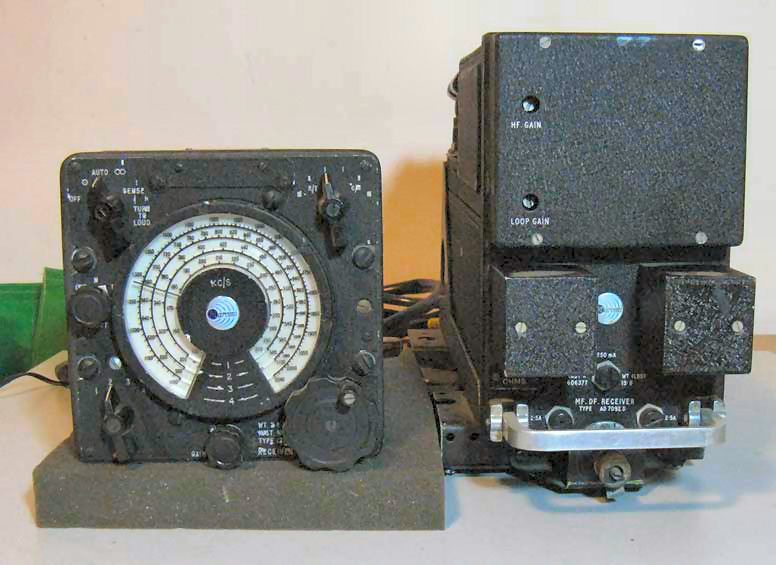 n AN/ARN6. The AD7092 was a typically horribly over-engineered pommy piece of equipment which was stuck in the Canberra. It consisted of the receiver and control unit shown, a desyn (I think) tuning system and had the sense antenna on the bomb bay door, sense amp somewhere in the bomb bay and over the years I have forgotten where the loop was, maybe in the upper equipment hatch lid.
The receiver was on the equipment rack beside the Navigator.
39 RMC
Bruce Sharper sent us this photo, he says it might bring back some memories for some. Unfortunately, over the years, a bit of whiteout has found its way across Ian Truswell's face.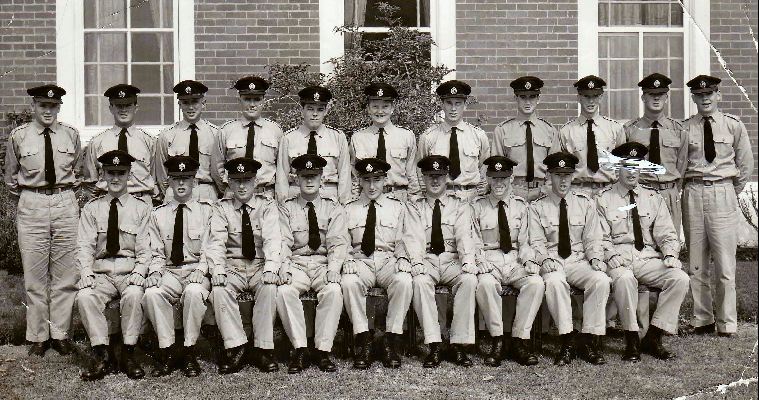 Click here to see the back of the photo which has the names
We received the following photos from the RAAF Museum at Point Cook.
19 APPY

Back Row L-R: Cpl App Toholka, FJ, L App Deans, JS, Sgt App Houliston, H, Sgt App De Ross, JD, Sgt App Vereschildt, AW, L App Legg, HJ, F Sgt App Norton, RA, L App Chapman, GR, L App Purcell, BMC, W 0 App Lugg, DA, F Sgt App Laird, PB, Cpl App Lee, TW, Cpl App Moodie, RA, L App Neave, AJ.
Front Row L-R: L App Jones, BP, L App Stroude, PA, L App Roelfsema, M, Cpl App Robins, CI, Cpl App George, AH, L App Smith, KS, W Off App Learhinan, GJ, L App Woodmansey, LA, L App Johnson, ED, Cpl App Thomsen, GL, L App Voolstra, W, L App Spillman, DJ, Cpl App Hewitt, PV.
20 Appy.
Unfortunately, we don't have names to put against faces, instead we have listed the names of the blokes who were on 20 Appy in alphabetical order – perhaps someone can put the names against faces for us. Photo below was taken in Feb 1966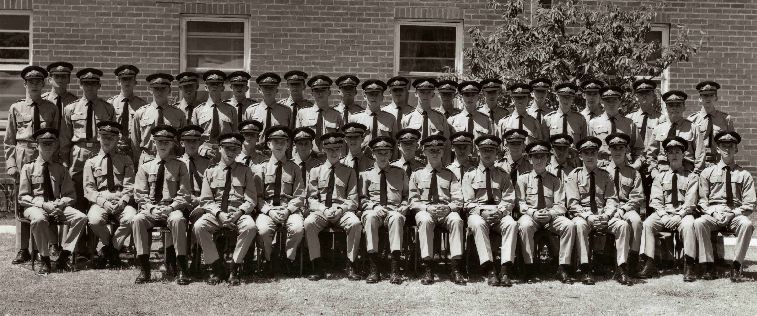 In alphabetical order: J Aitken, P Baldock, W Blackson, R Browning, J Cashmere, J Collins, T Cox, A Chiesa, M Christensen, R Dowling, R Dries, K Edwards, G Gleeson, I Holland, J Horikz, S Jackowski, C Kerr, K Kowalczyk, D Kramer, I Laidlaw, R Lovett, D McArthur, W Malkin, J Morris, B Napper, K Norman, D Pankhurst, G Reibelt, F Rinaldi, J Skewes, N Stephenson, O Walsh, D Whitworth, W Williams, P Witty.
This photo of 20 Appy was taken towards the end of Course, July 1968.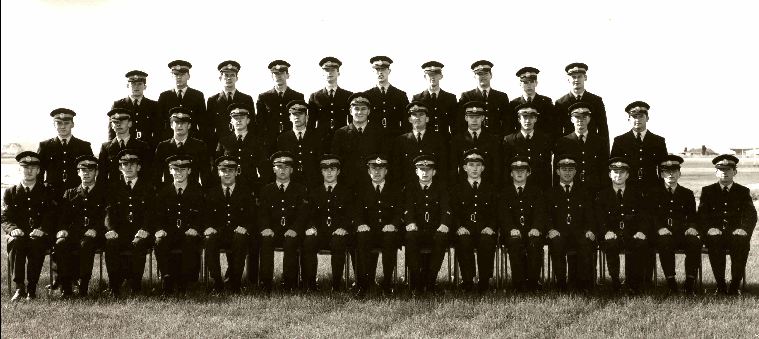 20 Appy at Ocean Grove, 1966.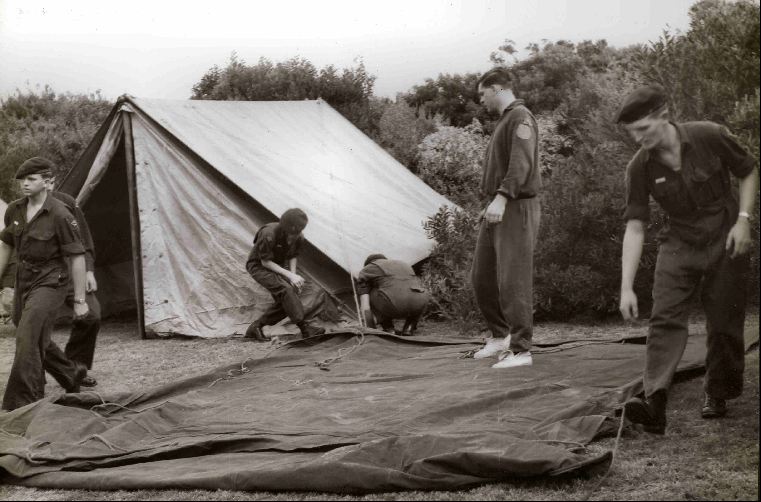 L-R: Owen Walsh, Fred Holtman, Charlie Kerr.
Flashlights are tubular metal containers kept in a flight bag
for the purpose of storing dead batteries.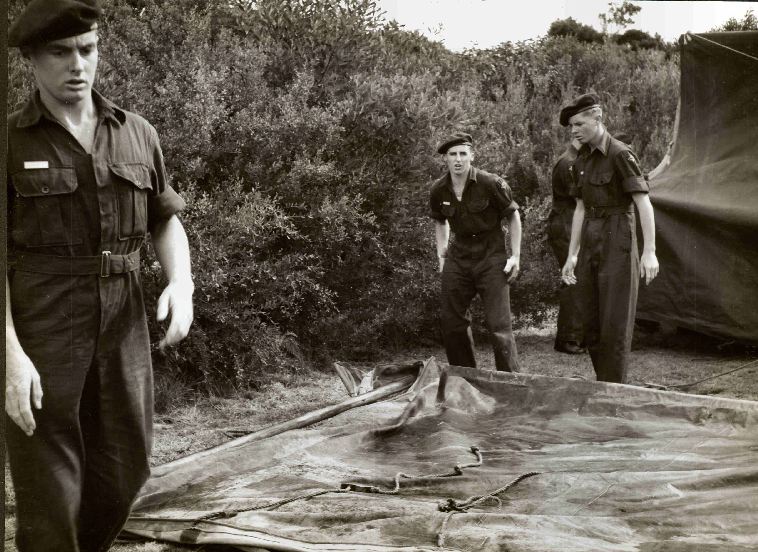 Harold McNair, Phil Baldock, Phil Witty.
If something hasn't broken on your helicopter, or has stopped working as it should, it's about to.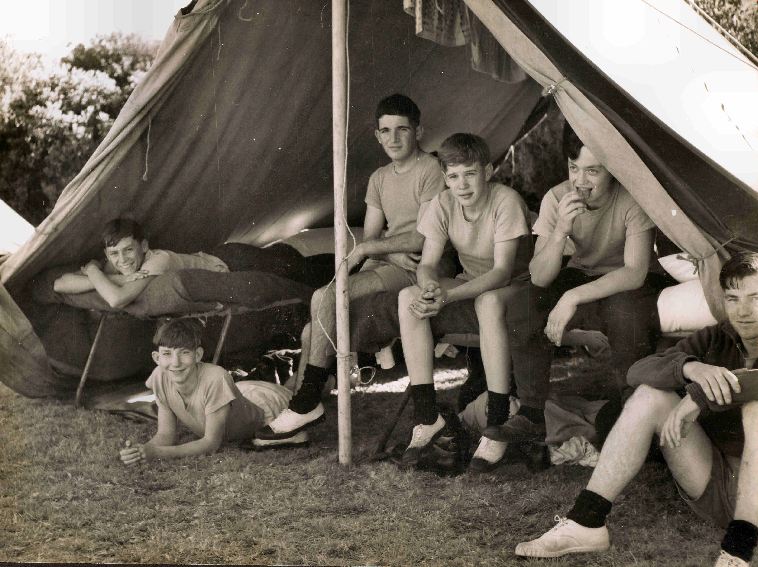 Ray Morris, Nigel Stephenson, Roger Durbridge, Geoff Gleeson, Tas McArthur, Trevor Vincent
Got my water bill the other day, damn thing has gone up 22.3% in the past 12 months, now I'm paying $325 per year. I saw on TV that World Vision can supply clean drinking water to a whole village for only $2 per month.
Time to change suppliers I think...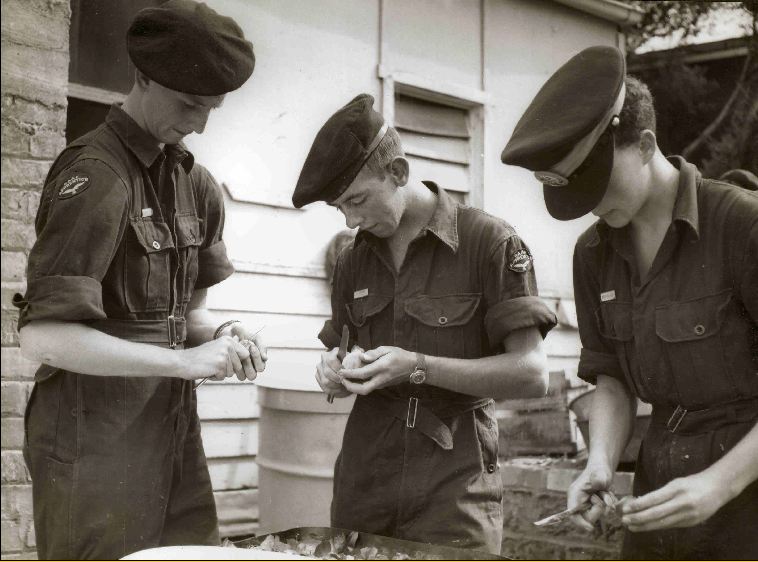 The "Brats" must have made quite an impression on the good folk down at Ocean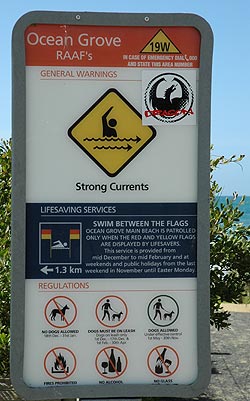 Grove as they named the beach where the lads did their "bonding" – RAAF's Beach.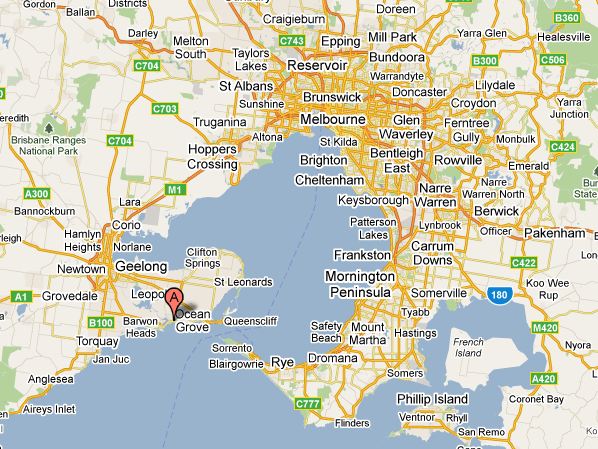 For those not in the know, RAAF's Beach is south each of Geelong, on Bass Strait. Click on the map at left for a better look.
These days it is better known as an excellent surf fishing beach.

Milestone.
The photo below was taken to record an historic event at the Melbourne Telecommunications Unit (MTU) back in 1965. It marks the 1,000,000th message to come through the Centre.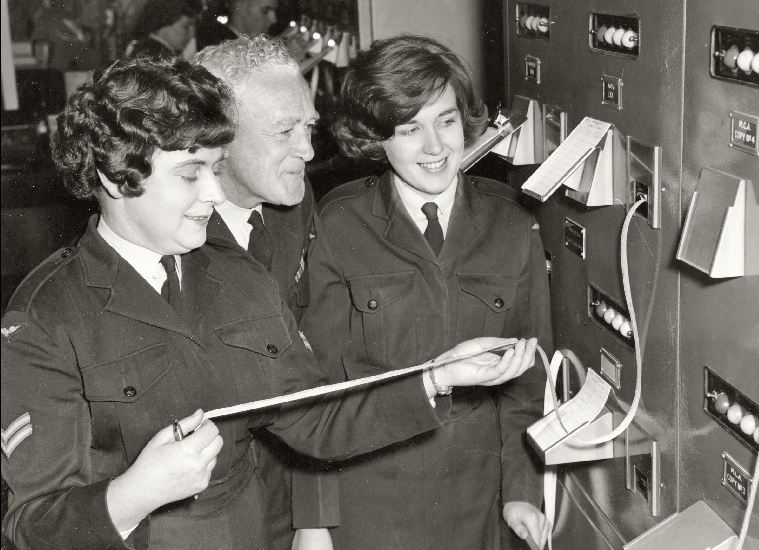 L-R: Marilyn "Banjo" Patterson, WO Col Kerr and ACW Mary Moore.
The RAAF's first female Warrant Officer since WWII.
Mary Windsor, who a lot will remember as Mary Moore, sent us the photo below which is of Sally Maloney (left) and Mary on the right. It was taken at Frognall (in the front garden Mary thinks) in about 1968 or 1969. Mary says: "The photo was a publicity shot for the RAAF News and marked the historic occasion of the first woman to be promoted to Warrant Officer since WWII.
Prior to that, F/Sgt was the highest rank a WRAAF could achieve, in any mustering. After Sally was promoted there were a couple of other musterings that followed suite, but Sally was the first.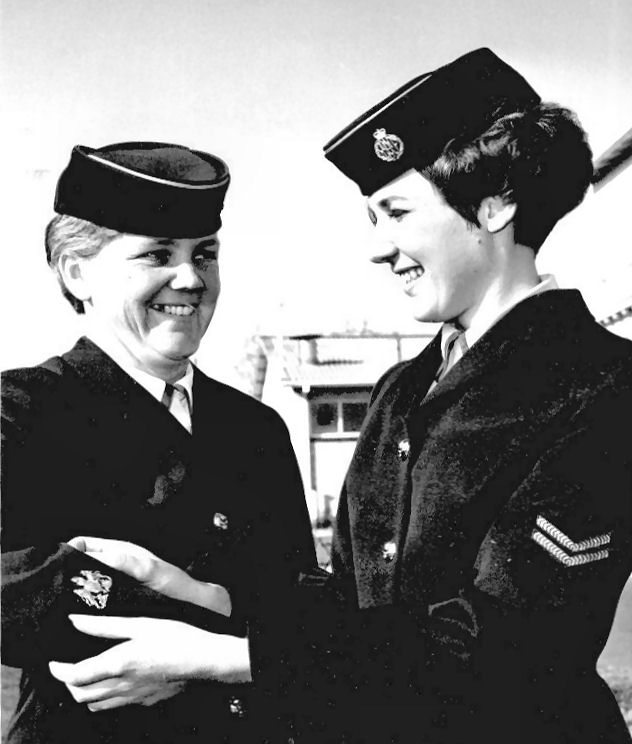 There was great excitement at Frognall at the time and we WRAAF felt privileged to be in a mustering (Tprinop) where there were opportunities for WRAAF to rise to the top, so to speak. (To put this into context - it was around the time of the fight for equal pay for equal work and all the rest).
What exciting times they were - and we were all so young".
Back Go to page: 1 2 3 4 5 6 7 8 9 10 11 12 13 14 15 16 17 18 19 20 Forward