Shirley McLean got in touch, she says, it's been a bit hectic here of late, not only have I needed a new computer but my land-line has been out of order since 27 January. No telephone and no computer, peace!! -- but I am up and running now.
After speaking with you at the EX-WRAAF National 60th Reunion in Brisbane last week, I am sending you some details on the First WRAAF course in 1951, for which I am proud to have been selected.
In 1949, permission was sought by the Australian Government, from Britain, to re-form the three women's services and in 1950 King George VI granted the title of WOMENS ROYAL AUSTRALIAN AIRFORCE (WRAAF), to distinguish the Australian Service from the WWll English "WAAF", Womens Auxilary Airforce and the Australian "WAAAF", Womens Australian Auxiliary Airforce.
In the late 1950's, the Federal Government advertised in the Australian newspapers, for expression of interest from women, to re-form the three women's services. This came about because of the outbreak of the war in Korea. There was a great deal of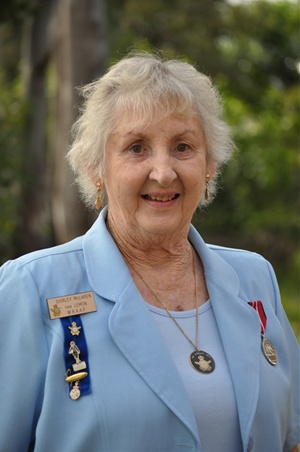 discussion in Federal Parliament at the time, as 1950 was a period of very high employment and the Air Ministry did not know if young women would be interested in giving up their jobs to join the service.
Shirley McLaren (left), shown here proudly wearing her ADM, leading the WRAAFs in the march on Anzac Day 2010 in Sydney.
How wrong they were, the recruiting office was overwhelmed as thousands of applications were received by the closing date in early January 1951. The criteria was for women who were single, 18 to 35 years of age or 37, if they had served in WWll. The enlistment was for four years with an automatic discharge if the girls got married or became pregnant. Overseas service was not allowed.
The selection process began to find 50 ladies for the first intake.
On Monday 29 January 1951, fifty (50 ) women were required to report for their final medicals and interviews for the WRAAF. Twenty five (25) were selected from Sydney NSW and twenty five (25) from Melbourne Victoria. The 25 Sydney WRAAF were transported by RAAF bus to RAAF Base Richmond NSW and 25 Victorian WRAAF were transported by bus to RAAF Base Laverton Victoria. These two groups of WRAAF were co-joined and were given the course numbers one (1) and (2).
Both courses were recruited on the same day and completed their recruit training on the same day.
Recruit training for WRAAF courses 1 and 2 commenced on Tuesday 30 January 1951. On Monday 26 February 1951, course one's pass out was held at Laverton and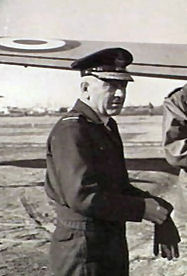 course two's pass out parade was held on the same day at Richmond. On the tarmac at Richmond, Air Vice Marshall J.P.J. McCauley (left) took the salute. The tarmac was used instead of the parade ground in order to make the first WRAAF's pass out parade a memorable one for the girls. Aircraft were placed around the tarmac, airmen from the base were placed in front of the aircraft, to make a background for the movie cameras which were to film it.
I wonder where that film is today?
In 1951, Richmond was responsible for WRAAF recruit training, drawing on women who lived in NSW and Queensland. Laverton was responsible for WRAAF recruit training, drawing on women who lived in thye soughern states. At the end of 1952, WRAAF recruit training ceased at Richmond and all WRAAF recruit training was moved to Victoria.
In 1950, Wing Officer Doris Carter OBE, (left) based in Melbourne, was appointed Director of WRAAF. (Doris had been Australia's first women's field athlete to compete at an Olympic Games when she was placed sixth in the high jump at the 1936 Berlin Olympic Games. She also represented Australia in international hockey, and was General Manager of the Australian Women's Team at the Melbourne Olympic Games in 1956.

She was a remarkable woman being also the first woman to fly both the Canberra Bomber and the Vampire Jet. She said her proudest moment was in 1996 when she co-led the Melbourne ANZAC Day parade. Doris died on the 28 July 1999)
Flight Officer Peck was responsible for the planning of the WRAAF in its early days, then Flight Officer Eleanor Brett, who was her successor, commenced the task of making an untrained group of girls, into a highly efficient and well disciplined section of the service.
When the girls arrived at Richmond, they were met by Section Officer Pat Thompson, who was the OIC WRAAF TRAINING and Corporal Jimmy Carter RAAF, who was our drill instructor. As there were no WRAAF to precede us, we were trained by a male, whose nickname was "Killer" Carter. The story goes that, on one of the male recruit courses he trained, before we arrived, a recruit dropped dead.
Cpl. Carter considered it a badge of honour to be given the first WRAAF course to train, despite the ribbing from the airmen on the base.
Initially there were only 10 mustering's from which the girls could chose, once they and passed out, they were: Clerk, Clerk General, Clerk Stores, Drill Instructors, Equipment Assistants, Medical Orderlies, Police, Stewardess's and Tailoress's.
The average age of the girls was 23 years and they were required to be either trained or experienced or highly proficient in our chosen mustering. Further training was given to us after pass out, into the way the AirForce wanted us to perform our duties.
There have been many milestones reached in the last 60 years. In 1972:
· Equal pay rates for male and females were introduced.
· WRAAFs could remain in the services after marriage and/or pregnancy.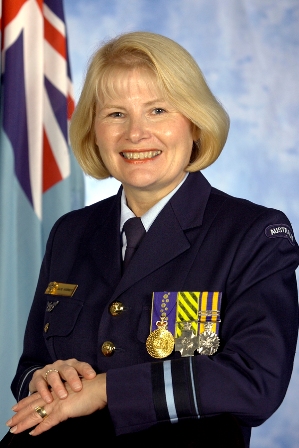 · Long service leave was available.
· Overseas service was allowed.
· In 1975 many non-traditional areas were opened to females, e.g. engineering, pilots.
· In 1977 the WRAAF were integrated into the RAAF and the title Women's was dropped. from WRAAF and became RAAF.
· Air Vice Marshall Julie Hammer (CSC) (right) was the first WRAAF to reach air rank, (she was an engineering officer.)
· In 1988, the first female Air Force pilots graduated .
With the exception of Airfield Defence units, there are few jobs within the RAAF today, barred to women.
The members who were in the WRAAF, never miss the opportunity to use "Royal", when describing the WRAAF.
As Shirley says, "The title "Royal" is one which we have all been proud of. We were the 'Royals.'
· I was proud to be a WRAAF.
· I was proud to be selected for the first intake.
· I am very proud to be an EX-WRAAF.
W23838
Sgt. Lemon S.J. Drill Instructor
29 January 1951 - 11 June 1955.
John Kettle got in touch, he says while at Richmond he worked in the same hangar as Radio Section and for better or worse, got to know some of the guys .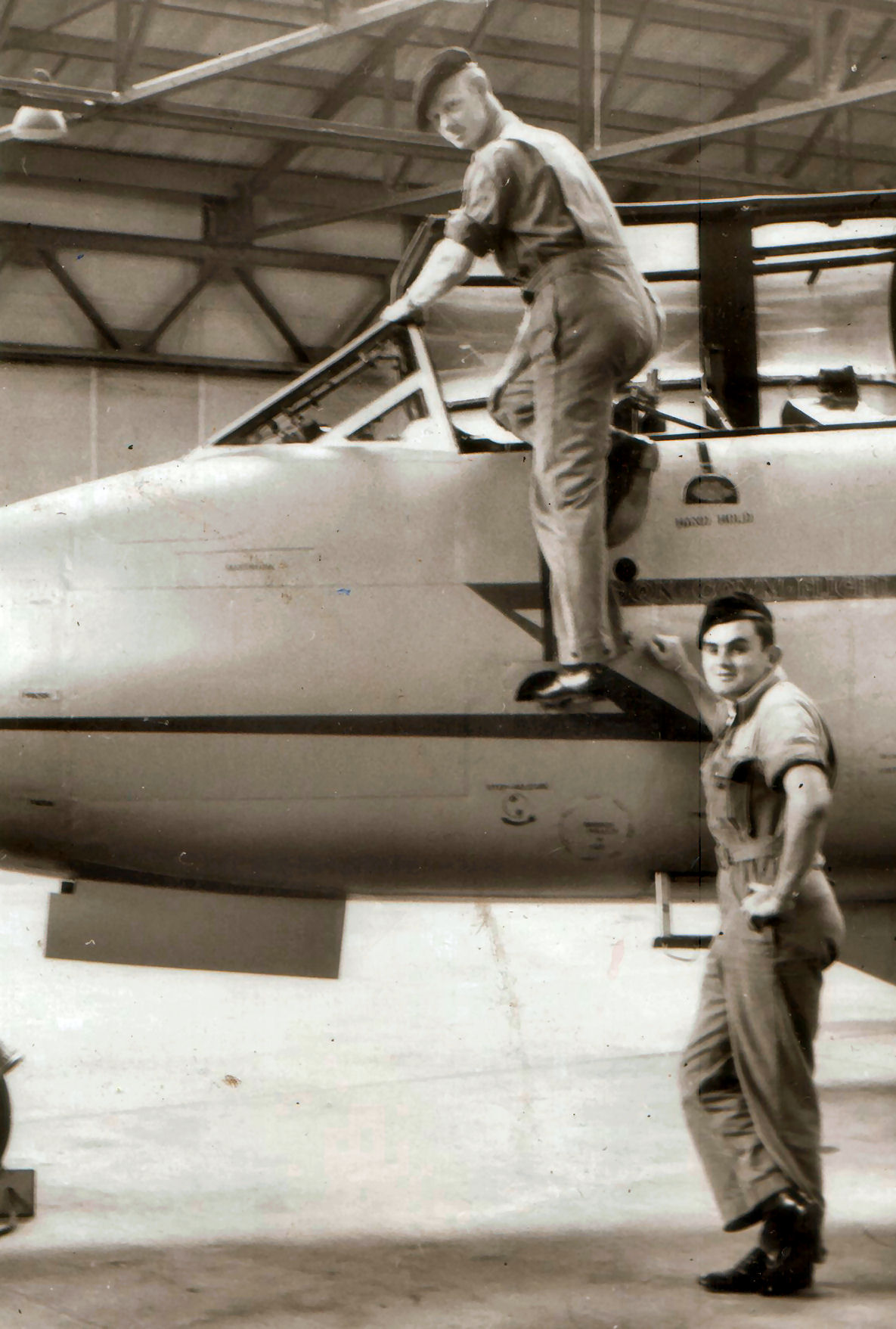 In the photo at right are two radio bods, John says the bloke on the ground is Mick Henry but he can't remember the name of the bloke up top, but thinks his first name was Arthur.
Other names he remembers from that era are:
Tom CLANCY - deceased
Jim MEWTON - (NSW) now living on the Sunshine Coast
Tony MONTGOMERY - (NSW)
'Shorty' McMAHON - ex-Appy (?)
Bob PARKER - (Vic) now living in Thailand
Cpl Peter ..(?)
I knew some of them pretty well because on Saturday I used to travel to Sydney in a car with some of them going to Cahills (?) chain of restaurants for a big lunch. Also to go back Sunday night I would meet some of them at the Chevron at the Cross after dinner coffee before the 'long' trip back to Richmond usually on the train.
Jack Fenton says, Radio operators of RAAF 1 TelecomUnit, Pearce, and of Army 7 Sig Regiment, Cabarlah, continued serving together after WWII in Melbourne, Singapore and Hong Kong. Those RAAF ex-Operators commissioned and serving in South Viet Nam did us the honourof checking out ourArmy unit there, helping us locate Ozbeer sources while we obliged with Intel Summaries. Les Stapleton was a popular Operator with us in the UK stationin Singaporeand I wonderyou would ask him to email me. I would be most grateful. Apart from my personal interest, I am sure thatourNewsletter would be the richer for even the smallest bit of news of ex-RAAF colleagues which I'd be delighted to pass on to its Editor.
It was in your Radschool Magazine that I spotted his name.
Geoff Schmidt writes, Firstly, let me thank you for the excellent Radschool Magazines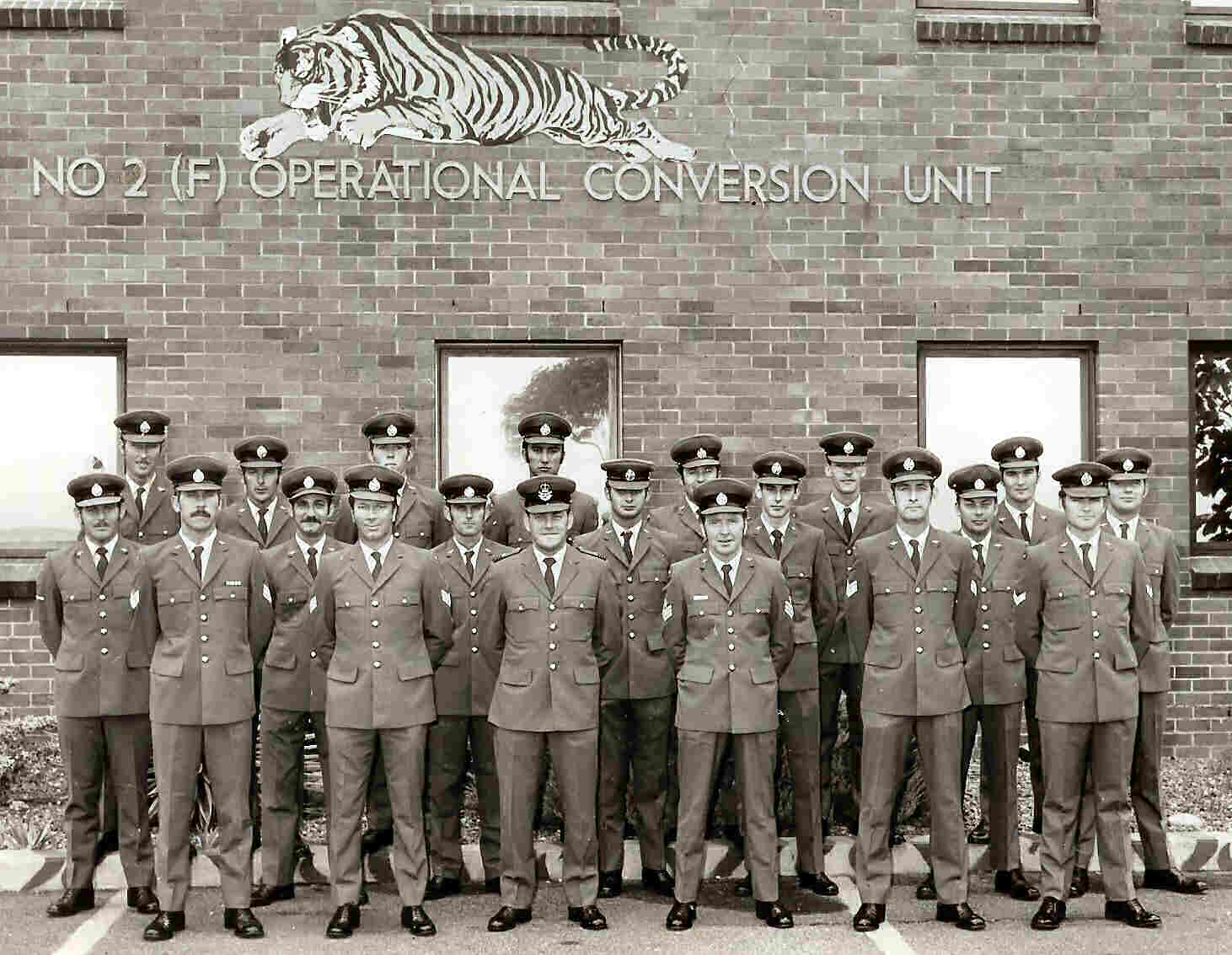 you publish. There are so many interesting snippets of information in them. In fact, I was in the photo in Issue 32 -- It showed a motley group of 2(F)OCU AEMF flight Willytown around '75/76. I was the OIC and Blue Gilmore was the SNCO in-charge (Lance Warren kept our TV's in working order).
I am an Enginst, having come through the RAAF Forest Hill Appy Scheme, and then went through RMIT while living at RAAF Frognall. Unfortunately I am unable to offer any of the missing names.
Alan Johnson got in touch, he saw our recent article on Ron Raymond, he says: I knew Ron Raymond first in Townsville circa 1957-1960. I was a Telegraphist my main job was manning Area Guard watches. I was also a student glider pilot (Ron was the instructor) flying out of an old WW2 aerodrome near Woodstock west of Townsville. After a landing mishap which resulted me ending up in an apple tree, Ron decided I needed some Wirraway lessons which was my first powered flight. As a Teleg I often swapped places with Signallers on 10 Sqn maritime flights with Ron as skipper. Later in about 1978 or thereabouts I met Ron in Port Moresby where he was flying for Air Niugini. since then I have not heard anything more of him. He was a top pilot and a great bloke.
(We agree on both counts Alan – tb)