Radschool Association Magazine - Vol 46
Page 12
Privacy Policy | Editorial Policy | Profit Policy | Join the Association | List of Members | Contact us | Index | Links
Back Go to page: 1 2 3 4 5 6 7 8 9 10 11 12 13 14 15 16 17 18 19 20 Forward
Richmond.
A lot of people have spent time at Richmond. In the 1960's it was one of the RAAF's major bases being home to 11 Sqn with their Neptunes, 36 and 37 Sqns with their Hercs and 38 Sqn with their Caribous and a couple of Daks. There were also major maintenance squadrons like 486 Sqn and 2AD as well as Air Movements, Comms, a major hospital and a very active Base Sqn. Base Duty Crew was very busy with a multitude of visiting aircraft dropping in most days, aircraft like the RAF's Shackletons and Vulcans and the USAF's Douglas C-124 Globemasters and C-141 Starlifters. Richmond back then was a very busy base.
But different times demand different assets, 11 Sqn went off to Edinburgh, 36 Sqn went to Amberley, 38 Sqn to Townsville, 486 Sqn was taken over by Qantas, 3 RAAF hospital has been demolished and 2AD just disappeared. These days it is not the busy hub that is used to be and the blue uniforms on base have been reduced considerably.
You can click most of these pics to see and or download the HD version.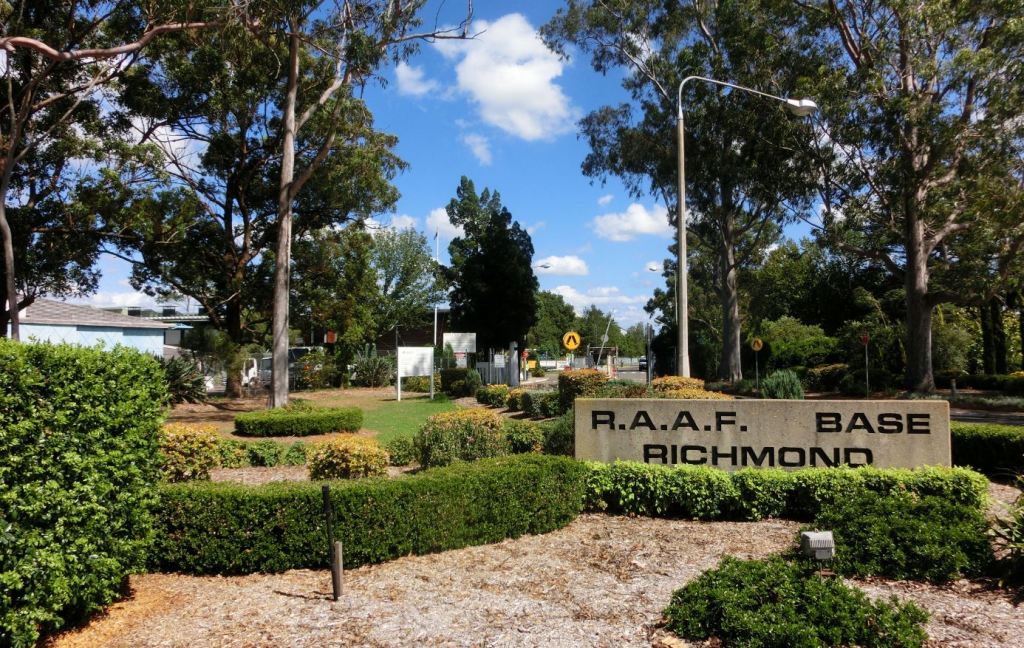 We were in the vicinity of the Base in March 2014 and MediaOps in Canberra and Flt Lt Adlai Dehal at Richmond were both very helpful in arranging for us to have a look around.
After reporting to the guard room, which like at other Bases is manned by civvies, getting photographed and being issued with a pass, we reported to the Base Head Quarters where we were introduced to WOFF Kevin Dransfield and met with Tyson Fischer who was good enough to show us around.
We left Richmond in 1971 and hadn't been back since. Externally, not a lot has changed. Richmond is not like the Army's Gallipoli Barracks in Brisbane where some-one who returned after an absence of 45 years would not recognise a thing, at Richmond everything is readily recognisable.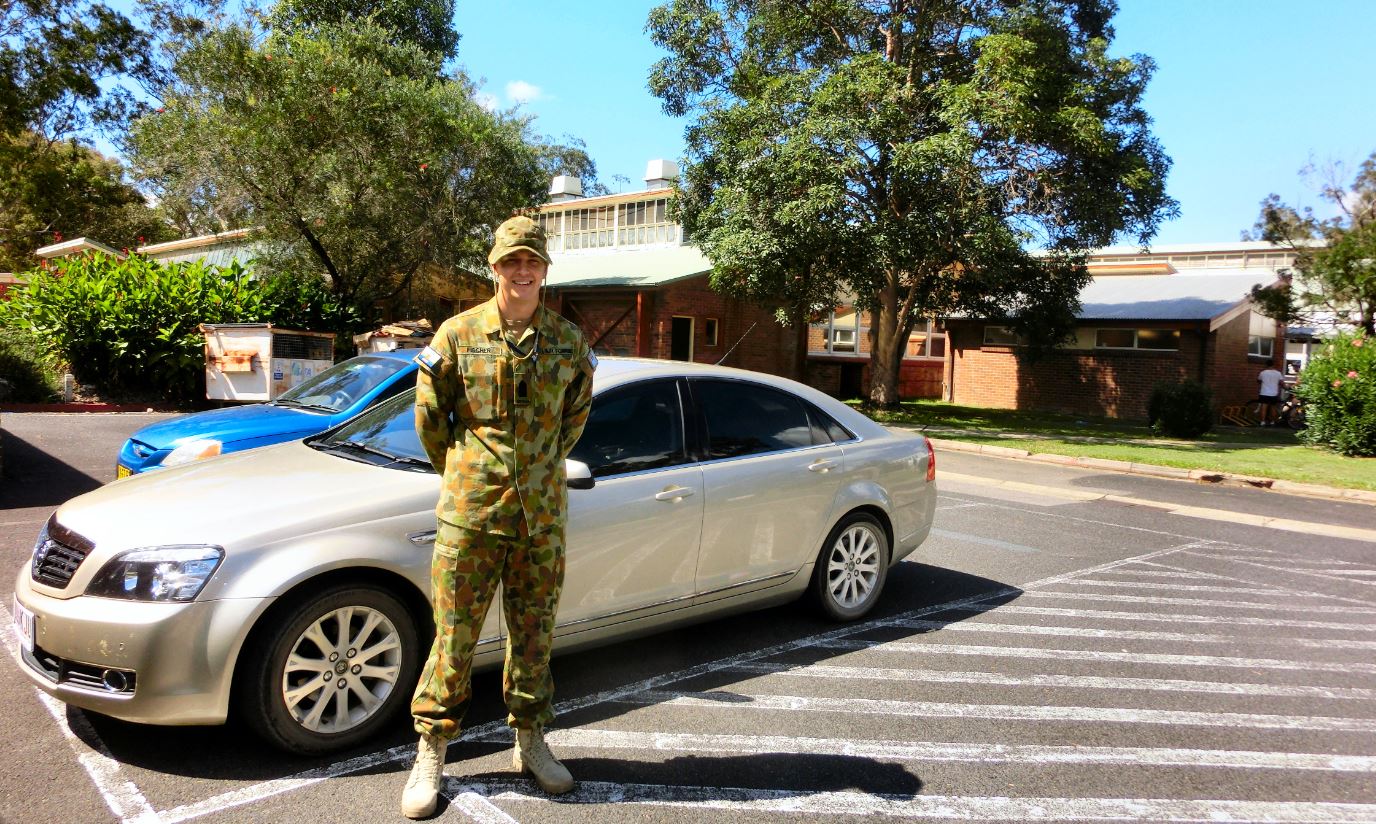 Tyson Fischer, our host at Richmond.
As the Mess had been one of the important buildings in our life back then, we thought it would be good to start there. In the 1970's the Airmen's mess would feed thousands of people three times a day and although it was "de rigueur" to grumble about the quality of the food, we were lucky as the food was pretty good and no-one went hungry.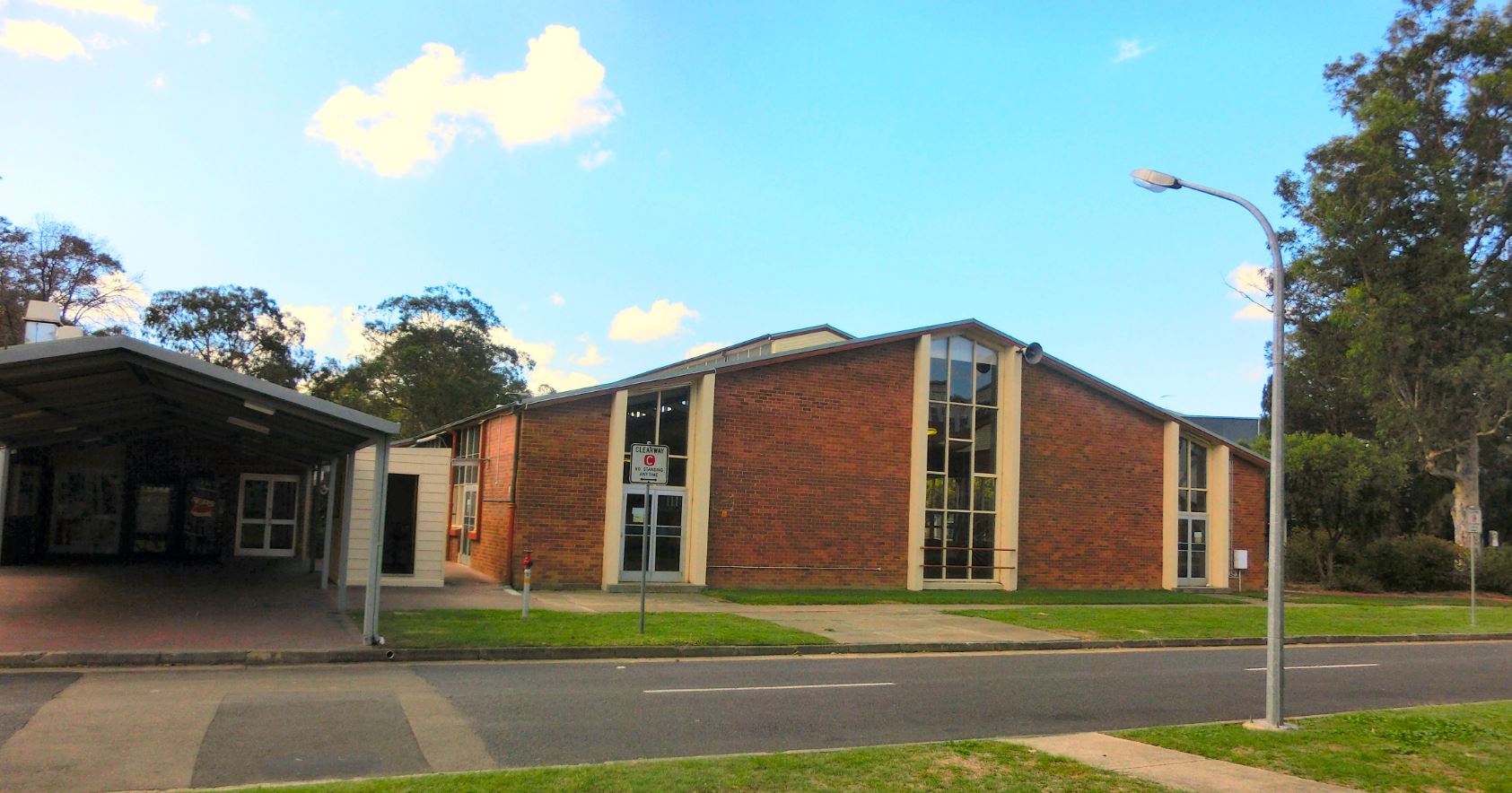 Most visiting Army blokes used to think it was 5 star!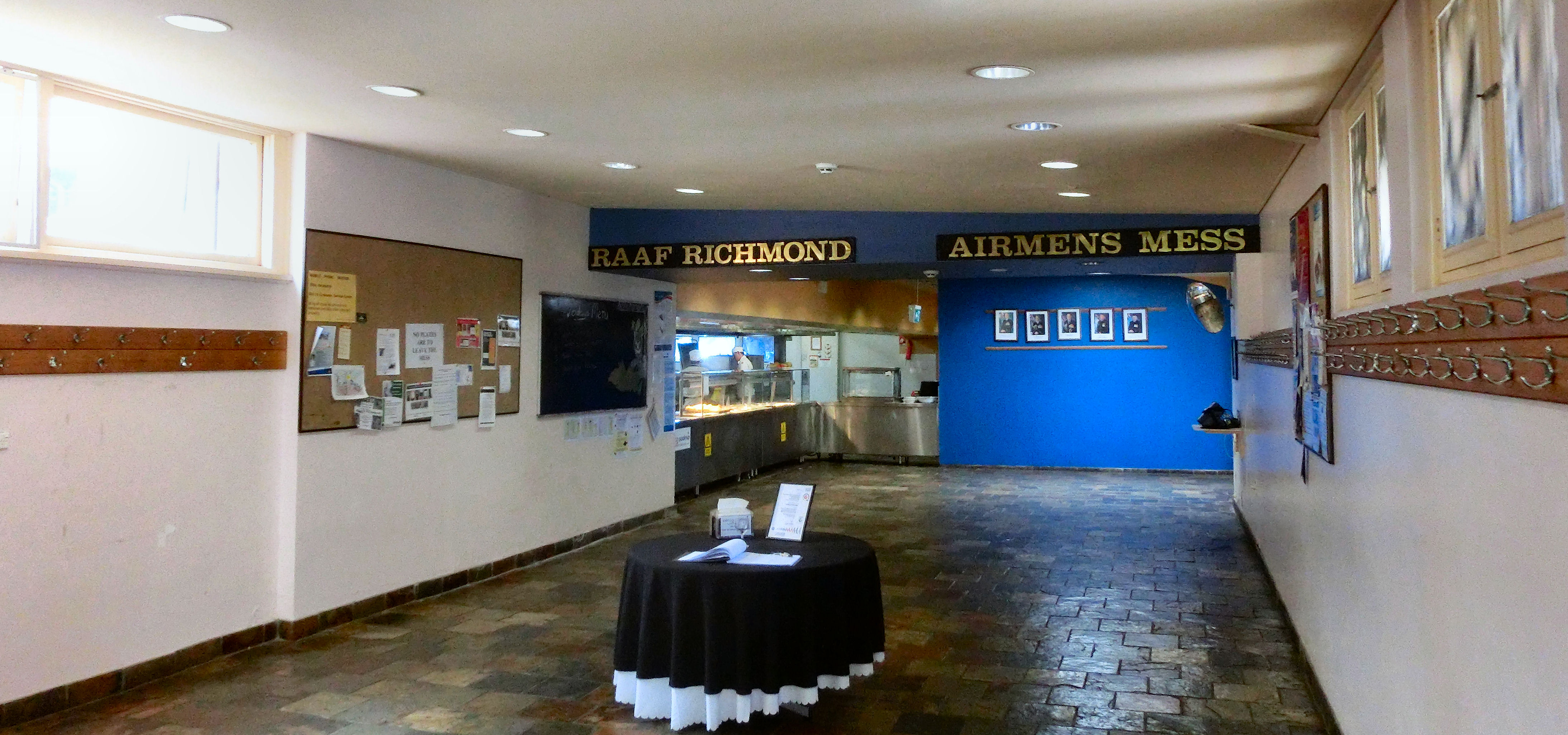 After passing "Peter's paper shop", out the front, blokes lined up here then filed past the hot food area where if you asked for a bit more, you got the standard reply from the RAAF cooks, "We're here to feed you, not fatten you".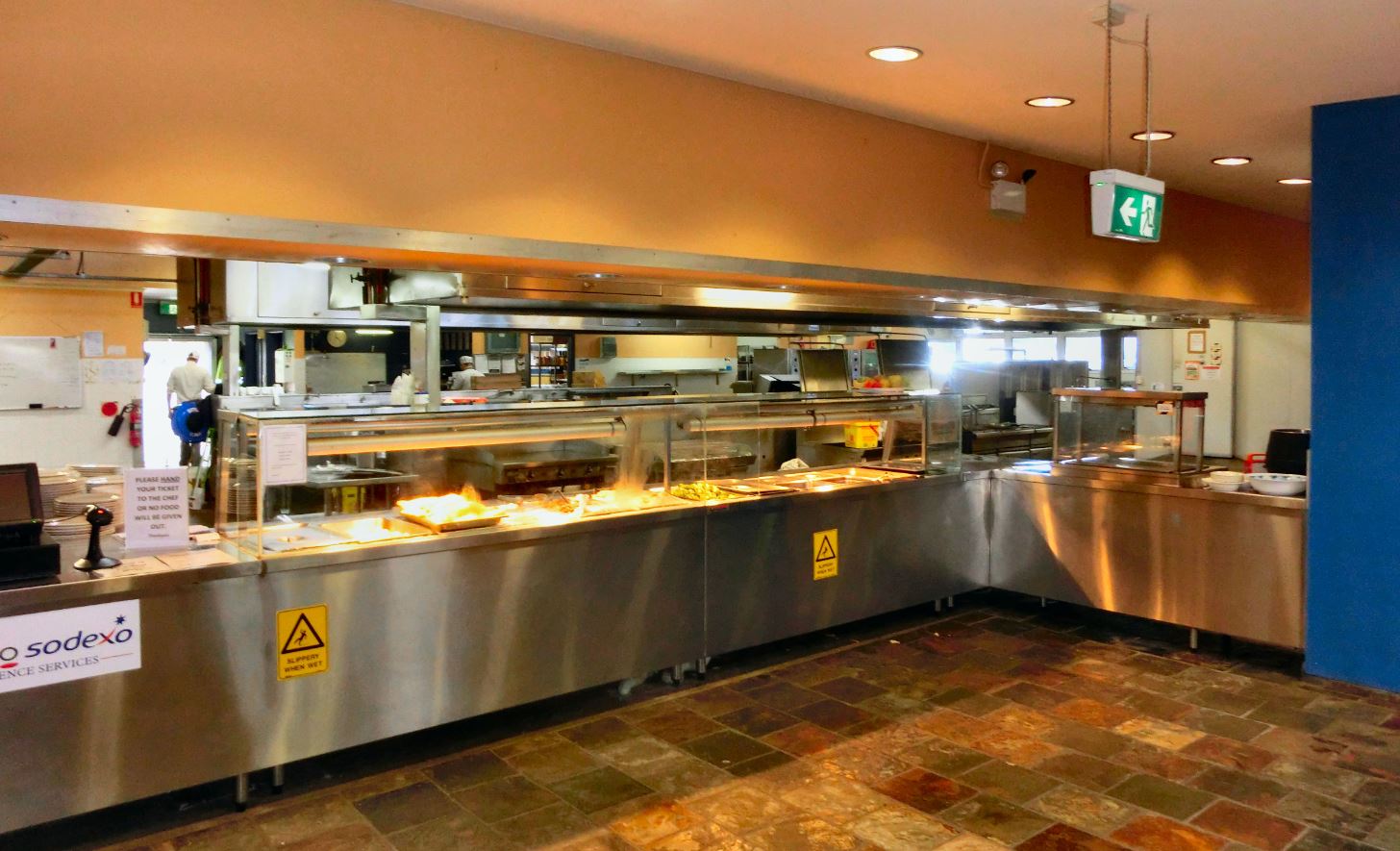 The food serve area, still the same after all those years. Perhaps that just goes to prove they got it right way back then.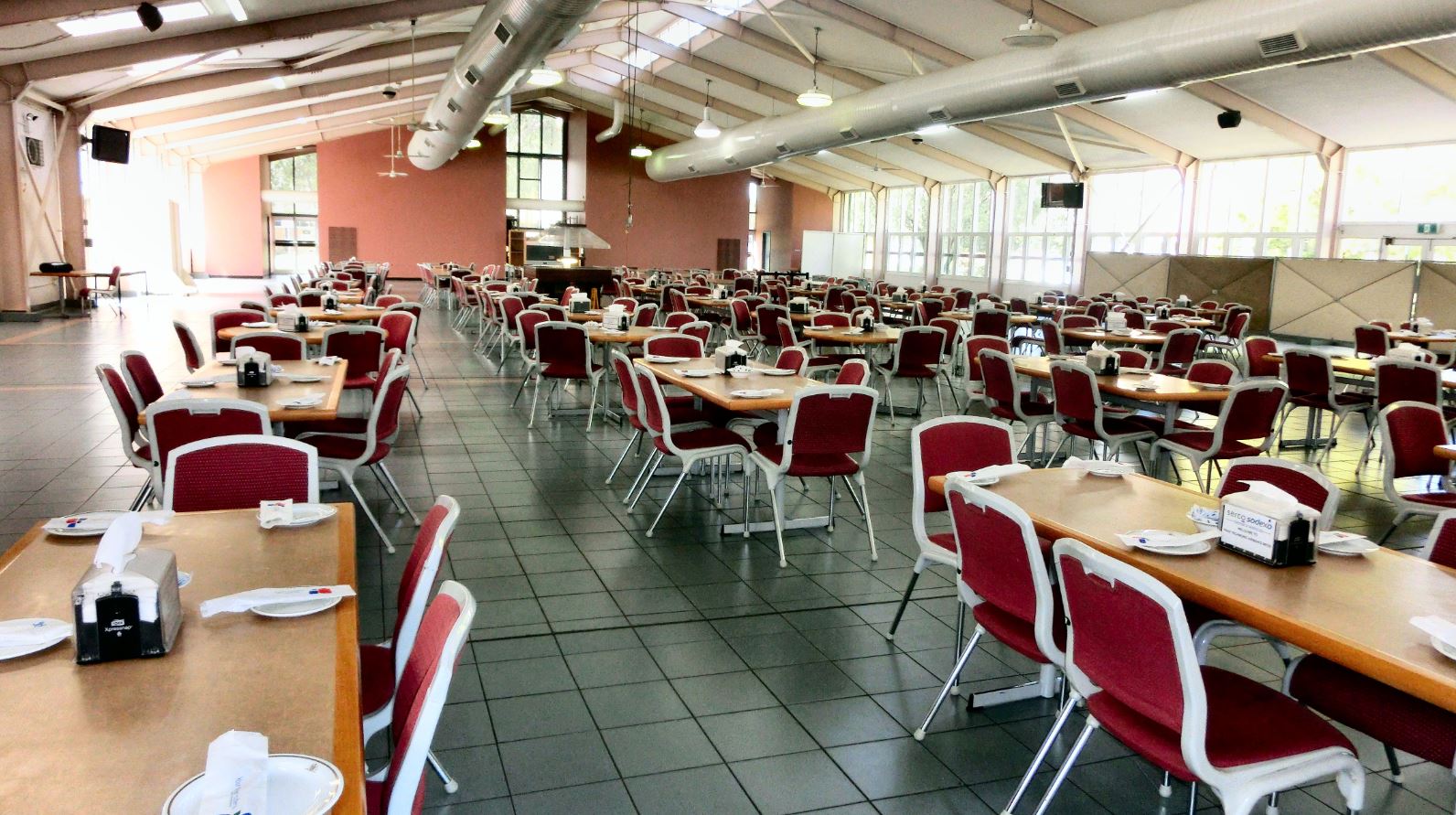 The tables and chairs are a bit better than they used to be and we can see that the mess has finally been air conditioned. It used to be rather warm in summer and the old ceiling fans just couldn't crack it. We can remember an Airman's Ball which was held in the Mess back in 1969 or 1970 when the portable tarmac air-con plants had to be towed over from 36Sqn and cold air pumped in through the windows to make the place bearable.
There'd probably be forty seventeen rules against doing that today.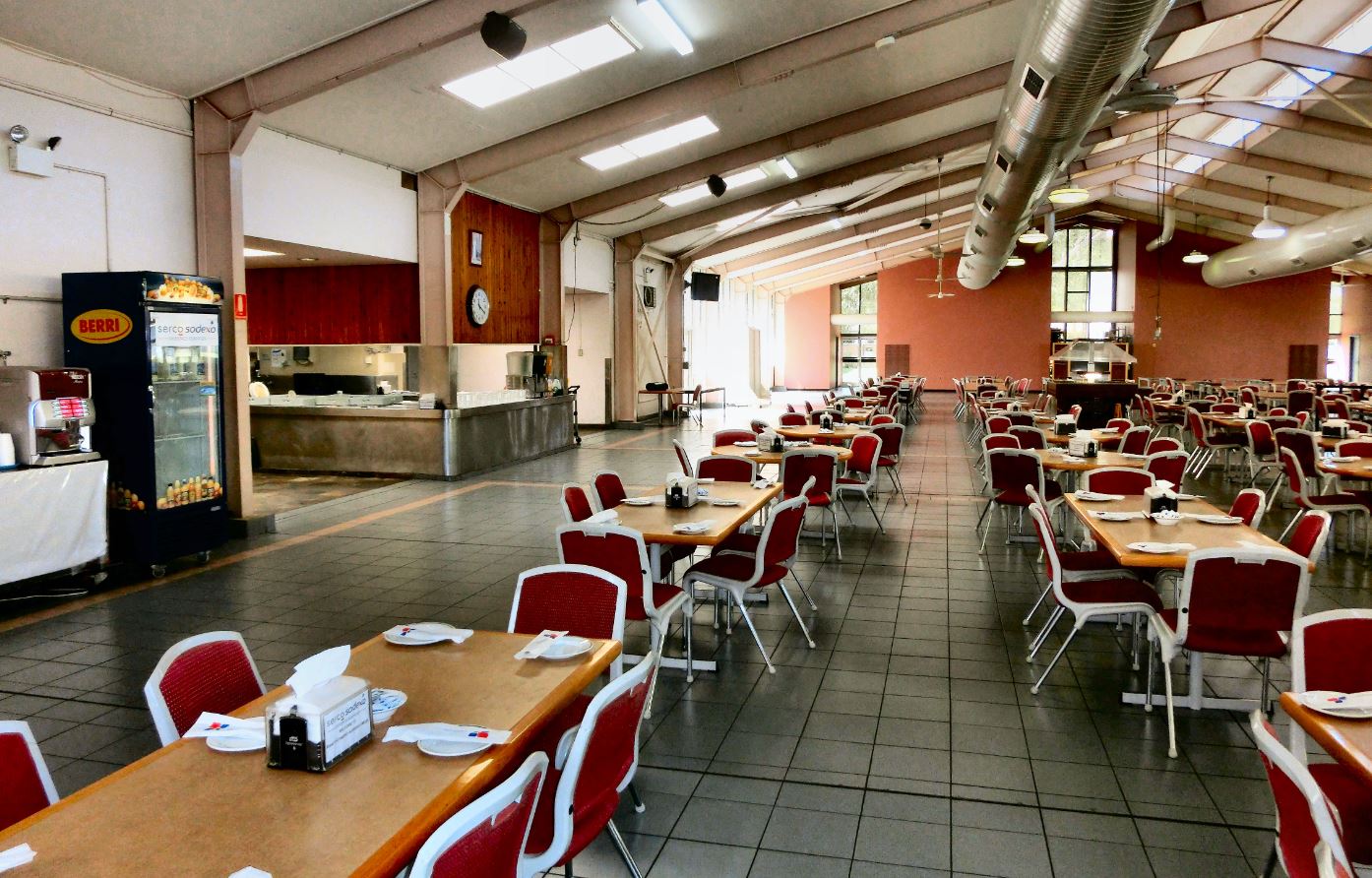 In its day, probably one of the best Airmans' Messes in the RAAF.
Bugger this soccer stuff, if I wanted to watch someone trying to score for 90 minutes
I'd go on a pub crawl with my mates.
Over the road from the Mess were the Airman's accommodation blocks – commonly referred to as the dongas. Back then there were 4 blokes to a room with a central toilet/shower amenities section (the ablutions) in the centre of the block. Each "block" housed 33 blokes to a floor, 32 in the 8 rooms and 1 in the floor NCO room.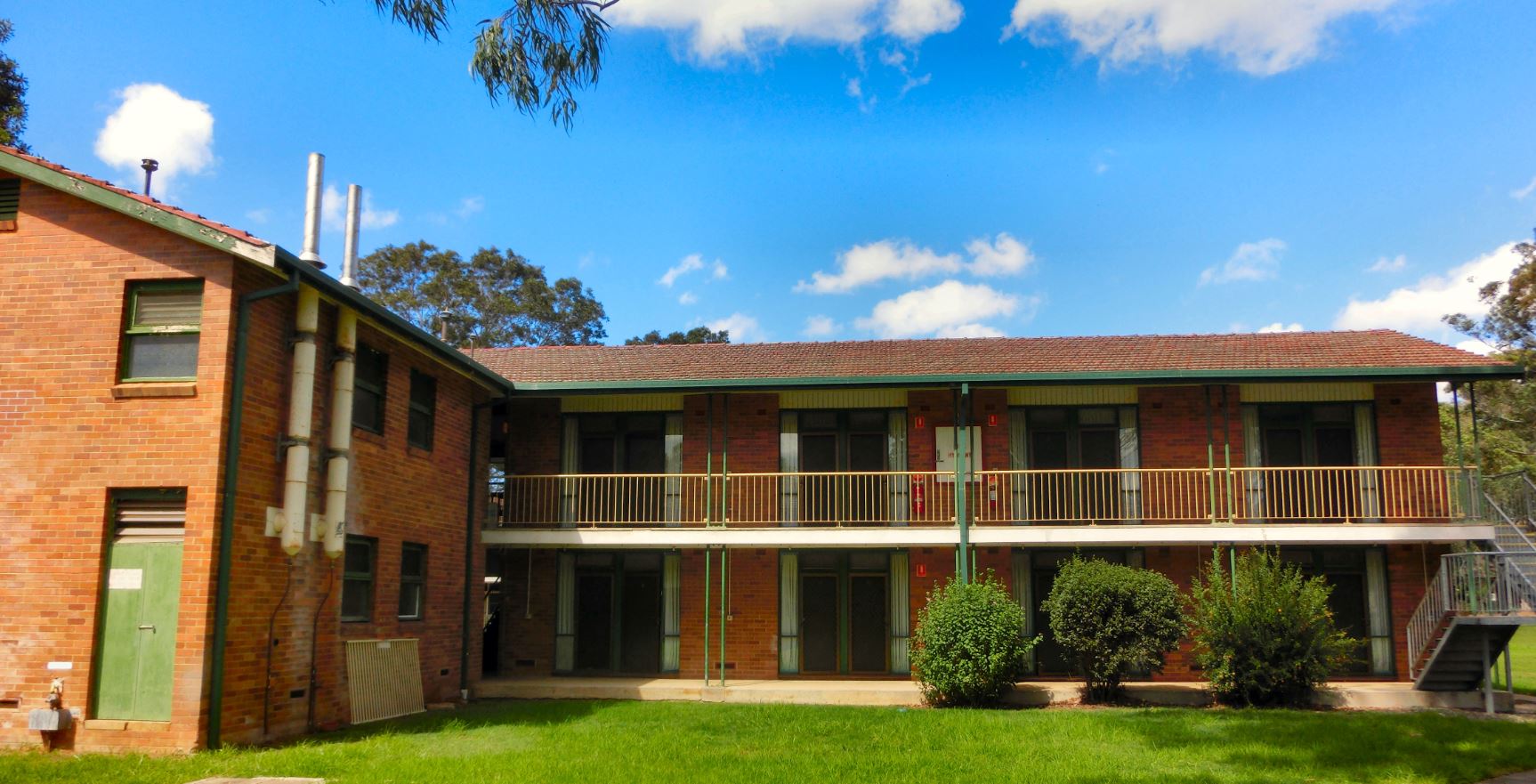 These days 4 to a room would never do, though in our day I think a lot of us used to really enjoy it. It was a time when communal living helped to make some very good and long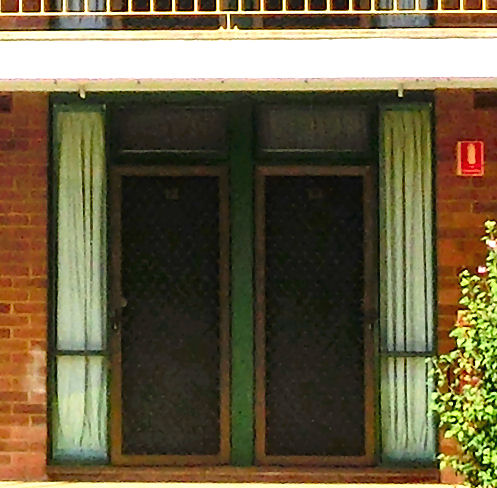 lasting friends, a time when what you owned was "pooled" along with the stuff belonging to your room mates and you could borrow from it as and when needed. Clothes, money, radio grams, records, transistors, even cars could be borrowed and often were.
Today the entrance into the room has changed, the windows each side of the single door have been halved, two doors fitted where there used to be one and a wall positioned from the doorway to the rear wall dividing the one large room into two. Each occupant now has his/her own room and it is sad to see that they are padlocked. With 4 to a room we never had locks on the door, anyone could just walk in but I can't remember anyone ever losing anything.
Of course, panics have gone too, though perhaps that's not such a good thing, as much as everyone hated them they did ensure a high degree of cleanliness. In 1984 the Commonwealth passed the non-discrimination act (on the grounds of sex, marital status or pregnancy) which changed things for ever. The RAAF's living in policy which required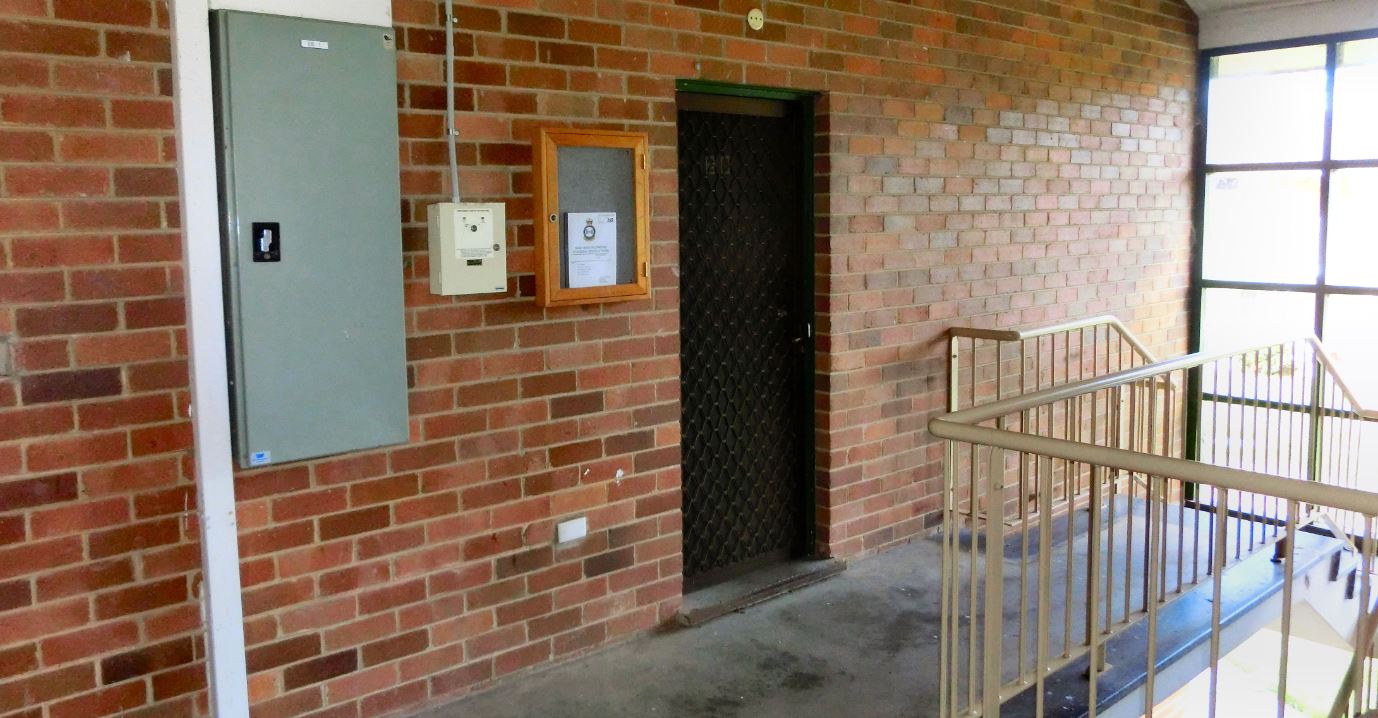 unmarried personnel to live in barracks on base was suddenly illegal. No longer could there be a different requirement or expectation that single people would live on base, any more than a married person would be required to so do. Blokes vacated the blocks in droves and when they went so did the panic.
But during the live-in stage, each week the RAAF would provide one clean sheet for its lodgers. Monday morning you would pull one sheet off your bed and place it out the front of your room. The block NCO, who used to live in his private little room in the stair well, would arrange to have all the dirty sheets collected and replaced with one clean one. (If you knew how to work the system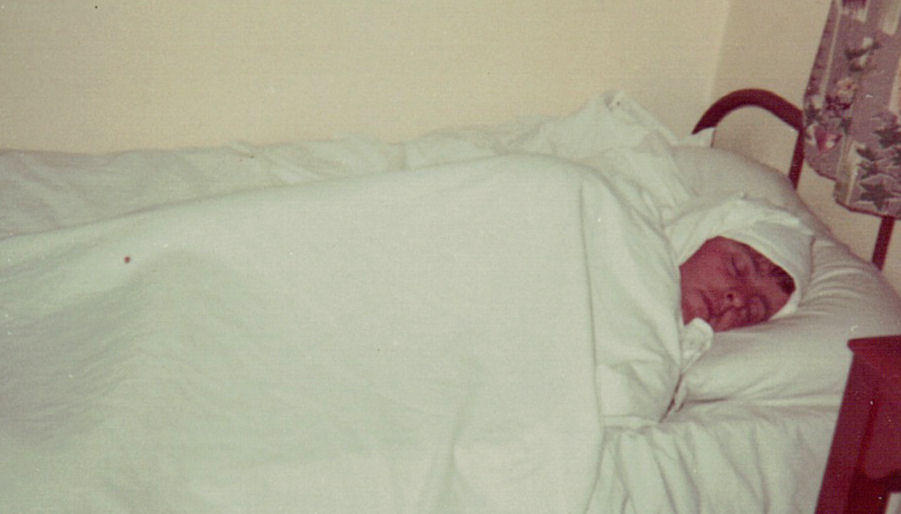 you could get two). In the late 1960's, early 1970's, one such NCO was that tyrant John Donohue (left). John would constantly patrol his charges, wearing his white gloves and checking for dust on desks and window sills – or perhaps I'm getting him mixed up with someone else.
In between the two story blocks was the Airman's laundry. In an age before earth leakage circuits, this building housed about half a dozen Lightburn washing machines which would permanently sit in about half an inch of water and where blokes would do their washing in bare feet so as not to ruin their shoes. If the weather was not favourable for drying on the outside line, clothes could be placed in the drying room which was an insulated room heated to about a million degrees and which turned all your clothes to stiff boards.

The wash rooms also housed a well-attended game of chance each pay night.
Not far from the living quarters was the ASCO canteen. ASCO has long gone, to be replaced eventually with AAFCANS, the Army, Air Force Canteen Service. Although the interior has been completely remodelled, the patronage has dropped off considerably, perhaps due to the fact that the number of people on base has also dropped or perhaps they just miss Dell running the food counter and Blue Silk churning out those Welch Rarebits.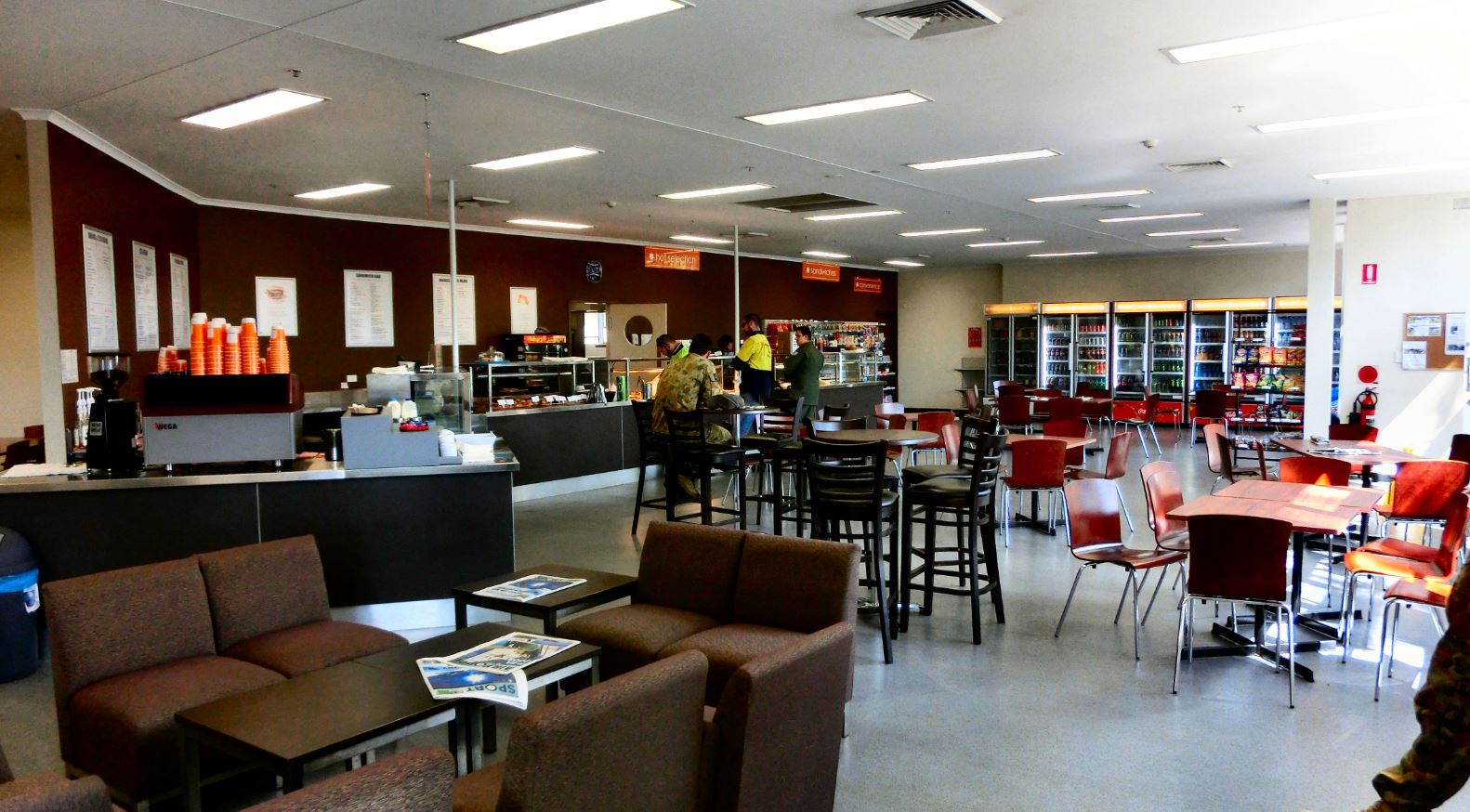 Just outside the old ASCO canteen is the Airman's "Boozer" and beer garden. The "Boozers" don't play such an important part of a RAAF bloke or blokette's life these days and there are probably lots of reasons why. Years ago the boozer was the centre of all social life and it was virtually compulsory to "hit the boozer" straight after knock off and to drink there with your mate until 6.00pm at which time overalls were banned. This was supposed to get the troops home and into the shower before dinner went off in the Mess. Most would come back after dinner and drink until close at 10.00pm.
With people now living off base, blokes and blokettes are more concerned with getting home than meeting up with their mates for a beer and the 0.05 drink drive campaign has had a lot to do with it too. Back in the late 1960's the B/A limit was 0.08 and although the police had a weapon to test if you had been drinking, it was a bag full of crystals which went green if/when you were over the limit. Unlike today where the Police don't need an excuse to stop you for a test and have a device that can perform an inexhaustible number of tests on drivers, in the 1960's the Police needed an excuse to test you and once the crystals went green, that was it - you had to get some more, so the chances of getting caught were low. Provided you drove home without hitting something you were usually pretty safe.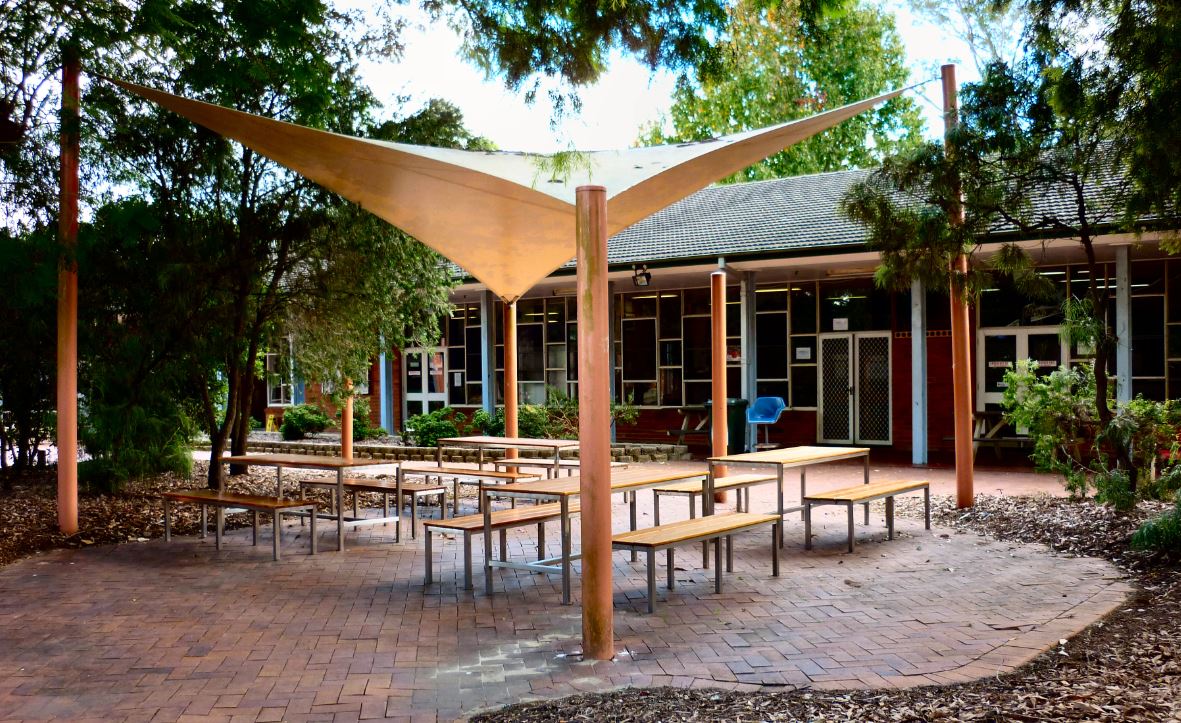 The Beer Garden in front of the Airmen's Boozer.
Below, the Airmen's Boozer as it is today. Long gone are the Laminex topped tables, vinyl covered Namco chairs and the Bakelite ash-trays. Years ago the air inside was thick with tobacco smoke and towards the end of the evening, the floor would be covered in potato chip packets - today, none of that. Today the "Boozer" is air-conditioned and resembles a lounge in a 4 star hotel, with comfortable fabric covered chairs around decorator tables, leather recliners and plush lounges in which to laze and watch TV.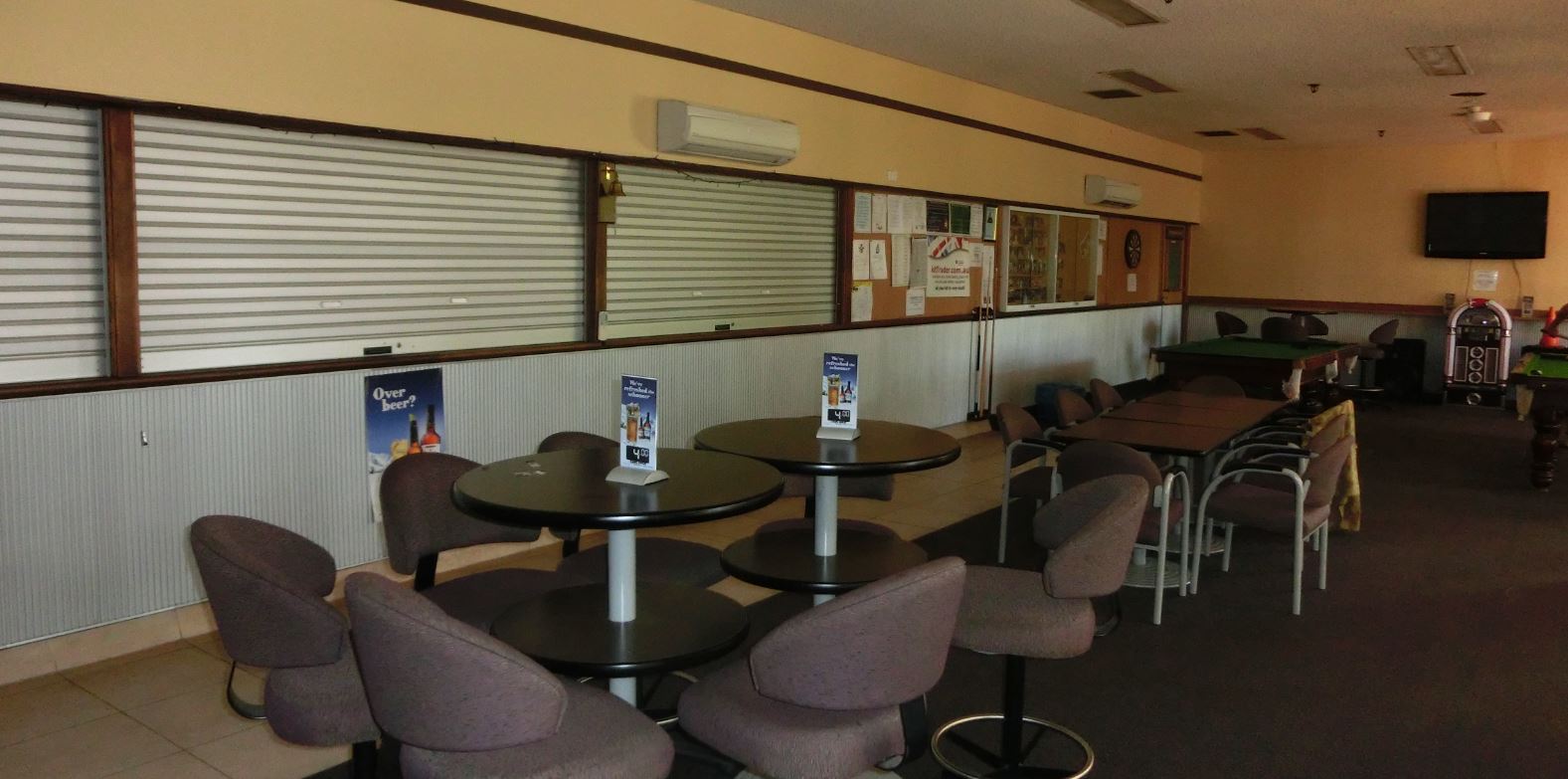 Also long gone is the partition that used to separate the Blokes' end from the Blokettes' end. Prior to the Anti-Discrimination Act, the WRAAFs had their own section and blokes were not allowed in unless invited and signed in.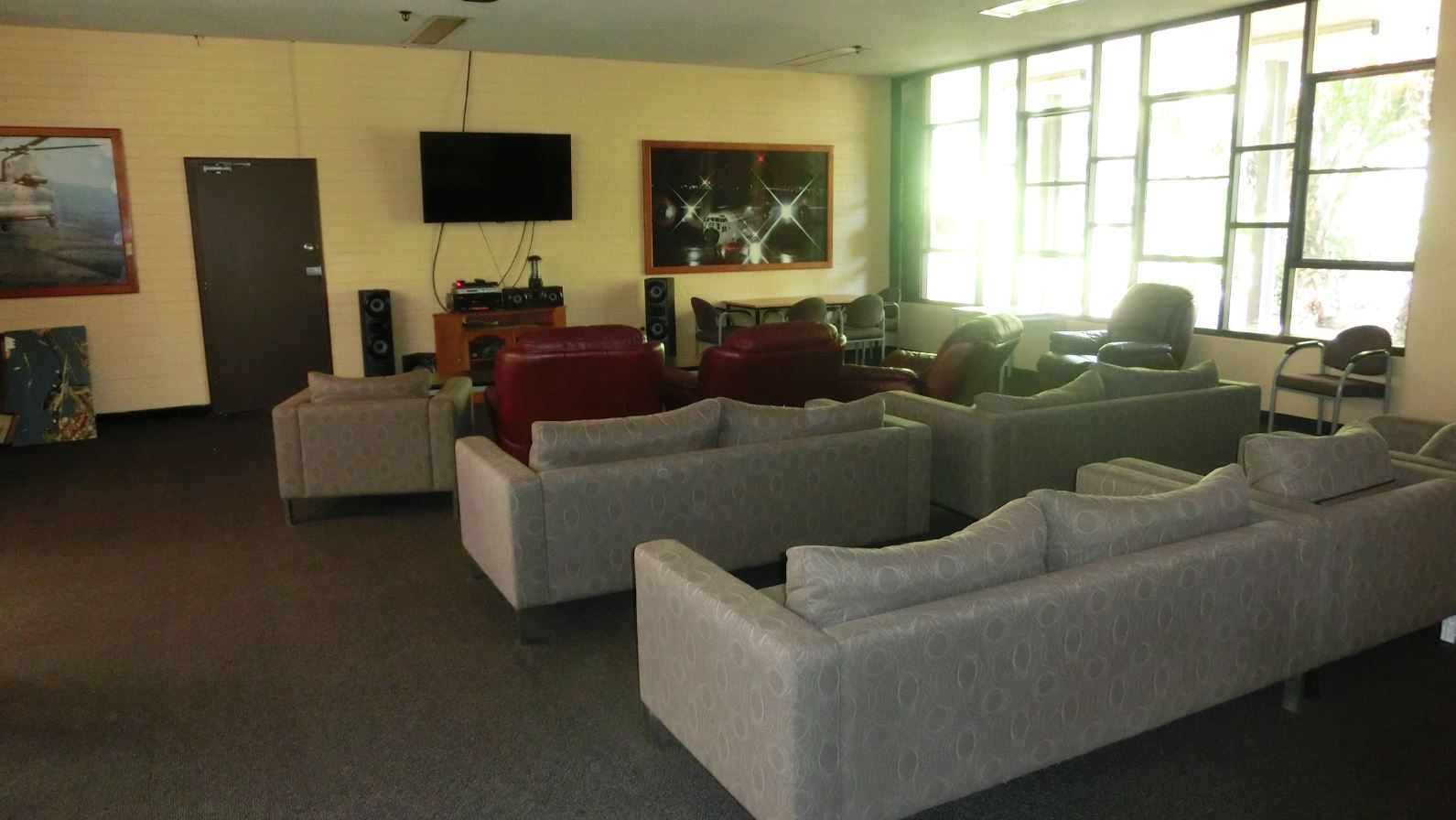 A few Blokes would work in the "boozer" after stand down, spending one week on, two off. This was to top up their income as in 1971 the gross fortnightly pay for an LAC group 15 was $43.46 ($1,129.96 pa) which didn't go an awful long way. Until he got his third, Bob Pearman was the boss man behind the bar!!
As everyone who spent time there knows, Richmond could be a cold and foggy place in winter but in summer it could and did get very hot. With so many people living on Base, the pool next to the old ASCO canteen was very well attended during those warmer months and it was not unknown for blokes to detour via the pool for a look-see whenever the WRAAFs were out sunning themselves.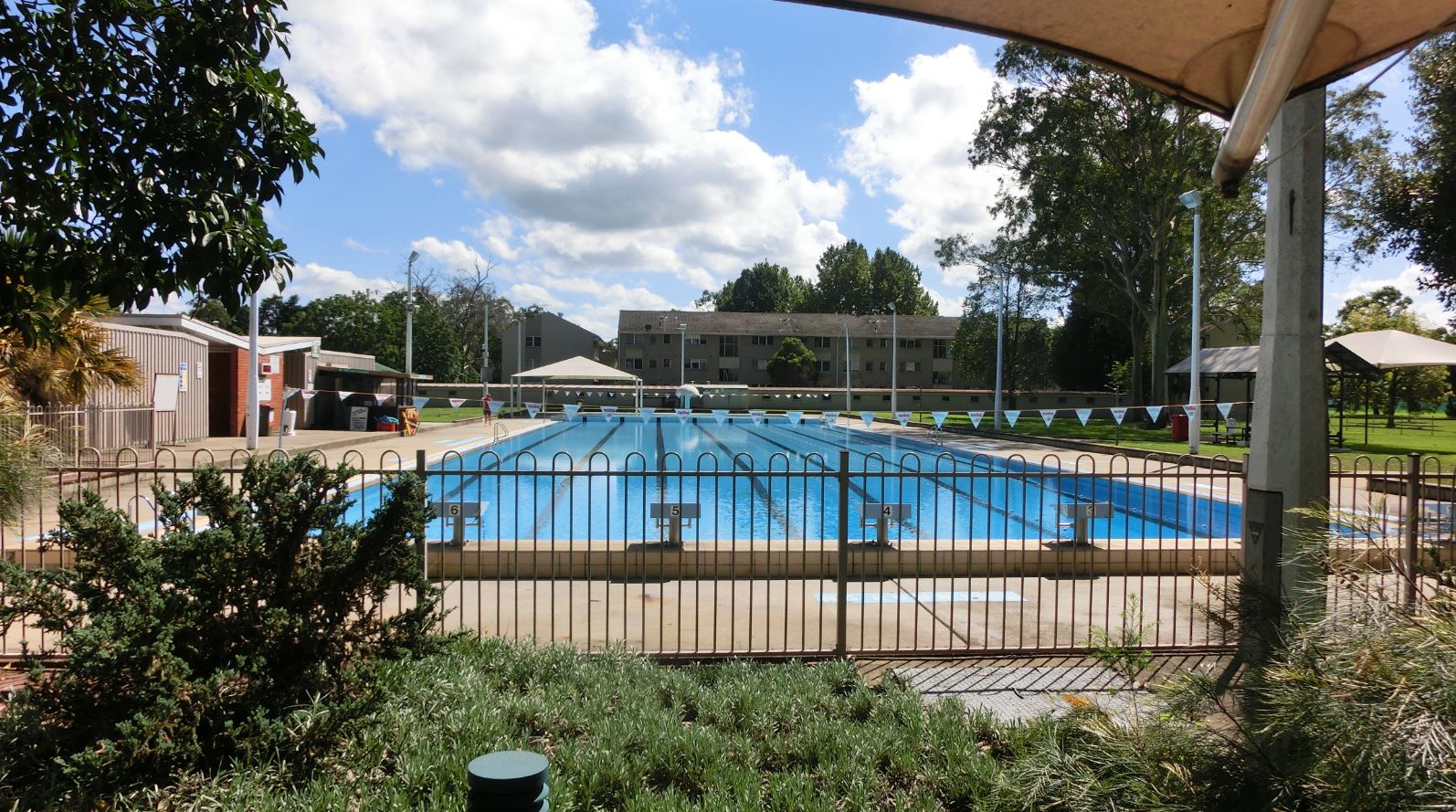 The WRAAFs lived across the road from the Canteen area and although the girls had single rooms, they were severely restricted in their movements. This was the era of Madam WRAAF and Monday (or panic) nights were definitely lock in with no leaving the base though we did know of a few adventurous girls who managed to circumvent this.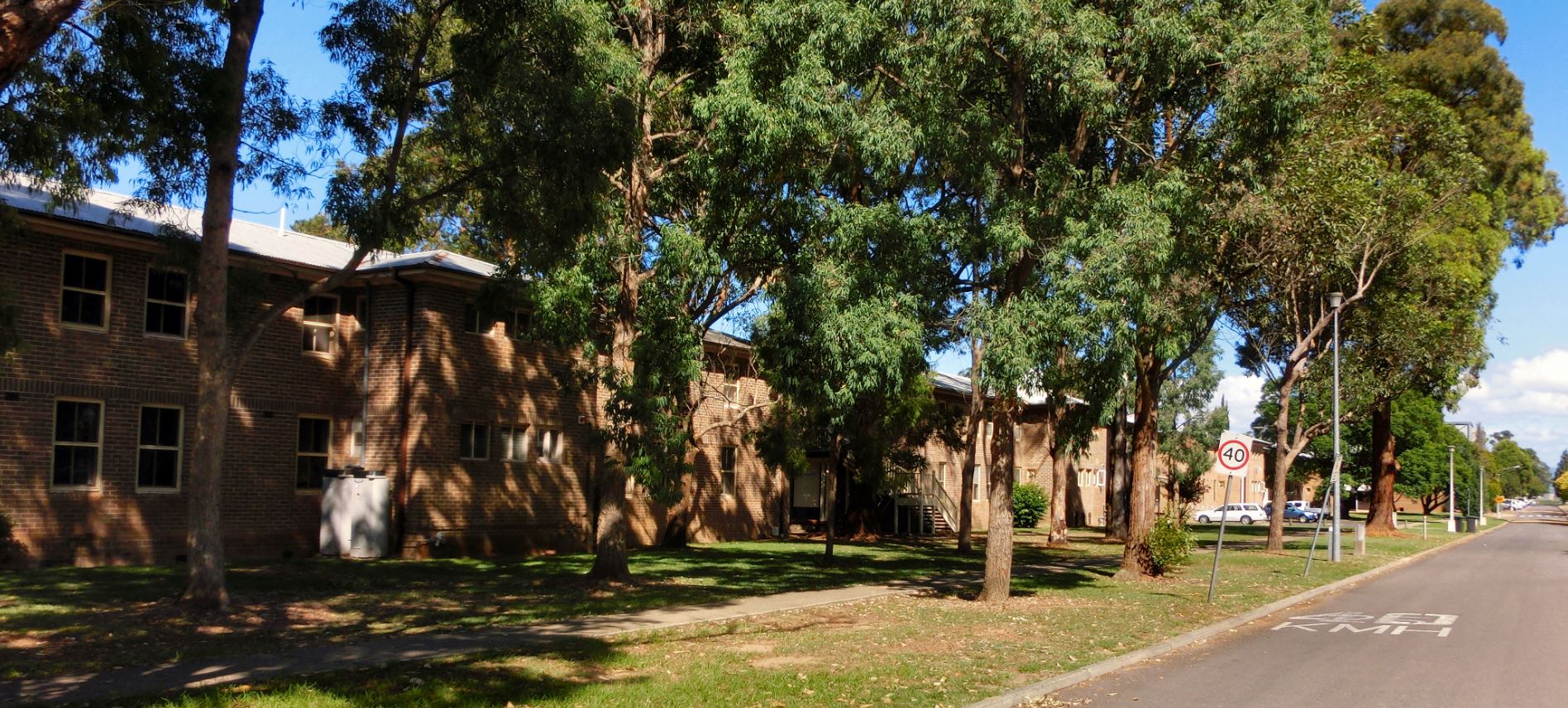 WRAAF Quarters, Richmond.
These buildings were strictly out of bounds to all male bodies, though it is fair to say a few blokes did manage to sneak a peek inside. Below, the back of the WRAAF blocks.
Rear of the WRAAF Quarters, Richmond.
And finally, the powers that be came to the realisation, "if you can't beat them…………"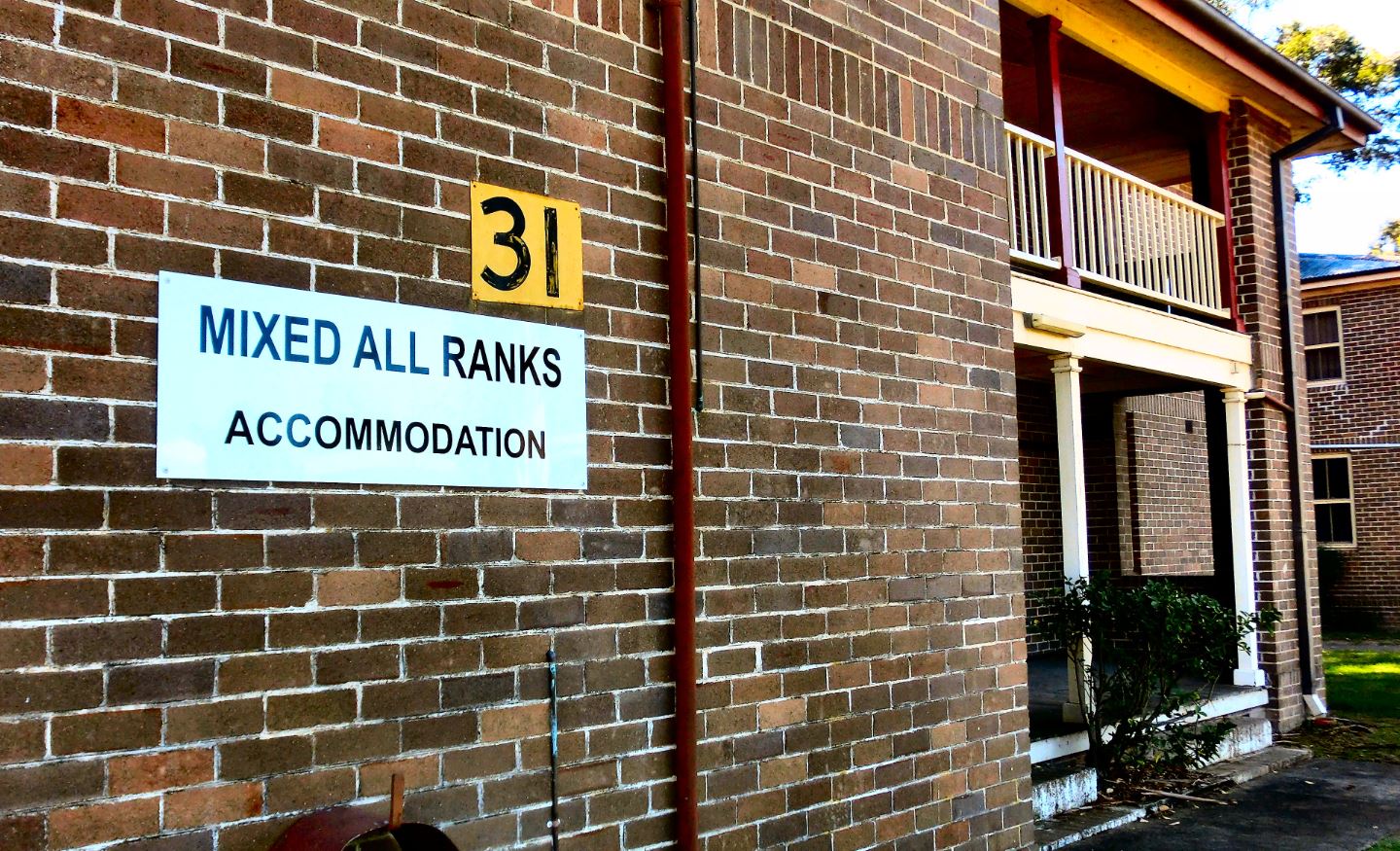 On reflection, it is surprising the number of blokes and blokettes that met and married while serving at Richmond (it would probably be the same at other bases) and it is also surprising the number that are still together.
The Sergeants' Mess, built in 1932, lives just across the grass, (which was the original parade ground) from the WRAAFery, whether this was by design or just pot luck no one knows but we do know there were not too many complaints.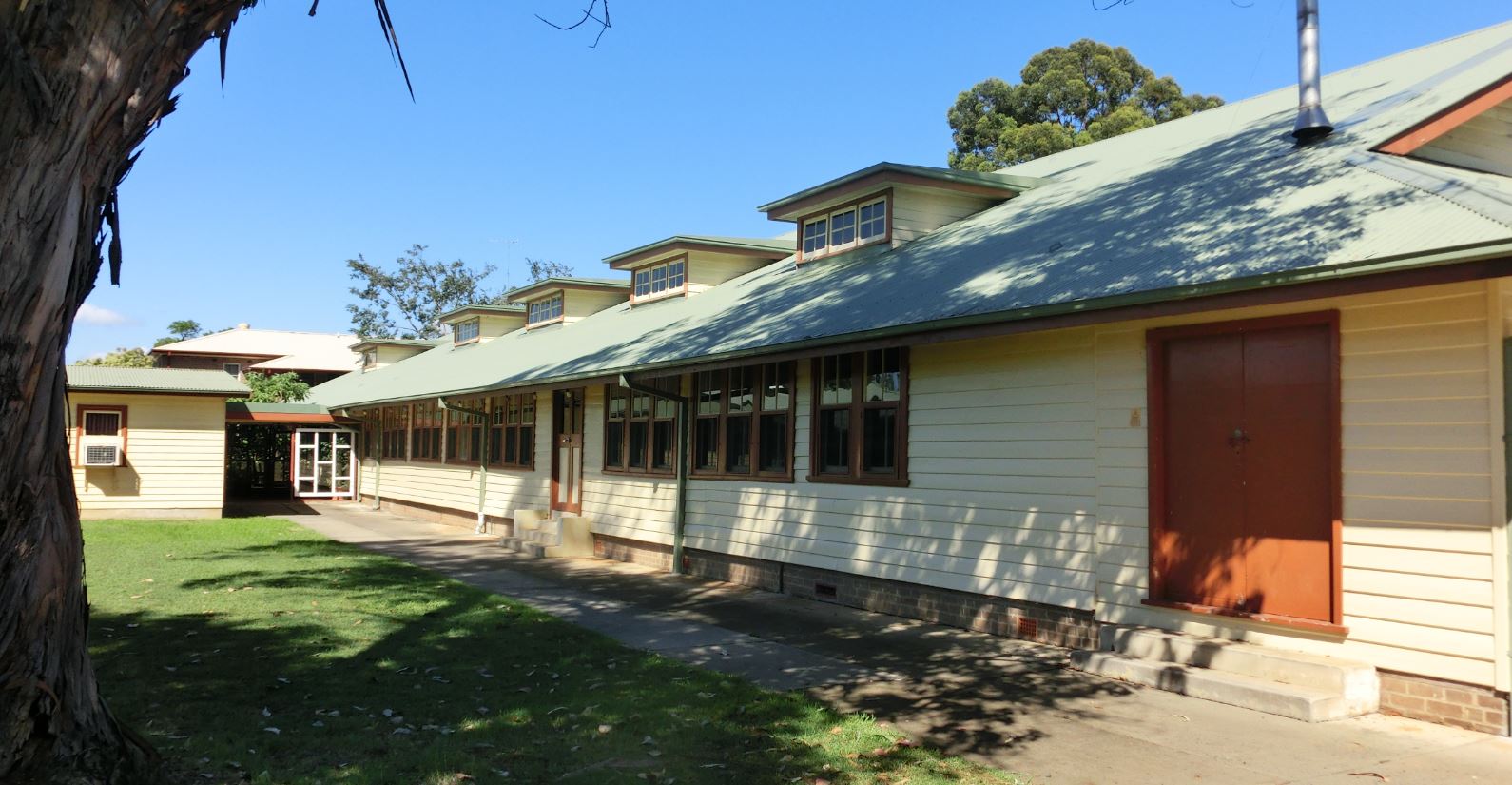 The pic above is part of the old mess.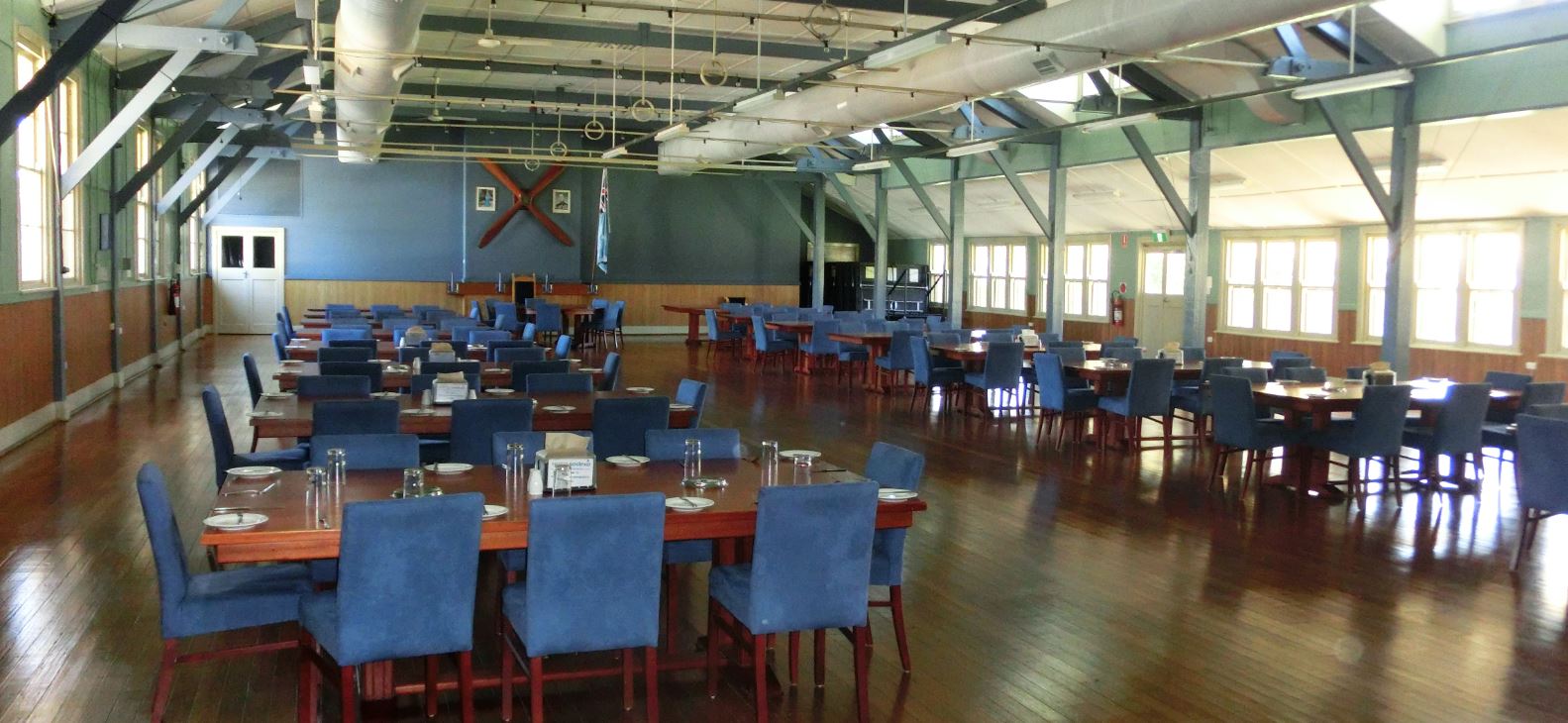 The Sergeants' Mess Dining Room.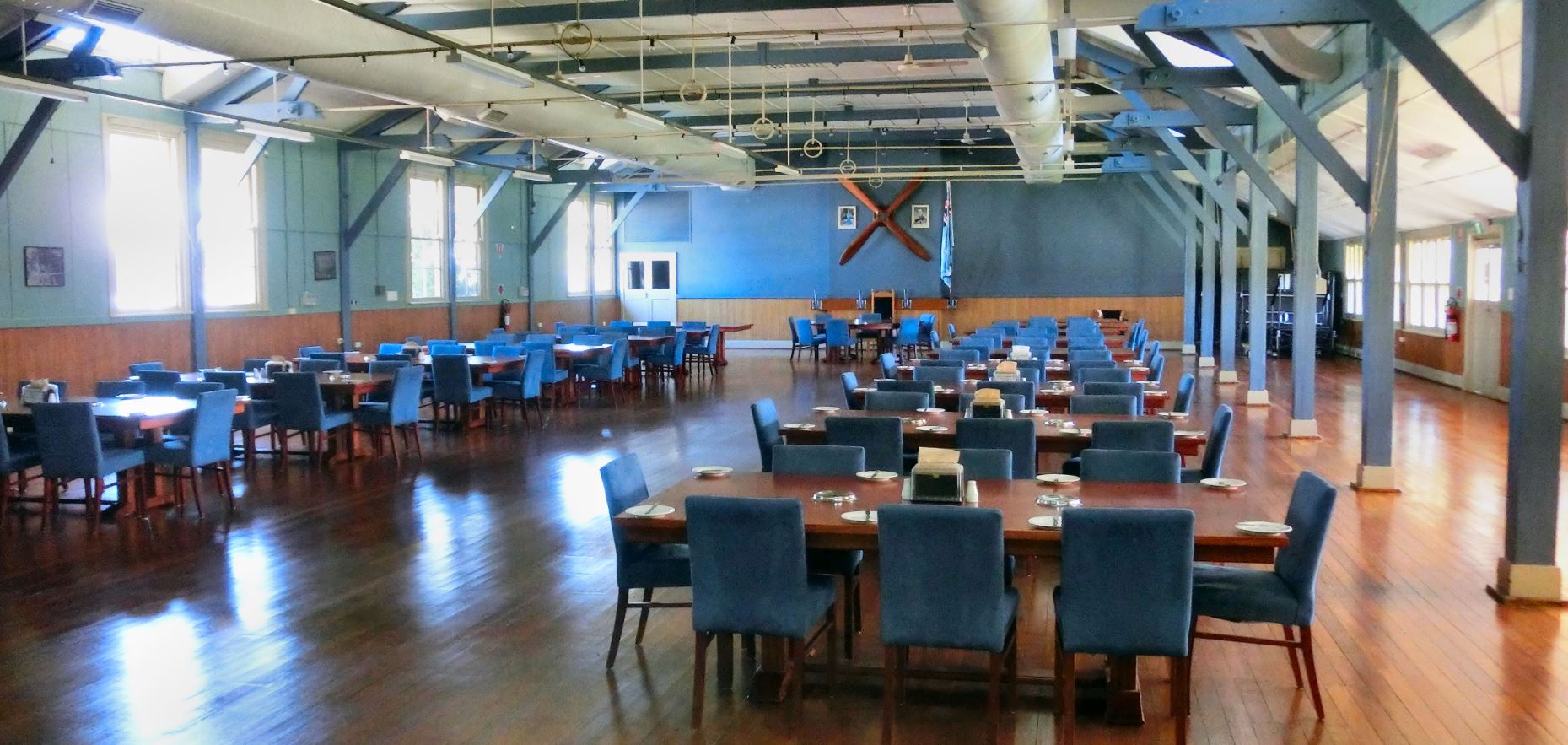 The Sergeants' dining room, it was thought prudent to have the girls eat here with the Sergeants – to keep them safe from those marauding Airman and of course the girls didn't mind, the food and conditions were even better here.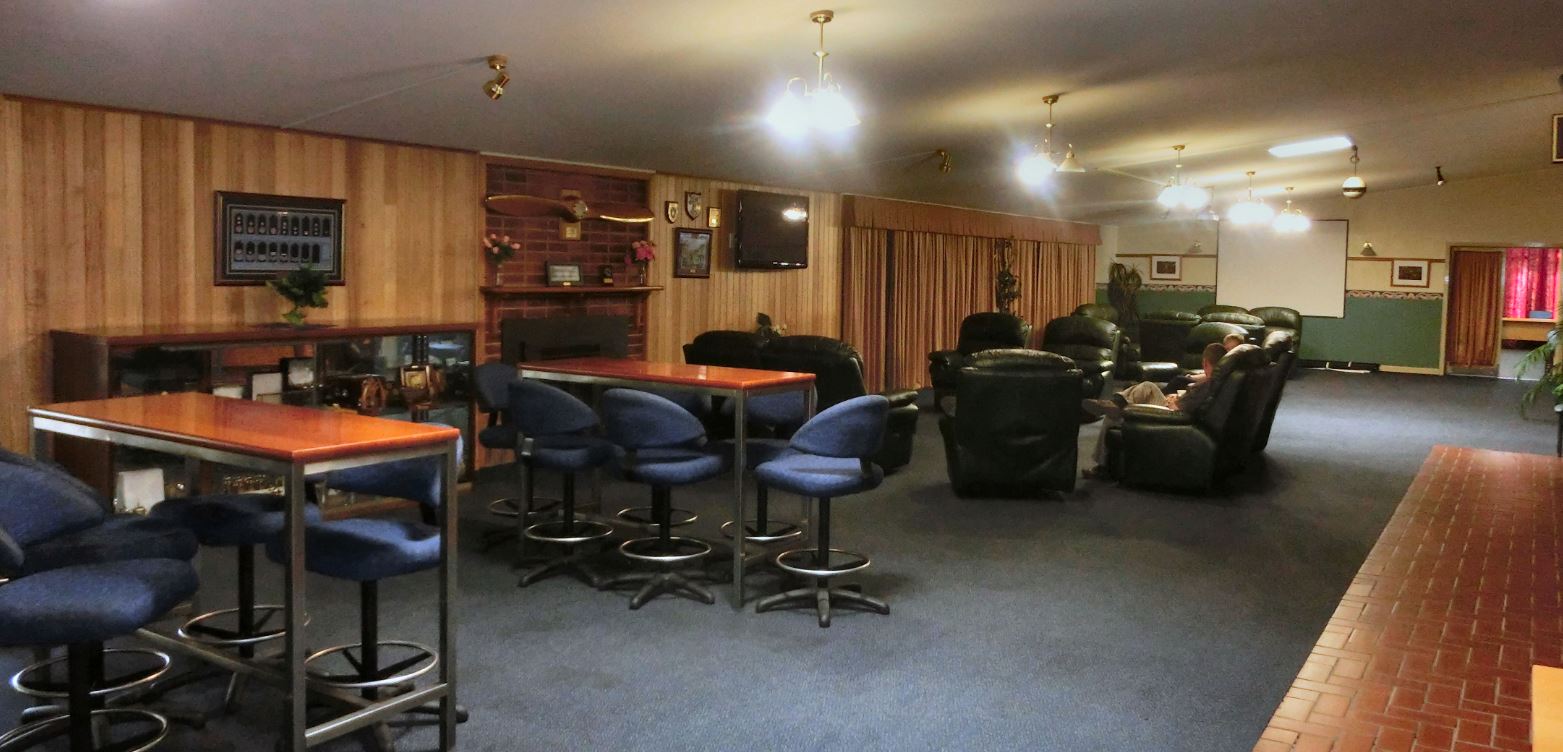 Above, the Sergeants' bar area, and below their living quarters.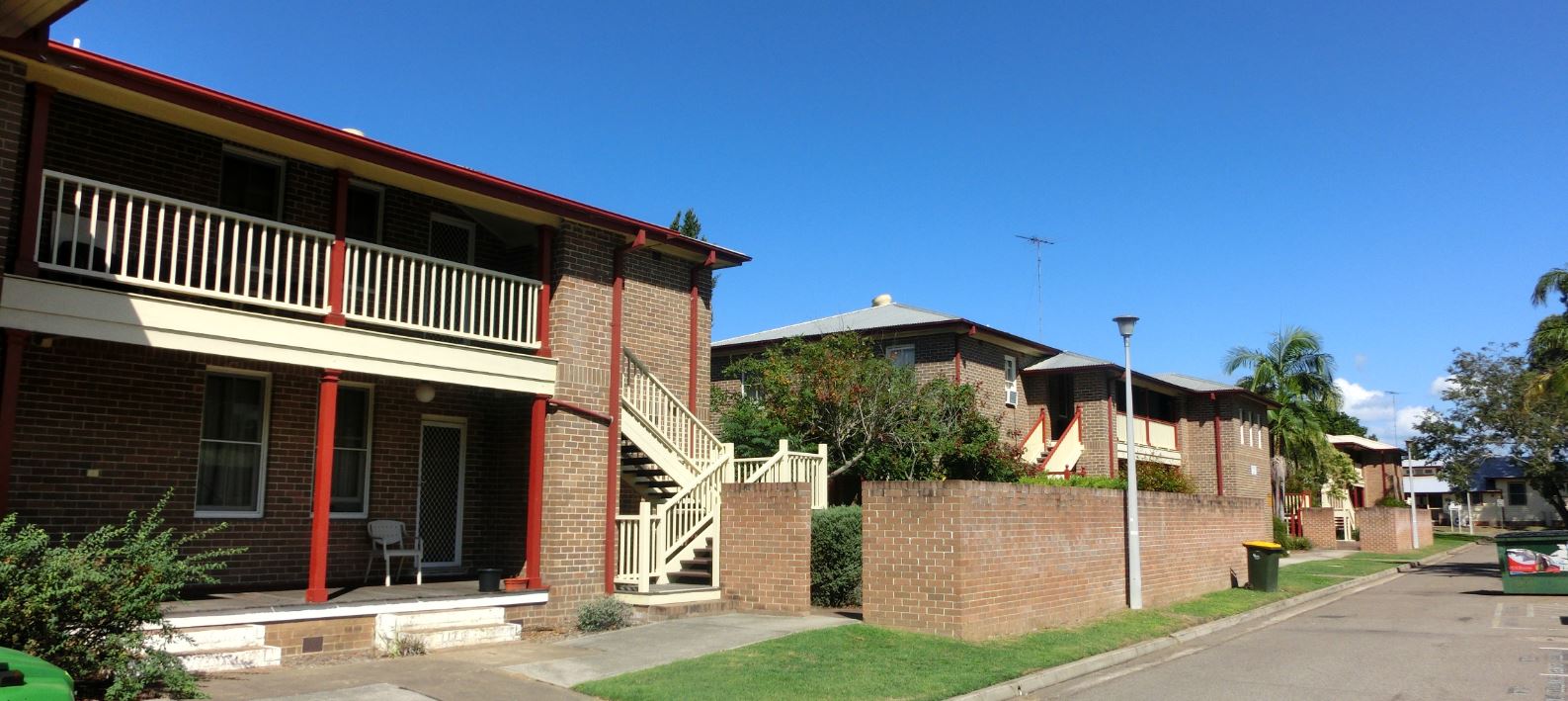 Law of Probability - The probability of being watched is directly proportional to the stupidity of your act.
The old entrance to Richmond.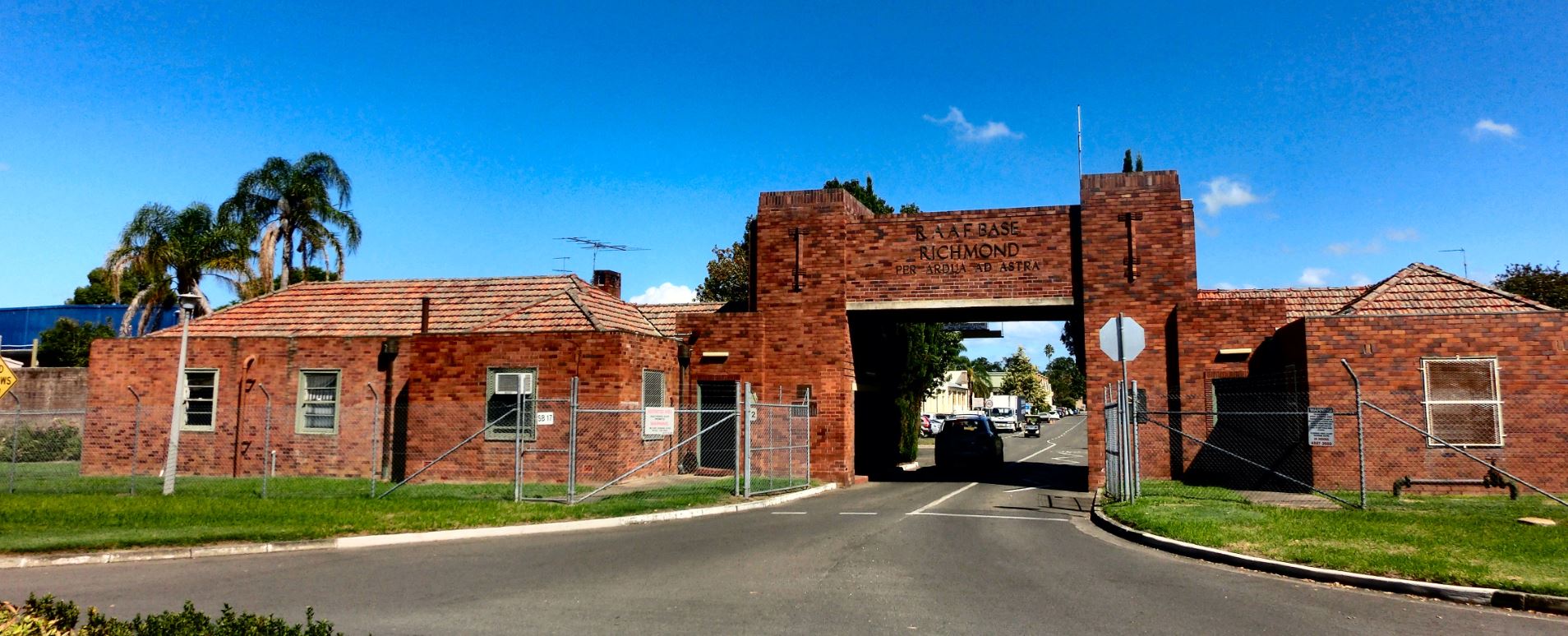 RAAF Base Richmond was the first Air Force base to be established in New South Wales and the second within Australia. In 1915 the NSW Government had set up an Aviation School on Ham Common at Richmond (as it was called) to train military pilots for the Australian Flying Corps at Point Cook. The land was reserved in 1916 to be the first government owned civil aerodrome in Australia and was purchased by the Commonwealth in 1923, becoming the second military air base in Australia, after Point Cook. In 1925 the first Air Force element in New South Wales, No 3 Squadron, which operated Airco DH.9 light bombers and Royal Aircraft Factory S.E.5 fighters, was formed at Richmond. From 1923 to 1936, it was also used as an alternate airport for Sydney with Sir Charles Kingsford-Smith landing the Southern Cross there after his trans-Pacific flight in 1928 and Miss Jean Batten landing after her solo flight from England in 1935.