It Pays to Advertise… Or so they say.
Yesterday, I was patronized, yelled at, assumed to be stupid and talked down to. Happened the day before too. If you own a tv set, chances are you copped a bit of the same treatment. I'm talking about advertisers.
I've never actually met one, but judging by what they produce, I figure they must be a very unusual breed. Around 147,000 different insurance companies want me to buy one of their funeral plans, so every single one of them starts out by letting me know they think I'm too stupid to handle "complicated forms".
Well that's going to do it, right there. Not!
Then they imply that I'm scared of "nasty blood tests" too. From where in the world did they get the idea that patronising we… er… seniors is going to make us want to buy their plan? Listen up insurance floggers, if I'm old enough to be thinking about funeral plans, trust me, I've already been jabbed and sucked often enough to know it's nothing to be scared of.
Hang on, that doesn't sound quite the way I intended it to.
Next they compare the weekly plan cost, (they call it an "Investment". Riiiggght, an investment I pay into for the rest of my life but the return doesn't kick in until after I'm dead, WTF?), anyway, apparently the 'investment' per week is no more than a cup of coffee.
Two points. First, they're paying way too much for their coffee, and second, coffee gives me immediate and major gratification. Hell, right after a cup of coffee is probably the best I'm going to feel all day. And they're comparing that with something that gives gratification to someone else, after I've deperched. No wonder they're struggling to sell it.
What we have here is a serious case of false equivalence. Coles think that a big red hand with the finger pointing down will get my attention. Well, I suppose it could be worse, the finger could be pointing up. A different message entirely.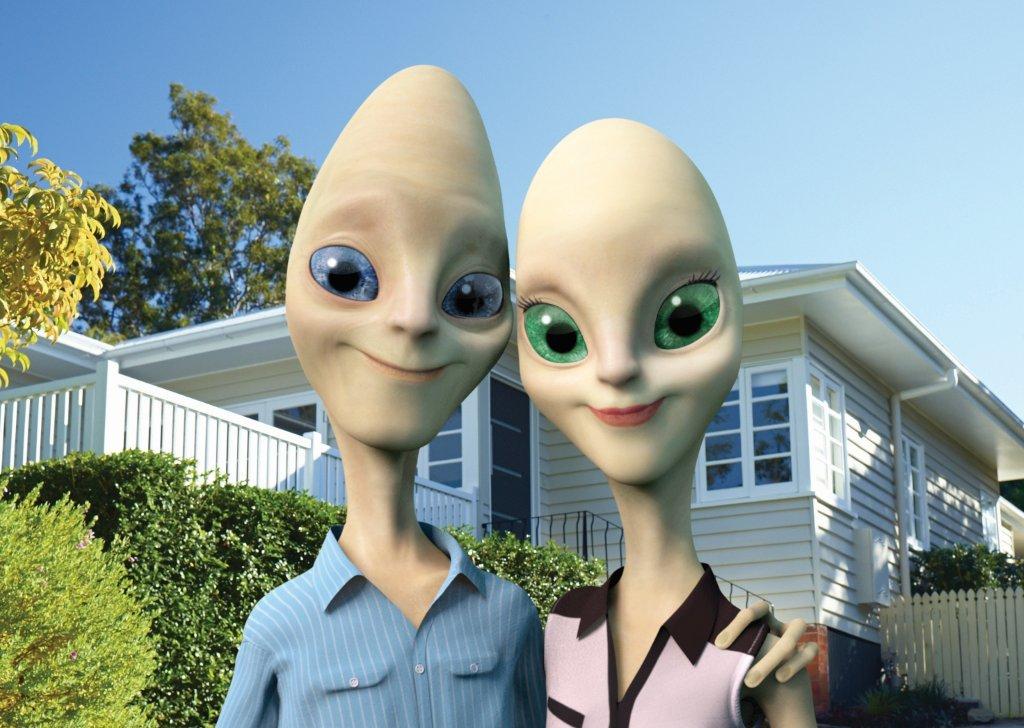 Just diverging a minute, I've always liked the Budget Car ad where the girl sings the Budget song with a cute French accent. So what do the idiots do? They replace her with a couple of weird aliens. They don't do it for me; can't explain why. They just don't. You wonder what the thought process was going on in the creative department: Alien cartoon characters, or cute French chick, alien cartoon characters or cute French chick. Gee, I don't know… Tough call.
I mean, it's not like six year olds hire cars.
And you've gotta love this strategy of targeting kids. Can't reach the parents? No problem, just turn the kids into nagging little sales rugrats. McDonalds have done this for years, and they figured out that even kids aren't that interested in a cheeseburger, a coke and fries. So now they sell Happy Meals by convincing the kids they can't live without the plastic toy, and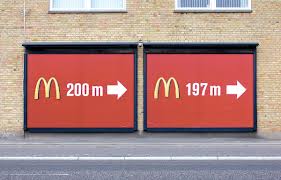 , oh by the way, they get a burger and the other bits thrown in. Never mind that the toy has a higher nutritional content than the burger and fries. Plus it's non-fattening. By the way, did you know those grill marks on your burger aren't real. They were put there by the factory. Mmmmmmm, taaaasty!
I wonder where they got the idea that I might buy a Mazda once I know that it goes Vroooom, Vroooom! I haven't connected Vrooom Vrooom with a car since I was five years old with a dinky toy. Meanwhile, Kia have an ad out now that features some dude pretending to balance a soccer ball on his head. Sorry Kia people, you're going to have to be just a tad more specific.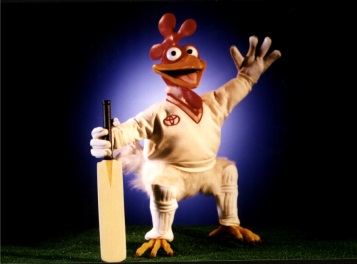 On the subject of cars, I occasionally ask myself how many people saw the chicken jumping in the air and said to themselves, "Right, that settles it, got to get me one of them there Toyotas."
One ad I can see the sense in is those mini billboards above urinals in shopping malls, advertising condoms. That's sensible. I mean, as long as I have it in hand anyway…At Carindale Mall, they have the condom ad and right beside it is an ad for those drops you put in tired eyes. That kinda makes sense too, when you think about it.
I can see where if things work out well with the condom you might have tired eyes the next day. I was doing a bit of research for this piece and I came across the website of a major national advertising and marketing company. It had a list of the top twenty things you can do to lift your brand image. Number 20 was, wait for it – Have Great Products and Services. No kidding. I guess it never occurred to them to make that No 1 and then forget the other nineteen.
Advertising to mass markets became popular in the U.S. over a century ago. And for almost that long, researchers have been studying whether advertising works. Professor Gerard Tellis at University of Southern California and his associates summarized the findings from hundreds of prior studies through a method called "meta-analysis." This approach ascertains the average effect of advertising in past studies and why it varies across contexts. What did they find out? Well, here's the key takeaway: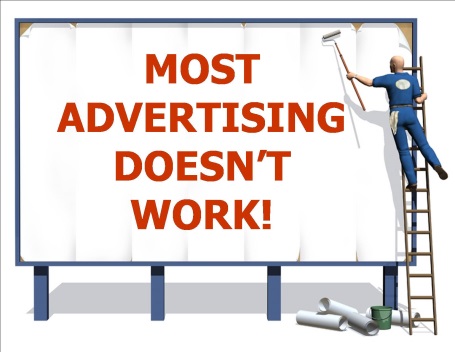 The effect of advertising is quite small – a one percent increase in advertising expenditures leads to 0.1 percent increase in sales or market share.
In other words, the sales return to advertising is 1/10th of its input in terms of expenditures. So on the strength of that, you'd have to say the answer to the question is: not very well.
I just hope the advertisers never find out or we might have to start paying for our free to air TV. And who wants to have to pay to be patronized, yelled at, assumed to be stupid and talked down to?
Anthony V Element OAM
Observation Point (Founder and Editor)