100th Anniversary of the RAAF celebration.
We had to cancel our plans for the big get together in Melbourne next year but that doesn't mean we're cancelling all together. We've decided to hold our celebration next year in the ACT and to hold it over the ANZAC Day period and if you went through Radschool, whether Ballarat or Laverton, no matter what course, male or female, this event is for you. It also includes your husband, wife, boy friend, girl friend etc, who can join in with us in all events except the ANZAC Day March itself unless they have served. We're all getting on a bit and this could be our last hurrah - let's make it a good one. ANZAC Day in 2021 falls on a Sunday and we're planning to hold several events prior to that culminating in joining in the ceremonies planned around the War Memorial on ANZAC Day, including the Dawn Service, breakfast and the March itself. We're suggesting you spend 5 nights in Canberra, commencing Wednesday night the 21st April, and leaving the ACT on Monday the 26th.
Here's what's planned.
Wednesday 21st April.
An informal get together at the Ainslie Football Club that night. We hope to have a handout for everyone, setting out what's planned, etc.
Thursday 22 April
We've arranged with the Army for a conducted tour of Duntroon. This is a marvellous base, full of tradition and wonderful old buildings and is definitely worth a visit. This will start at 10.00am and should finish about 12.00midday. After Duntroon, we're planning we get together for lunch, unfortunately, the Corona problem has meant we haven't been able to get to Canberra to organise this, but once things return to normal we will and we'll let everyone know.
Friday 23 April.
We've arranged a conducted tour of the AWM after which we can all lunch at Poppy's Cafe at the AWM. After lunch we'll try for a conducted tour of Parliament House - but we can't confirm that until we can get to Canberra.
Saturday 24 April.
We've also been in touch with the ACT branch of the Air Force Association and have got approval to dedicate a plaque, remembering Radschool, in the RAAF Grove which is on the Federal Highway just inside the ACT boundary - see HERE. We submitted a claim to DVA for funds to cover costs, but it was refused (see HERE). We're pursuing other sources of funds and if we can't do any good, we might be forced to ask for donations. More later.
As there's limited parking on the highway, we'll arrange a car pool system which will operate from the Ainslie Football Club car park to get everyone out there. Refreshments will be served after the dedication after which we plan returning to the Club for lunch. The rest of the afternoon is free until about 4.00pm when we can meet up again at the AWM for the "Changing of the Guard" at the tomb of the Unknown Australian Soldier, followed by the Last Post ceremony where we will lay a wreath. If the WRAAF ladies wish to join us, we will lay two. After that the day is yours as it will be an early start tomorrow.
Sunday 25 April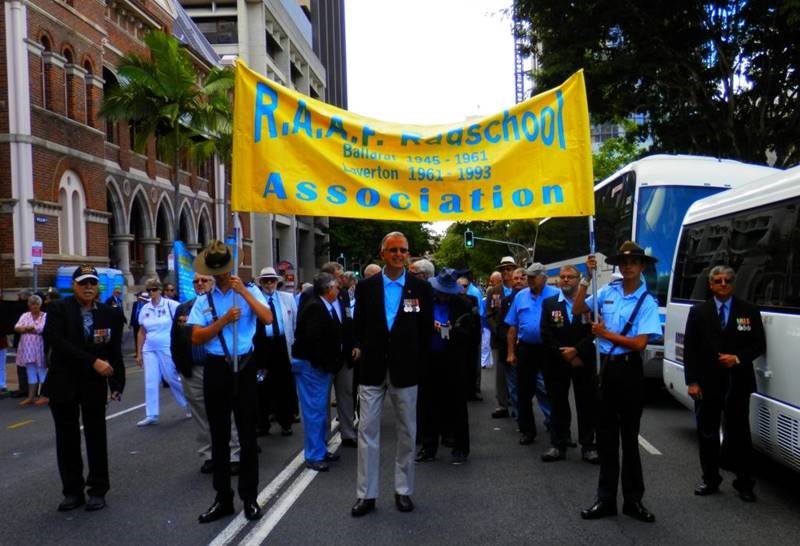 Being ANZAC Day we propose attending the Dawn Service followed by the ANZAC Day March. The Dawn Service starts at 5.30am, but they suggest you get there at least 30 minutes prior to that - so no sleep-in that morning. After the Service, breakfast is served in ANZAC Hall at the War memorial, see HERE. The Dawn Service and the following breakfast are wonderful and very moving events.
The breakfast costs $45 per head and tables are arranged for 10 people. Click HERE for a sample menu. We'll have more on this after our trip to Canberra in August.
We've been in touch with the ACT Sub-branch of the RSL and have approval for us to march under the Radschool Banner. The March starts at 10.30am and will finish overall at the War Memorial at 12.30pm - that doesn't mean you're marching for 2 hours. The route for the March is along Anzac Parade, see HERE, we don't know the length of the march but we'll know more after our trip down to Canberra in August. If you are not able to march, but would still like to attend, we can possibly arrange to have you carried in a vehicle, let us know in the form below. Sorry, but we can only arrange a vehicle for those with active service.
We'll have more info on when and where to form up etc later.
The Dawn Service and the ANZAC Day March at the AWM are two huge events and should be on everyone's bucket list.
After the March, in the tradition of ANZAC Days everywhere, we can all get together at a club for a "debrief". We're talking with the RSL for a suitable venue, more on that later too.
So we can get an idea of numbers, we know it's still a fair way off, but if you think you can make it, please fill in the form below. It's important that we get an indication of numbers before we talk to venues in Canberra in August (we hope restrictions are lifted by then). If your name is not on the list you could miss out as numbers could be important. Remember, you can always cancel later on, but mightn't be able to add your name once we've confirmed things.
Unfortunately, due to the Virus, I haven't been able to get to Canberra to firm things up, hopefully I can get there prior to Christmas.
Put your name in now
| | |
| --- | --- |
| First Name: | |
| Surname: | |
| Phone: | |
| Email address: | |
| Will you be partnered? | |
| Will you need a vehicle for the March? | |
| Comments: | |
| | |
| | |
Click HERE to see who has indicated they will be going.