Nobody is buying brand new cars anymore!
Well they are, but not on the scale they once were. Millions of brand new unsold cars are just sitting redundant on runways and car parks around the world. There, they stay, slowly deteriorating without being maintained. Below is an image of a massive car park at Swindon, United Kingdom, with thousands upon thousands of unsold cars just sitting there with not a buyer in sight. The car manufacturers have to buy more and more land just to park their cars as they perpetually roll off the production line.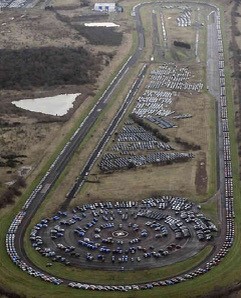 There is proof that the world's recession is still biting and won't let go. All around the world there are huge stockpiles of unsold cars and they are being added to every day. They have run out of space to park all of these brand new unsold cars and are having to buy acres and acres of land to store them. It would be fair to say that it is becoming a mechanical epidemic of epic proportions.
If anybody from outer space is reading this webpage, we here on Earth have too many cars, why not come and buy a few hundred thousand of them for your own planet!
The car industry would never sell these cars at massive reductions in their prices to get rid of them, no they still want every buck. If they were to price these cars for a couple of thousand they would sell them, however, nobody would then buy any expensive cars and then they would end up being unsold. Its quite a pickle we have gotten ourselves into. The pic above shows the Nissan test track. Only it is no longer being used, reason...there are too many unsold cars parked up on it! The number of cars keeps on piling up on it until its overflowing. Nissan then acquires more land to park the cars, as they continue to come off the production line.
The car industry cannot stop making new cars because they would have to close their factories and lay off tens of thousands of employees. This would further add to the recession. Also the domino effect would be catastrophic as steel manufactures would not sell their steel. All the tens of thousands of places where car components are made would also be effected, indeed the world could come to a grinding halt.
Below is shown just a small area of a gigantic car park in Spain where tens of thousands of cars just sit and sunbathe all day.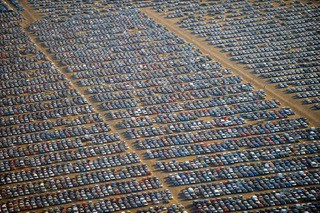 Tens of thousands of cars are still being made every week but hardly any of them are being sold. Nearly every household in developed countries already has a car or even two or three cars parked up on their driveway as it is.
The cycle of buying, using, buying using has been broken, it is now just a case of "using" with no buying.
It is a sorry state of affairs and there is no answer to it, solutions don't exist. the cars just keep on being manufactured and keep on adding to the millions of unsold cars already sitting redundant around the world. As it is, there are more cars than there are people on the planet with an estimated 10 billion roadworthy cars in the world today. We literally cannot make enough of them.
Below are seen just a few of the thousands of Citroen's parked up at Corby in England.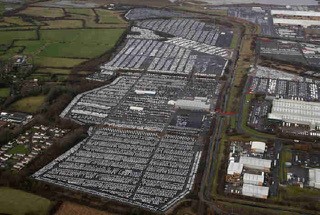 They are being added to daily, imported from France but with nowhere else to go once they arrive. There they sit, brand spanking new cars, all with a couple of miles on the clock that was consummate with them being driven to their car parks. Manufacturing more cars than can be sold is against all logic, logistics and economics but it continues day after day, week after week, month after month, year in year out.
All around the world these cars just keep on piling up, there is no end in sight. The economy shouts out quite loud that nobody has the money anymore to spend on a new car. The reason being that they are making their "old" cars go on a lot longer, but we cannot stop making them, soon we will run out of space to park them. We are nearly running out of space to drive them that's for sure!
Gone are the days when the family would have a new car every year, they are now keeping what they have got. It may be fair to say that some families still get a new car every year but it's the majority that now do not. The results are in these images, hundreds of thousands if not millions of cars around the world are driven from their factories, parked up and left.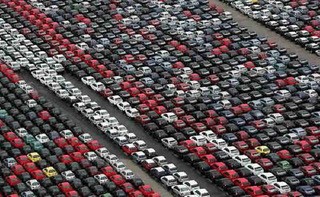 Could we say that these cars have been left to rot! Maybe, as these cars will certainly rot if they are not bought, driven and cared for. It does not look like they will be sold any day soon, many of them have been standing for over 12 months or even longer and this is detrimental to the car. Do you think they will ever start giving them away, that may be the only radical solution. Who knows, you could soon be getting a free car with every packet of cornflakes!.
When a car is left standing idle, all the oil sinks to the bottom of the sump and then corrosion begins to set in on all the internal engine parts where the oil has drained away. Cold corrosion is when condensation builds up in the cylinders and rust forms in the bores. The engines would then start to seize and would need to be professionally freed before they could be started.
Also the tyres start to lose air and the batteries start to go flat, indeed the detrimental list goes on and on.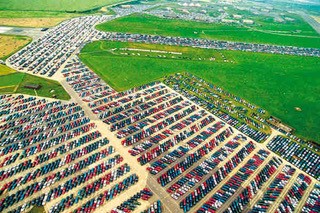 So the longer they sit there the worse it slowly becomes for them.
What is the answer to this? Well they need to be sold and that just isn't happening.
The epidemic is not improving, it is getting worse. Car manufactures are constantly coming out with new models with the latest technology in them. Hence prospective buyers of, for example, a new Citroen Xsara Picasso want the latest model, not last year's model.
It's a great story – but, as usual, it's all garbage!!
This story started back in May 2014 and photographs referenced above supposedly depict millions of brand new unsold cars, vehicles that are continuously churned out by automobile manufacturers around the world even though there is no demand for them and they end up sitting in car parks "slowly deteriorating without being maintained," forcing manufacturers to "buy more and more land just to park their cars as they perpetually roll off the production line." Although the displayed photographs are real, they are several years old (reflecting conditions that existed back in 2009), and do not depict what is claimed in the accompanying text.
One of those photos was taken from a May 2009 article about an Atlanta car dealer noting that in the first four months of that year, 60% of his retail sales profits had come from vehicles that sold for $4500 or less (rather than from new or near-new cars). Another from a January 2009 article about slumping new car sales in the UK and captured a view of some of the thousands of unsold cars that were then being stored at Avonmouth Docks England, while sales of new cars in the UK had slumped to a 12-year-low. Another appears (without additional comment) in a March 2009 Boston.com collection of images reflecting "Scenes from the recession."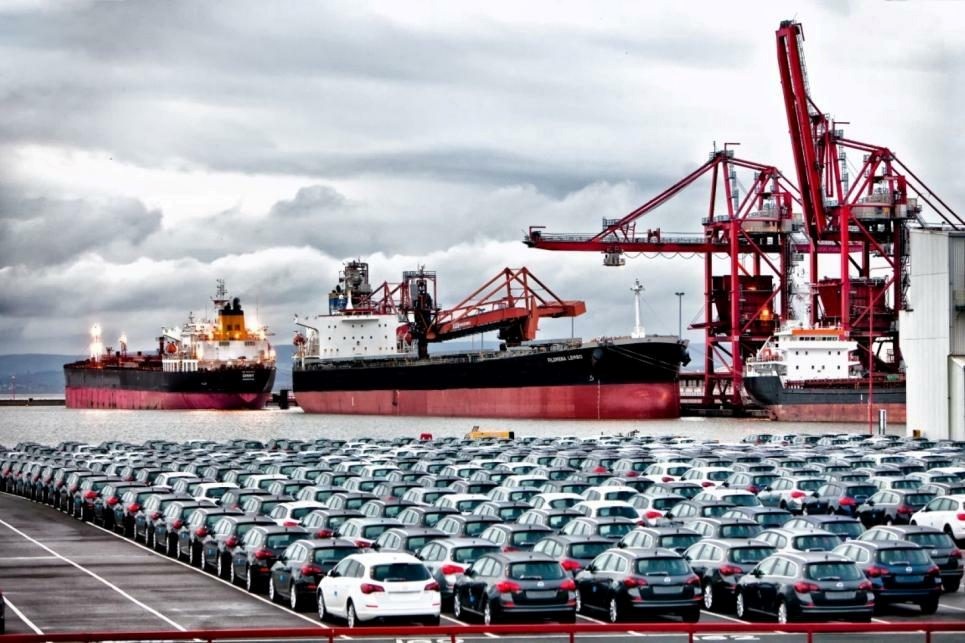 Many of those photographs originated with a January 2009 Getty Images collection titled "Cars Sit Unsold in Avonmouth Docks As Car Sales Stutter" and were also part of a January 2009 Jalopnik article about "Where Are Automakers Stashing Unsold Cars?" and a February 2009 Business Insider article collecting images of "unsold cars around the world," that latter of which noted that:
Sales of new cars in the UK have slumped to a 12-year-low … the EU's Industry Commissioner Guenter Verheugen warned the outlook for the European car industry was 'brutal' and predicted not all European manufacturers would survive the crisis.
These photographs do for the most part, show unsold automobile inventory in various parts of the world, which hit rather high levels when new car sales badly slumped during the global recession of 2009, but even back then automobile manufacturers weren't churning out product willy-nilly, regardless of demand — the captions to some of those 2009 photographs in their original contexts noted that, for example, "production of cars at Honda in Swindon has been halted for a unprecedented four-month period because of the collapse in global sales and represents the longest continuous halt in production at any UK car plant."
Additionally, it isn't 2009 any more. Although these pictures captured some large overstocks of new cars that were produced just before a huge unanticipated drop in demand, that was a temporary phenomenon from several years ago. British automobile production, for example, rebounded to hit a record high in 2013 (with a car being produced every 20 seconds that year) because UK car sales also reached their highest level in the past several years in 2013, with consumers purchasing a total of 2.26 million vehicles:
UK car sales in 2013 recorded their best year since 2007, industry figures have shown, helped by cheap credit deals and stronger consumer confidence. The Society of Motor Manufacturers and Traders (SMMT) said that 2.26 million vehicles were registered in 2013 which was a 10.8% rise on 2012, although the figure is 6% lower than 2007's 2.4 million figure. The 2013 total was boosted by a 23.76% rise in sales in December, marking the 22nd successive month of increases.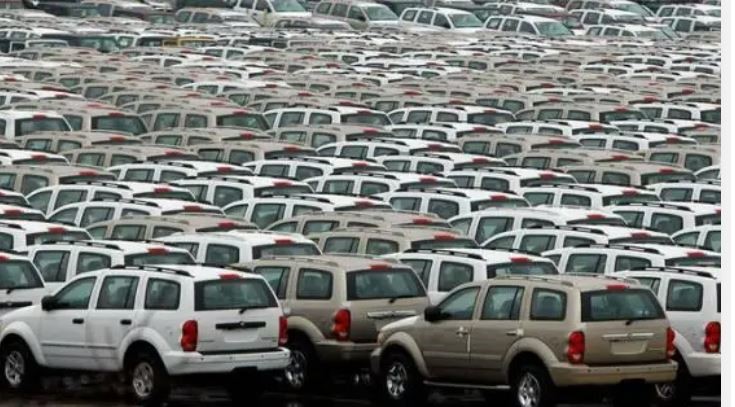 The Bloomberg news service similarly reported that U.S. auto sales also sharply increased after 2009. If you look for factual data, and you can hunt down a lot of truth with a little bit of effort, beyond the simple tidbit that these photos are more than five years old. For example, we can find how many cars are being sold in the U.S. now, along with plenty of historical data. In 2009, when these photos were taken, U.S. auto sales were running at barely a 9 million annual rate. Fast-forward to today and, as we learned at the beginning of this month, we are running at an annual rate of more than 16 million autos. That is an improvement of 78 percent.
Newly manufactured automobiles are produced according to a schedule based on anticipated demand, and they have to be stored somewhere while awaiting transport to and from ports via truck, ship, or train to dealerships (both within the country of production and abroad). Just because vehicles are temporarily parked en masse for storage purposes doesn't mean they're doomed to remain forever unpurchased and sit outside until they deteriorate and are scrapped while manufacturers continue to churn out more and more new cars:
The Avonmouth and Royal Portbury Docks (also known as Bristol Port), a facility shown in many of these photos, handles over 700,000 motor vehicles per year for import, export, and finishing. Given that volume, at any particular time there are likely to be thousands of cars parked there waiting to be loaded (or just having been unloaded) and transported to their final points of sale. Even the text in the "Unsold Cars" article is misleading: According to The Truth About Cars, "Sheerness is one of the leading ports for the importation of cars to the United Kingdom." The updated photos showing all those cars in the U.K. aren't unsold inventory waiting to be shipped; they are the precise opposite — these are cars in the pipeline that dealers have ordered, not a vast graveyard of autos waiting to rust.