Privacy Policy | Editorial Policy | Profit Policy | Join the Association | List of Members | Contact us | Index | Links
Back Go to page: 1 2 3 4 5 6 7 8 9 10 11 12 13 14 15 16 17 18 19 20 Forward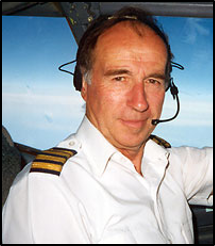 John Laming
Aeroplanes and other stuff.
Sydney Gordon Gooding story.
John recounts Syd Gooding's story as it was told to him on how, when and why Syd became interested in flying and his amazing life thereafter.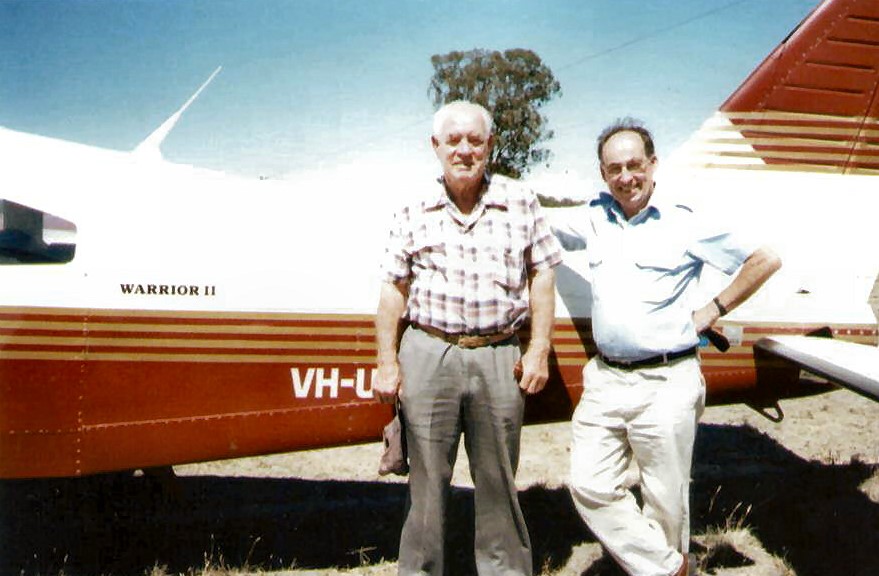 Syd Gooding, John Laming.
"The first aeroplane I ever saw was when I was a kid of four in 1920 and my Dad was a blacksmith and worked at a place at Mount Pleasant in the Adelaide hills. We lived out of town a short way and I was the youngest in the family but I always seemed to be able to occupy myself. One of the things of interest was that the local squatter had a car and it used to come past our place every day or two. Well, I don't know what it was, but as a car it had a fabric hood with straps holding the hood to the windscreen and they were attached on to the front of the mudguard. I can remember big brass lights, probably acetylene lights and also the big brass radiator. I was always alerted to its approach by the sound of the motor.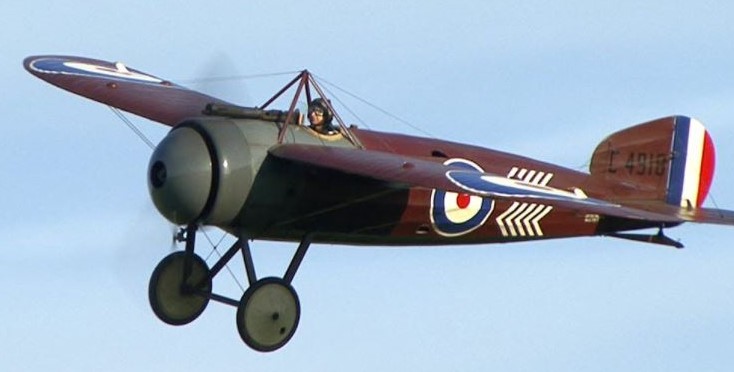 On this particular day I was messing around as kids will do and heard the sound of the motor. I looked up the road but couldn't see the car, looked again then all of a sudden over the back of the hill was an aeroplane. Evidently the pilot was having a beat-up. Well, years later I recognised it in a magazine and it was a Bristol monoplane fighter which came into production late in the 1914 war, and oddly enough about ten years later when I visited Parafield, Adelaide aerodrome I spotted this thing and they had refitted the engine and replaced the old rotary with a Gypsy Major, and blow me down if it didn't win the Pylon race.
Anyway, back to Mount Pleasant. The Old Man never seemed to be out of a job, but to keep up with his occupation of blacksmithing, we shortly went to a place called Sedan which is in the Mallee country. Mallee is rather a short multi branch eucalypt and when the land is cleared it appears to be a very good farming country for wheat. We didn't stay at Sedan very long. There wasn't any aircraft in the vicinity but from there the Old Man went to Berri, a Soldier Settlement on the Murray up near the Victorian border and I spent about eight years there going to school and again my interest was aroused by the mail planes going from Renmark to Adelaide. They used to go over Berri and I watched them until they were out of sight. There was a Fokker Universal and a DH 50, the same type that Cobham flew to South Africa on the occasion when an Arab took a pot shot and hit his engineer.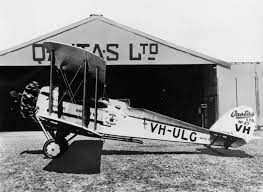 And that then was about the end of the aeroplanes, except that one day a Captain Francis in a Gypsy Moth came and landed on our football field. We were let out from school and ran down a half mile to see this wonder. An interesting thing was the old Captain wanted to refuel and he asked the crowd to push the aeroplane across the road to be refuelled at the local garage and then he took off and went down to the Common below the town where there was much more room to conduct his 5 bob joy flights. So away went the kids again and in those days, five shillings was a fortune which I didn't have, but I sat and watched every movement that an aeroplane made on a take-off run.
This brought the association with aeroplanes at Berri to a halt. The Old Man went out of business, so we found ourselves shifting once again. We went to Nuriootpa in the Barossa Valley, only about forty miles from Adelaide. The Barossa Valley is famous for its wines and this little place, Nuriootpa, put me in range of Parafield where I went and saw that little old monoplane which won the pylon race. Now it was at Nuriootpa where I was able to get my first flight. I used to read magazines and there was a competition for a flying model, the prize being one 2 hour's flight over Adelaide. I made the model, took it down to the aero club where they had collected the entrance models and about a month later I got a letter to say I had won the competition. Now this was a doubtful honour as I was the only kid in Australia*that had made it, and because I was the only kid that had made it they could not give me the outright, but they gave me a consolation flight of twenty minutes.
So when Dad was going to Adelaide he dropped me off at Parafield and I hung round and round and eventually the pilot who was to fly the machine came out. I remember him quite distinctly. He was a huge fellow and his name was Rice Oxley. Anyhow he took off, climbed but all he did to excite me was to stall the plane – and I thought I had lost my stomach on my first experience of stalling an aeroplane.
After that back to Nuriootpa and because we were not far from Adelaide, one day in lumbered a DH 9 and landed on one of the farms there and this day I had another mile walk and by this time I had a few bob in my pocket and I went out and joy rides were again five shillings. The old DH 9 had two seats in front of the pilot and another one behind and again it was a great experience to waft up in the air amongst the birds.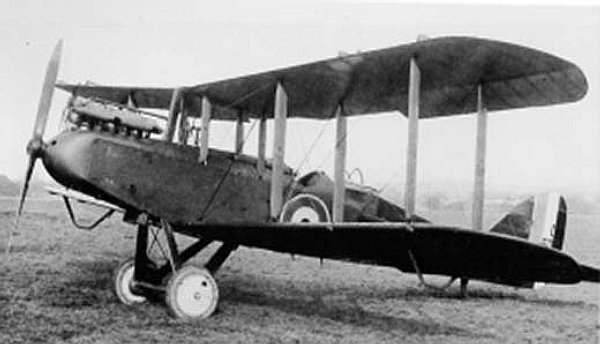 Not long after this, the Old Man became restless again and decided to take the family off to north Queensland. We set off for north Queensland and after trekking for three weeks we had covered 2,100 miles. Our destination was a place called Ayr, which was sixty miles south of Townsville and it was the most extraordinary place regarding leisure activities. There was surfing, boating in the Burdekin delta where there was an everlastingFayre supply of crabs, fish, prawns etc for the taking. North of Ayr there was the Hawton river offering again those succulent sea foods. There was hunting on the timbered grassland where we shot kangaroos, snakes, crocodiles and pigs. Socially I engaged in skating, field games and dancing and I indulged in the lot.
Fortune smiled on one of the local blokes when he won six thousand pounds in the State lottery. Shortly after he bought himself a Gipsy Moth. I believe it was for three hundred and fifty pounds. I used to trundle out to the landing field and watch him with great envy as he practised circuits and bumps. Shortly after that he sold the machine and then bought a Puss Moth. At this time I was saving a little bit of money so that I could get back to Adelaide for a holiday at last. I accrued something like thirty quid which I kept in a tobacco tin and I thought this bloke might teach me to fly, but when I approached him he a little reluctantly said Yes, Yes, he'd see. I didn't press the matter but a couple of nights later I went to the picture show and there was the advertisement saying Fly with S.K. Howard of the Queensland Aero Club! God strike me pink, this is what I want I thought and changed my intention of flying with the local bloke.
The morning the aircraft was due I went out early and met the instructor and immediately arranged a test flight. I dipped into my savings of thirty pounds and took a few quid and spoke to Steve Howard and said I would like half an hour flying instruction to see how I go. If I felt I was doing something right, I would continue with flying instructions. So away we went. On taking over the controls I could move the plane gently this way and that. And I was hooked! I went solo at 6.40 hours and on completion of the initial training I did my A. licence test. This was just an authority to take the aeroplane without a pre-flight check.
There was an advanced flying course which took you into emergency landings, cross country short circuits with climbing turns turning off the deck and side slipping etc. I was about half way through this course when the Old Man's restlessness urged him to go somewhere else and we finished up going to Taree on the Manning river which is about one hundred miles north of Newcastle.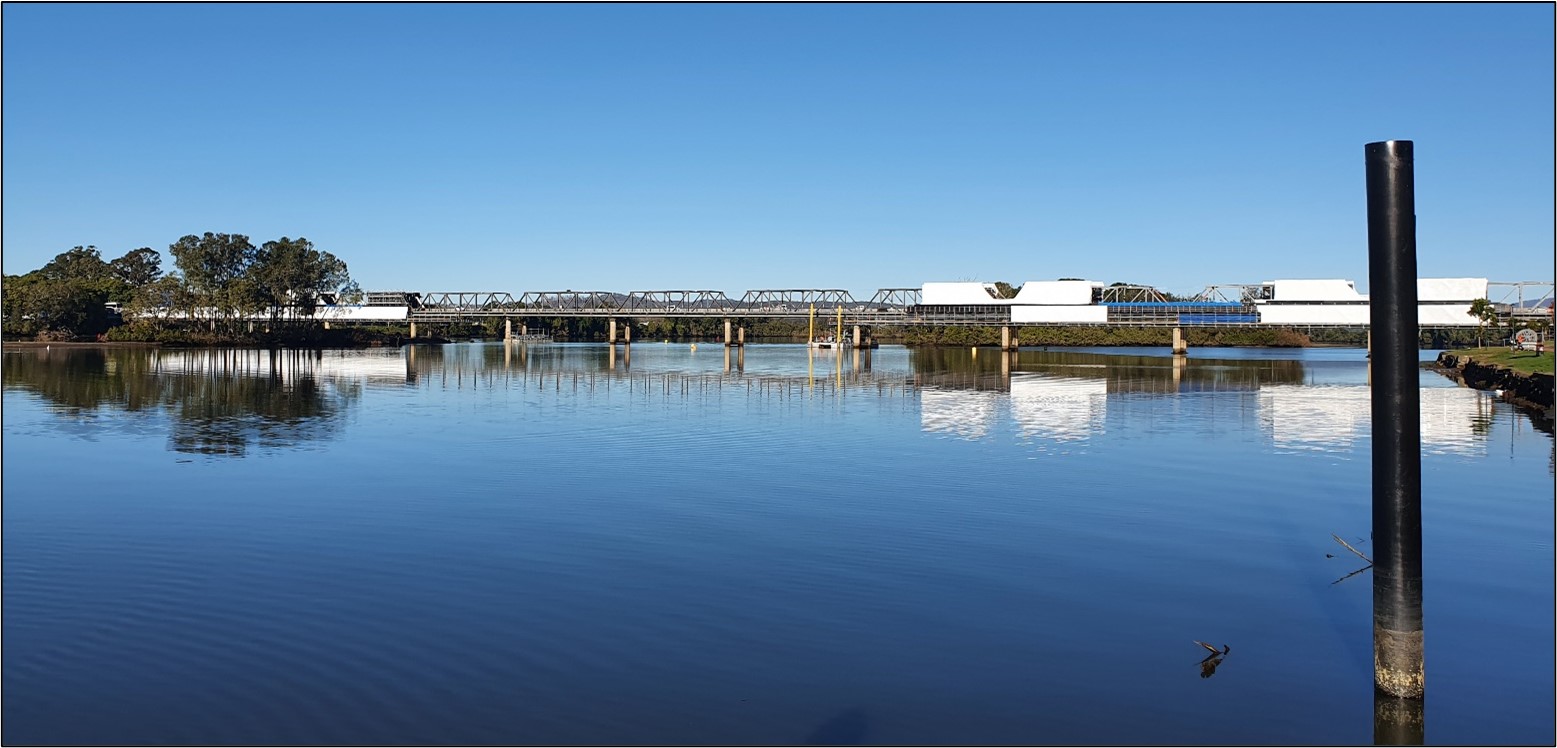 When I got there I was that poor I could hardly scratch myself. At Taree there was a militia unit which I joined and on our first camp at near Newcastle the weekend pay we got for the camp gave me a few extra bob, so on my day off I sneaked into the aero club and had the most extra ordinary experience of flying a B.A. Swallow which is the British version of the Klem Swallow of German design. A most extra ordinary thing - you couldn't spin it, you couldn't overbank it or stall it. It was fitted with a Pobjoy engine, a little radial of seven cylinders, high revving, weighed seventy-five pounds and produced about seventy-five horse power. Because of the high revs it was a geared engine to reduce the prop to the appropriate speed, probably one of the first geared prop engines to be ever put into an aircraft. Incidentally the type was on the Comper Swift which Arthur Butler flew from England and broke the record of that time. It was later fitted with a Gypsy Major engine and won many of the King's Cup races which the aero clubs of England used to hold.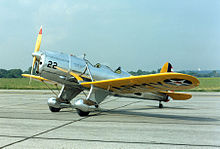 The next journey aloft was when the militia camp in the Liverpool area spent a long weekend and I went to the aero club and spotted a Ryan sports trainer, a beaut little aeroplane and the most well-proportioned one I have ever seen- a low wing, wire braced monoplane and it cruised at 135 miles per hour against 75 of the Gypsies. The only thing that was a bug was the engine and in those days it used to pop the push rods. But to fly, it was beautifully manoeuvrable and an absolute delight to look at. That ended my flying for a couple of years. About twelve months after this I realised it was about time for me to flit the nest. Things were getting a bit strained between the Old Man and myself, so I took off this time and went to Sydney and I had the opportunity of learning a trade under subsidised apprentice training scheme. I got a job with an engineering firm and when I settled into the routine, I decided that I would go to the aero club, joined up and I started flying again.
We had an interesting few aeroplanes – a Gypsy Moth which I was familiar with; we had a Tiger Moth, Hornet Moth and a Moth Minor which was a monoplane preceding the Chipmonk which became so famous at a later stage.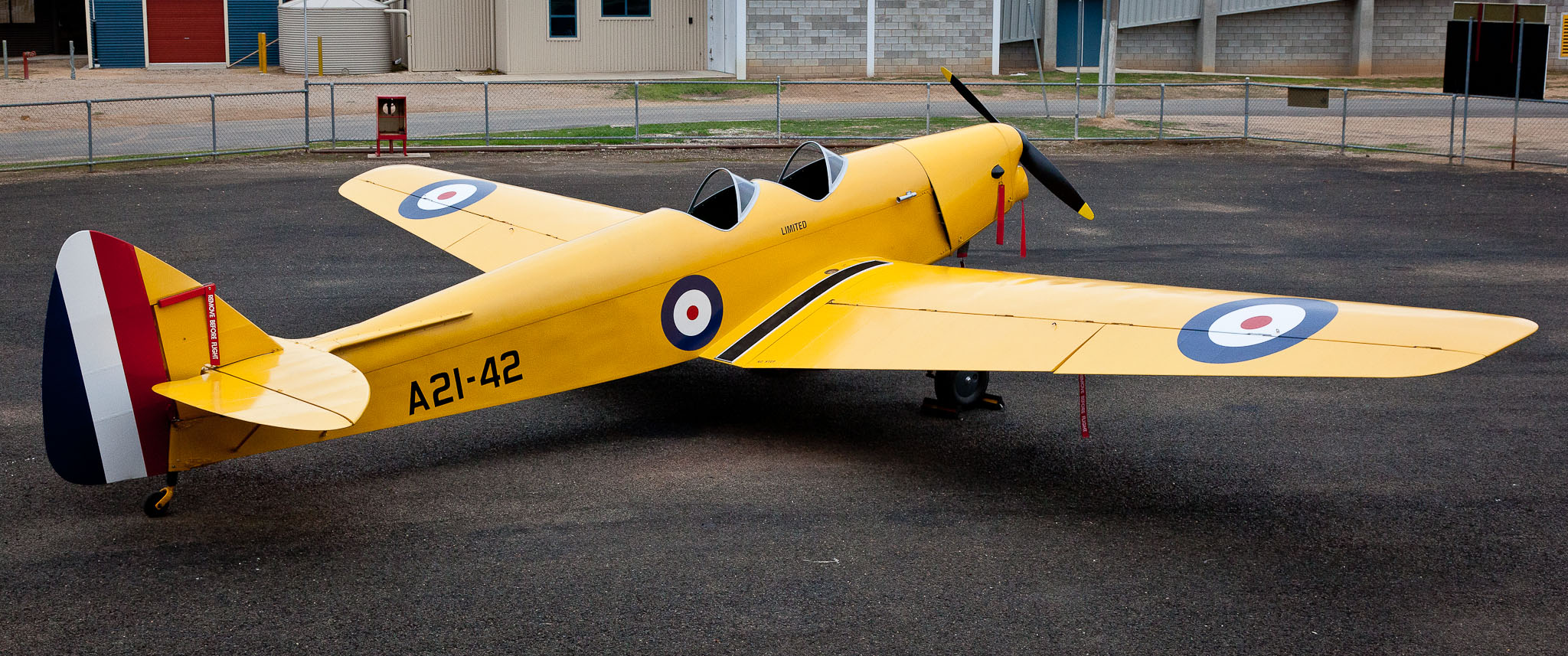 With such an opportunity to learn a trade I decided to teach myself to study, so I gave the militia away and the other times I danced, skated, surfed and generally had a good time. I had been in the job about two years and suddenly the war burst upon us. I hadn't thought about that. I was living on the high side. Anyhow I decided to finish the trade and then eventually couldn't resist having a go for the Air Force. So, I went down to the recruiting centre, passed the Medical and then came to the final question "What is your occupation?!! I was too honest and said, ''Trainee apprentice". They dragged out a great stamp, went bang on the paper "Reserved Occupation", and here I was, a soldier in peace time and reserved occupation. Of course, I was embarrassed. Anyhow I went back to the job. About this time I got promoted to Charge Hand and two quid rise, so I said - Wow, I can get some more flying, so as from then on I averaged about nearly an hour a week, my totals were creeping up. Anyhow, also about that time or perhaps a bit later, a great friend who learnt to fly the same time as I did turned up in Air Force uniform and this was really rubbing salt in the wounds. But the Boss eventually found out I could fly and he was very interested in aeroplanes as I found out, and when he assured himself that I really could fly and wasn't kidding he took me down the back of the shop and showed me a helicopter he had made way back many years before. It was powered with a little compressed air motor. Anyway, he used to come down and offer ideas about engines and ask me questions about aeroplanes and quite a friendship sprang up which wasn't quite the norm for a Fitting and Turning shop in those days. But I was a country lad and didn't care less what city boys thought and I could talk to the boss and I liked him very much.
However, this association proved particularly good because when I had finished my time the Boss came down and dear old Boss said, ''Don't come in work clothes on Monday. Wear walking out clothes. I'll take you down and sign your release'', which he did and six weeks later I was in the Air Force.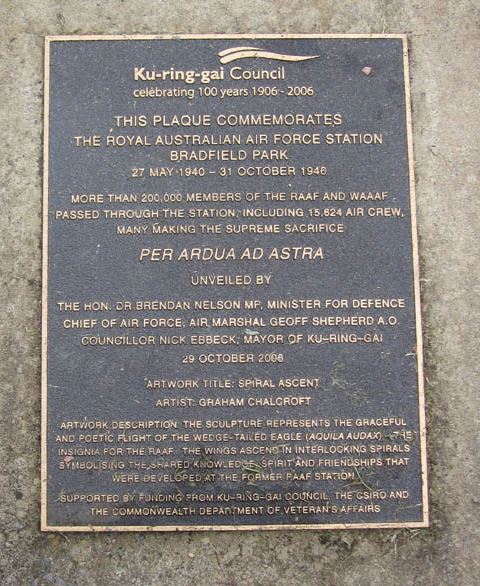 You couldn't believe my relief. We went over to Bradfield Park, one of the suburbs where they had one of the reception centres and also initial training schools and here we were Air Force bods, in blue berets, blue overalls, marching round in queues from hut to hut learning all ground subjects to make us good airmen. Most wanted to be pilots. I felt rather smug because I had sixty hours solo and thirty hours dual. I thought that it would ensure that I could get in as a pilot. But I didn't count my chickens. I hoped and hoped and hoped and finally went up before the Selection Board. Now the old Head of the Selection Board said "Why do you want to be a pilot?" Then I said ''I have got sixty hours flying solo and about thirty dual". But he said, 'When you get out to our training units, don't think you know everything. " And I still didn't believe it until I saw my name on the list for pilot training.
Of we went out to Narrandera on the Murrumbidgee river, about 200 miles west of Sydney in the flat, open country and when my instructor came up and said "You are flying with me: I believe you have some flying experience" and I could see what he was getting at, I said "Sir, that is civil flying; I want Air Force flying". "Thank Christ for that" he said, "Most blokes put in about five hours and they think they know everything.'' Anyhow I completed the old Tiger Moth elementary flying course and was posted to Point Cook. So down we went to Point Cook, which is the original Australian Flying Corps' Base, and were flying Oxford aircraft, the same as the British Oxford. By the time we had completed our course, which would have entailed two or three hours a day at the most, we realised that we had better get used to long periods of flight, so we cobbered up with a mate and we were detailed to fly four hours in the morning, sharing that time between us, then four hours in the afternoon and I remember getting home and thinking these aeroplanes must cost more than three quid an hour, so I put four times the amount as their cost to run. I thought that 3 x 4 = 12. I lay down and was that damn tired I went to sleep and next thing I had missed my tea. I finished the sum when I woke up, eight hours at twelve, that is ninety-six quids' flying I have done in one day. I thought that was really good and I couldn't care less about tea. When I completed the course, parades, Sergeant's stripes, a spot of leave and up came postings. I was posted overseas and of course that meant England and our Group had the good fortune to be posted onto a little passenger freighter which carried 63 of us on board. Well, talk about a Cook's Tour. We had cabin boys, stewards and Crossing the Line ceremony and swimming pools erected for us on the sports deck.
The first port of call was Wellington, New Zealand where we had a fortnight. We up anchored and next port of call was New Plymouth on the west coast of New Zealand where frozen mutton was loaded for the United Kingdom, then down to Christchurch on the east coast to take on coal for the Pacific crossing. We were three weeks crossing the Pacific, pulled in at Panama late afternoon, through the next day, then we were held up in Colon awaiting a small convoy. Leaving there we steamed through the Caribbean which was known as 'Submarine Alley" and the ship's crew used to remind us that there had been seven-hundred ships sunk in the area up to that stage of the war. So we were a bit itchy. Anyhow we finished up in New York, had about 3½ days on shore, then we put to sea in a convoy of 120 ships.
Now the speed of the convoy is the fastest speed of the slowest ship, which in our case was eight knots. We went north into higher latitudes to get away from the subs. The faster ships were having a hard time because their rudders weren't effective at 8 knots. The Commander split the convoy into two and luckily our ship was fast enough to join the leading group. We sailed on and finished up in Cardiff. There some of the Cardiff boys were a bit rough and enjoyed belting up the service men, so we weren't allowed ashore that night. Next morning we entrained and went to London and then the following day went down to Brighton, our Reception Centre. We were informed there was a bottle neck in training due to weather and we were holed up there for some time. It was during this time that I got into the Ministry of Information Tour and finished up in Grantham and later Grimsby and realised there were such places on earth.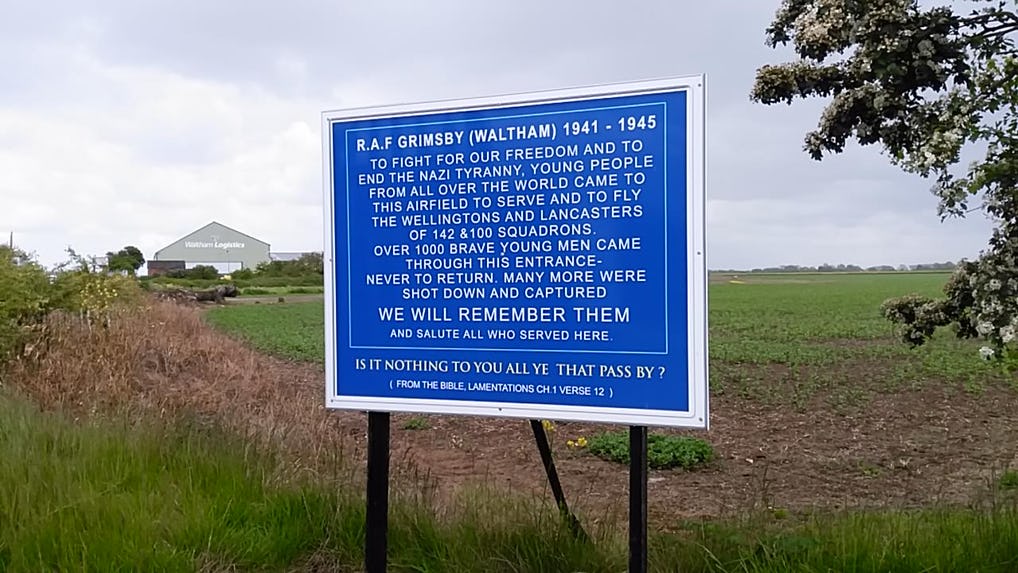 Anyhow finally the bottlenecks cleared and the authorities said "You blokes haven't flown for nearly six months, thirteen weeks on the trip over to England, three months in Brighton, so we shall give you a refresher course. So next thing we were posted to Bibury in the Cotswolds and the good old Aussies, Canadians and Poms were posted out to satellites, which of course were Nissen huts and the weather was atrocious. The heating device was a little tiny coal stove which was only warm enough for those sitting on it. The rest of us slept in flying boots and flying overalls. Anyhow the weather was atrocious, fog, rain and we spent a lot of time digging trenches trying to drain the water off the aerodrome. Anyhow we subsequently completed our refresher course in early spring and were all set to go to our new unit which was Litchfields. It was an all Australian unit set aside for operational training and that is when we met our crew. Up till then we had all been individually trained. The selection of a crew was quite a circus. All categories were put into a big hanger and told to walk around and find out the blokes you thought you would like best. And then of course were the qualifications. There would be people looking furtively, and when you caught their eyes they would dodge away because they weren't too sure, and I was highly amused at the procedure, but it soon worked out that we eventually all got into crews that we got along with.
The course was split into two, one half staying at Litchfield and the other going out to the Satellite and Nissen huts again. I was in this group. Anyhow when we got there, we started our flying and this was where we pilots came under a certain amount of scrutiny, sometimes severe because up to this stage the other categories had done their training with experienced and highly trained Staff Pilots, and now they had sprog pilots who had not flown Wellingtons before. Our training commenced with circuits and bumps both day and night and we soon reassured them their sprog pilots were not so sprog after all. When circuits and bumps were completed, we started on high altitude navigation exercises, both day and night and high altitude bombing and all the other facets of operation flying and eventually completed the course and awaited to go to conversion on four-engine bombers.
Before I leave RAF Church Broughton, which was a satellite station of RAF Lichfield, I would like to mention that Rolls Royce experimental aircraft were stationed at Church Broughton and one of them was the Glouster Company's test jet aircraft, a small single engine jet which operated off our airfield and to see this little aircraft was utterly amazing. The rate of climb was incredible, far beyond anything conceived.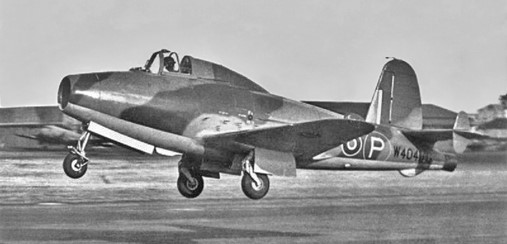 Another aircraft there was the Whitley fitted with Rolls Royce engines, with a jet up the tail in place of the rear turret. I never saw it fly but the rumour went around that one pilot was stooging along and the rear gunner reported that there was a Whitley coming up fast astern. As it got near enough they saw that it had two props feathered. They couldn't believe their eyes and then wondered what the hell was going on. It overtook them and then zoomed away. They then saw the jet in the tail. What experiments they were doing I don't know but it was a very interesting looking aircraft.
We made for Lincolnshire and this time went to a place of class called Sandtoft only for a week until someone knew where we were going, then we went to Boston Park for another week and finished up at Blyton. Here we had the old obsolete Halifaxes. They were powered with Merlin engines, silly, peculiar looking things from my point of view. They didn't seem to have the lusty roar which the Lancasters had. They seemed to wheeze down the runway and I always felt that they wouldn't get airborne. One little thing that used to irritate me about the Halifax was the tiny little control wheel which was in the shape of a bow tie and it seemed so inadequate that I disliked it intensely.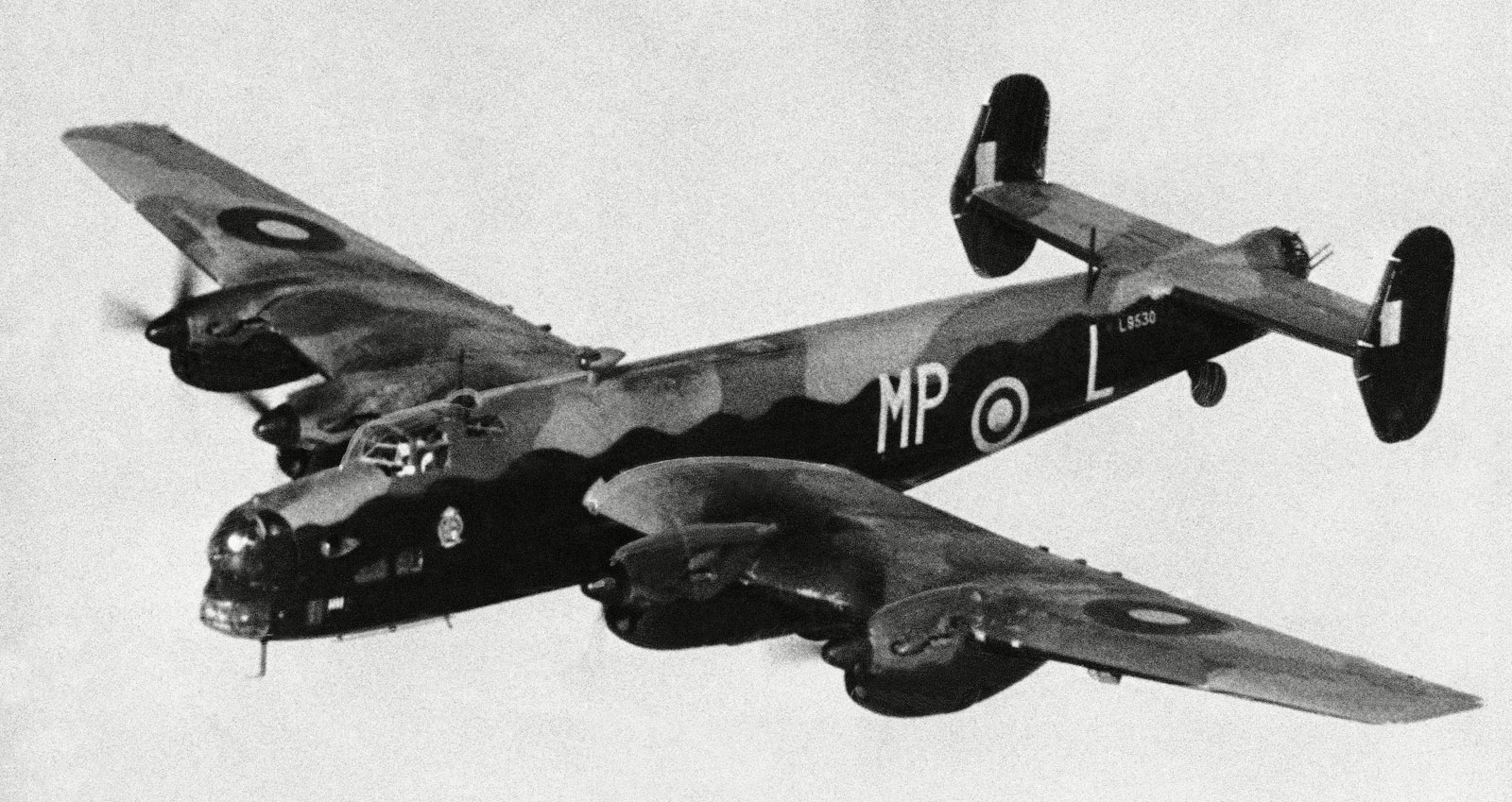 Anyhow the brake levers were inside the bowtie like wheel and the locking device on this appalled me. As a Fitter and Turner I thought surely to God they can get something better than this. You simply applied the brake levers to get the required pressure to hold the aircraft, then the locking device looked like two nails forming a U held by a little strap of metal to hold the two nails together and to lock this huge aircraft you slipped it up against the spring, did a half turn and dropped one rusty nail through a little pin hole. Now this was the parking brake to hold a huge aircraft of over 100 feet wing span and I still haven't got over it.
Heavy Conversion Unit was the same type of flying as we had done at O.T.U. only that we were operating four engine aircraft. After a period of time, it was completed and then we were waiting posting to our squadron. I had hoped like hell that I would get posted to a Lancaster Group and sure enough I was posted to NO. 1. Group and to their Lancaster finishing school at Hemswell. This was interesting because we arrived late one evening and next day we did day circuits and next day we did night conversion and following day were up for posting. Conversion simply consisted of familiarisation flights with eight landings on one day then eight landings at night. The day we were called up for posting I had hoped to go to 460. In fact I had made a check if I could make an application. It was an all Australian squadron. I had been assured that as it was an all Australian squadron there was no need to lodge an application because we were an all Australian crew. So when I was called up I said '460?' They said "No. Leave for Ludford Magna", I said 'Where the hell is that?" and they said "Next to Ludford Tarva."' I had a blank look on my face and didn't have a clue and I said "Where the hell is that?" They said "You'll find out when you get there". So we were trundled into an old truck with a canvas cover on the back and we couldn't see where we were going, except out the back and we arrived at Ludford Magna.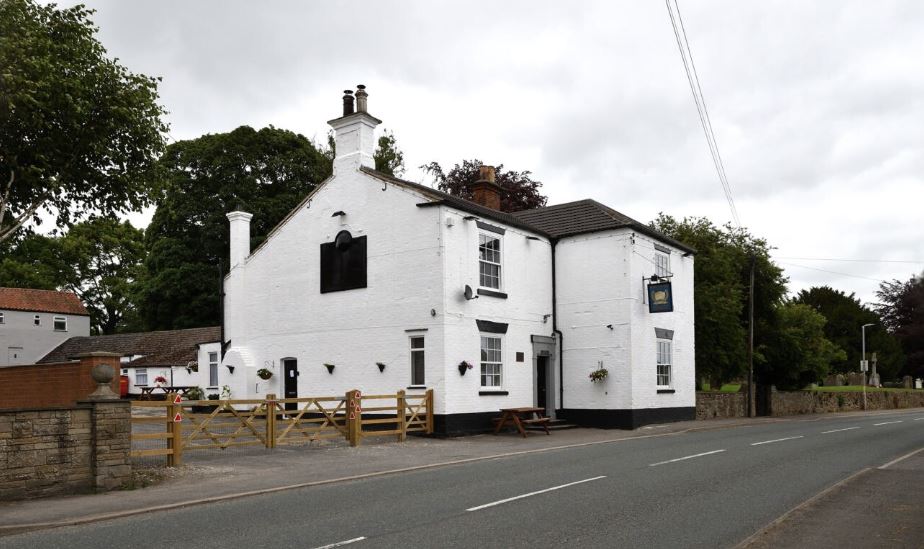 Later we found it was between Market Raisen and Louth. Again it was a Nissen hut unit and the billets were on one side of the road and the hangars and the airfield on the other. The main buildings of the little village were a church, a school and a little general store and a bowser on the curbside. Anyhow we reported to the Adjutant who had rather a far-away look in his eye when we approached him and announced that we were a new crew and he said "We are pretty well off for crews although we lost three last night, so you had better take a week's leave. Now we were astonished as we were itching to get stuck into this Lancaster squadron. So away we went on leave. When we came back, lo and behold at the end of the runway were two Lancs on their bellies, arising from an abortive show on Calais where the crews were ordered to bring their bombs home, rather than stirring the fish up a lot. Two pilots, although experienced didn't follow the Handbook. Instead of following the Handbook and approaching five M.P.H. faster they came in at fifteen M.P.H. faster and they floated like Tiger Moths half way down the runway and then it was too late to go around. So they put the brakes on and they pulled the wheels up and left them sitting there like lame ducks.
So you can imagine our thoughts - three the day we arrived, two when we got back from leave. we wondered what our chances would be. At this stage we had no engineer and on arrival at 101 Squadron there was no picking and choosing this time. We were allotted an engineer whose name was James Killan and he came from Geordie Land and he used to talk about driving buses down banks and we thought – hell, he went over the side, but later we found that the bank was just a steep grade on the road. We were also issued with a special operator. His position in the aircraft was down behind the main wing spars in the bowels of the aircraft where he operated the radio sets searching for Gerry transmissions to their fighter squadrons and when one was located, he was able to throw a switch and jam out the transmission. It was supposed to be a protection against fighter interception of the main stream.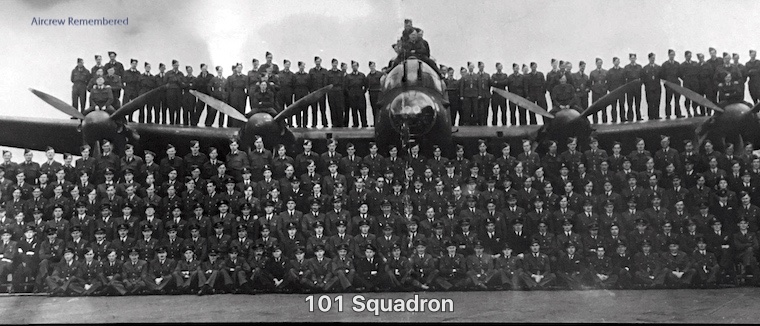 Now back to our arrival at 101 Squadron. We had to do some further flights so that our standards could be assessed and finally when complete, we were announced operational. Then finally came the wait. The hooter would go letting us know there was an op on. We would trudge up to the Flight - have a look - no we were not on - no next time! And that happened perhaps for a week then finally there was an all-out effort called by Bomber Command and I rushed up and the look on my face when I wasn't on must have got to the heart of the Flight Commander and he said, 'Listen Gooding, there is a spare aircraft on A Flight. It has only got .303's but if you are prepared to fly that you can go tonight".
Well, were we wrapped. We would have flown on broomsticks to get on Ops because we had been in this Squadron at least a fortnight and hadn't been blooded. Incidentally, about a fortnight later there was a photograph in the paper with a Lancaster dropping its load of cookies about six feet below the bomb doors and a shower of incendiaries around it, and believe it or not it was S.R.BAKER. We weren't flying it on that particular occasion when the photograph was taken, however I was able to get a copy from the paper and I have a good souvenir of the aircraft that I first took on ops.
I am ahead of myself again. I should have mentioned that before you go operational you had to go with an experienced crew on one operation. I feel I was unlucky because the whole trip was only 3 hours 10 minutes. The target was an Army Co-op aerodrome . We bombed at 10,000 feet. All I saw was a speckle of flack on the way in, then the bomb doors opened, there was a ruddy great glow of the markers underneath, bombs gone, bomb doors closed and on the way home I saw a glow in the air which the skipper said was a fighter flare. Three hours ten minutes - I thought 'My God, how experienced I am. I will be able to give the crew every confidence in my experience."
I will switch off the Gooding story for a moment to give you the complete contrast entailed between new pilots experiences as told by a new pilot, a friend who flew at Kelstron. The Captain was a Canadian and this pilot was allotted to him for an orientation flight. Everything was routine so they stooged down across the Channel. But not long after they passed the French coast an engine failure took place and the new pilot looked towards the Captain who said "Feather'. That duly done he explained that they could fly on three and probably make 16,000feet for the bombing. However on the run into the target area they got the second engine shot out, whereupon the new pilot's eyebrows were considerably higher than they were in the first instance. With this enquiring look the Captain said, 'We will bomb on two and lose some height, but once we have lost the bombs we will be able to maintain level flight on two. This was executed, but they got down to 12,000 feet and the light flack got stuck into them, shooting out the third engine. I believe the new pilot's eyebrows were much higher than when he had been warned. When he looked at the skipper, the skipper said, 'We'll lose height gradually but we'll make France", which they did and landed in a potato field with wheels up, all surviving that episode. How would you like to be on a trip such as this?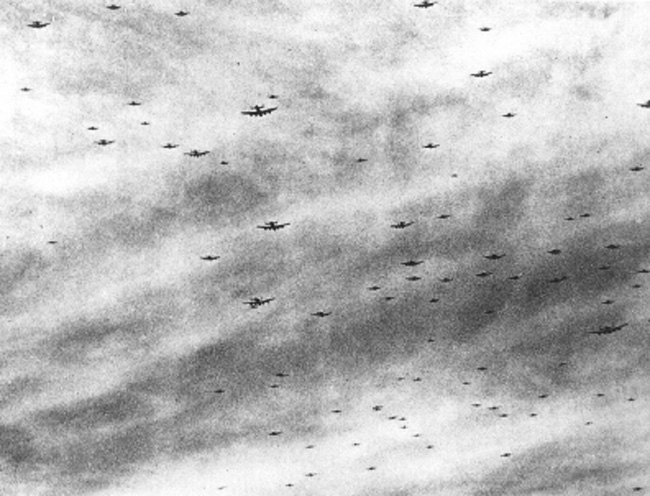 Whilst on operational experience of new pilots I eventually got to the stage where I was allotted a bloke who happened to be a fellow Australian. This particular op was a 1,000 bomber daylight raid on Duisberg. This bloke had seen quite a few aeroplanes around coming in or taking off but as we homed in on the Group's rendezvous there were about 300 planes around us and he dutifully reported Aircraft up 300 two o'clock and he was reporting all the time, but when we came into Reading which was the rendezvous for the whole bomber stream he forgot his position report and said, "Holy hell, look at the buggers". He just couldn't believe it. Well it was the first 1,000 daylight raid I had been on and it was an absolutely incredible sight. You looked and you saw Lancasters here, Lancasters there like streaks on your windscreen fading away to mere dots, the nearest ones no more than 200 yards away.
Well no one likes to be Tailarse Charlie because this is what Gerry would get stuck into, and no one likes to be up in the front because Gerry gets itchy and shoots at the first coming in, but there were so many up in front and I thought I was Tailarse Charlie. When I looked around there were just as many behind me. Well I was equally stunned along with the new pilot. But I often think that when we went out at night 800 strong there were just as many aeroplanes with you but you couldn't see the damn things. Now on this particular raid we took off at 6 o'clock, bombed at nine, back home again at twelve. We were told to get as much rest as possible as there might be something else on that night and sure enough they put another 1,000 bombers on and took off at 6 p.m., bombing at nine and home by midnight. Unfortunately we missed out as the rear gunner got dyspepsia and at that stage they couldn't split crews. I would like to be honest because the crews reported they could see the fires burning 100 miles out.
I don't know if you can imagine what ground work went on refuelling, re-bombing, servicing engines, radios and anything else that might be U.S., Also to be considered the administration side, co-ordinating dozens of squadrons to their respective target, target times, and then of course a force of 7,000 air crew to be fed, briefed, then jockeyed out to their respective aircraft.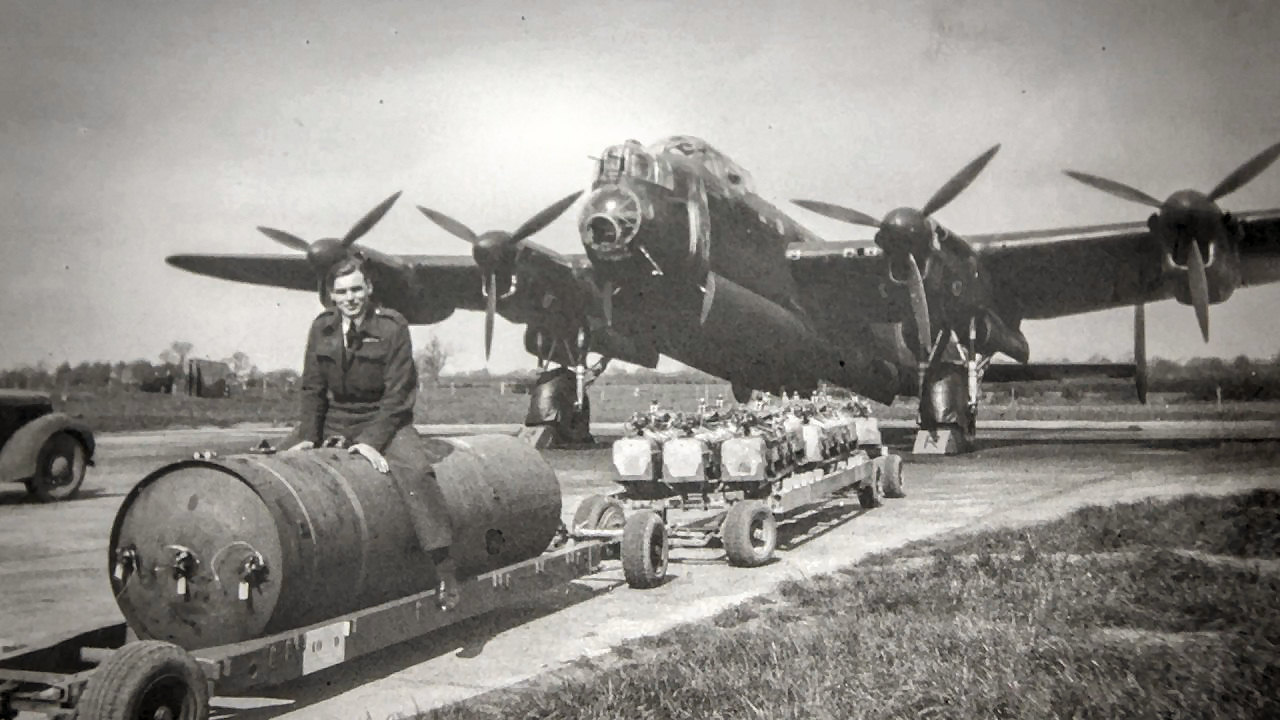 Before I get back to the Gooding crew with one operation to our credit, I will tell you about the weather. The 1944/45 winter was most severe. England was blanketed entirely with snow right down to the Channel and to keep aircraft operating in such conditions we had snow ploughs to clear the main runways and the Perri track, but the track into the dispersal bays had to be cleared by air crew and ground crew together. We had a good ground crew and after clearing the track we would usually have a darn good snow fight, and then we would go down with the ground crew to their Bludge Hut, a little shelter behind the aircraft where we would brew up a cup of tea and we would swap yarns. Snow in itself wasn't a hazard but it made a hell of a lot of extra work. The biggest hazard was fog. You could get off the ground by doing instrument take off, but to get back on the ground in fog was one of the big problems and many of the operations were timed so that we could get back in clear weather.
However to overcome this hazard of fog Ludford was equipped with the system called F.I.D.O. I am not sure of the correct terminology but we used to call it Fog Intense Dispersal Of and that was its purpose. It consisted of loops of one-inch piping stretched regularly down either side of the runway, with little holes drilled in it, through which they pumped petrol and I believe they used to burn 60,000 gallons an hour when operating it. But it virtually cut a hole in the fog, a great big orange tunnel. I have never landed using it, but I have done a couple of take-offs and when you bore down this orange-coloured tunnel and then suddenly go bang into the fog at the end at about fifty feet height, it brought out the best qualities of instrument flying.
We had two or three trips a week and finally completed the Tour with thirty trips to our credit. Now the last trip was a little disappointing and uneventful. We churned into cloud as we crossed the Channel and didn't get out of it until we returned to England. We had to bomb on our H2S radar which scans downwards and presented a map of the town on our visual indicator. Bags of jubilation that night after our debriefing and sipping our cups of cocoa and rum which was provided by the Senior WAF Officer. She met every crew after debriefing and was always there with a cheery 'Hullo' to crews and a bottle of rum. My wireless operator didn't drink rum so I used to get his ration. By the time we went down to the Ops meal we were really jubilant.
But the next morning I felt unwanted. The hooter went and instinctively I went to get out of bed and found that I had nothing to do. Now everybody else was bustling around and sort of not interested in anything else but their own concerns. If someone had said there is a spare aircraft I would have gone and jumped in. But this feeling was quite unpleasant. So we took our Ops leave almost immediately. I was down in London for a couple of days when I bumped into this mate from Kelston and proudly announced that I had finished a Tour. He had finished about a month previously and I said "What the hell are you doing?" He said "Flying Spitfires" and I said "How did you get onto those?" He pointed out that the pilots of fighter groups manned the Fighter Affiliation Units until D. Day was opened, then they were all dragged out for fighter duties in France and that left the F.A. Units a little bit short and they called on interested ex-bomber pilots to come and fly, and he said, ''Come up and have a yarn; you might get a job''.
So I went back early and in at Scampton, located the Flight Commander of the Spits and pointed out that I had flown light aircraft, the Tiger moth and a few others of the same type and what I lacked in experience I could make up in other things. Anyhow he seemed quite interested and said, 'Well, I will let you know''. When I got back to Ludford I went up to see if I had been posted and the Adjutant said "Yes; you are on Dakotas". I said "Strike me pink. How about holding it up a couple of days because I think I can get onto Spits". He was a good sport and put my posting on the bottom of his pile and then a couple of days later it was announced that I was posted to the Affiliation Unit at Scampton. Well, oh boy, was I rapped.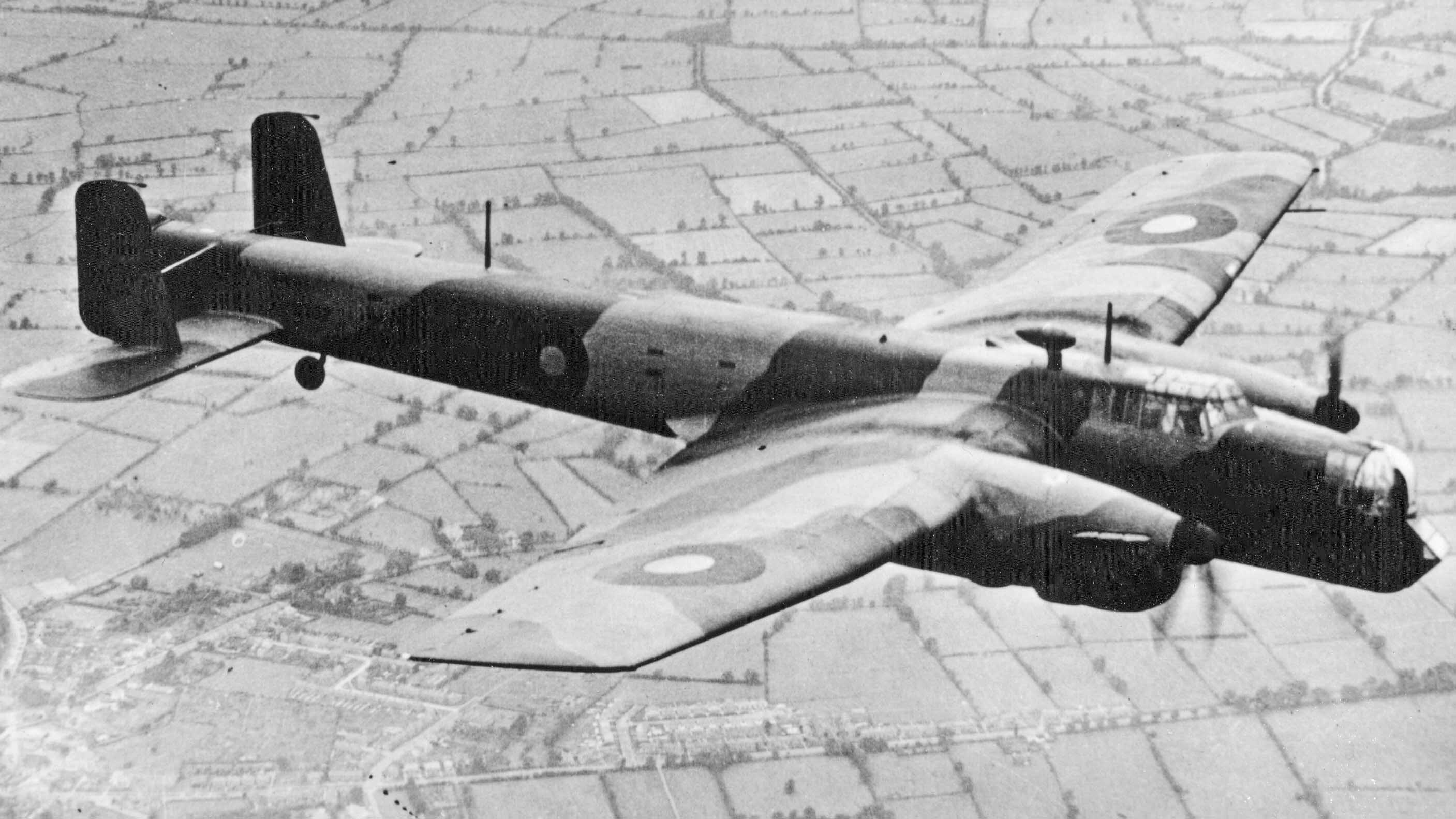 Before I leave Ludford I would like to tell you about my operations flying in a Stream, so that you will appreciate a couple of little experiences that I had and in which you might be interested. Before four-engine aircraft were available Wimpeys, Whitleys, Whitney and other twin engine bombers made up the force and with the limited range they had to fly the direct route to the target and back home again. Now the old Gerry was a resourceful foe and he very soon picked up the intended target and he would have time to rally his defences and these poor buggers fought their way into the target through search lights, barrages and anti aircraft and fighters, and then they turned around and they fought their way back home again, and they had a hell of a time. But I was lucky to have four engines making up the force. We had increased range and were able to use a tactic to cause Gerry to disperse his defences. Now the idea was, we would head for a possible target and just out of fighter range we would dog-leg onto another possible target and perhaps even a third or fourth time. we would repeat this and Gerry was never sure of the target until we actually struck.
Now this lessened the opposition to our attack, but it introduced another hazard, and that was a collision on the turning point. The Stream was usually up to four miles wide and some blokes might be turning early and some late and some on time, but it turned the aircraft into a crossing situation. On this particular occasion I am not sure whether we had turned or were coming up to turn, but were stooging along with a perfectly clear windscreen when suddenly a blur swept across in front of me and immediately after the blur slipped by I crashed through the four slip streams of the other aircraft. It shook the old aircraft like a jeep going over gutters at sixty miles per hour. Had we been a second faster or he a second slower we would have been minced up into one almighty heap. This happened to two of our aircraft on a previous sortie. They found the two aircraft tangled together on the turning point, so you can see it was quite a hazard and an interesting experience. The bomb aimer nearest to the incident leaped backwards from his couch and landed almost back into the cockpit. Years later he called to see me on his way to Melbourne and I asked him if he could recall that incident when a bloke swept across our bows. He said "Indeed I do: only the laundry man and I knew my total reaction".
The next interesting experience was on our 25th. trip, stooging into the target on a Cloudless, dark night and we had about twenty minutes flight to the target when the engineer pointed to an aircraft exactly parallel to us, same height and pacing us perfectly, like two cars on a dual highway. Normally aircraft. drift forward or backward from each other, but this bloke just stuck there, apart from slowly converging towards us. I said to the nav I think I will go down 200 feet because there is a bloke crowding me on the starboard, so I went down to get out of his way. Well I dropped down the second hundred and I was just fiddling about with 'George' when the engineer slapped me on the shoulder. I looked up and here was this aircraft hurtling down, doing what we call the first stage of Corkscrew Evasion Tactics. Well my only instinct was to go with him and try to match his rate of descent and I did that at what is possibly the last possible moment. I finished up in shadow formation. I was underneath and I feared our props would tangle like gear wheels and I stuck with him and somehow either he slipped in or I skidded out. As we parted we raked him right across from the port inner engine, bomb bays and the two starboard motors. We lost the entire wing tip which is about eight feet because it had no spars in it. But as we departed we found later his starboard outer had sliced about six feet off our leading edge as well.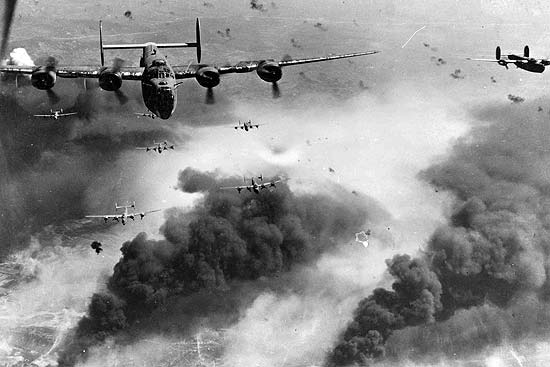 Well: talk about an exciting experience. I rolled the old bus onto level flight and as she reacted alright we did our little jaunt over the target and got back home. On de-briefing the Top Brass said I was a clever bugger. But it was the old engineer who saved us. If he hadn't spotted that aircraft when he did there would have been two more airplanes tangled up. I think the Old Grim Reaper had messed up his computer somewhere because it was only a matter of a split second between survival and disaster. The next morning news filtered through about the other aircraft. It came from Henswell and as we had the day off we went out and had a look at the aircraft that nearly swiped us off. The pilot explained that he was evading a fighter attack and he never saw us and thought he had been hit by flack. Of course when he got back home he realised that he had our mark on his under wing and bomb bay. I believe the poor bloke was on his fifteenth, but I don't think he survived the tour. Just one more interesting experience.
We were operating in a huge bank of cloud which extended from over England to the target area and we were briefed to bomb at 18,000 feet. As we approached the French coast on return we received a message to descend to 1,500 over the Channel as icing conditions had deteriorated to severe and we were to proceed to Base at that height, which meant that if we had gone back at 18,000 as briefed, at that height we could have iced up to such an extent that the aircraft could have been uncontrollable, however we obeyed the instructions and we were still in cloud at 1,500 feet which is the normal height to carry out a circuit in the landing pattern of every aircraft. Anyway I realised that 300 other bods on the raid were in cloud stooging along, all on instruments making up towards Lincolnshire and I must admit I felt a bit twitchy. I consoled myself and thought, well the other 299 pilots would be twitching too. However we all arrived back safe to Base.
After all that, I had better get you over to Scampton, the Fighter Base. I arrived there about mid-day and after lunch found my way up to the Flight and shortly after the Flight Commander said "Just come up and have a look at the aircraft." He stuck me in a Hurricane and said "Get your cockpit drill off pat and I will check you out tomorrow". Anyhow I went through all the old Hatches, Harness, Hydraulics, Trim, Mixture, Pitch, Fuel, Flaps, Instruments and had that pretty well off. Next morning the Flight Commander said "Bring your parachute up and I will check you out." I started on the cockpit drill and he said "Yes, that is OK. but the thing you have to watch is the lock on the undercarriage lever. You can't get it up unless you trip that when you take off". Then he said "You have been starting four engines for the last six months. This is the same, kick her over and go for a flight. Don't do any circuits, just get the feel of the aircraft".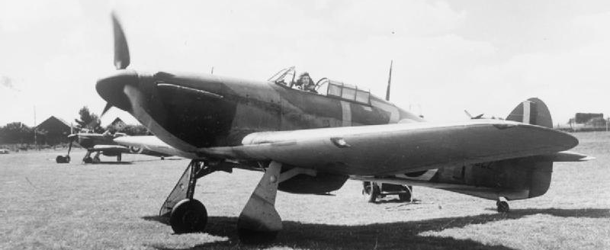 Well, I couldn't believe it. Back home here we would have done a full fighter conversion course and here we were, a fortnight out of Lancasters and here he was saying "Jump in and have a go". The thing I like about the Poms is that if one is a pilot you can fly. For some unknown reason they make an aeroplane to be flown with the right hand and put the undercarriage and flap control on the right hand which necessitates taking your hands off the stick and changing to the left hand and selecting the undercarriage ''up'. Both the Spits and Hurricanes have this peculiarity. Despite this it wasn't conducive to safety, because just at the critical point of take off you have to change over to the left hand and fumble for the undercarriage lever and this is just what I did. I lined up, opened the throttle and before I knew it I was airborne and I started to fumble for the undercarriage lever and forget about the lock. I porpoised about the sky up to about 1,000 feet before I remembered the lock on the undercarriage lever.
When I located that I climbed up through the clouds, charged them and had one glorious hour. I looped and I barrel rolled. On return I tucked into what I thought was a tight circuit, landed and was absolutely elated. A boyhood dream had come true. On return to the Flight, the Flight Commander had a sneaky look at my circuit and said "You bloody bomber pilots that take up half the country. Tomorrow go and do circuits and bumps in the Hurricane, but tuck in close. Do steep climbing turns off the deck and a steep approach to the landing." So next morning out I go and I had another wizard of a time. Instead of a four mile circuit I was doing it within about half a mile or even a quarter of a mile. It was another dream come true. After a couple of hours in the Hurricane the Flight Commander said "How would you like to have a go at this Spit?" and sure enough, next thing I am taxiing out in the Spitfire and the undercarriage incident caused rather an ungainly take off and I virtually flapped my way down the runway and shot into the air. I couldn't find the undercarriage lever but once again that was soon overcome.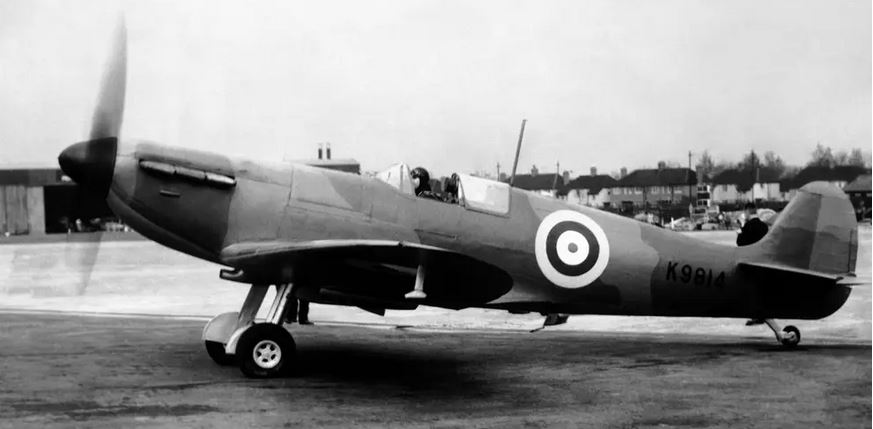 Now with the Spits you don't do circuits and bumps because in the hot weather so-called flaps would drop down behind the radiator, restricting the flow and if you didn't get your temperature down the Spit was prone to boiling on the run into the hangar. If this occurred the drill was to cut your motors and sit there and get towed back to the Flight. I got caught out a couple of times.
After a couple of months we moved to Helmsville. To me it was like being in an aero club with Spits as our personal steeds and not having to pay a penny to fly these glorious machines here, there, and everywhere. From my point of view the Spitfire was the most perfect aircraft to fly. It was light, sensitive and became an extension of oneself. If I thought of a manoeuvre, I would find myself halfway through it. It seemed to respond to thought rather than manipulation with the controls. Many of our pilots were not much better than bus drivers, they could hardly bank the aeroplane. Whenever I got airborne I seldom flew straight and level. I used to take off all over the sky and I sit back sometimes and reminisce about this wonderful aircraft.
Alas, all good things come to an end and when the war finished I said a sad farewell to Spits.
I was posted back to Brighton and re-embarkation. When the due processes were completed three thousand of us were entrained for Liverpool where we boarded a 27,000 ton ship, the Andes, for the journey home. We choofed out into the Atlantic and steamed across to Panama and back across the Pacific to Wellington New Zealand, and then to Sydney town.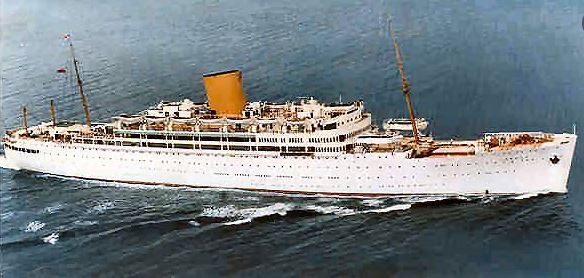 The only welcome we got was a splash in the paper next day "Three thousand men packed home to wage war against the Japs". But it so happened that whilst we were on Home Leave the Jap war finished and we were surplus to requirements and I thought that this is the end of my three glorious years in the Air Force. But fortune intervened and that bloke that introduced me to Spits lived in Sydney and invited me to a party. On the way home he ran into a telephone post. He must have been a pretty crook driver. I sustained bad facial injuries that put me in hospital and when my discharge papers came through I was still not fit and good old Air Force said "We will discharge you in the same physical condition as you came in". So I was languishing away in hospital recuperating when lo and behold, up came a notice for applications to go to Japan flying Mustangs. I of course applied – and was accepted.
After being discharged from hospital I was subsequently posted to Williamtown and went through the official flight conversion course and on completion was posted to the S.S. Manoora with only about fifty other people and we had a leisurely trip of three weeks heading for Japan. Our base was a place called Bofu, ex Japanese training airfield and we spent about nine months there and later went to Iwakuni where we spent another nine months. Our job was to patrol Prefectures and see if there was an uprising, and fortunately there was none whatsoever. But in so doing we swept all of the south-west of the main island and became familiar with it. Our activities were to liaise with the Yanks. We would take up thirty-six aircraft like a flock of pigeons, fly to their 'drome and be entertained by them for any occasion they thought worth while. To return the compliments we had many visits from their squadron. They, by the way, had a lot of bombers, but their fighter force was all Mustangs, so we had a great liaison with their fighter pilots.
Now the Mustang is a beautiful aircraft, sturdy, and incidentally the undercarriage lever was on the left and you didn't have to change hands at take-off. Our social life was limited because we were confined to our camp. On official leave, of which there was plenty, we visited many areas which are now the main tourist areas of Japan. It was a bit embarrassing that we used to take leave about every two months, but we put up with such hardships. Anyhow, after the eighteen months there I was posted back to Australia, with no specific job. But while I was on leave I got posted to the City of Sydney squadron, just out of Sydney, to a place called Schofield. I had the doubtful honour of being the Commanding Officer because the two previous officers were killed a fortnight earlier. Here I was C.O. of the squadron and it had Wirraways, Tiger Moths and Mustangs to fly.
When the permanent C.O. was posted in I wasn't particularly happy. I had known him in Japan. He had his own aircraft. He had been there about three years and had about five hours a year flying in it and people who don't fly aeroplanes are not friends of mine. I applied for a posting and finished up at ARDU in Melbourne. I had no specific research qualifications apart from being able to fly a number of different aircraft. My job finished up at a place called Mallala, a dirt strip north of Adelaide and the job there was to carry experimental bombs which were fitted with special fins for high altitude flying work and we weren't rally equipped for the job. We had old Lincolns which we dragged up to 32,000 feet dropping these new stores and photographing the effect of the fins on missiles. So I had a great time there.
One day I would fly a Lincoln and next be second pilot. We had a Mustang with a horizontally-mounted camera which would formate with the Lincoln just about to drop and photograph the vertical oscillations of the bomb. Then the third day we would fly the Mustang, and the variations of flying a fighter and a bomber kept you really on the ball. I can remember one perfectly clear day when I had completed the last sortie and pointed for home I could see the entire coast of South Australia with its gulfs and at the top of Spencer Gulf, a town called Port Augusta. I knew that our range was about one hundred miles from there, so I thought I will see how quickly I can get to Port Augusta. I pointed the nose down about twenty degrees at Port Augusta and just let the old Mustang churn along. I was there in a quarter of an hour. Talk about speed, and it was the fastest I think I had ever travelled in a Lincoln
I really enjoyed flying but unfortunately I developed Chokes when flying second dickie in a Lincoln. It is similar to the Bends in a diver. It causes vomiting and I thought it was just a passing phase, but when it occurred the second time I realised that anyone in that condition should make preparations for moving on. I was limited then to 25,000 feet in unpressurised aircraft. As I was surplus to requirement, when posting came it was to our bomber base at Amberley. They were forming crews to relieve the NO. 1. Squadron crews which were then supporting the British bombing action against the insurgent bandits in the jungle in Malaya. I was eventually detailed to take my aircraft up and had the pleasure of flying from Amberly, across to Darwin and then across the Timor Seas to Indonesia and into Singapore. I was there for eight months during which time I knocked up sixty eight sorties.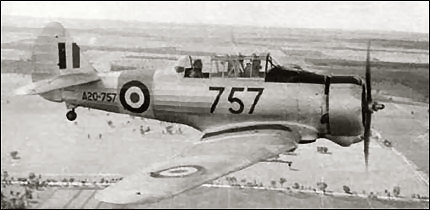 After what we did in Europe it really was just playing around having a lot of fun dropping bombs. There was no opposition whatsoever. On return to Australia, I applied for a Flying Instructor's course and was posted to East Sale, No. 10. Central Flying School. Having completed that I was then posted to Point Cook, our Central Flying School and completed the course which was already operating. Then we went to a place called Uranquinty, an area of absolutely flat country adjacent to the town of Wagga Wagga and proceeded to train pilots from initial flying to advanced flying and finally to Wings standard. Tiger Moths were the initial flying aircraft and then they converted to Wirraways which were very much like the Miles Master which were used for the same purpose in England.
After two courses the chief boffins from the Headquarters wanted a pilot instructor to fly Mustangs, Lincolns, Wirraways and Dakotas and I found myself posted to NO. 10. Maritime Reconnaissance Squadron which was based at Townsville. Our job was Maritime reconnaissance along with Search and Rescue. This entailed flying to Darwin, staying there a month patrolling such areas of the sea, particularly when the Japanese pearling fleets were there in big numbers. Maritime reconnaissance required flying at eight hundred feet, the best height for observing dinghies or subs or whatever.
As I look back as an instructor I was checking a bloke out on a brand new Lincoln, only sixteen hours on the Log Book and I pranged it. The aircraft was virtually ripped apart, the nose wrenched off, the engines scatted like dice, half a wing broken off, the tail also broken off The four of us got out with only minor injuries. The Court of inquiry found that the accident was due to pilot error, an acceptable excuse.
After the accident I continued flying there for about six months but as I was approaching the age of retirement, I started to think about transferring to Engineering and applied for a review of my qualifications for such. I found that engineers weren't! engineers, they were administrators and I was not enthusiastic and subsequently wasn't accepted. So, I was hanging around the place and my last posting was to a little place called Rathmines, on the big lake Macquarie west of Newcastle. It used to be a Catalina flying base and at this time being used for N.C.0. and Officer training courses. I was down there as one of the staff and one of the duties was to fly a small Auster airplane and I was communication pilot and used to stooge around and at times just took a test flight around this beautiful lake. I continued there until I reached the age of retirement and my Air Force career comes to an end.
I had three months long service leave, built a caravan and decided to stooge around the State for three months until I really found out what I wanted to do. However, I called on my Sister-in-law and her husband who knew that I had a fitting and turning background and they said, Have you ever thought of teaching? I thought My God: I haven't. He told me that the Secondary Schools wanted tradesmen to teach craft and the more I thought about it, the better it seemed, holidays at the same time as the kids and plenty of them, work from 0900 to 1600. When I applied and said I would like a central country school the old Head of the Department said, Sign here: the average teacher wants to go to the city. After a time, I was asked if I would accept a position at Numurkah (near Shepparton) High School. I said - Yes. So we skipped down there, slept in the caravan until we got a school house and I spent twenty years teaching kids Fitting and Turning, sheet metal work, mechanical drawing etc, and after twenty-one years I took the second retirement and by that time we had become well established in the small country town of about 2,500 people.

It is a pleasant little spot-with a creek running through the place and this is our water supply. It has a fifty-four acre lake for water recreation, fishing, boating, tennis, football, cricket, hockey, squash, swimming, basketball and quite a few others I haven't mentioned are also catered for. So, if you would like to retire to a good spot, hop into your car and come along to Numurkah and have a look at it. At the moment it is stinking hot, forty degrees and I am thinking of going out to the kitchen where we have a cooling device to refresh myself.
I thought I would take you back to the situation I found myself in after the Lincoln prang. Now on this particular flight I didn't zip up the pocket in which I carried my wallet and during the prang of course it slipped out and was lost. Now my concern personally was that I had twenty-five quid in it, which I just carried for emergencies. And despite the fact that I had written off the 125,000 pounds worth of aircraft, I became a bit obsessed about losing a weeks' pay and I fear I was becoming a proper bore, every opportunity bringing conversation around to my twenty-five quid. A cobber did me a great favour when he said '"'For Christ's sake shut up: you wouldn't get a ride like that at Luna Park for one-hundred quid". Such is mateship and I was most grateful to him for pulling me into line.
Finally, in a town of our size one hears of things said about oneself. I have heard it said that if Syd Gooding is asked about aeroplanes he will bash your ears for two hours solid. I will leave it to you to judge.
Syd Gooding DFC died on 19th January, 2007 at Nurmurka hospital, Victoria. He was 91.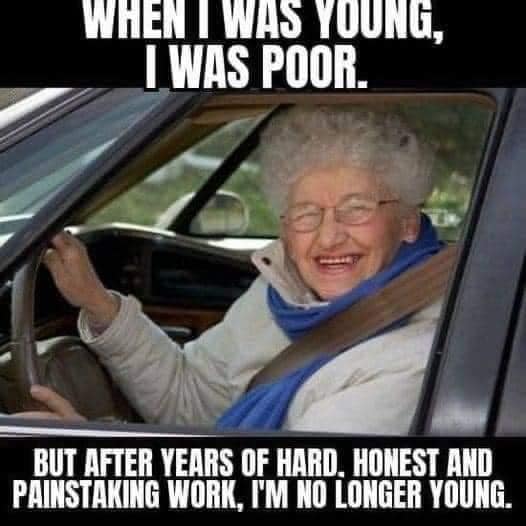 Back Go to page: 1 2 3 4 5 6 7 8 9 10 11 12 13 14 15 16 17 18 19 20 Forward