Privacy Policy | Editorial Policy | Profit Policy | Join the Association | List of Members | Contact us | Index | Links
Back Go to page: 1 2 3 4 5 6 7 8 9 10 11 12 13 14 15 16 17 18 19 20 Forward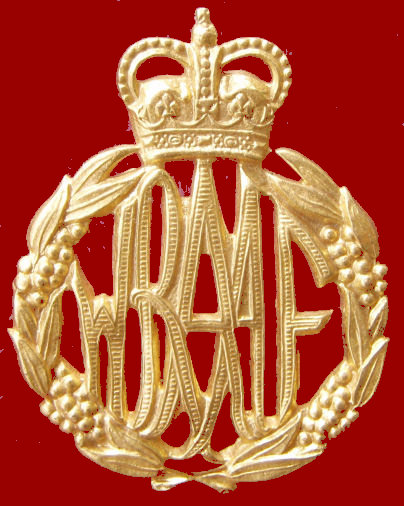 WRAAF News.
Contents.
Uniforms from the past.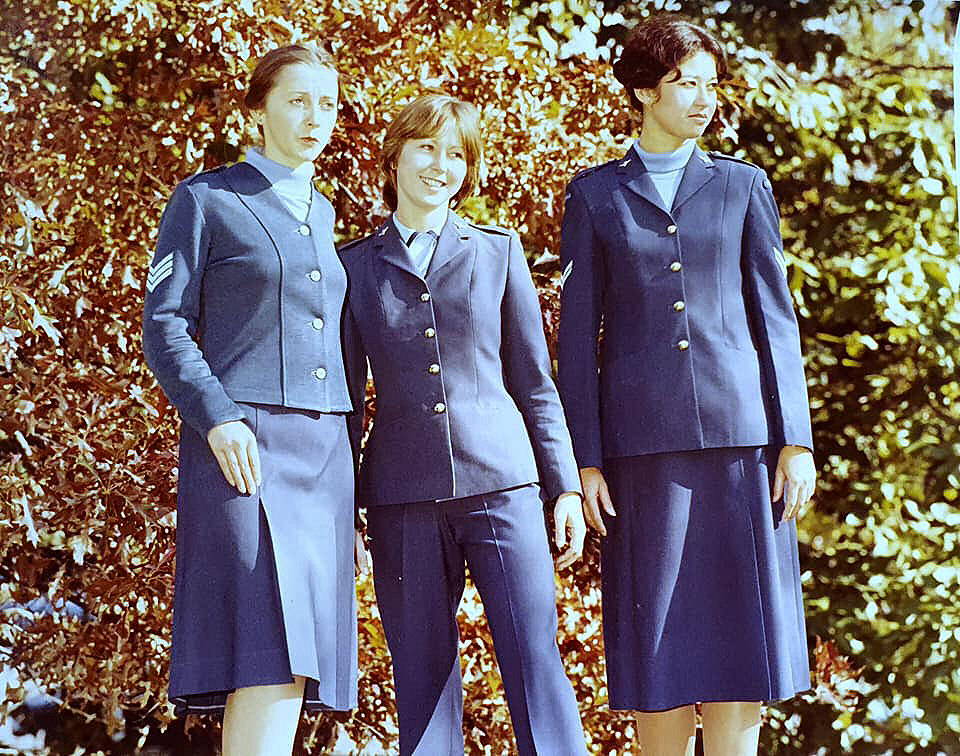 Lyn Mitchell.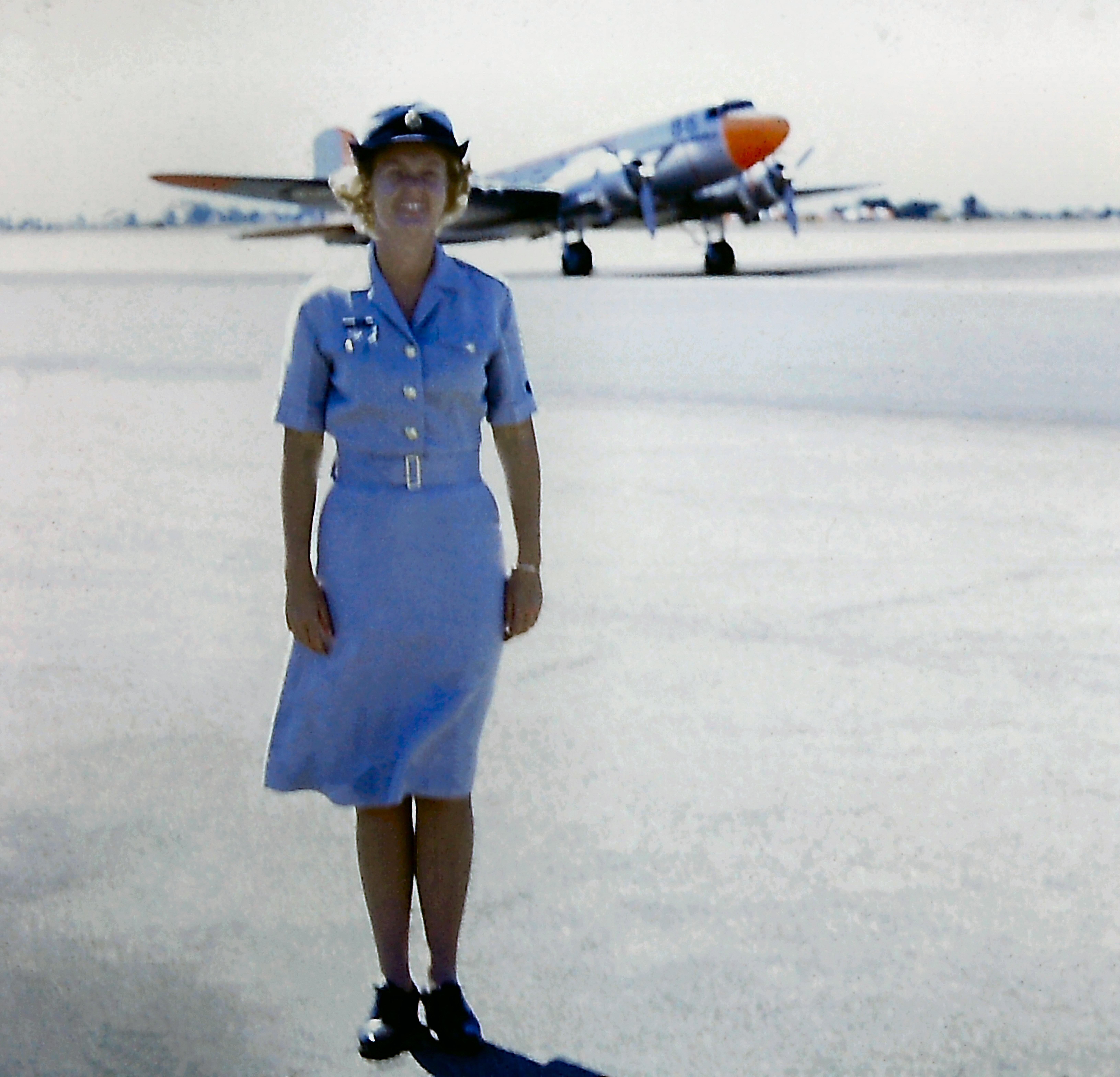 On the tarmac at East Sale, mid 1960's – with her "Donald Duck" hat.
Lyn, on rookies, with her Pill Box hat - 1965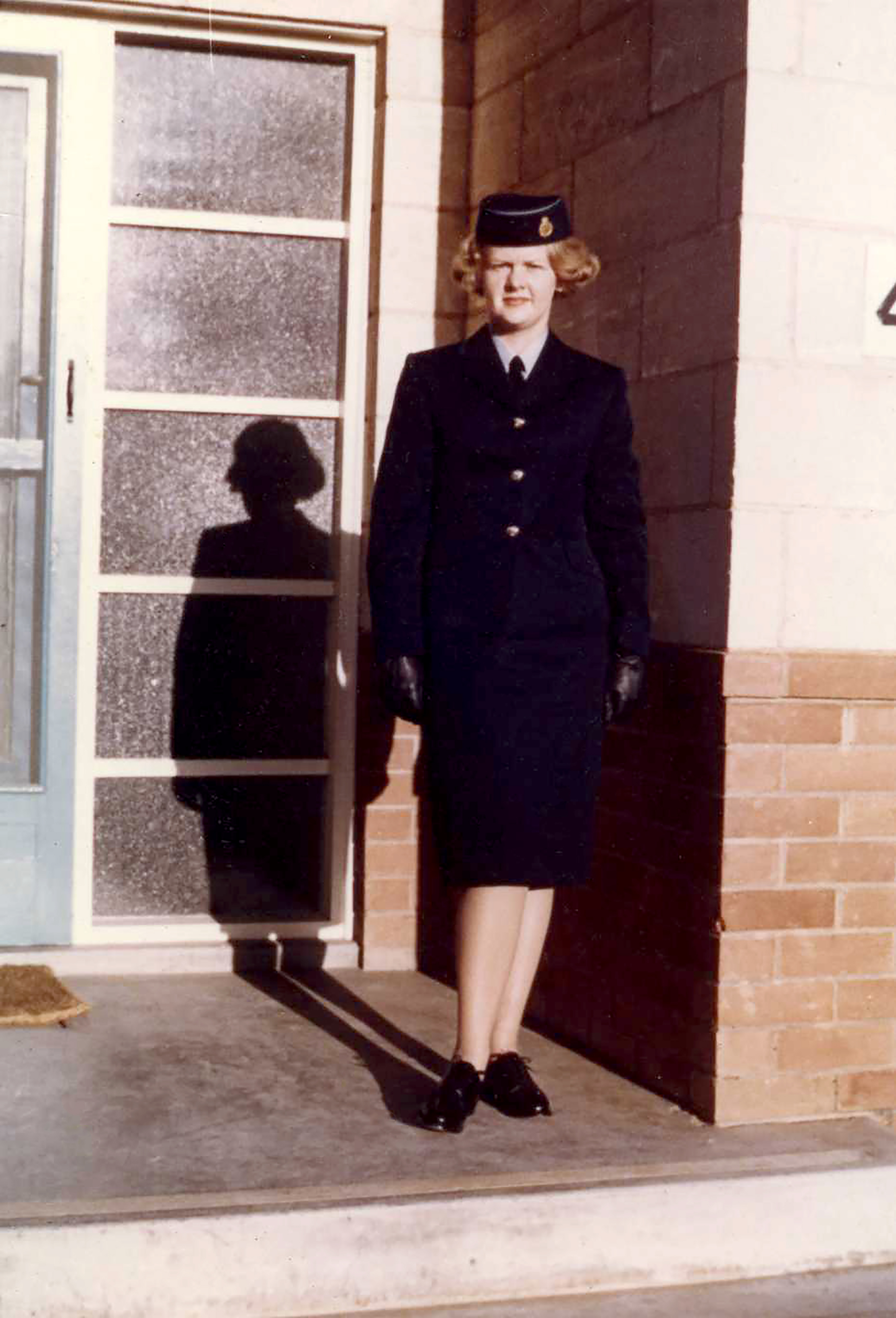 Roll Call – early one morning in 1964. Williamtown.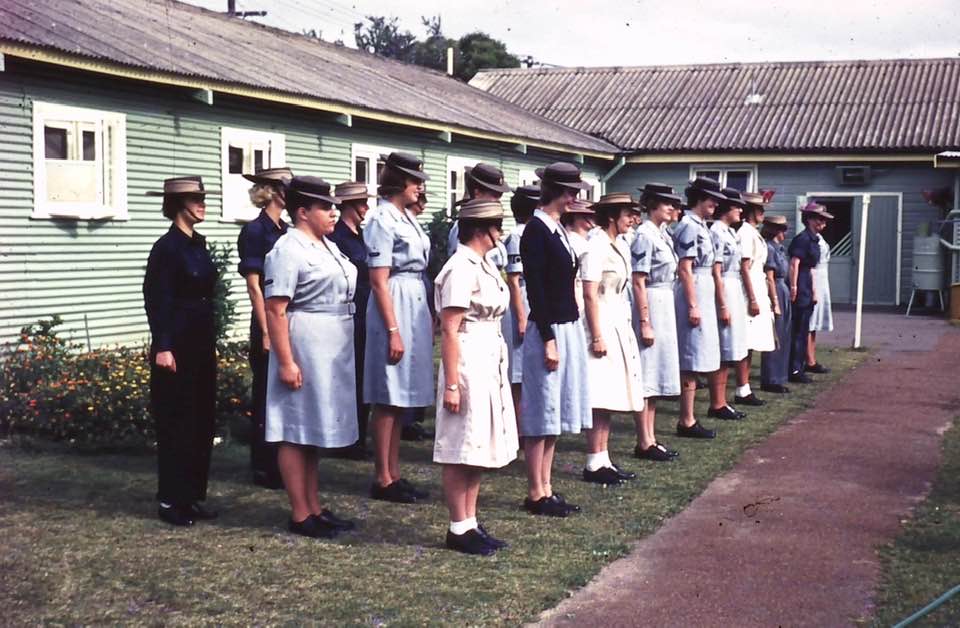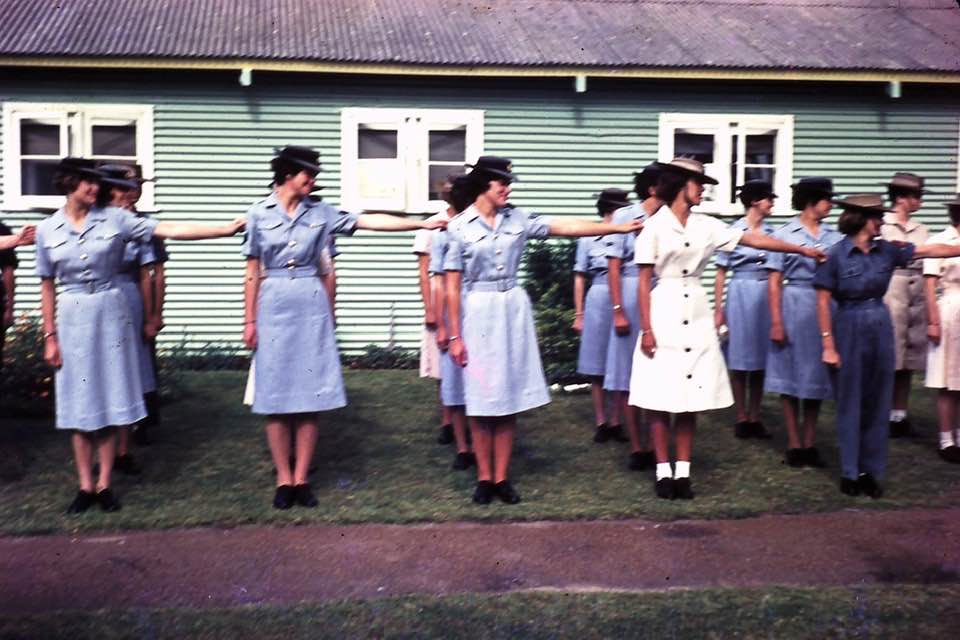 Willytown girls, about 1964.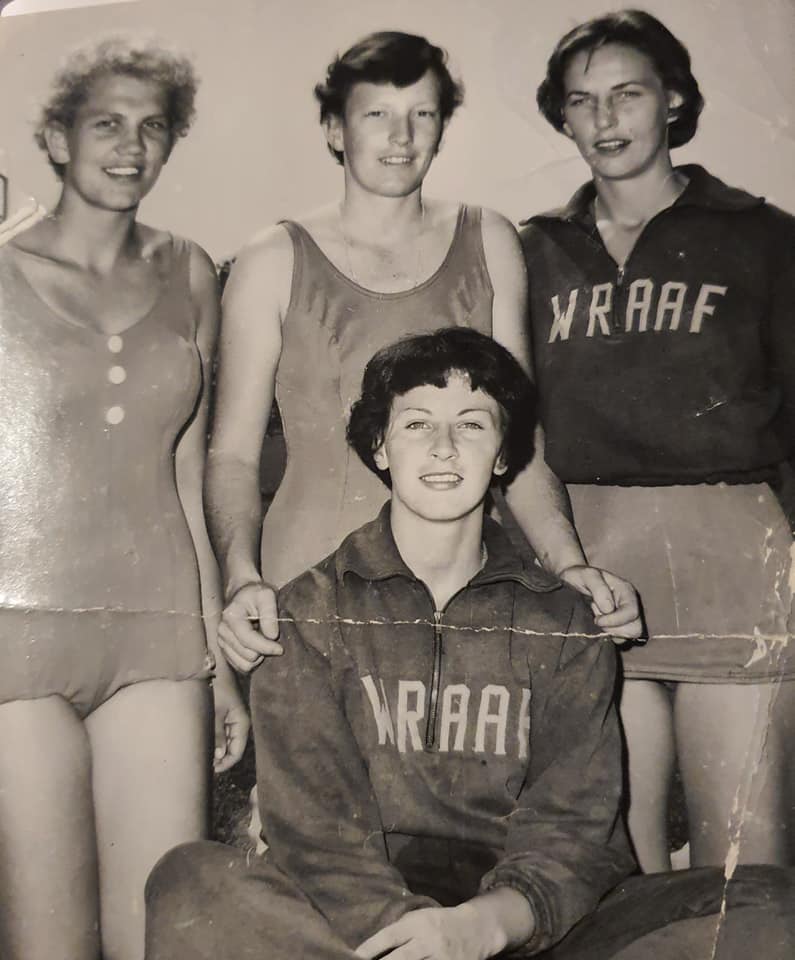 Standing L-R: Don't know, Anne Forrest, Judith Liddell. Seated: Don't know.
A night in the Willytown boozer?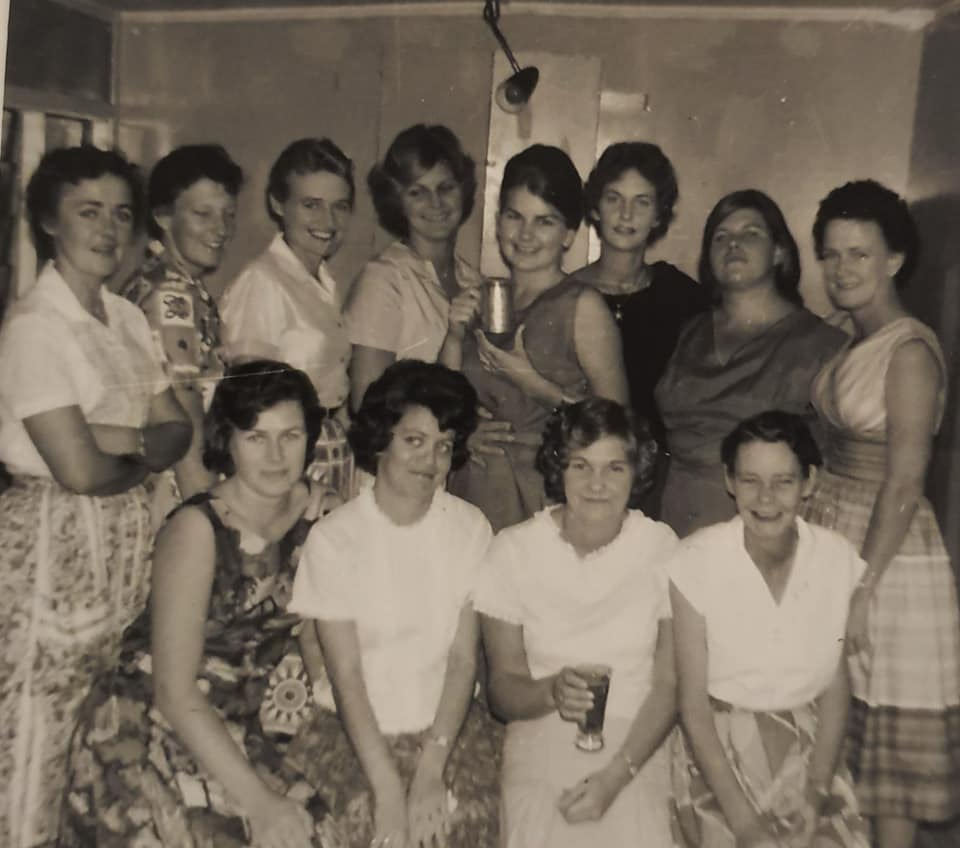 WRAAF reunion – 1980. Held at Laverton Golf Club.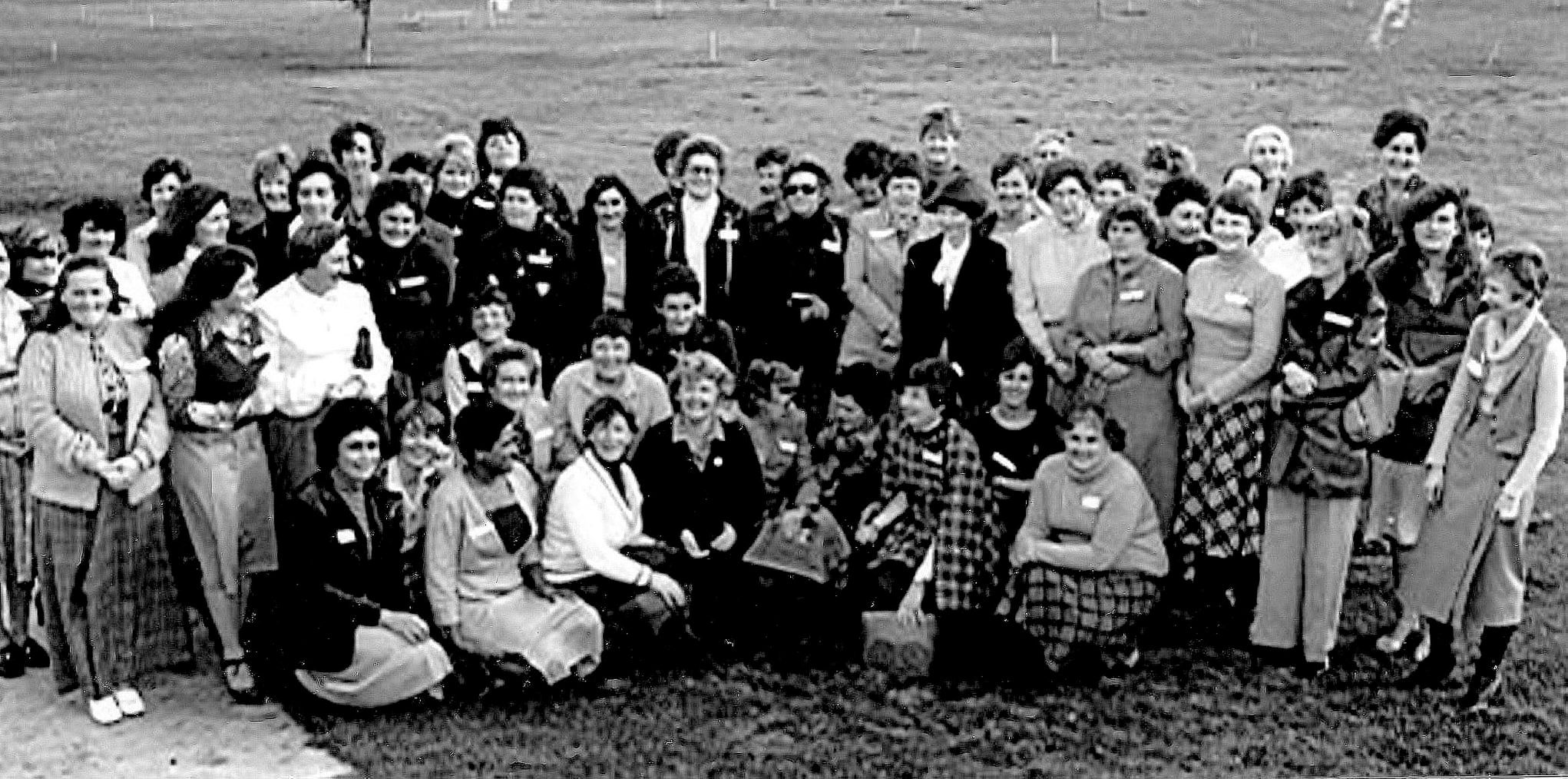 WRAAF Course 38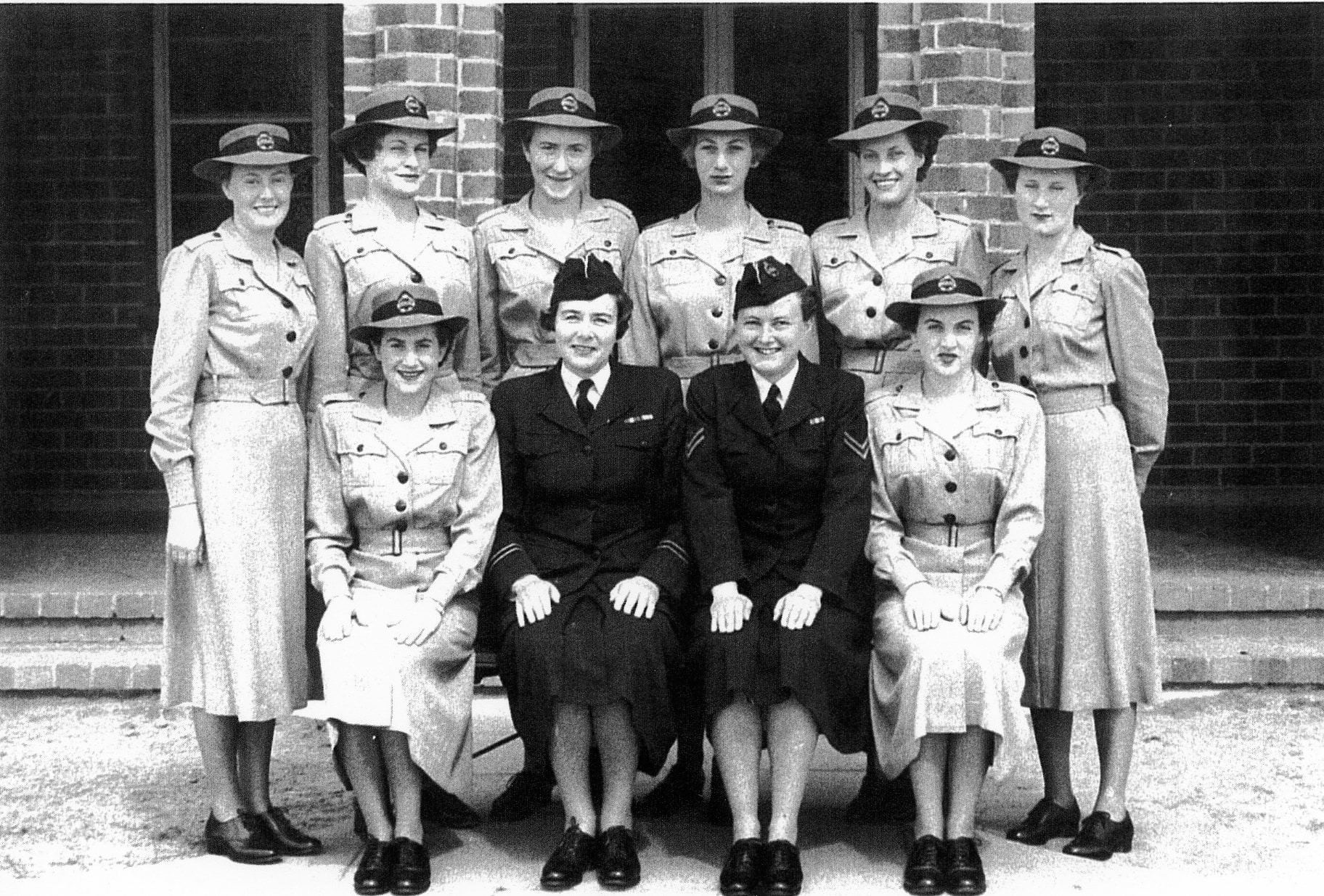 A New Uniform
Eamon Hamilton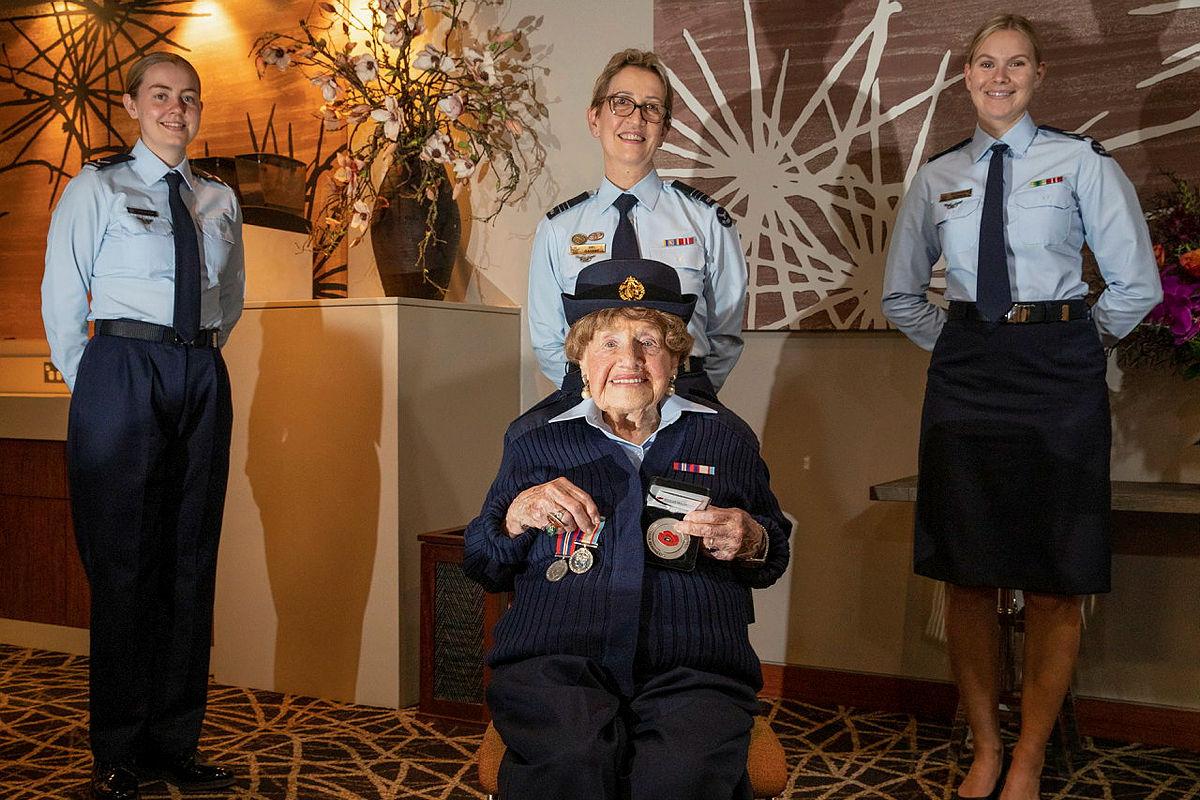 A new uniform has been presented to 103-year-old Air Force veteran Iris Terry, which she will proudly wear on her first Anzac Day march in Sydney. Presented on the 20th April 2021 by current-serving aviators from RAAF Base Glenbrook, the blue service dress uniform consists of pants, a shirt, a cardigan, and a women's cap.
The uniform was tailored by Ventia staff at RAAF Base Glenbrook's clothing store.
Fittingly, Iris served as a tailor in the Women's Auxiliary Australian Air Force (WAAAF) during the World War II. Fay Poulter is her close friend and carer and said Iris would proudly wear the uniform on Anzac Day when she leads a contingent of current-serving and veteran Air Force women. "This year will be the first year she'll march," Ms Poulter said. "Iris never used to march on Anzac Day, because nobody asked her, and she didn't know to apply.
"She used to go and watch it, but she just didn't know that she was allowed to march with everyone as well."
Born Iris Pfitzner in 1917, she grew up in Griffith, NSW, and was already a talented seamstress before she joined the WAAAF in April 1944. In an interview with Legacy Australia last year, Mrs Terry said she made her choice because, "I loved the Air Force and their uniforms were better".
Mrs Terry joined a team of tailors at RAAF Base Richmond who sewed the uniforms for personnel on their way to the war. In December 1945, she discharged from the WAAAF at the rank of leading aircraftwoman. She met Army veteran Emerson Terry and married him a year later. She continued working as a tailor in Sydney, sewing gowns for judges and barristers, and suits for clients who included Prime Minister Paul Keating.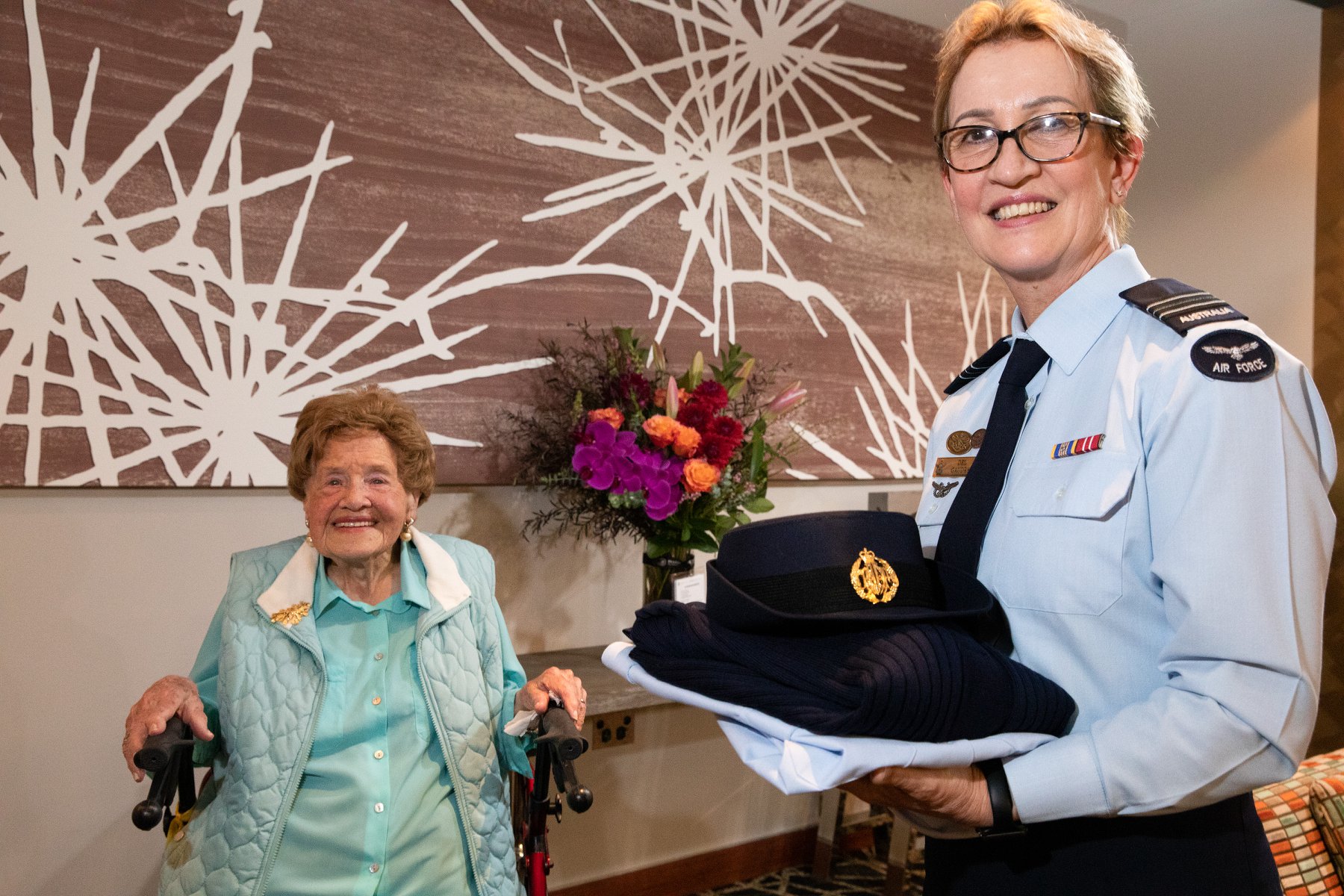 Despite COVID-19 restrictions, Iris has still maintained social connections that led to the request for an Air Force uniform, according to Squadron Leader Del Gaudry. "The request came from June and Ken Young, who are Iris' Legatees with Legacy Australia, They wrote to Air Commodore Ian Scott, a reservist at RAAF Base Glenbrook, whom they knew through Rotary Australia. Air Commodore Scott then approached me asking about whether it was possible to obtain a uniform for Iris, because she really wanted to wear it for the march.
Options were considered to present her with an old uniform before a request was made to Warrant Officer of the Air Force Fee Grasby for Mrs Terry to be issued with a new uniform. It was then approved through Air Force Headquarters, and I took that approval to the clothing store on RAAF Base Glenbrook," Squadron Leader Gaudry said. The Ventia staff at our clothing store were wonderful in tailoring a service dress uniform for Iris to wear. It was a great honour for the Ventia team to tailor a uniform for a veteran who was a tailor herself and they felt very privileged to deliver this uniform for Iris before Anzac Day.
| | |
| --- | --- |
| Annie Piert – A switchie at Wagga 1974. | |
East Sale – 1962.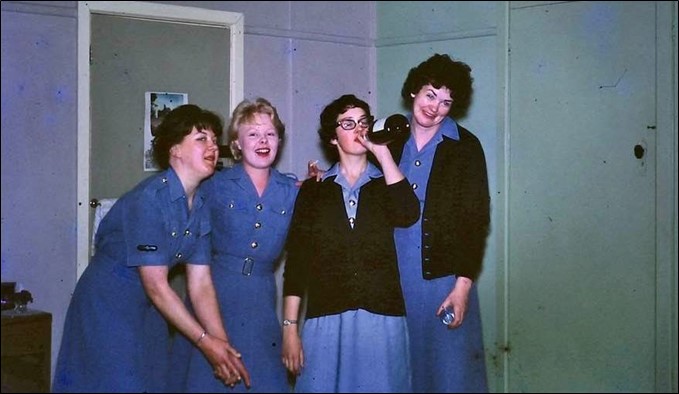 L-R: Cora Richards, Margaret Hill, Pamela Thompson, Daphne Smith.
Base Sqn Orderly Room, Willytown 1963/64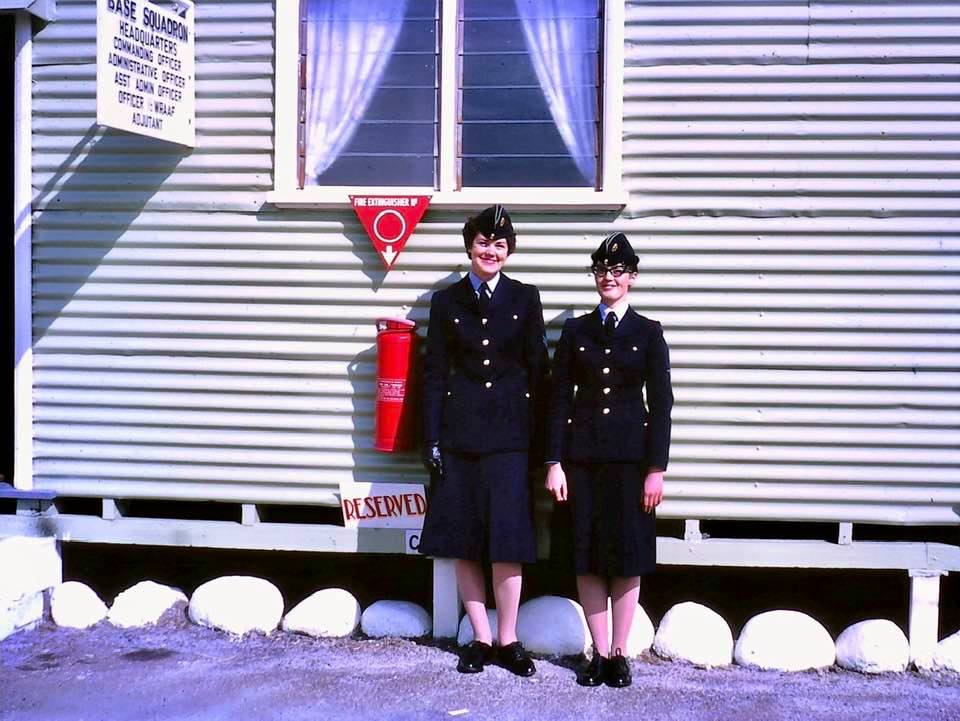 L-R: Lorraine Gundry, Pamela Thompson.
| | |
| --- | --- |
| Pamela Thompson. | |
Janice Brigg.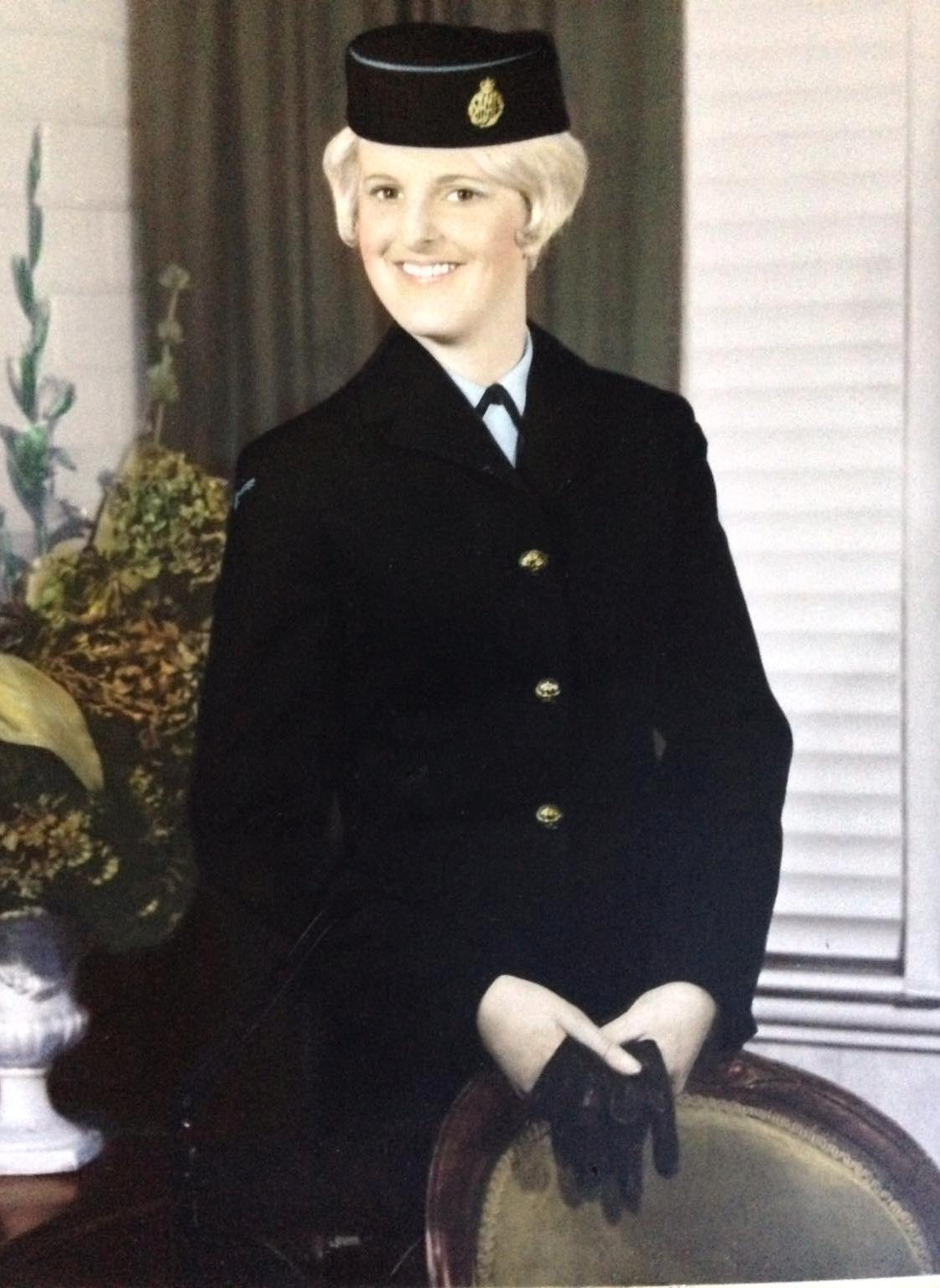 Janice at Laverton, 1969. Starting a Teleprinter Course.
1 WAAAF Training Depot formed in Melbourne.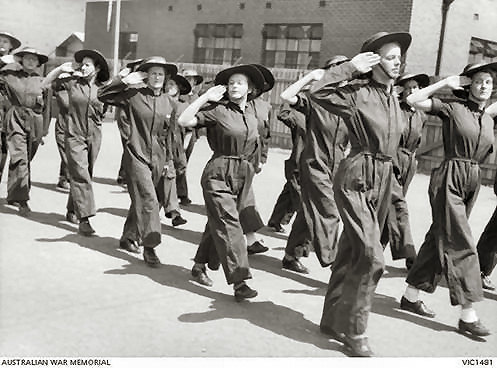 On the 6th May,1941, No 1 Women's Auxiliary Australian Air Force (WAAAF) Training Depot was established at Mayfield Avenue, Malvern, Victoria.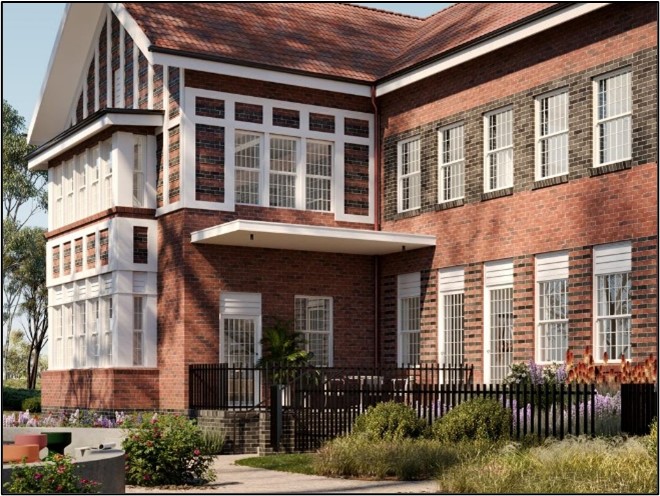 First known as the WAAAF Training Depot, the depot was originally staffed by three officers, one nursing sister and 78 aircraftwomen who were responsible for training WAAAFs as teleprinter operators and in aircraft recognition as well as physical and recreational training. With the increase in the numbers of students and courses, the Depot moved to St Catherine's School, Toorak on 24 March 1942.
In January 1943, the Depot was moved again, this time to Preston, where a physical and recreational wing was formed. The Depot also had staff working from 'Larundel' (right), which had been converted to a mental hospital for service personnel. The Depot was often visited by journalists from the local papers and also war correspondents who took photos of the 116 women in training to boost morale and encourage recruitment.
On 19 October 1945 the Depot was disbanded, and 'Larundel' handed over to a medical training unit. A total of 9,854 women were trained at the Depot in its nearly 3.5 years of operation.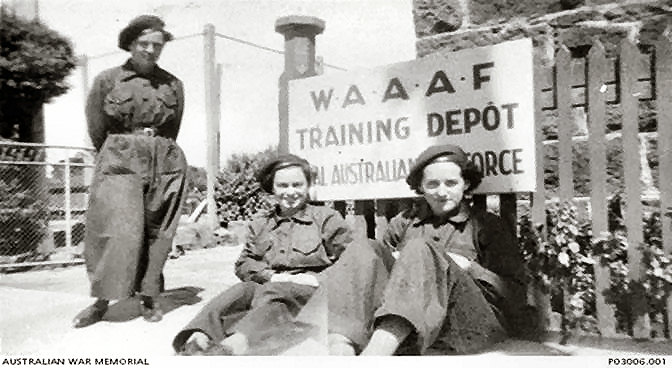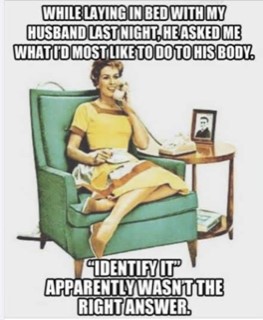 Patsy Hogan.
When the Korean War started in 1950 Patsy Hogan was working at a Melbourne bookbinding company. About 6 months later at the young age of 19 years, at a time when she was sitting at work and reflecting and in her words "everything seemed to be sitting on top of me", she thought she might join the Air Force. Approximately six weeks later Patsy was on her first day at Recruit Course at Laverton.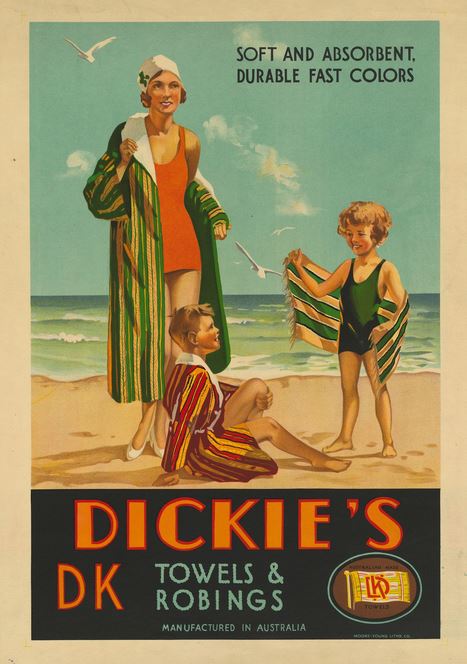 Patsy had left school at 14 years of age and immediately gained a job at Dickies towelling factory. A needle through her finger in the first week shortened her career in the manchester field and Patsy left for greener pastures. Like all young women a job in a dress shop was a positive step until she realised it would be too many years before she would graduate from cleaning floors. She resigned. Mrs Holt from across the road was to be her salvation and knew somebody at Wilkies Printing. For 5 years Patsy learnt how to book bind, staple and all the complex stages of producing the books the Australian public love to read until that day in 1951 when the Korean War had pulled on her patriotic emotions.
Women's role in society had been changed forever during the second World War. Women had been called to duty to allow men to fight overseas and the government realised the worth of women's contribution to the work force, so it happened that Lois Pitman and 6 other women who had served in the War were asked to re - establish the women's service. Two courses were commenced before Recruit Course No 3 was instigated at Laverton, Victoria.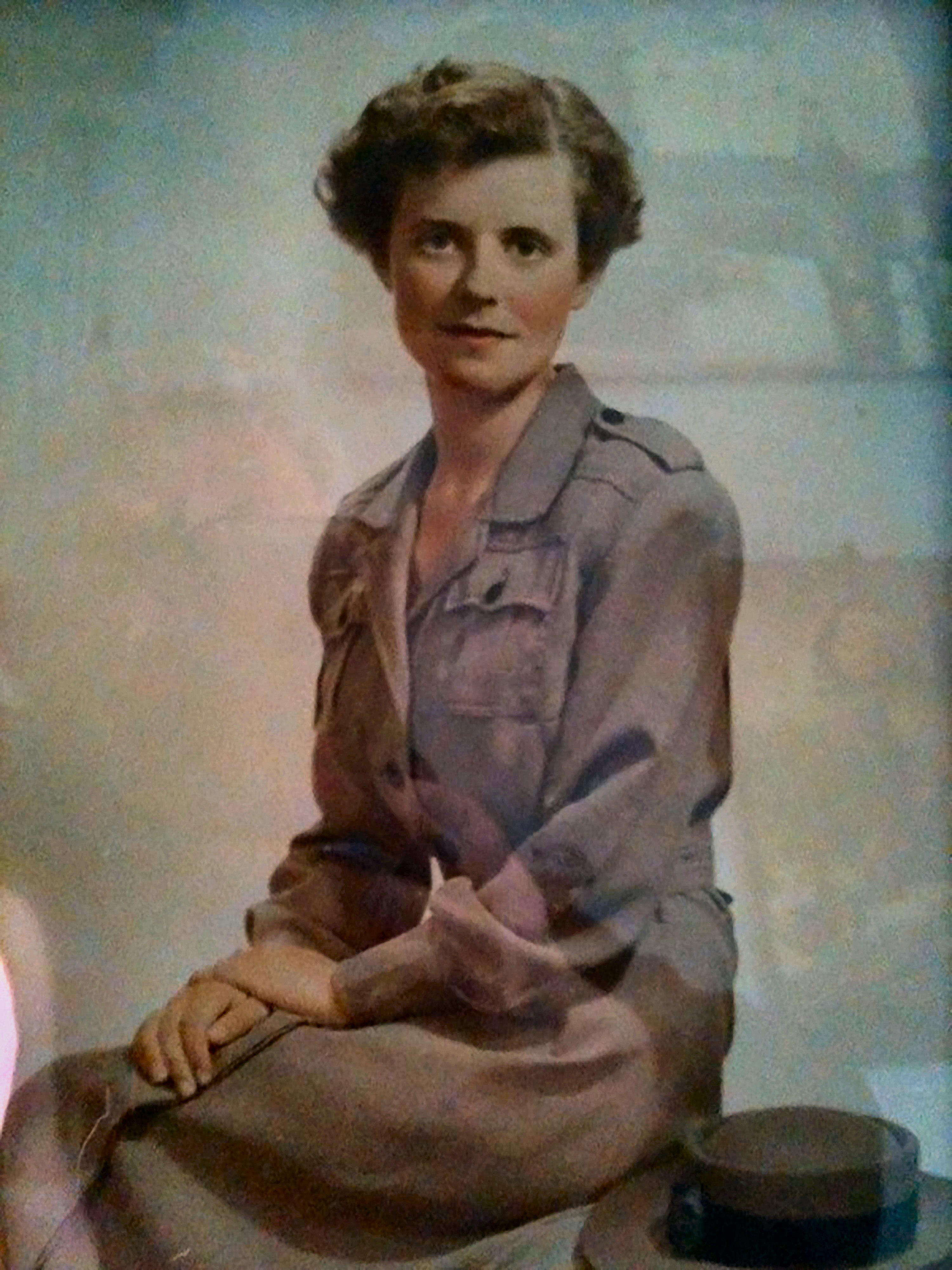 Patsy's Mum was not willing to sign her papers. In 1951 the legal age of consent was 21 years of age and it was difficult to convince mothers to allow their children the freedom of choosing their own destiny. A privilege all too often perhaps taken for granted in a modern society. Eventually her father signed the papers and it is perhaps a mother's reluctance is understandable when we consider this was 1951 and the War had only been 6 years past. Many men and women died. Patsy's uncles also served in that war and Australia was now fighting another in Korea.
After the application and interview it was a matter of waiting for the letter to arrive to signal her acceptance into the Women's Royal Australia Air Force, which did arrive and so Patsy found herself at the Laverton Barracks on her 4 week Recruit Course. It was just a matter of taking a train to the RTO at Spencer Street where a bus transferred them to the Base. After recruit graduation it was on to Patsy's Drill Instructor's course. There were 12 WRAAF on the course. Patsy began to have doubts about her choice of mustering. The only choices available in that early year of 1951 were either, Driver, General Hand, Stewardess, Clerk or Drill Instructor. She wasn't keen on the others so Drill Instructor became her default by elimination. A 'perk' of this mustering was you started WRAAF life as a Corporal, even in those days a few cents more and probably a room to yourself. Asked if she liked telling people what to do, Patsy's emphatic 'NO' is testament to her caring disposition which shows to the world she would rather be part of the party than circling the room watching it.
Patsy was posted to Point Cook for a few months before being sent to East Sale to prepare for the first lot of women to enter the base. The new huts were nearly completed and her mission was to help the Officer I/C prepare for these women. She ate at the Officer's Mess and slept at the Medical Section.
Eventually the WRAAF arrived. At the time there were only a few bases staffed by WRAAF. The girls Patsy trained at East Sale were all older than herself and Patsy, being of short statue felt the job was not for her. She says "They didn't want to take notice of a chick like me" and she really didn't like it so she consulted with the 'Madam' and remustered to an Equip Assistant. She was posted to Tottenham, but lost her Corporal stripes and eventually ended up at Pt Cook in L Group. L Group at Point Cook was down that long winding road at Point Cook alongside School of Languages and near the beach and tiger snakes!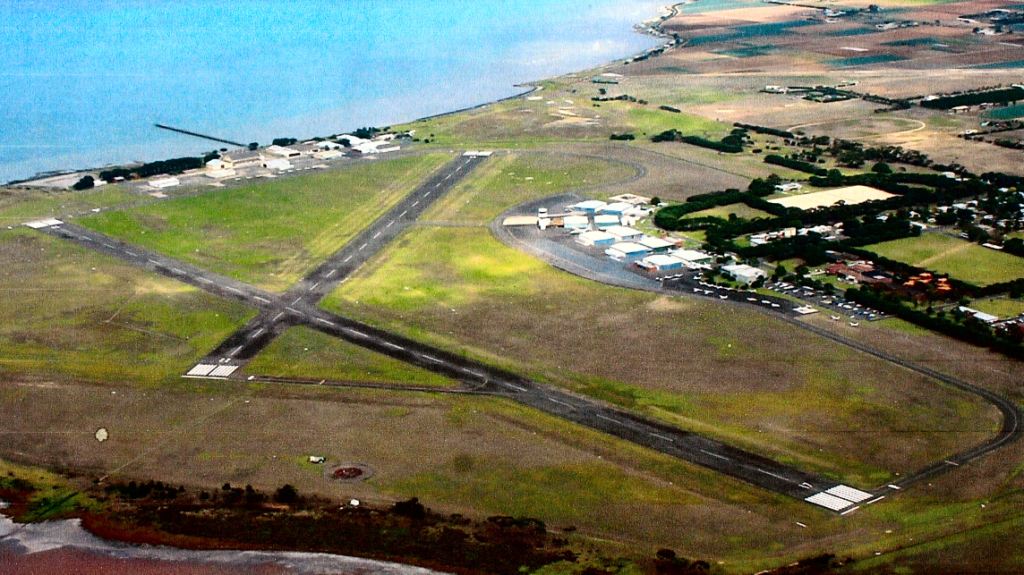 She was then sent to Canberra to work in P Group and really enjoyed that time. Some friends of hers had a unit in Kirribilli in Sydney and though Patsy was only in her first year of the second sign on period of 6 years she realised that the time had come to part ways with the Air Force. Her Officer I/C supported her decision and despite the fact that she had re engaged they were able to find a way to effect a discharge. Patsy joined her friends and went to work for the Government Printing Office. The good times of service days, such as camps and bivouacs, would now only be memories.
The year now was 1956 and she met Tom Ludwick who was currently serving in the Navy. Things moved rapidly and after a short engagement Tom and Patsy were married on 21st June 1958.
Marrying a man in the Navy for some can sometimes put a large amount of pressure on the relationship. There are long hours, days and weeks of separation if the partner is on sea duty. Tom's postings were from ship to ship and place to place and Patsy suggests maybe because of her own service career she was able to cope with the continuous change in their lives. By 1964 they were on attachment in America with their 3rd child Eric being born. Through those years Tom would be at sea and Patsy on land. He looking after his babies (ships) and Patsy looking after their babies. It didn't worry Patsy as she says "she just took everything in her stride".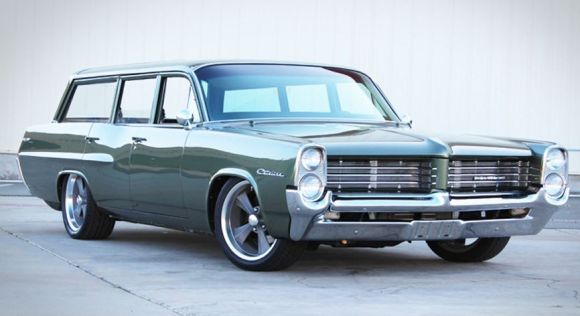 They adored America. A green Pontiac station wagon carried the family around America. Arizona, Nevada, Wyoming, Utah, Illinois, New York, Michigan and much much more. Returning to Australia in 1965 the Ludwick family bought a house in Chelsea and finally a few roots of stability started to grow for them all. Tom 'paid off' in 1971 and found a job in electronics at Stansons (medical equipment company). Patsy started work at a child minding centre and as they often say in certain advertisements 'she liked it so much she bought it', finally selling it in 1986 to take their newly acquired bus around Australia. At the age of 58 she returned to work at the Post Office getting up early to sort mail.
By this time Patsy's life was full and busy. She was a dedicated WRAAF Branch committee member, belonged to the Chelsea Historical Society (Women of Chelsea), committed St Joseph parishioner, Volunteer at the nursing home where she also produced and directed stage productions, Bike Riding (rode the Great Victorian Bike Ride in 1985), Member of St Vincent de Paul's home counselling service, as well as being a wife, mother and grandmother. Tom retired in 1997 and Patsy in 1999.
These days after several major operations (new hip included) Patsy still gives time at church and the nursing home and accompanies Tom to Legacy functions. Tom is President of the Mornington Legacy and travels around the state at times. Her son lives in Queensland and while they don't take their much loved Harley Bike and sidecar on the long trip they once did, they visit when they can. They do still have a ride on the bike on a weekend. Two big kids having fun.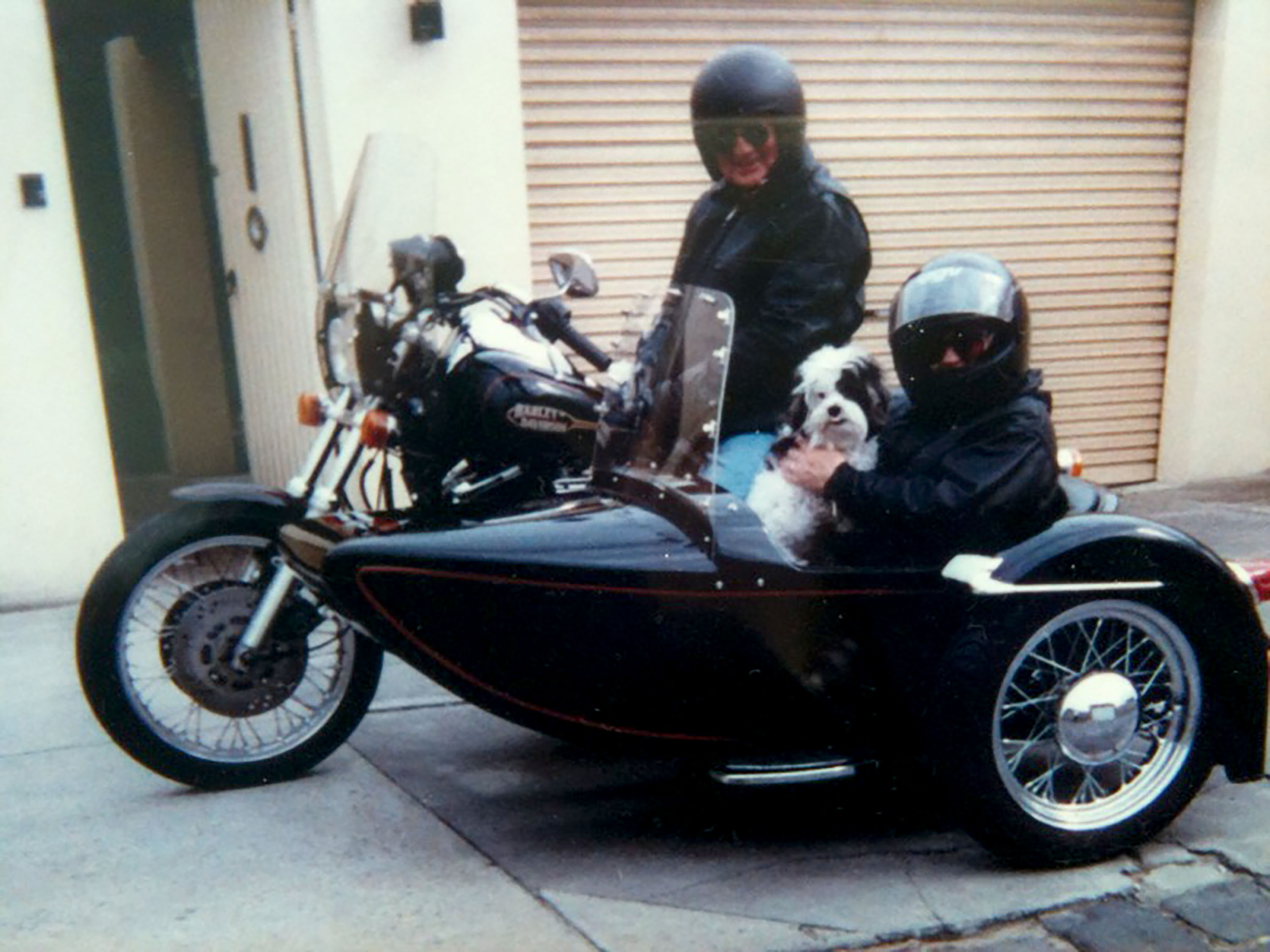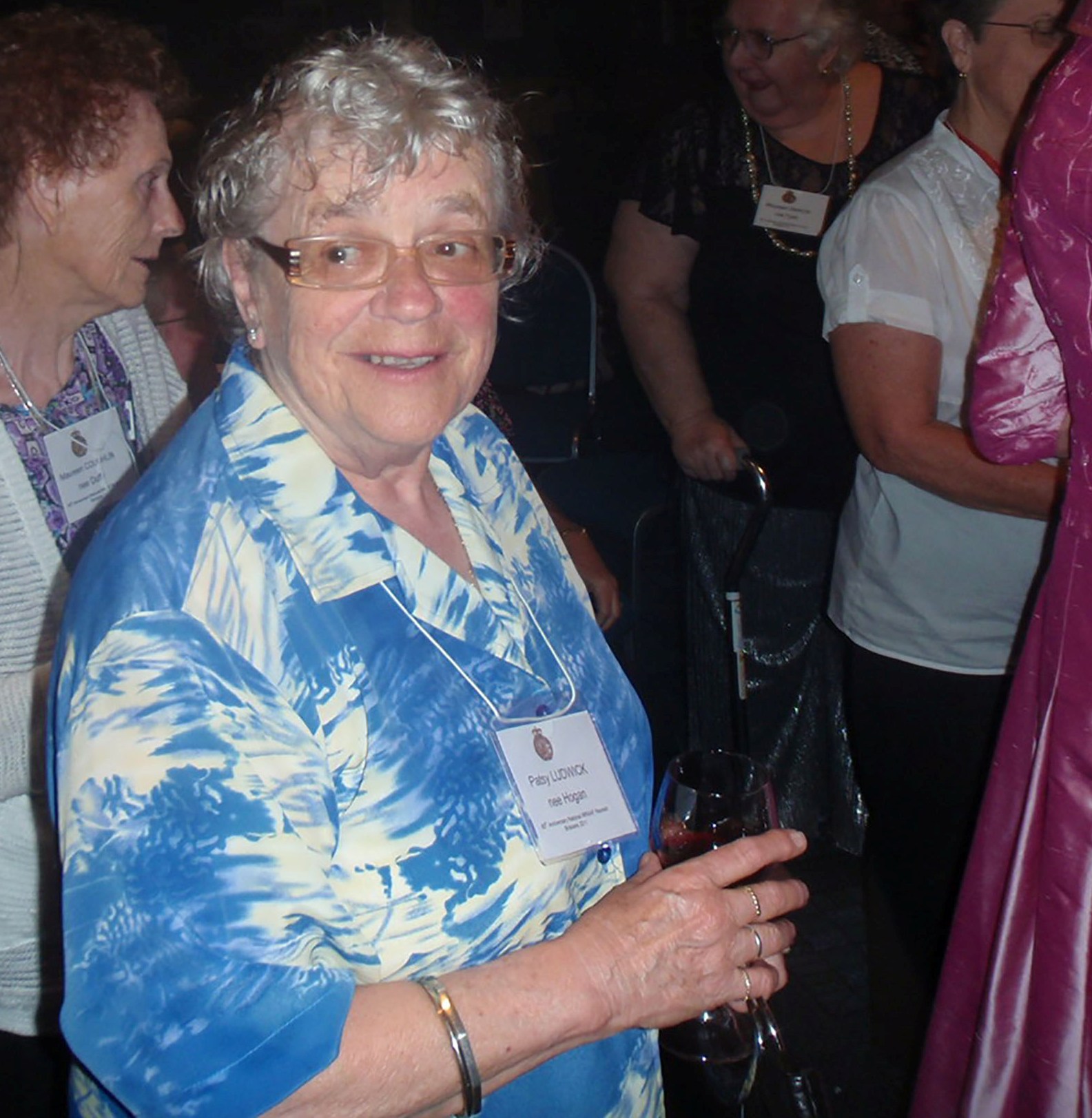 Patsy has always been there for her family. Through the Navy years she had to fill the shoes of two people while Tom was away, but not only that she took on her volunteer work and helped the people of her community. She gave heaps and left just a little for herself but is contented in her own conviction that that is what women do. With so many years and so much behind Patsy says strongly and passionately that the one thing she must impress is that she has "never regretted one day of her life"
2021Update:
Patsy is soon to turn 90 and although her eyesight has been diminished by health problems, her amazing strength of character still gives her the ability to communicate with the community she has always served. Tom still is involved with the RSL but their loved bike is resting! Along with her husband of so many years they are truly role models for the youth of today.
Back Go to page: 1 2 3 4 5 6 7 8 9 10 11 12 13 14 15 16 17 18 19 20 Forward