Radschool Association Magazine - Vol 41
Page 3
Privacy Policy | Editorial Policy | Profit Policy | Join the Association | List of Members | Contact us | Index | Links
Back Go to page: 1 2 3 4 5 6 7 8 9 10 11 12 13 14 15 16 17 18 19 20 Forward
Page 3 Girl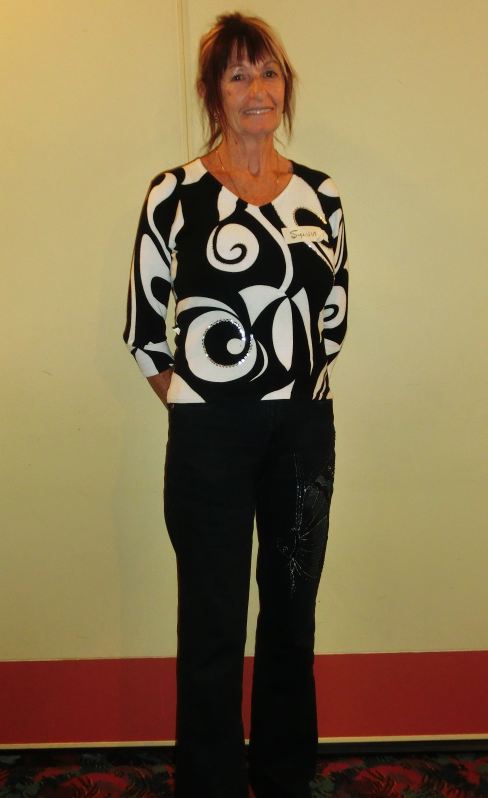 Our lovely Page 3 girl this issue is Sylvia Hodges, who before she met and married Frank Hodges, used to be Sylvia Bell. Sylvia joined the WRAAF in 1967, did her rookies at Edinburgh, trained up as a Teleprinter Operator, then was posted to Frognall, then Laverton and spent her last 2 years in the WRAAF at Richmond.
Sylvia was spotted at the Djinnang Reunion/AGM back in May 2012.
7/89 RTC Graduation Parade.
Peter Smith send us these photos of the graduation parade of course 7/89 RTC which occurred in December 1990. Peter was awarded the CO's Award for Student Excellence from Wng/Cdr Val Robertson.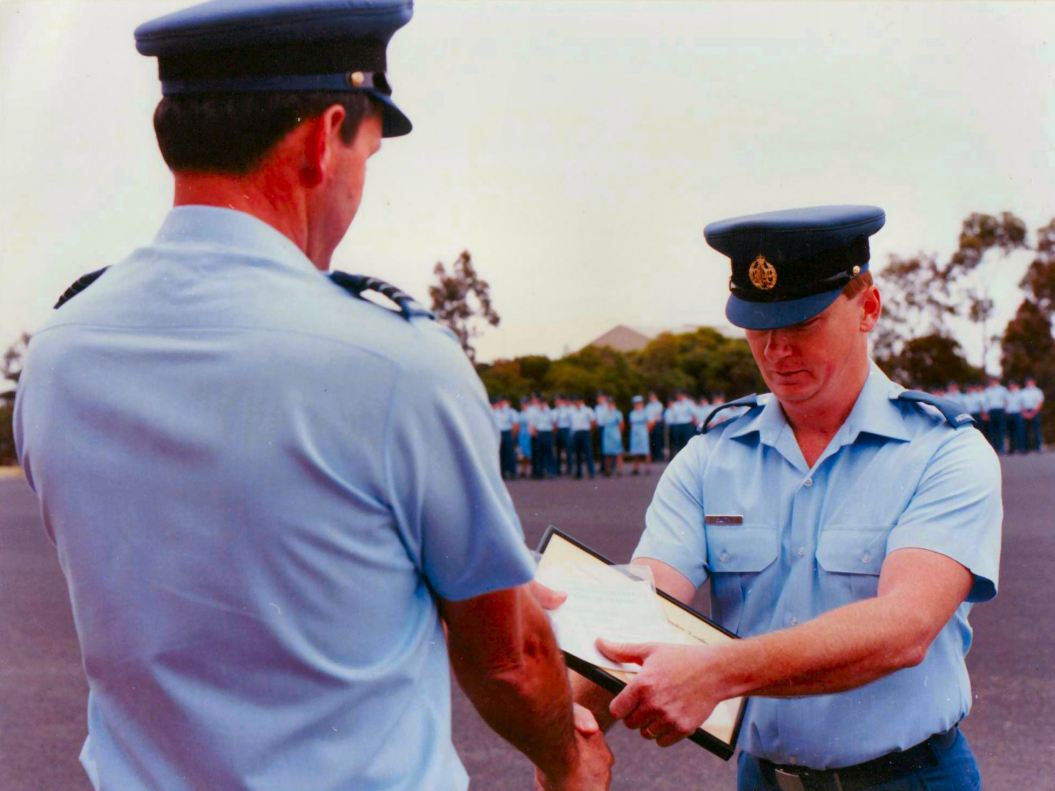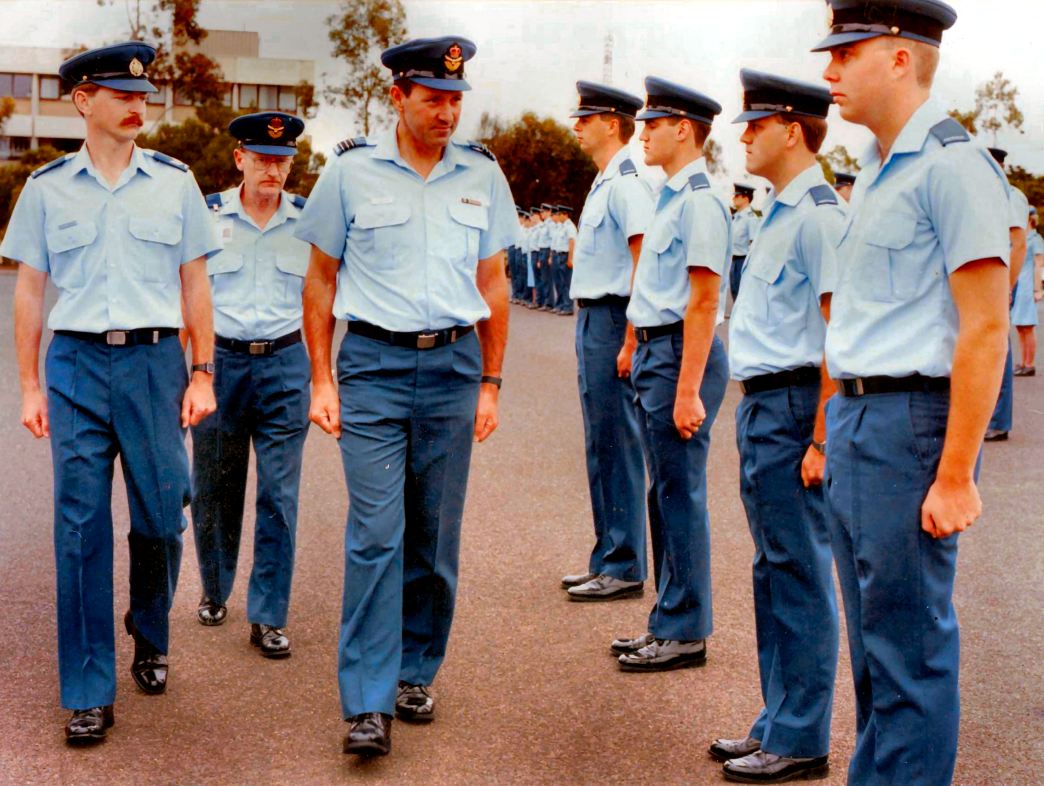 Val, trying very hard to remain serious during the inspection, especially as he's been "square gating" for the last 10 mins and with Sqn Ldr Col Kirk, the SADMINO at the back putting in the big ones trying very hard to keep up with him.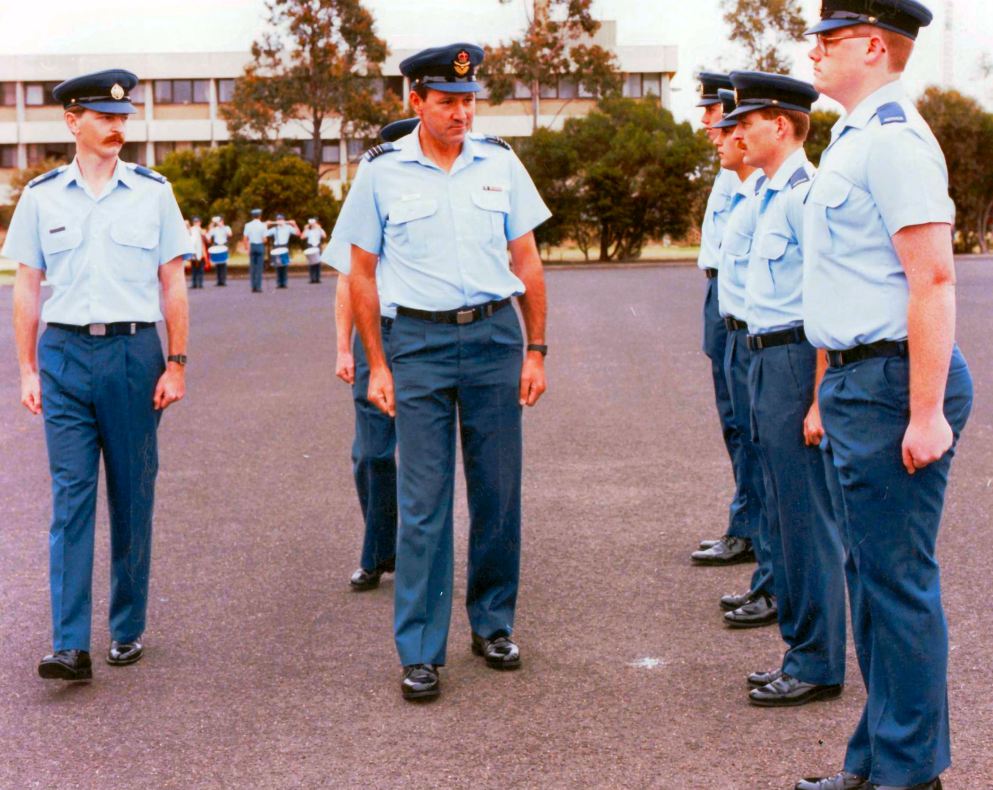 Val thinking the food at the Airman's Mess must be a lot better that in the Officer's Mess – and more of it too.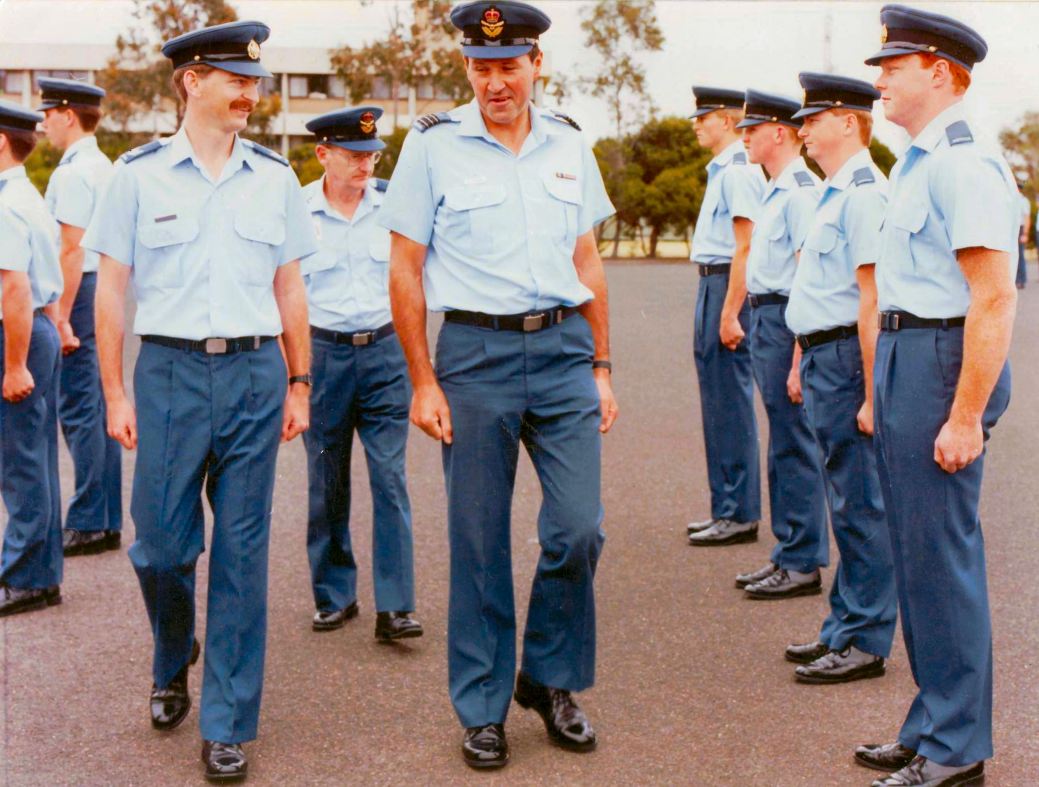 L-R: Greg Shaw, Sean Neate, Sgt ?? (WGS instructor), Col Kirk, Val Robertson, Wayne "Nugget Kristalyn, "Beggsy", Peter Smith, Darren "Red" Clifford.
Val saying, 'Thank goodness that is over" – let's go get a schooner……while the ADMINO checks the shoes for the correct spit polish.
"Buy a bunch of flowers to take home to your wife", says the flower seller to the bloke walking by.
"I don't have a wife" says the bloke.
"Well, buy a bunch for your sweet-heart" says the flower seller.
"I don't have a sweetheart either" says the bloke.
"Well, buy two bunches to celebrate your good luck" says the flower seller.
Darwin – 1993.
This photo of two pretty girls, which was sent to us by Gail McDermott (who was Cpl Gail Predl back then), was taken in the Hallway of Block 29 at RAAF Darwin back in 1993.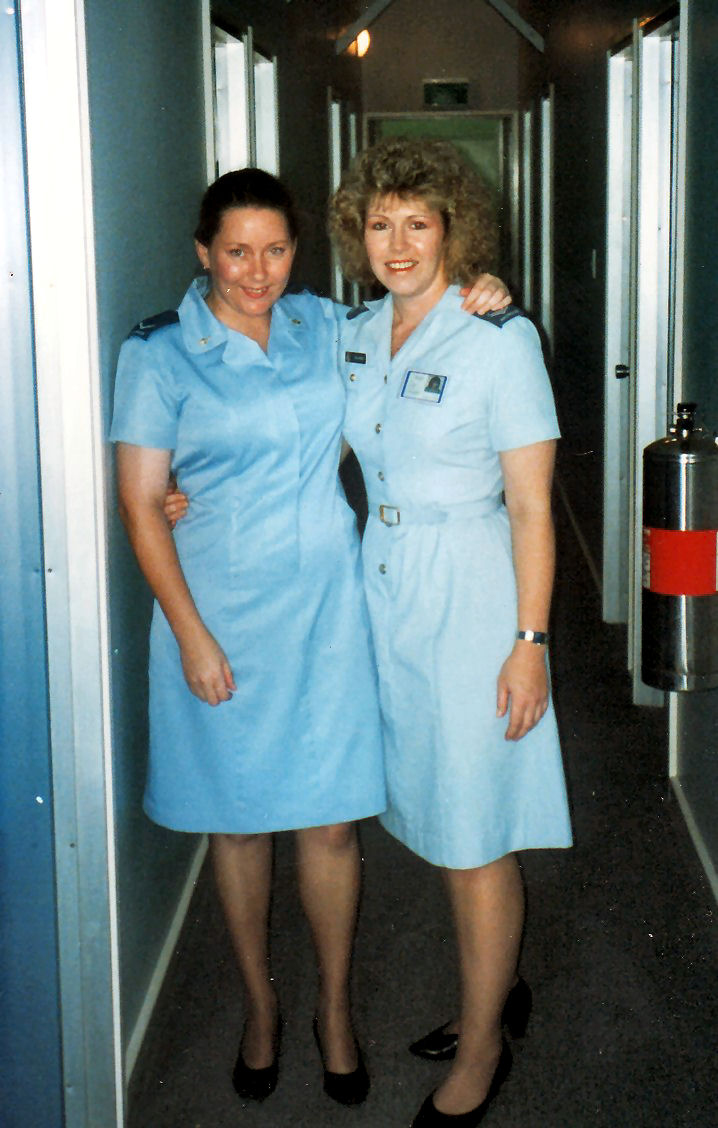 L-R: Colleen O'Sullivan, Gail McDermott.
Gail sent us these also.
The photo below is of the girls from Darwin's Block 29 all done up in their finest ready for the Airman's Ball sometime in 1994.
Unfortunately Gail can't remember all the names – can you help??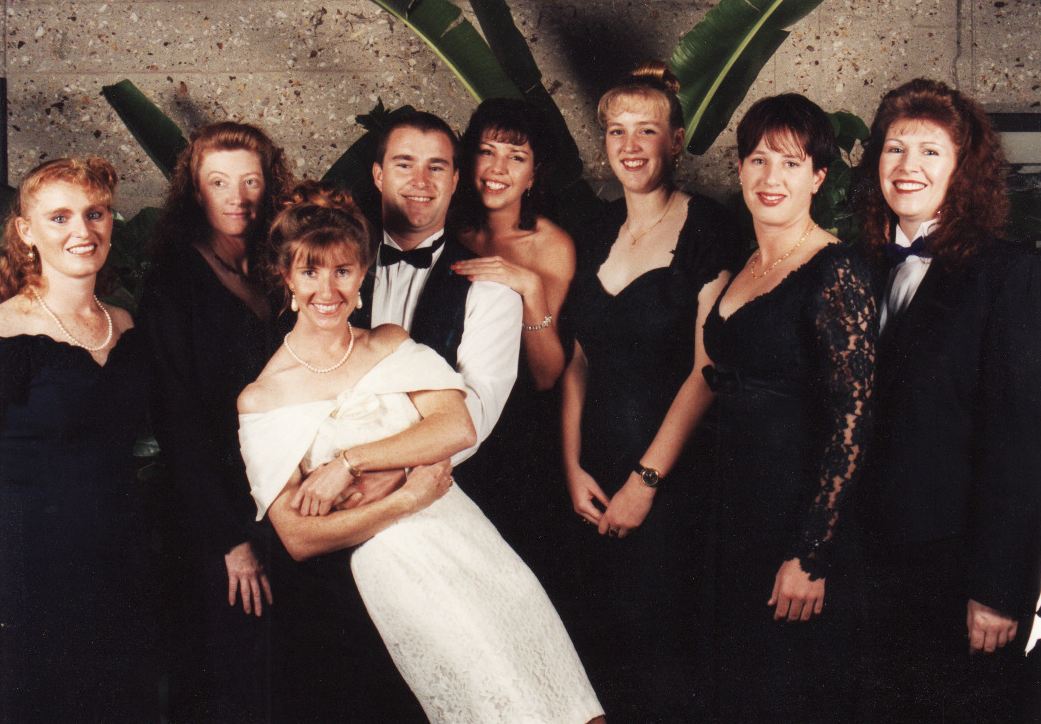 L-R: Angie Benney, Not known, Not known, George Dolphin (AKA Flipper), Gillian Roberts [nee Aldridge], Not known, Liz Thiessen, Gail McDermott.
Gail joined the RAAF at the end of June 1986, in Brisbane, aged 28 [quite a lot older than most]. She joined as a Commsop and after her basic training at 1RTU was posted to Radschool at Laverton for her Commsop training. In about April 1987, after completing the course, she was posted to the Williamtown Commcen. She remained there until her promotion to Corporal [Dec 1990] and was then posted to RAAF Darwin where she stayed for 6 years, the last two of which were spent attached to HQNORCOM (Head Quarters Northern Command) in the Commcen. Whilst in Darwin she met and was swept off her feet by a Navy bod, to whom she became engaged and then married.
She was promoted to Sergeant and sent to RAAFSTT at Wagga as an Instructor but found the call of the sea was too strong so in July 1997 she went on LWOP and moved to Sydney to be with her husband.
She took a discharge at the end of Jan 1998.
5/86 Commsop.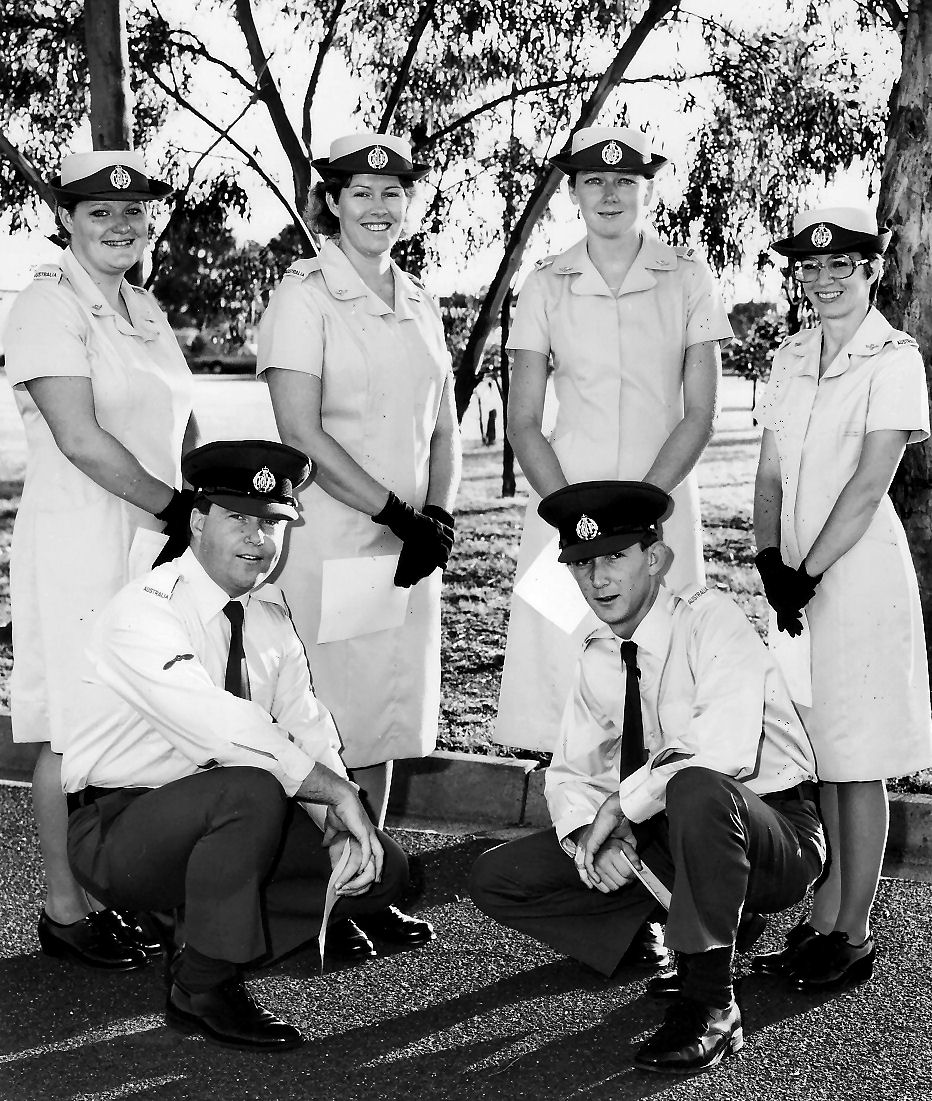 Back Row L-R: Leesa Brennan, Gail McDermott (Predl), Heather Brock, Not known.
Front Row L-R: Ian Kain, Russell Hicks.
Darwin COMMCEN girls get together.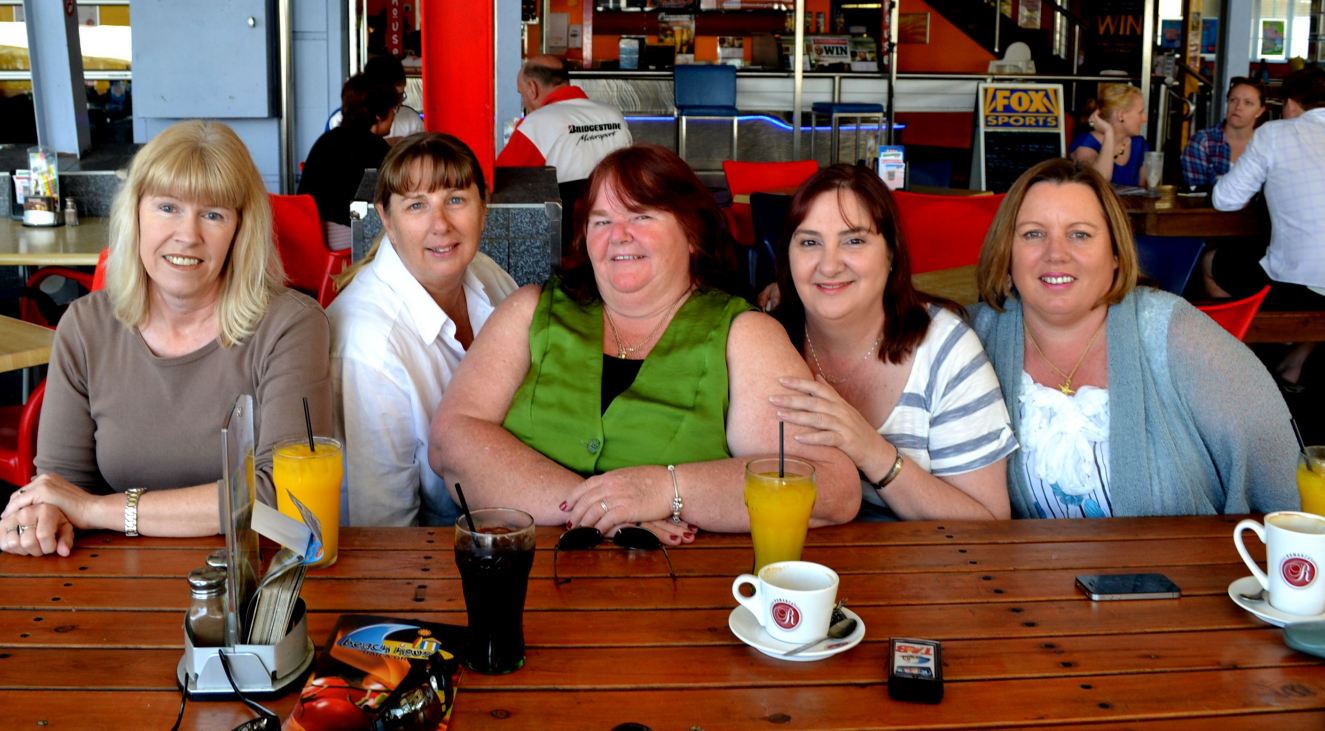 L-R: Gail McDermott, Liz Wright, Sue Garth [now Ansford], Tracey Aitken-Tanner, Tracey Stephens.
5/89 Commsop.
We're short a few names, can anyone help?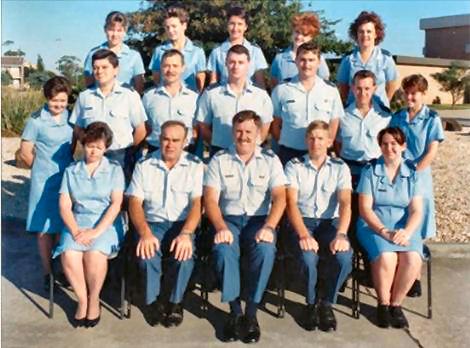 Back L-R: Yvonne Parker, Hayley Thompson, Mandy Moore, Sheryl Smith, Karen Miller
Middle L-R: Not known, Tony Vickers, Greg Genge, Paul Rodstead, Shane Broomhall, Allan Mortensen, Julie Clapton.
Front L-R: Not known, Merv Ayers, Hugo Burlinson, Dave Tompson, Corinna Logan.
Why did the chicken cross the road?
REV FRED NILE: Because the chicken is gay! Isn't it obvious? Can't you people see the plain truth in front of your face? The chicken was going to the 'other side'. That's what 'they call it: the 'other side' Yes, my friends.
CAPTAIN JAMES T KIRK: To boldly go where no chicken has gone before.
FOX MULDER: You saw it cross the road with your own eyes. How many more chickens have to cross before you believe it's true?
HANSIE CRONJE: What if I could guarantee that it won't get to the other side?
FREUD: The fact that you are at all concerned that the chicken crossed the road reveals your underlying sexual insecurity. How do you feel about your mother?
THE C.I.A: Who told you about the chicken? Did you see the chicken? There was no chicken. Please step into the car.
EINSTEIN: Did the chicken really cross the road or did the road move beneath the chicken?
BILL CLINTON: I did not cross the road with THAT chicken. What do you mean by chicken? Could you define the word 'chicken'.
HOMER SIMPSON: mmmm Chicken.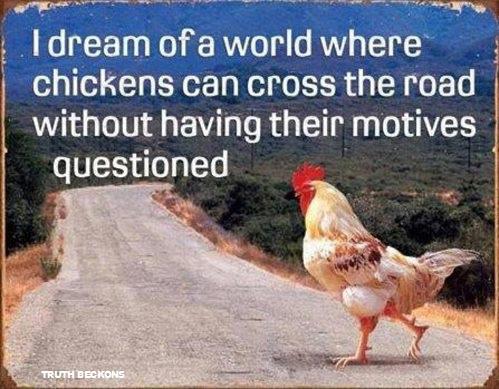 Annamarie Donohue.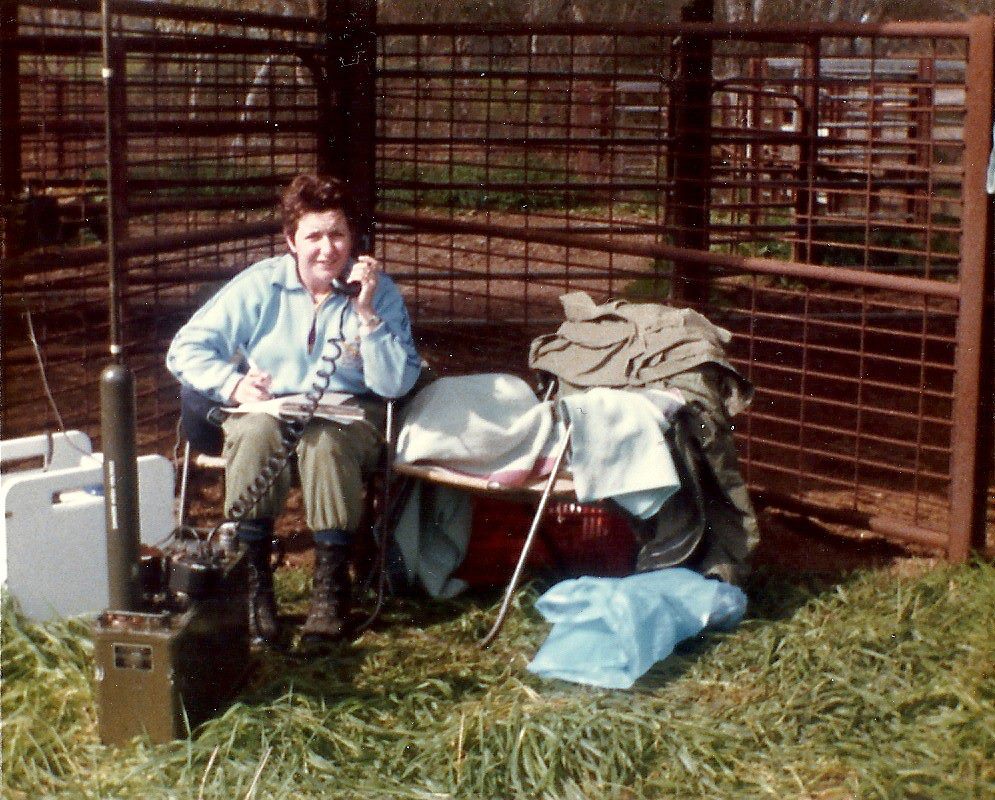 This pic was sent to us by Candy Hardy and shows Annamarie at Radschool during 1986, on training on a surrounding farm, not far from the base at Laverton. Annamarie says "We were out bush for the week at the end of our Commsop course testing our radio skills. I remember it was bloody cold and I obviously had a serious case of hat hair."
By the amount of clothing and gear she had with her, she must have been left out there for at least 3 weeks.
Back Go to page: 1 2 3 4 5 6 7 8 9 10 11 12 13 14 15 16 17 18 19 20 Forward