As SOENG, Brian was responsible for providing liaison between the RAAF and UK and other European OEMs and suppliers. Shortly after his arrival at the High Commission, Brian was promoted to Wing Commander (the first incumbent of this position to be promoted in post). He served also as President of the Mess Committee (PMC). But, apart from the many and varied rewards of the job, fond memories include his first real white Christmas dinner; the many nights on the cocktail circuit meeting people one normally would not meet (Members of the Royal Family, Lords and Ladies, and Heads of State and politicians) and attendance at the Royal Garden party on three separate occasions where, on the last of those occasions, Brian was selected to meet Her Majesty the Queen.
Brian's posting to Training Command as Staff Officer Trade and Specialist Training (SOTST) opened the door to another very interesting and rewarding career stream.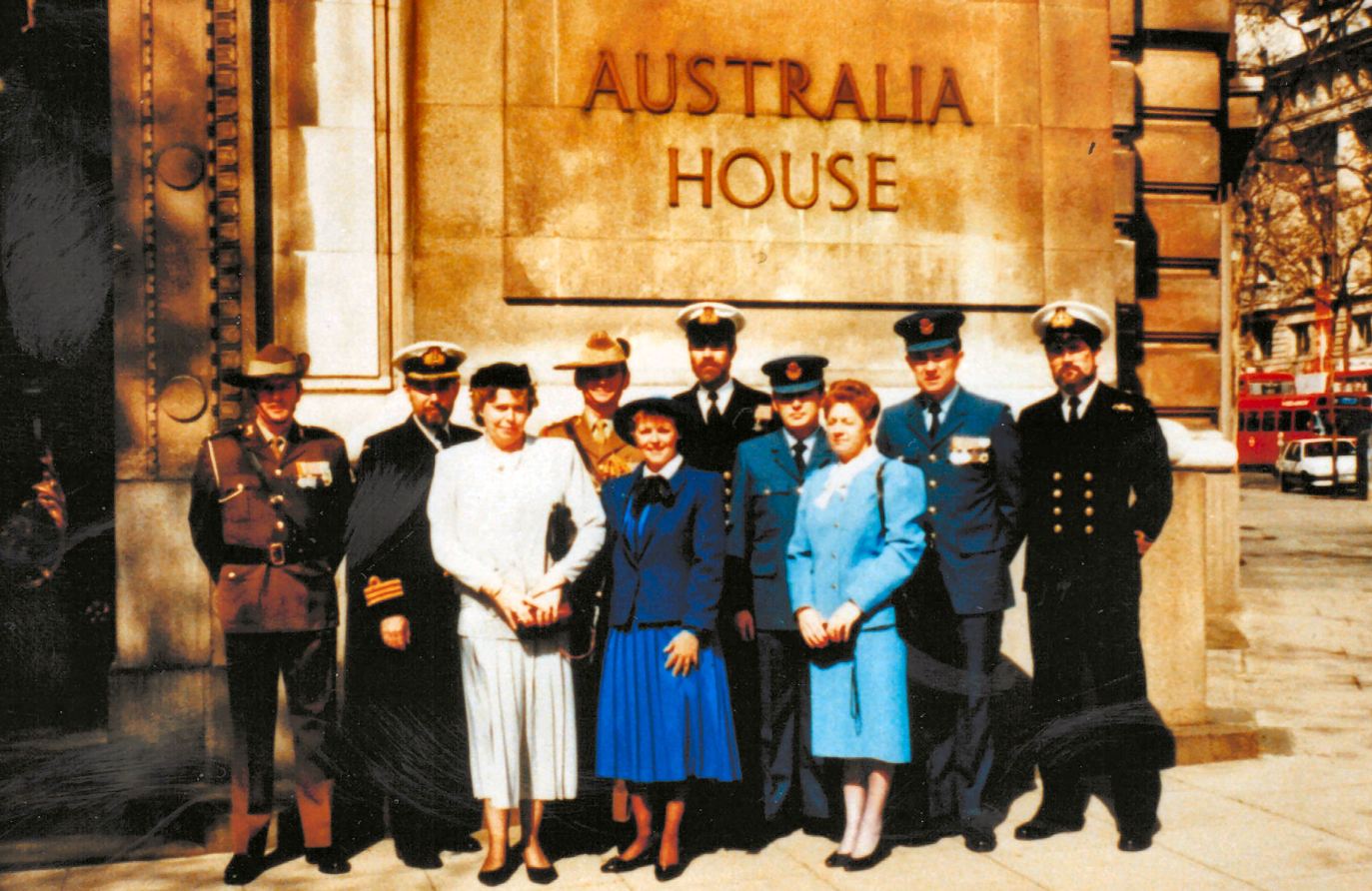 As with all overseas postings, time passed quickly and the family was on their way back to Melbourne and a posting to the newly formed Headquarters Training Command located at Pt Cook.It also set the stage for a posting as Commanding Officer of the RAAF School of Technical Training at Wagga, something he always had sought in his posting preferences and which he achieved some years later. The job entailed the oversighting of all of the RAAFs Ground Training facilities, functions and courseware and with strong support from RMIT, afforded an opportunity to introduce a Diploma of Engineering into the RAAF's suite of training courses. Subsequently, it lead to the establishment of RSTT as a registered Training Organisation which was one of Brian's major achievements and one which gained mentioned in his award as a Member of the Order of Australia (AM).
Brian's third posting to HQSC followed; this time as RO5 responsible for the establishment and maintenance of all of the RAAF's Deeper Maintenance contracts. He also had responsibility for the CI30 Detachment team in Christchurch NZ during the period that Air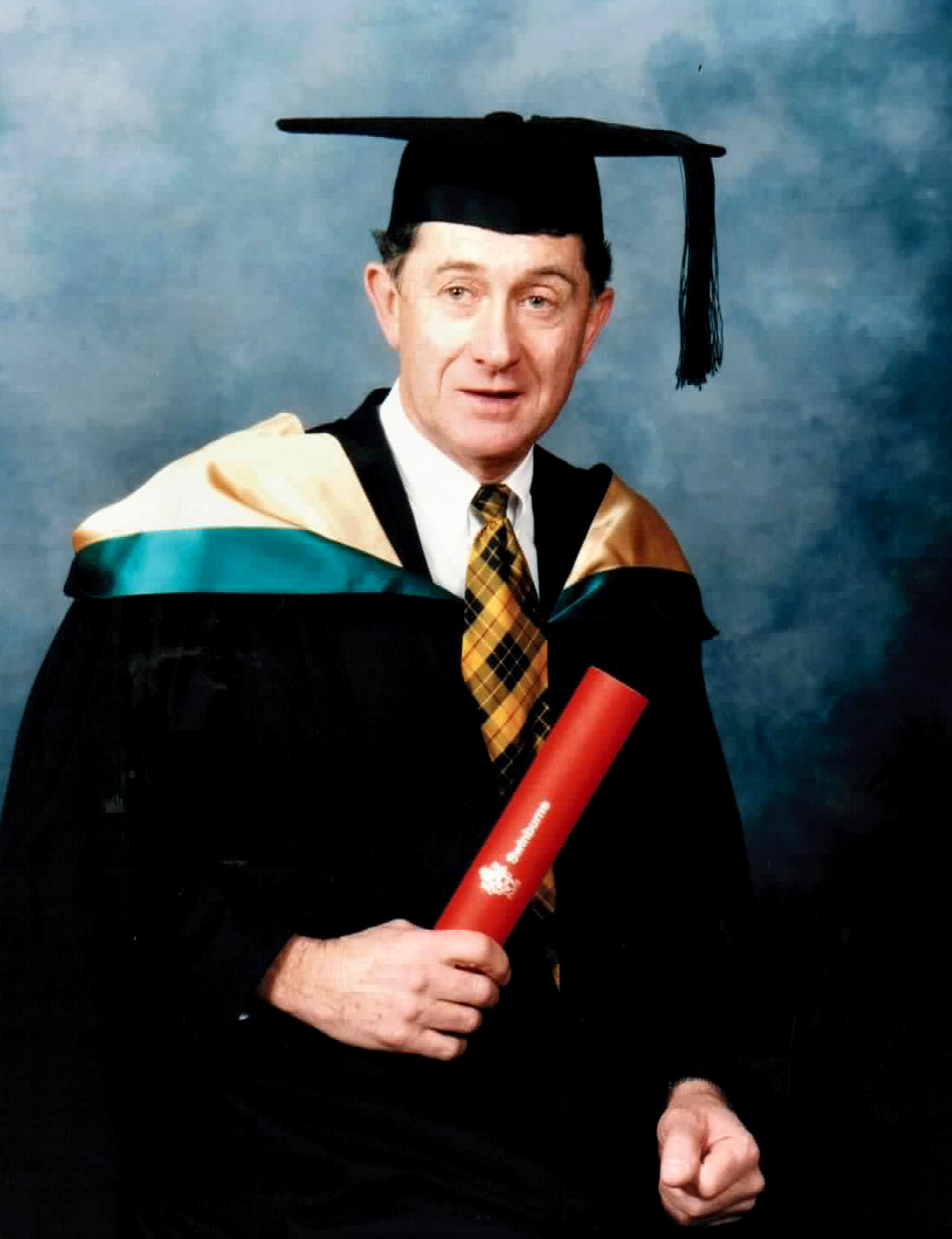 New Zealand provided DM for the C130 fleet. The posting also afforded time to complete his Gad Dip Bus and a Masters degree in Business Administration (MBA) at Swinburne University of Technology.
On completion of another short yet interesting posting to HQSC where he witnessed the demise of this once thriving organization and the establishment of the Weapons Systems Logistics Management Units (WSLMs), Brian was afforded what he saw as the opportunity of a lifetime; that being a posting as Commanding Officer of the RAAF'S School of Technical Training (RSTT) Wagga. This was a posting sought by many and was especially important to Brian, being an ex-airman and having been the place of his initial Trade Training. However, there was a twist, as a decision had been made to out-source a large component of training formally undertaken by RSTT. Hence, a large part of his time at Wagga was spent on out-sourcing activities and the challenges it posed. But the posting was again a short one, when Brian was advised he would be promoted to Group Captain and posted back to Melbourne; this time as Director Logistics Program Manager (DLPM).
As for all of his postings, his appointment as DLPM offered new challenges, especially in the area of financial management as co-chair of the Financial Management Group (FMG) responsible for management of the HQSC logistics budget. In the time spent in that position, Brian was made a member of the Order of Australia (AM) for his previous contributions to training (Registration of RSTT as a Registered Training Organisation (RTO) and introduction of the Graduate Diploma in Engineering; to contract management (Introduction of the "Partnering" strategy to major Defence projects which was his MBA thesis topic) and to Financial Management (Introduction of the Baseline Funding strategy to financial planning). He also was appointed Honorary Aide De Camp (ADC) to the Governor General of Australia, a positioned he has retained and enjoyed for over 16 years).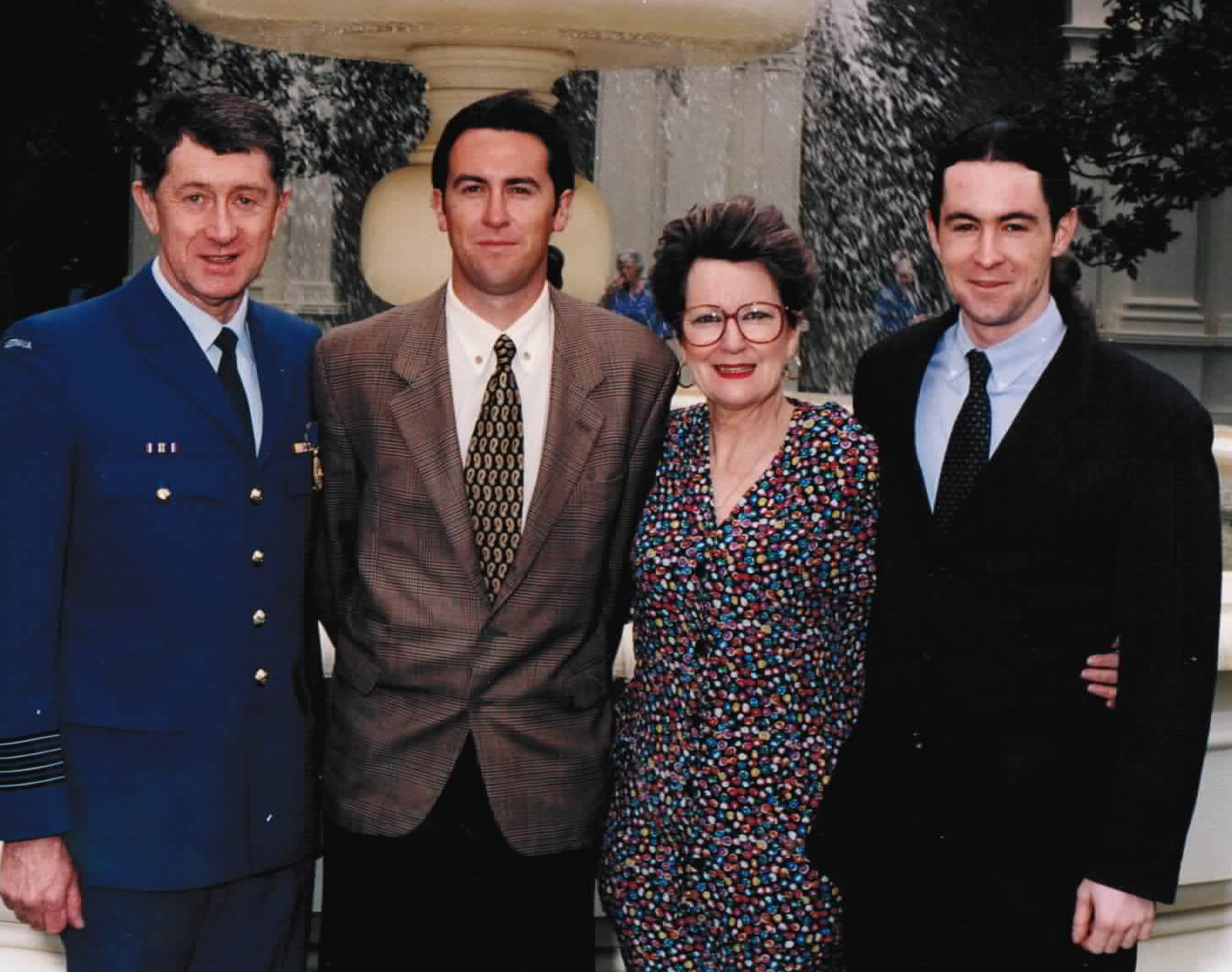 Brian with his family, son Nathan, wife Genise and son Ashley, at Parliament House in Melbourne - accepting the Order of Australia medal. Brian says he doubts he would or could have enjoyed his wonderful career without the unconditional support he has received from his lovely wife.
Brian retired from the PAF in 1997 and at that time was the last serving member to have completed recruit training at Rathmines. However, he remained in uniform as a Reservist, acting in the position of DCAF (Deputy Chief of Staff – RAAF) CO-ORD. On behalf of DCAF, his major task was to undertake the Technical Trade Philosophy Review which questioned the worth of the technical training philosophy of the day, especially the mechanic mustering and the self-paced distance learning process, in light of the reduction in Air Force numbers from about 22,000 to about 14,000 and the associated reduction in technical trade supervision available for on-the-job-training. His findings resulted in CAFAC approval for the abolition of the then-current scheme and a return to classroom training to technician level.
It was time now for a change of employment for Brian who joined the Ball Solutions Group team of Professional Service Providers (PSP) where he stayed for three years. His most interesting projects in that time were the design of a Loadmaster Training Simulator for Army and as a member of the Air 9000 Tender Evaluation Team that selected the MRH90 Helicopter as a replacement for the Army's Blackhawk fleet. However, life as a PSP, albeit generally interesting, meant spending most of his time in Canberra – not sunny Queensland.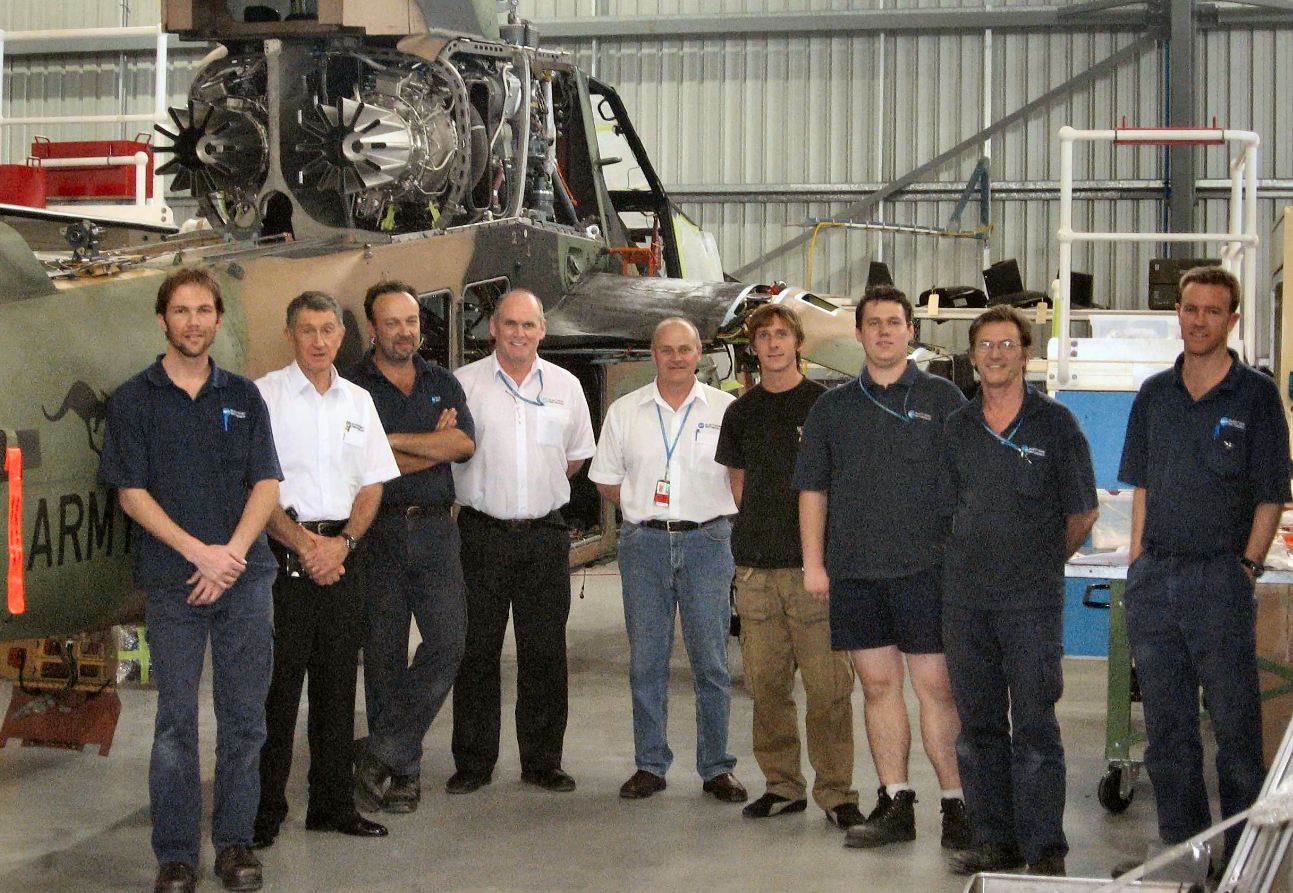 Brian and the Tiger Retrofit Team at Aeorspace.
So, in 2003, he joined the Australian Aerospace team at Brisbane Airport to assist with the bid for the Caribou Through Life Support (TLS) contract. Subsequently, he was employed as the Tiger and MRH Transition Manager and currently holds the position of Governmental Helicopters Program Support Manager. He says that being a member of the Australian Aerospace Team, with involvement in two major Defence contracts is a highly rewarding experience.
Brian reckons his life experiences, including his RAAF career and subsequent employment with Aerospace would have to have been the best a bloke could have…….
We tend to agree with him!!