When the time came to return to the class-room, the WOD pulled her aside and told her to walk back under her own steam. As she casually walked back all the trainee flights passed her! She can still remember having a quiet chuckle to herself! Her lack of height also had her being taken off an AOC's parade in Wagga. The SADMINO at the time took her off for being too short! She had volunteered to do it as the LAC she worked with had been nominated for all the ceremony parades up to that point and she felt it should have been her turn.
After graduating from Radschool, she was fortunate to experience wonderful postings to Townsville, Darwin, Wagga, Butterworth, Richmond, Laverton, Victoria Barracks and Glenbrook and was lucky to be attached to 2CRU, Base Sqn Point Cook and Base Sqn Fairbairn also.
She still considers her most memorable postings were to Townsville and Butterworth.
She says, after graduating from Radschool it was her privilege to be one of the first of two females to be posted to Base Sqn Townsville COMMCEN since World War II. Being previously an all male environment she learnt a little while later that all the girlie posters in the COMMCEN and tech workshops were removed and swearing was to be curbed! She was also one of the first females to be trained in Air Operational Communications Centre Townsville (AOCCTVL).
While posted to Townsville she enjoyed such activities as:
Flying over to Magnetic Island in an Iroquois helicopter with 35SQN for a squadron picnic then cruised back on the RAAF crash launch VKRV.

13 hour surveillance mission on an Orion (P3) – she says "they had the best rations on board".

A jolly in a Chinook.

RAAF/Army (female) bivouac which was pretty well a holiday camp!
While on posting to Base Sqn Wagga, Department of Air (DEFAIR) changed their policy to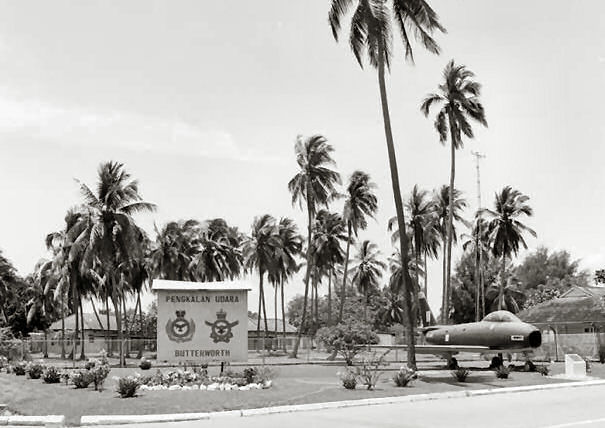 allow single/married female non-commissioned ranks to be posted to Butterworth. (See HERE) She immediately changed her posting preferences and was fortunate to be one of six females to be posted to Base Sqn Butterworth in December 1984. She had the privilege again of being the first female in the Butterworth COMMCEN. Some of the other female musterings to be posted to Butterworth at the same time were RAAF Police, Dental Assistants, Clerk Medical and Airframe Fitters. The single female accommodation was located on base next to the RAAF primary school.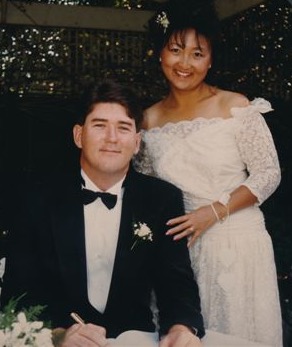 Carolyn says Butterworth was a wonderful two year experience. It was the best opportunity to serve in another country and experience the local culture. Being of Asian descent it brought home the fact I was lucky to be born in Australia. Travel, different cultures, food and shopping enriched my life experiences.
Whilst posted to Butterworth she met her future husband Mark.
She was posted back to Australia before Mark and they spent some time apart before they were co-located in Melbourne. Mark was accepted on a SYSTECH course at RMIT which meant he would be in the Melbourne area for at least 18 months and Carolyn had been posted to Richmond from Butterworth. She will always be grateful to FSGT Merv Vivienne for making that call to Canberra to help her co-locate with Mark.
In 1988 she and Mark bought their first house in Werribee and spent a total of 8 years in
the Melbourne area. She was posted to various positions within St Kilda Road and Laverton (which became RAAF Williams). In February 1991, she and Mark were married and had their first daughter Nicole in Feb 1993.
During her absence on Maternity leave the amalgamation of the COMMSOP and EDPOP mustering to CISCON occurred and when she returned to work, she was posted as a CISCON to the Data Reporting Section at Headquarters Logistic Command Unit (HQLCU). This in itself was a very big learning curve. She had some very challenging times as a CISCON in Melbourne not only professionally but personally.
Mark was posted unaccompanied to Air Transport Telecommunications Unit (ATTU) now 1 Combat Communications Squadron (1CCS) and she was not co-located until 12 months later. Not long after they were co-located in Sydney, Carolyn went on Maternity leave again and their second daughter Vanessa was born in September 1996.
She finally discharged from the RAAF in July 1997 after serving 20 years and 5 months.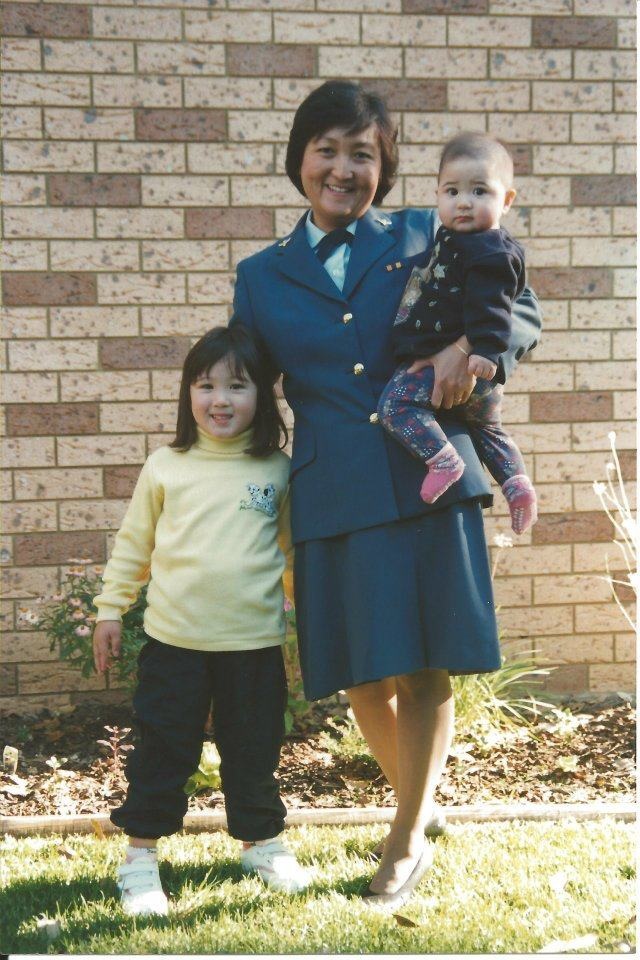 When putting this story together, Carolyn dragged out the old RTE (Record of Training and Employment) book she had religiously kept up to date while serving. She says it helped her enormously. She says back then it was a requirement and although it was not all that valuable to anyone after their discharge, it is a nice reflection of one's career….
Looking back, she says she thoroughly enjoyed her time in the RAAF and has many fond memories of people she worked with and met during her many postings.
Another aspect of the RAAF which she misses is the many different social functions she was lucky to enjoy. CPL/SGT's, SGT's/Officer's Xmas drinks, SGT's Mess Children's Xmas treat, Balls and Dining-in nights (SGT's mess), Base Sqn Butterworth Ball, 3SQN Ball, 1AD closure Ball and many many more…. Nancy Wake (The white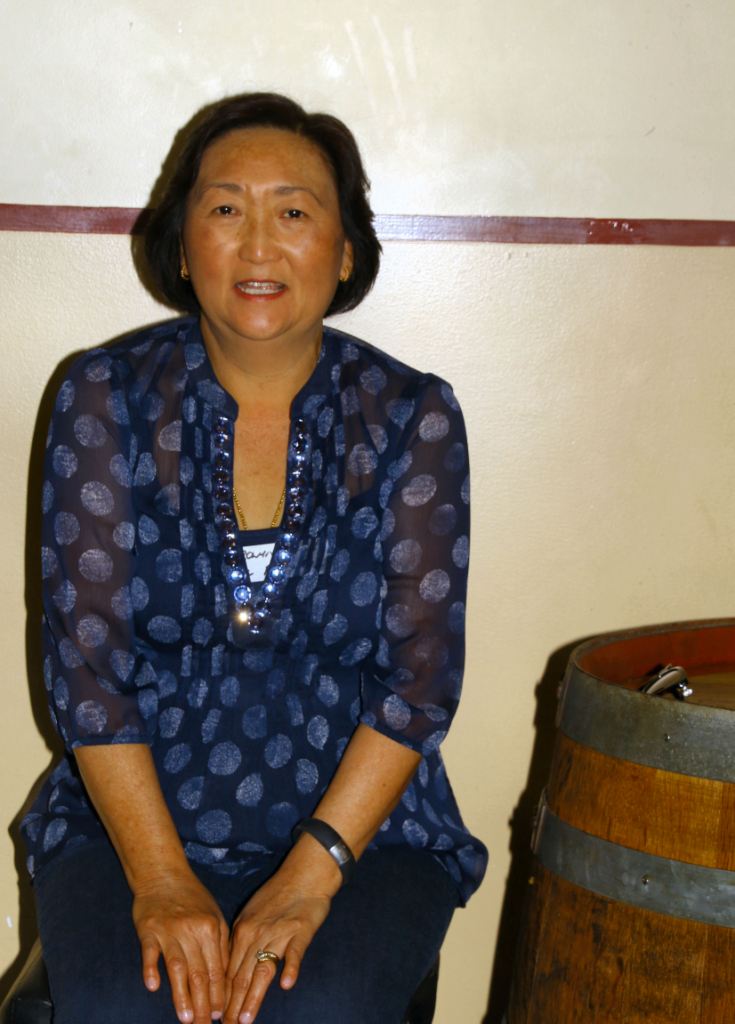 mouse) was guest speaker at a dining-in night she and Mark attended at Laverton one night some years ago and she is sure that all who attended that night will no doubt have wonderful memories of Nancy Wake.
She and Mark have attended the last three Djinnang Reunions in Brisbane and experienced catching up with old friends. Finally putting faces to names. She says the reunions have gone from strength to strength, with so many happy memories for most and maybe not so good memories for some! A lot of people have been out longer than they were in now!
She adds, "I have to say that with the amalgamation of the COMMSOP and EDPOP mustering, I felt I wasn't suited to be a CISCON and I am sure many who experienced both areas of the CISCON mustering will agree or maybe not agree with me. Not everyone who became a CISCON had the aptitude. The days of the KTR and tape were fun but technology moves on…….
I have been a full time mum since discharging in July 97. Life on the Gold Coast is good and looking forward to the day my husband retires so we can go travelling!"