Invasion of Poland.
Poland had been reborn as an independent nation after World War I and the collapse of Austria-Hungary, Russia, and Germany. Polish borders had been partly re-established by the Versailles Treaty but a series of armed conflicts with Germany,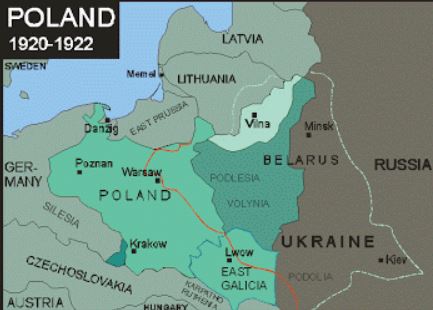 Czechoslovakia, Lithuania, and Ukrainian nationalists, as well as a major war with the Soviet Union, gave the borders their final shape.
During the course of the Polish-Soviet War (1919-20), Poland had been forced to rely on her own resources as help from the Western Allies had been slow in coming or had actively blocked by pro-communist unions in Europe. Because of the Polish-Soviet war and continuing Soviet efforts at infiltration thereafter, Polish military and political planning focused primarily on a future conflict with the Soviets. To this end, the Poles developed alliances with Rumania and Latvia. Poland's policy toward Germany was based on her alliance with France, but Polish-Czech relations remained cool. The problem with the French alliance, as far as the Poles were concerned, was the instability in French politics which resulted in constant indecision about the eastern alliances. As governments rose and fell in regular succession, French policies toward Poland and other allies changed.
German military leaders had begun planning for war with Poland as early as the mid 1920s. Recovering the ethnically Polish territory of Pomerania, Poznan, and Silesia, as well as the largely German Free City of Danzig were the major objectives. Nevertheless, the restrictions of Versailles and Germany's internal weakness made such plans impossible to realize. Hitler's rise to power in 1933 capitalized on German's desire to regain lost territories, to which Nazi leaders added the goal of destroying an independent Poland. According to author Alexander Rossino, prior to the war Hitler was at least as anti-Polish as anti-Semitic in his opinions. That same year, Poland's Marshal Jozef Pilsudski proposed to the French a plan for a joint invasion to remove Hitler from power, which the French vetoed as mad warmongering.
In 1934, however, the Germans signed a non-aggression pact with Poland, providing a kind of breathing space for both countries. German efforts to woo Poland into an anti-Soviet alliance were politely deferred as Poland attempted to keep her distance from both powerful neighbours. As German power began to grow, however, and Hitler increasingly threatened his neighbours, the Poles and French began to revitalize their alliance.
The Munich Pact dramatically increased Poland's danger. At the last minute, the Poles and Czechs had attempted to patch up their differences. The Czechs would give up disputed territory taken in 1919 and half ownership in the Skoda arms works in exchange for Polish military intervention in the case of German attack. The Munich Pact, however, closed this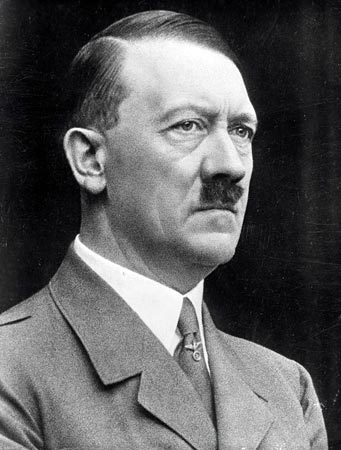 option and Poland sent its troops to forcibly occupy the territory of Teschen and the nearby Bohumin rail junction to keep it out of German hands.
After Hitler violated the Munich treaty, Poland was able to extract guarantees of military assistance from France, and significantly, Britain. In March 1939, Hitler began to make demands on Poland for the return of territory in the Polish Corridor, cessation of Polish rights in Danzig, and annexation of the Free City to Germany. These Poland categorically rejected. As negotiations continued, both sides prepared for war. German demands sent to Poland on 25 Aug 1939 were the following.
The return of Danzig to Germany.

Rail and road access across the corridor between Germany and East Prussia.

The cession to Germany any Polish territory formerly of pre-WW1 Germany that hosted 75% or more ethnic Germans.

An international board to discuss the cession of the Polish Corridor to Germany
Hitler, however, again altered the strategic landscape again in August 1939 when Germany and the Soviet Union signed a non-aggression pact which contained secret protocols designed to partition Poland and divide up most of eastern Europe between the two dictators.
Strategic Considerations.
Poland's strategic position in 1939 was weak, but not hopeless. German control over Slovakia added significantly to Poland's already overly long frontier. German forces could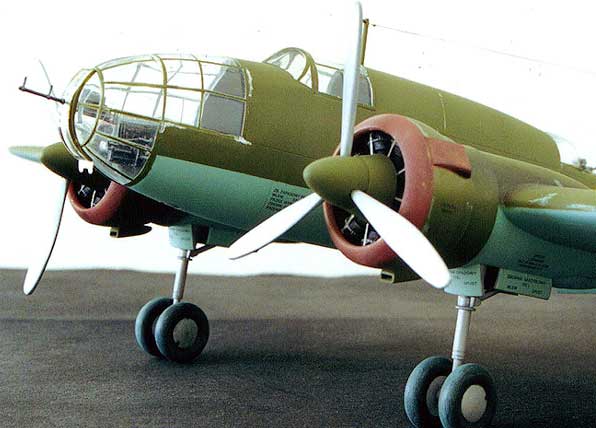 attack Poland from virtually any direction. Poland's major weakness, however, was its lack of a modernized military. In the 1920s, Poland had the world's first all-metal air force, but had since fallen behind other powers. Poland was a poor, agrarian nation without significant industry. While Polish weapons design was often equal or superior to German and Soviet design, it simply lacked the capacity to produce equipment in the needed quantities. One example was the P-37 Łos bomber, which at start of the war was the world's best medium bomber. Another example was the "Ur" anti-tank rifle which was the first weapon to use tungsten-core ammunition.
To motorize a single division to German standards would have required use of all the civilian cars and trucks in the country. This occurred despite heroic efforts by Polish society to create a modern military which included fundraising among civilians and the Polish communities in the USA to buy modern equipment. As a percentage of GNP, Polish defence spending in the 1930s was second in Europe, behind the Soviet Union but ahead of Germany. Yet, in real dollar terms, the budget of the Luftwaffe alone in 1939 was ten times greater than the entire Polish defence budget. Yet even this did not give the full picture, since the Polish defence budget included money to upgrade roads and bridges and to build arms factories.
The Polish leadership was also hamstrung by political rifts and by the legacy of Pilsudski's authoritarian rule which had retarded the development of modern strategic thinking and command. The top leadership was held by Marshal Edward Smigly-Rydz (right), who had been an able corps commander in 1920 but lacked the ability to command a complex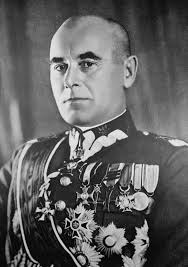 modern army. Yet there were many able officers, such as Gen. Tadeusz Kutrzeba and Gen. Kazimierz Sosnkowski. Although overburdened by military brass, Poland had a solid corps of junior officers. The Polish Air Force, by contrast, was a very strong service.
Poland's one major advantage was in intelligence, beginning in the early 1930s, a group of young mathematicians had managed to break the German military codes of the supposedly unbreakable Enigma encoding machine. Until 1938, virtually all German radio traffic could be read by Polish intelligence. Thereafter, the Germans began to add new wrinkles to their systems, complicating the task. On the eve of the war, the Poles could read about ten percent of Wehrmacht and Luftwaffe traffic and nothing from the Kriegsmarine. However, the German military police frequencies continued to use the older system and were fully readable. This was augmented by human intelligence efforts. By September 1, 1939, the Polish high command knew the location and disposition of 90 percent of German combat units on the eastern front.
Polish doctrine had developed during the Polish-Soviet War and emphasized manoeuvre with little reliance placed on static defences, aside from a few key points. Unfortunately, the Polish army's ability to manoeuvre was far less than the more mechanized German army.
Much mythology surrounds Poland's use of cavalry, mostly due to Nazi propaganda absorbed by Western historians. About 10 percent of the Polish army was horse cavalry, a smaller percentage than the U.S. army in 1939. Poland had more tanks than Italy, a country with a well-developed automotive industry. Polish cavalry were used as form of mobile infantry and rarely fought mounted, and never with lances. The cavalry attracted high-calibre recruits and the forces trained alongside tanks and possessed greater tank-fighting ability than comparable infantry units. Their use was also envisioned in any conflict with the USSR in eastern Poland where the terrain was mainly forest, swamp, and mountain.
Poland's primary strategic goal was to draw France and Britain into the war on her side in the event of an attack by Germany. Poland's defence strategy in 1939, developed by Gen. Kutrzeba, envisioned a fighting withdrawal to the south-eastern part of the country, the "Rumanian bridgehead." There, the high command stockpiled reserve supplies of equipment and fuel. In the rougher terrain north of the Rumanian and Hungarian borders, the army would make its stand. If all went well, an Anglo-French counterattack in the west would reduce German pressure and Polish forces could be re-supplied by the allies through friendly Rumania.
Hitler's political tactics, however, forced a modification of this plan. Fearing the Germans might attempt to seize the Polish Corridor or Danzig and then declare the war over, Polish forces were ordered closer to the border to ensure that any German attack would be immediately engaged in major combat. In so doing they would ensure that Poland's allies could not wriggle out of their treaty obligations.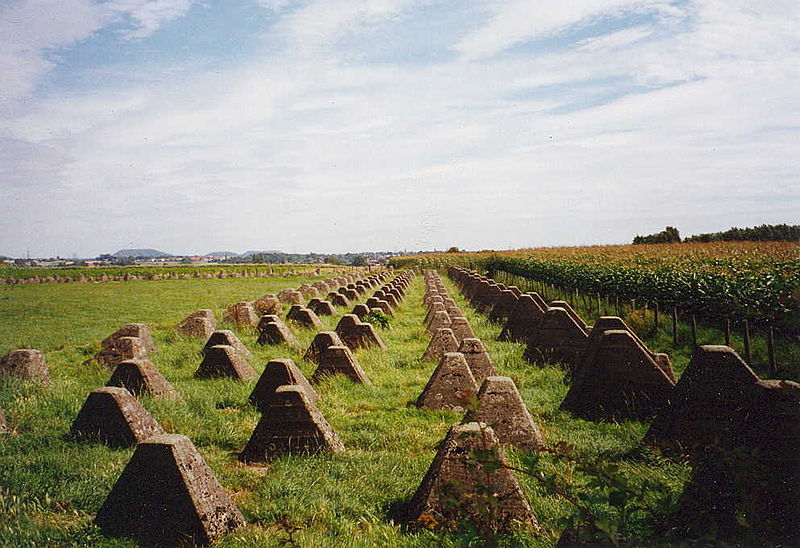 For its part, Germany's planners sought to deliver a rapid knockout blow to Poland within the first two weeks. German forces would launch deep armoured attacks into Poland along two main routes: Lodz-Piotrkow-Warsaw and from Prussia across the Narew River into eastern Mazovia. There would be secondary attacks in the south and against the Polish coastal defences in the north. The primary objective would be to cut off Polish forces in northern and western Poland and seize the capital. To further deter France from entering the soon-to-begin German-Polish conflict, Hitler made several public visits to the West Wall on the German-French border beginning from Aug 1938 to survey the construction of bunkers, blockhouses, and other fortifications. (This wall was called the Siegfried Line by the Allies). The Nazi propaganda machine elabourated on these visits to form a picture of an invincible defensive line to deter French attacks when Germany invades.
On paper, Poland's full mobilized army would have numbered about 2.5 million. Due to allied pressure and mismanagement, however, only about 600,000 Polish troops were in place to meet the German invasion on September 1, 1939. These forces were organized into 7 armies and 5 independent operational groups. The typical Polish infantry division was roughly equal in numbers to its German counterpart, but weaker in terms of anti-tank guns, artillery support, and transport. Poland had 30 active and 7 reserve divisions. In addition there were 12 cavalry brigades and one mechanized cavalry brigade. These forces were supplemented by units of the Border Defence Corps (KOP), an elite force designed to secure the frontiers from infiltration and engage in small unit actions, diversion, sabotage, and intelligence gathering. There was also a National Guard used for local defence and equipped with older model weapons. Armoured train groups and river flotillas operated under army command.
German forces were organized in two Army Groups, with a total of 5 armies. The Germans fielded about 1.8 million troops. The Germans had 2,600 tanks against the Polish 180, and over 2,000 aircraft against the Polish 420. German forces were supplemented by a Slovak brigade.
Armed clashes along the border became increasingly frequent in August 1939 as Abwehr operations worked to penetrate Polish forward areas and were opposed by the Polish Border Defence Corps, an elite unit originally designed to halt Soviet penetration of the eastern frontier. These clashes alarmed the French who urged the Poles to avoid "provoking" Hitler. Polish forces had been partly mobilized in secret in the summer of 1939. Full mobilization was to be declared in late August, but was halted at French insistence. Mobilization was again declared on August 30, but halted to French threats to withhold assistance, and then re-issued the following day. As a result of this, only about a third of Polish forces were equipped and in place on Sept. 1.
On August 31, operational Polish air units were dispersed to secret airfields. The navy's three most modern destroyers executed Operation Peking and slipped out of the Baltic Sea to join the Royal Navy. Polish submarines dispersed to commence mine laying operations.
As Hitler gathered his generals, he ordered them to "kill without pity or mercy all men, women, and children of Polish descent or language... only in this way can we achieve the living space we need." Mobile killing squads Einsatzgruppen would follow the main body of troops, shooting POWs and any Poles who might organize resistance. On the night of August 31, Nazi agents staged a mock Polish attack on a German radio station in Silesia, dressing concentration camp prisoners in Polish uniforms and then shooting them. Hitler declared that Germany would respond to "Polish aggression."
The invasion began at 4.45 A.M. The battleship Schleswig-Holstein was moored at the port of the Free City of Danzig on a "courtesy visit" near the Polish military transit station of Westerplatte. The station was on a sandy, narrow peninsula in the harbor, garrisoned by a small force of 182 men. At quarter to five on September 1, 1939, the giant guns of the battleship opened up on the Polish outpost at point-blank range.