A man walked into a bar on a slow night and sat down. After a few minutes, the bartender asked him if he wanted a drink. He replied, "No thanks. I don't drink. I tried it once, but I didn't like it." So the bartender said, "Well, would you like a cigarette?" But the man said, "No thanks. I don't smoke. I tried it once, but I didn't like it." The bartender asked him if he'd like to play a game of pool, and again the man said, "No thanks. I don't like pool. I tried it once, but I didn't like it. As a matter of fact, I wouldn't be here at all, but I'm waiting for my son."
The bartender said, " He is your only child , I'm guessing."
Tacan Cancers.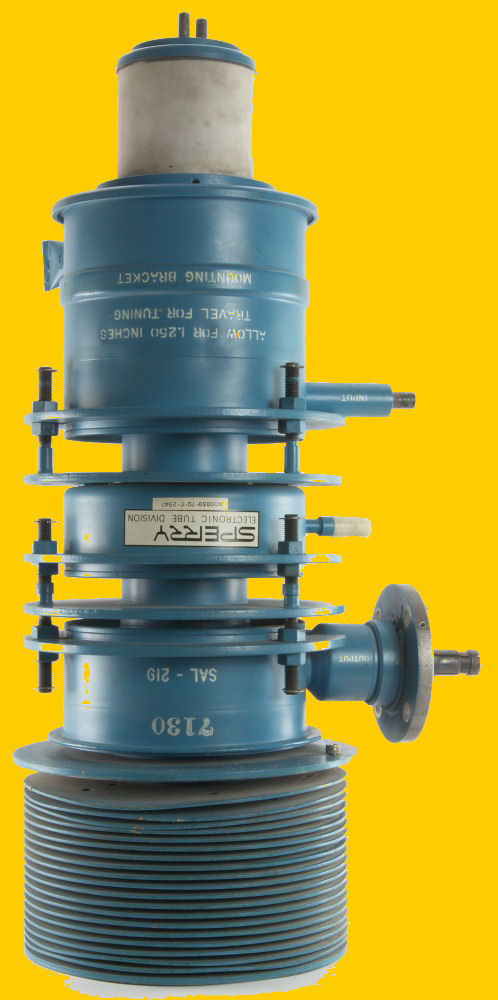 About 10 years ago, retired WOFF Tony Pitt, RADTECHG, advised contacts that he had a host of rare cancers – 18 in fact – that he believed were caused by the SAL-219 Klystron that was the power tube in RTN-2 TACAN. The klystron operated at 25,500 volts. Tony learned that the tube emitted x-rays after about 1,000 hours of operation.
About sometime in late 1970 or early 1971 techs working on TACAN at Mt Louisa, Townsville, had to wear film badges for a period. It was rumoured they received a years' worth of radiation in a week but never any more was said. Apparently, this test arose after a RADTECHG in Darwin was found to have radiation burns from working on TACAN. A lead-shield was apparently placed over the klystron. Later, another tech in Pearce received radiation burns after he had removed the lead shield to tune the klystron. A tech at Laverton was said to be getting terrible headaches for a few days when he worked on TACAN with a colleague.
Tony retired in 1978 and died on the 22 Sept 2008. DVA never accepted his cancers were service related. His wife's war widow's pension apparently came as a result of Tony returning from Ubon, Thailand, circa 1960 with a sunspot on his lip! Another colleague and a former apprentice course-mate who worked on TACAN for many years (and who disagreed with Tony) died several years later from an extremely rare liver cancer.
If you were a groundy and worked on the Tacan – get yourself checked!!!
Defence Exposure Evaluation Scheme (DEES).
In April this year the Department of Defence released the Jet Fuel Exposure Syndrome (JFES) Study into the effects of jet fuel and solvents on the health of former F-111 Deseal/Reseal Defence personnel. The (then) Chief of Air Force, Air Marshal Geoff Brown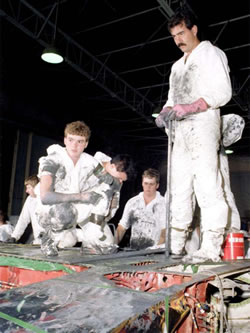 AO, met with F-111 Deseal/Reseal and fire-fighter representatives of those who participated in the study to discuss the report and their health concerns.
"It is important that Air Force provides the most up-to-date health information to our current and former workforce, on the effects of occupational exposure to jet fuel," Air Marshal Brown said. "Our people are our most important asset and I will continue to implement practical measures, such as safe work processes and the use of protective equipment, to minimise exposure to JP8 jet fuel. It is important to me that our personnel both past and present, have access to this independent research.
Defence's Senior Physician in Occupational and Environmental Medicine, Doctor Ian Gardner explained that the study utilised the latest university and medical research technologies into molecular and genetic aspects of cell biology. The study found small but persistent cellular effects many years after exposure. "The study found that while the kerosene component of jet fuel could adversely affect cells, the damage to cellular function is not expected to have immediate or adverse health effects," Dr Gardner explained.
The study did not find any evidence of genetic or chromosomal damage in cells exposed to jet fuel or the deseal/reseal solvents. Dr Gardner explained that a positive finding was that there is no evidence found for the Jet Fuel to cause genetic or chromosomal damage that could lead to cancers.
"DVA and Defence are continuing to work on studies such as the 4th Update to the F-111 Mortality and Cancer Incidence Study and the ADF Firefighter Study which are being finalised," Dr Gardner said.
The $3 million JFES study was undertaken by researchers at the Mater Medical Research Institute in Brisbane led by Prof Frank Bowling. The JFES Study resulted from initial research work undertaken by Air Force personnel.
The JFES study, and a summary can be downloaded at HERE and there is an excellent Power Point presentation available HERE. It's a big file and will take a few seconds to download.
John was on his deathbed and gasped pitifully, "Give me one last request, dear," he said. "Of course, John," his wife said softly. "Six months after I die," he said, "I want you to marry Bob.." "But I thought you hated Bob," she said. With his last breath John said, "I do!"
Supermarine Spitfires and Hawker Hurricanes:

Which was the better aircraft??
Which is better, the Supermarine Spitfire or the Hawker Hurricane? That question has been asked by pilots, historians and air enthusiasts since 1940. It does not have a definitive answer, however, each aircraft had its strong points and its disadvantages. Although both aircraft played a decisive role in the Battle of Britain they could not have been more different from one another. Each was created under a completely different set of circumstances and came from totally different backgrounds and antecedents. The Spitfire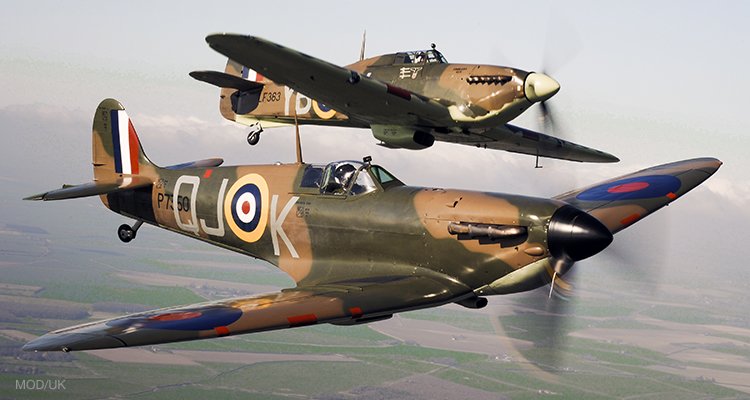 owed its famous graceful lines and speed to its early ancestors, evolving as a fighter from a series of extremely successful racing seaplanes that were designed in the 1920s–and 1930s. All of those racers were built by the firm of Supermarine Ltd. and were designed by one man–Reginald J. Mitchell. The innovative Mitchell has been called one of the most brilliant designers Britain has ever produced. His designs really were ahead of their time. In 1925, when he began building racing airplanes, streamlining was considered more a theoretical exercise than an engineering possibility. But Mitchell made engineering theories more than just possibilities; he turned them into brilliant successes.
Mitchell's efforts at streamlining produced aircraft that were not only graceful but also among the fastest in the world. In 1927, his S.5 racer won the Schneider Trophy with a speed of 281.65 mph. Four years later, his elegant S.6B captured the Schneider Trophy outright for Britain with a speed of 340.08mph. Later, on September 29, 1931, his S.6B, fitted with a special 'Sprint' engine with its horsepower upgraded to 2,550, pushed the world speed record to 407.5 mph.
During that time, Britain's Air Ministry began looking for a replacement for the Royal Air Force's (RAF) standard fighters, the Bristol Bulldog and Gloster Gladiator, both of which were biplanes. Knowing he had the experience and the reputation he acquired by designing his Schneider Trophy winners going for him, Mitchell decided to make a bid for the Air Ministry's contract to design this new fighter. The Supermarine firm had been taken over by the industrial giant Vickers by this time; the new corporation was known as Supermarine Aviation Works (Vickers) Ltd.
The first prototype of the aircraft that would become known as the Spitfire was an odd-looking affair. Officially designated the F.7/30, it was a gull-winged monoplane with an open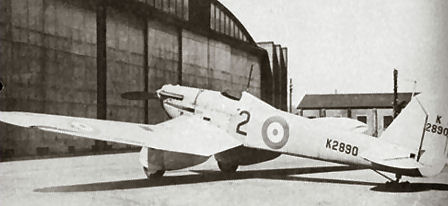 cockpit and spatted undercarriage. It looked more like a German Junkers Ju-87 Stuka dive bomber than the Battle of Britain fighter. Mitchell was not satisfied with his F.7/30 for a number of reasons. For one thing, it was underpowered, its Rolls-Royce Goshawk II engine gave it a speed of only 238 mph. So he began to experiment. He added a larger engine, enclosed the cockpit and gave his new fighter a retractable undercarriage with smaller, thinner wings. These thin, elliptically shaped wings would become the fighter's most recognizable feature. Mitchell continued to modify his design in 1933 and 1934. The larger engine he had in mind was supplied by Rolls-Royce, a new, 12-cylinder, liquid-cooled power plant called simply the PV-12. Rolls-Royce would rename this engine the Merlin, a name that would become legend among aircraft power plants. The new fighter, now designated the F.10/35, developed into a low-wing interceptor with retractable undercarriage, flaps, enclosed cockpit, and oxygen for the pilot. The Merlin engine promised to give it all the speed Mitchell wanted and the Air Ministry would require. For armament, he gave his fighter four wing-mounted .303-caliber machine guns. Air Vice Marshal Hugh 'Stuffy' Dowding, Air Member for Supply and Research, had been in charge of the RAF's technical development since 1930. He was favourably impressed by Mitchell's F.10/35 except for one item, he wanted eight machine guns. Recent tests had shown that the minimum firepower needed to shoot down an enemy bomber was six or, preferably, eight guns, each capable of firing 1,000 rounds per minute. With that armament, it was estimated that a pilot would need only two seconds to destroy an enemy bomber in the air, the time during which a fighter pilot would be able to keep the enemy in his sights, it was thought.
Dowding had the future in mind. He knew that the German Luftwaffe was expanding and that Adolf Hitler's ambition would probably lead to an armed conflict between Britain and Germany. His farsightedness would pay off eight years later, in 1940, when he was chief of RAF Fighter Command.
Because of his aircraft's elliptical wings, Mitchell was able to fit four Browning .303 caliber machine guns into each wing without increasing drag or radically altering the design. With that armament, along with the RollsRoyce Merlin engine and the other features he had designed, Mitchell knew that his fighter would be a match for any aircraft the Luftwaffe might produce. Now all he had to do was convince the Air Ministry.