Which spread is better for my heart — butter or margarine?

People become confused when faced with the choice of whether to purchase butter or margarine. Butter gets points for taste; margarine for being easy to spread. Butter is high in saturated fats and when consumed in excess amounts can increase LDL (BAD) cholesterol levels, thus increasing the risk of cardiovascular disease.
Margarine usually tops butter when it comes to heart health. Margarine is made from vegetable oils, so it contains unsaturated "good" fats — polyunsaturated and monounsaturated fats. When substituted for saturated fats, these types of fats help reduce low-density lipoprotein (LDL), or "bad," cholesterol fats which help to increase HDL (GOOD) cholesterol and potentially reduce the risk of cardiovascular disease.
Butter, on the other hand, is made from animal fat, which is why it contains more saturated fat.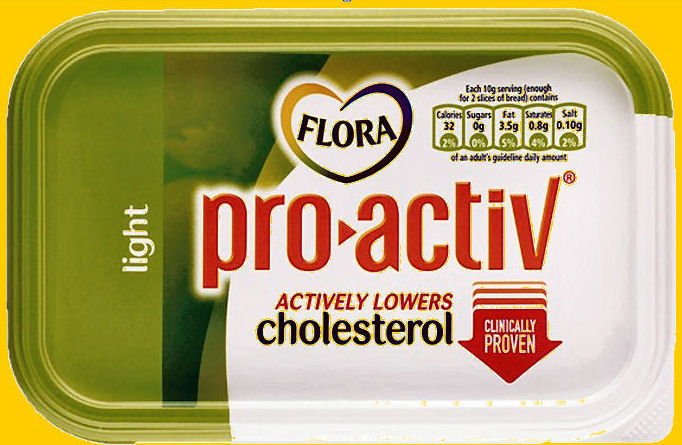 Butter contains about 50% saturated fat, while margarine has a maximum of 20% saturated fat. The fat content of "light" or fat-reduced margarine is lowered by replacing some fat with protein and water, meaning many are much lower than 20%.
But not all margarines are created equal, some margarines contain trans fat. In general, the more solid the margarine, the more trans fat it contains. Trans fat, like saturated fat, increases blood cholesterol levels and the risk of heart disease and also lowers high-density lipoprotein (HDL), or "good," cholesterol levels. In the supermarket, look for a spread that doesn't have trans fats and has the least amount of saturated fat. When comparing spreads, be sure to read the Nutrition Facts panel and check the grams of saturated fat and trans fat.
To call a spread margarine, the product must be a spreadable food made of edible oils and water, containing at least 80 grams of edible oils per 100 grams. It may also include water, edible proteins, salt, lactic acid-producing microorganisms, flavour-producing microorganisms and milk products.
For a product to be called butter, it must be derived exclusively from milk and ingredients that are obtained from milk, including at least 80% milk fat. It may also contain water, salt, lactic acid producing microorganisms and flavour-producing microorganisms. When you see products in the supermarket that are packaged up like butter, or use words such as "butter-flavoured" without specifically stating the product is butter, it's likely they have been altered in such a way that it no longer meets the content requirements above.
If you choose a full-fat spread (best for cooking), aim for less than 27 grams of saturated fat and one gram of trans fat per 100 grams. For fat-reduced spreads (best for bread and toast), aim for less than six grams of saturates and 0.2 grams of trans fat per 100 grams.
Some margarines contain added plant sterols and stanols, a type of fat found in vegetable oil, nuts, legumes, grains, cereals, wood pulp and leaves, which are able to reduce cholesterol absorption from the small intestine into the bloodstream. If you have high blood cholesterol, you may want to use such a product, though you need to consume 20 to 25 grams per day for the maximum effect.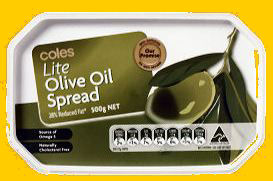 As soon as the edible oil content of margarine drops below 80 grams per 100 grams, it cannot technically be called "margarine". This is why the word "margarine" does not appear on labels for spreads that are fat-reduced – they are called "spreads". These are the healthiest options if you are trying to reduce your total fat and kilojoule intake.
If you are trying to lower your salt intake, check the sodium column on the nutrition information panel and aim for less than 400 milligrams per 100grams.
Although the debate rages about the potency of specific fats in raising blood cholesterol, most Australians consume too much saturated fat from animal products. Saturated fat from foods and drinks gets manufactured in your body into low-density-lipoprotein (LDL) cholesterol, or commonly referred to as "bad" cholesterol, which then appears in your blood. Excess LDL cholesterol that cannot be cleared by the liver ends up lining your artery walls. This makes your blood vessels hard and inflexible and they gradually become blocked. From there, it is just a matter of time before the blockage triggers a heart attack or stroke.
Saturated fat is a solid at room temperature and is the predominate fat found in the white fat in meat and dairy products, including milk, cheese, cream and butter.
What to look for:
Choose margarines that are low in saturated fats and high in polyunsaturated and monounsaturated fats.
What to avoid:
Avoid trans fats – always look for margarines with the lowest levels of trans fats. Trans fats are 'bad fats' that raise LDL cholesterol levels in the blood. They can be created during the manufacturing of some table margarines. Check the labels of all margarines you buy, to make sure they contain less than 1% trans fat.
Plant Sterols:
Plant sterols have been shown to lower cholesterol by 10%, through a mechanism in which they block the body's ability to absorb cholesterol. In order to maximise the benefit obtained from plant sterols, 2-3g should be consumed daily. This corresponds to 1-1½ tablespoons of plant based sterol margarine. Consuming more than this amount will confer no additional benefit with regard to an effect on lowering cholesterol. So too, if less than this amount is consumed, no benefit will result.
For best results, plants sterols should be consumed in conjunction with a healthy diet that is balanced with physical activity.
Do illiterate people get the full effect of alphabet soup?
Does grass-fed beef have any heart-health benefits that other types of beef don't?
The way cows are fed can have a major effect on the nutrient composition of the beef. Whereas cattle today are often fed grains, the animals we ate throughout evolution roamed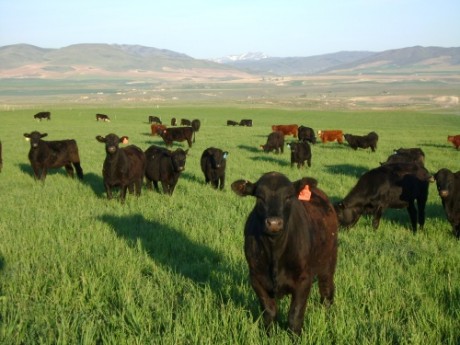 free and ate grass. Many studies have shown that the nutrients in beef can vary depending on what the cows eat. It's not only important what we eat. It also matters what the foods that we eat, ate.
The difference between grass-fed and grain-fed cows.
Most cows start out living similar lives. The calves are born in the spring, drink milk from their mothers and are then allowed to roam free and eat grass, shrubs or whatever edible plants they find in their environment. This continues for about 6 to 12 months. After that, the "conventionally" raised cows are moved to feedlots.
There, the cows are rapidly fattened up with grain-based feeds, usually made with a base of soy or corn. The conventionally raised cows are often given drugs and hormones to grow faster, as well as antibiotics to survive the unsanitary living conditions. The cows live there for a few months and are then moved into the factory for slaughtering. Compare that to grass-fed cows, which may continue to live on grassland for the remainder of their lives. Of course, this isn't really that simple and the different feeding practices are complicated and varied. The term "grass-fed" isn't even clearly defined but generally speaking, grass-fed cows eat (mostly) grass, while grain-fed cows eat (mostly) an unnatural diet based on corn and soy during the latter part of their lives.
Grass-fed beef may have some heart-health benefits that other types of beef don't have. When compared with other types of beef, grass-fed beef may have:
Less total fat.

More heart-healthy omega-3 fatty acids.

More conjugated linoleic acid, a type of fat that's thought to reduce heart disease and cancer risks.

More antioxidant vitamins, such as vitamin E.
Lean beef that's 10 percent fat or less, whether it's grass-fed beef or another type of beef, can be part of a heart-healthy diet. Although many people think grass-fed beef tastes better, it's generally more expensive and there is limited long-term research to definitively prove that grass-fed beef is better for you.
What's the difference between sea salt and table salt?
The most notable differences between sea salt and table salt are in the taste, texture and

processing of each. Sea salt is produced through evaporation of ocean water or water from saltwater lakes, usually with little processing. Depending on the water source, this leaves behind certain trace minerals and elements which add flavour and colour to the salt. Sea salt also comes in a variety of coarseness levels.
Table salt is typically mined from underground salt deposits. Table salt is more heavily processed to eliminate minerals and usually contains an additive to prevent clumping. Most table salt also has added iodine, an essential nutrient that helps maintain a healthy thyroid. Sea salt and table salt have the same basic nutritional value, despite the fact that sea salt is often promoted as being healthier. Sea salt and table salt contain comparable amounts of sodium by weight.
Whichever type of salt you enjoy, do so in moderation. It is recommended that you limit your intake of salt to less than 2,300 milligrams a day (about 1½ teaspoons) — or 1,500 milligrams (about ¾ teaspoon) if you're age 51 or older, or if you have high blood pressure, diabetes or chronic kidney disease.
So Moses is up on Mount Sinai and he says to God,
"God, I have a pounding headache!"
And God says, "Here, take these tablets."
Sorry Rupe!
Heart-healthy diet: 8 steps to prevent heart disease.
Ready to start your heart-healthy diet? Here are eight tips to get you started.
Although you might know that eating certain foods can increase your heart disease risk, it's often tough to change your eating habits. Whether you have years of unhealthy eating under your belt or you simply want to fine-tune your diet, here are eight heart-healthy diet tips. Once you know which foods to eat more of and which foods to limit, you'll be on your way toward a heart-healthy diet.
1. Control your portion size.
How much you eat is just as important as what you eat. Overloading your plate, taking seconds and eating until you feel stuffed can lead to eating more calories than you should. Portions served in restaurants are often more than anyone needs. Use a small plate or bowl to help control your portions. Eat larger portions of low-calorie, nutrient-rich foods, such as fruits and vegetables, and smaller portions of high-calorie, high-sodium foods, such as refined, processed or fast foods. This strategy can shape up your diet as well as your heart and waistline.
Keep track of the number of servings you eat. A serving size is a specific amount of food, defined by common measurements such as cups, ounces or pieces. For example, one serving of pasta is 1/2 cup, or about the size of a hockey puck. A serving of meat, fish or chicken is about 60 to 85 grams, or about the size and thickness of a deck of cards. Judging serving size is a learned skill. You may need to use measuring cups and spoons or a scale until you're comfortable with your judgment.
2. Eat more vegetables and fruits.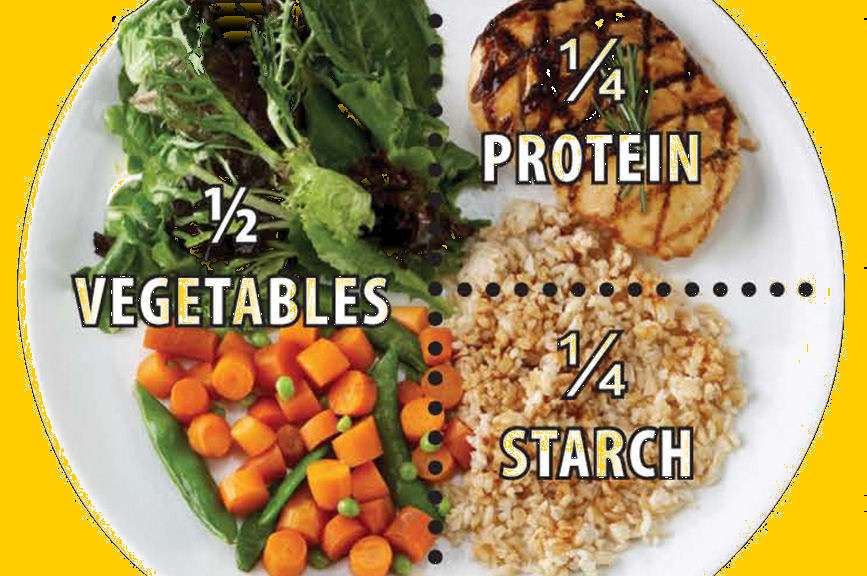 Vegetables and fruits are good sources of vitamins and minerals. Vegetables and fruits are also low in calories and rich in dietary fibre. Vegetables and fruits contain substances found in plants that may help prevent cardiovascular disease. Eating more fruits and vegetables may help you eat less high-fat foods, such as meat, cheese and snack foods. Featuring vegetables and fruits in your diet can be easy. Keep vegetables washed and cut in your refrigerator for quick snacks. Keep fruit in a bowl in your kitchen so that you'll remember to eat it. Choose recipes that have vegetables or fruits as the main ingredients, such as vegetable stir-fry or fresh fruit mixed into salads.