Privacy Policy | Editorial Policy | Profit Policy | Join the Association | List of Members | Contact us | Index | Links
Back Go to page: 1 2 3 4 5 6 7 8 9 10 11 12 13 14 15 16 17 18 19 20 Forward
Page 3 Girl.
Our lovely Page 3 girl this edition is Kim Roots.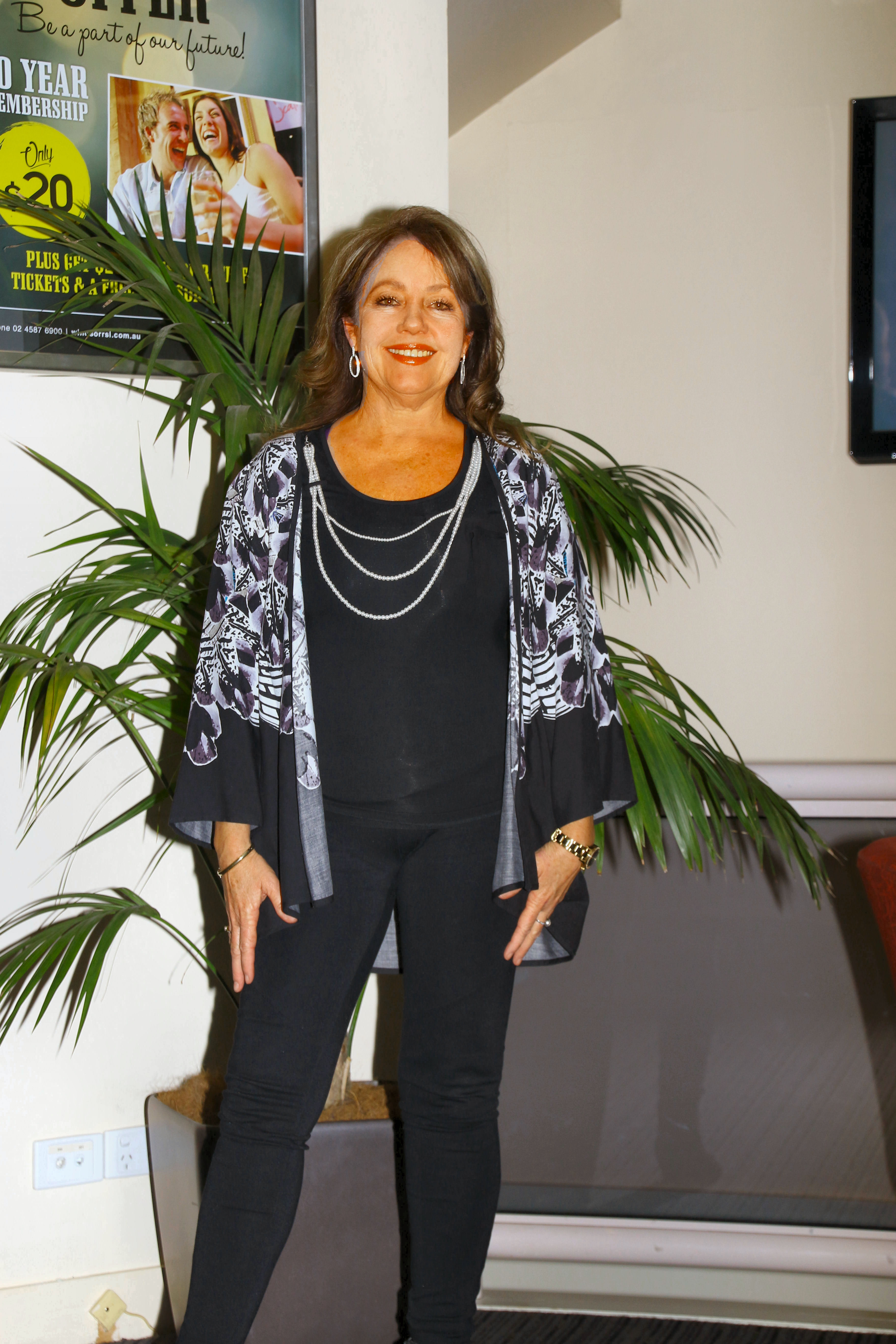 Kim was born and raised in the Fairfield, Villawood area of Sydney, schooled at Villawood primary and Chester Hill high school. Her family were well off and she says she had a wonderful childhood with two older brothers Stephen and Robert. Having two brothers meant life was competitive, there were no "beg pardons" if you wanted something you had to fight for it and this upbringing, which she says she would not change for quids, laid the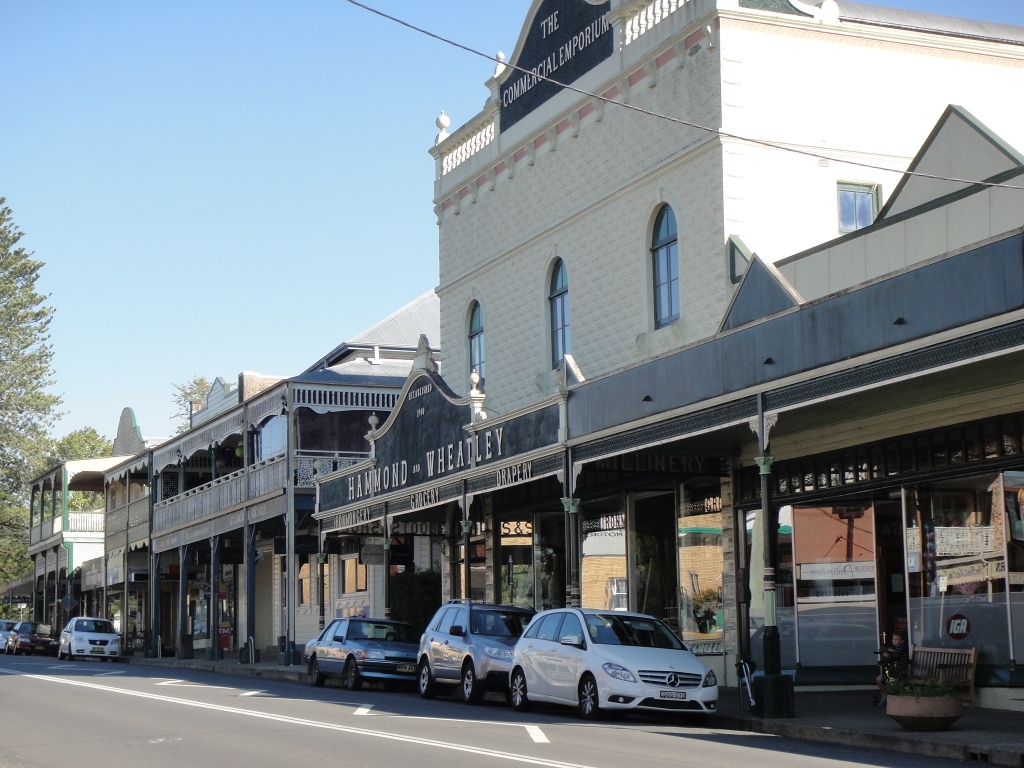 foundation for her competitive nature. When she was still in primary school her mother enrolled her into ballroom dancing classes and at aged nine she took out the NSW Championship.
She also competed in tennis, netball and athletics but her real passion was for horses. At aged twelve she was given a wild pony, which taught her to really ride and unbeknown to her, her brothers entered her in a Rodeo in the wonderful little town of Bellingen, (inland from Port Macquarie) where she had to ride a Brahma bull. She got the blue ribbon, the brothers got a belting. She continued with horses competing in sporting events and winning more ribbons and just loving life.
But sadly Murphy wasn't far away - there was a cruel turn in her life. She lost her dad to a heart attack when she was fifteen years old and her mum died just fourteen months later succumbing to cancer. Her horse was hit by a car and died and her eldest brother died at the young age of thirty nine, also taken by a heart attack.
From then on she embraced life with both hands. She studied for and obtained a diploma in business studies after which she worked for various Pharmaceutical companies where she met her future husband George Wright and their beautiful daughter Natalie was born in 1979. They were blessed with a beautiful granddaughter, Jade, in 2000 but sadly their marriage lasted only until 1989 then George died unexpectedly in 2003.
In 1998 she met, who she says, was a most amazing man John Boyne, an ex RAAF eleco. John at the time was working for Hawker De Havilland at Bankstown Airport and they have been together ever since. Between them they have six beautiful daughters ranging from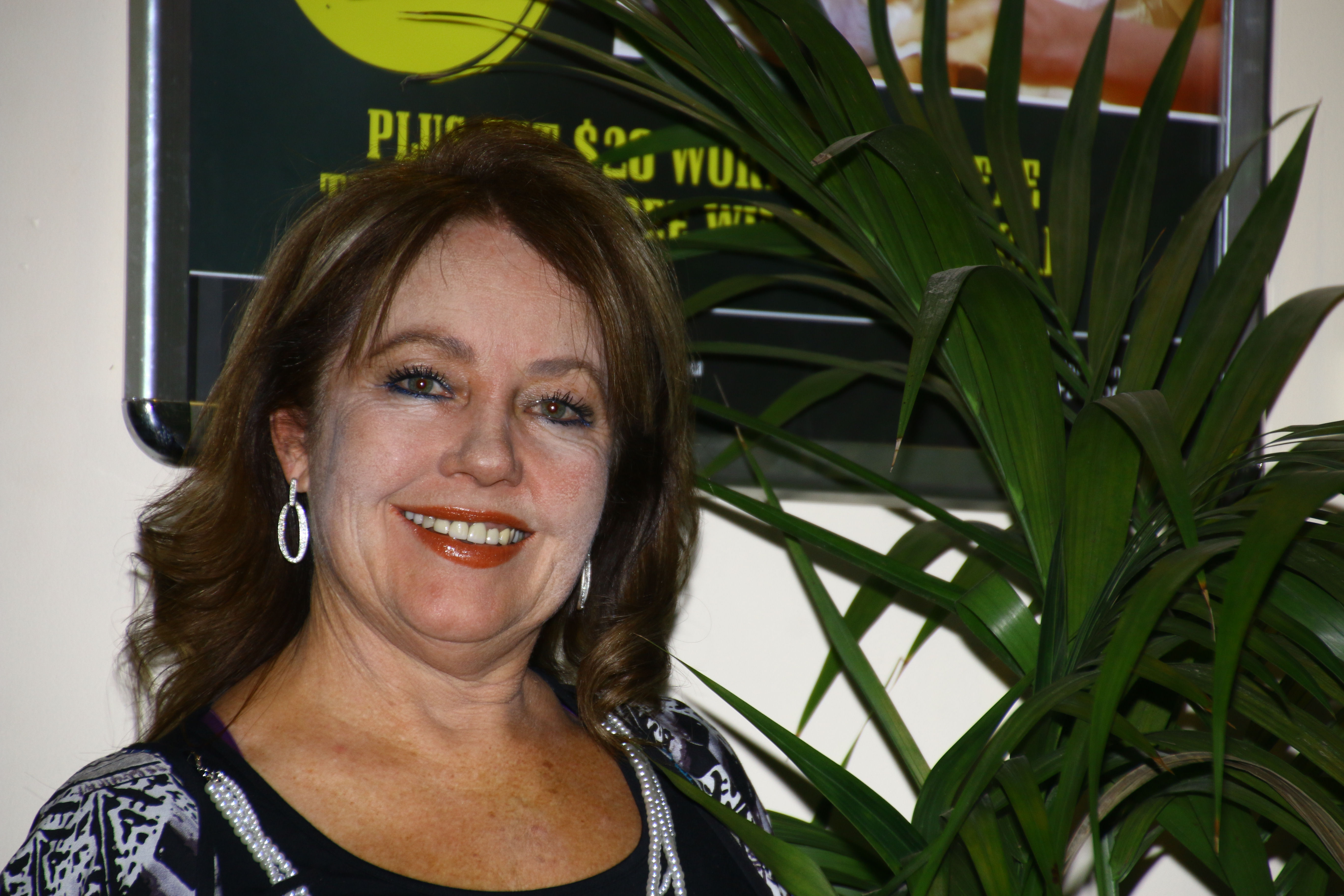 forty four to thirty one years old and seven wonderful healthy grandchildren.
She and John live life to the fullest, she says she is so proud to have met many of his friends from both work and his Vietnam veteran friends at the recent 35 Squadron Spartan Colour Parade and function at RAAF base Richmond. She was fascinated by the stories they told and was unaware of the how much they endured during their time in Vietnam.
Kim says she considers herself lucky to have spent 3 wonderful days in the company of these wonderful men and their wives. She and John are looking forward to catching up with everyone again in April 2016.
29 RMTA.
1970.
Phil Palmer sent us these three pics of 29 RMTA. Phil says he's sorry but he can't remember all the first names and one name completely escapes him, if you can help!!!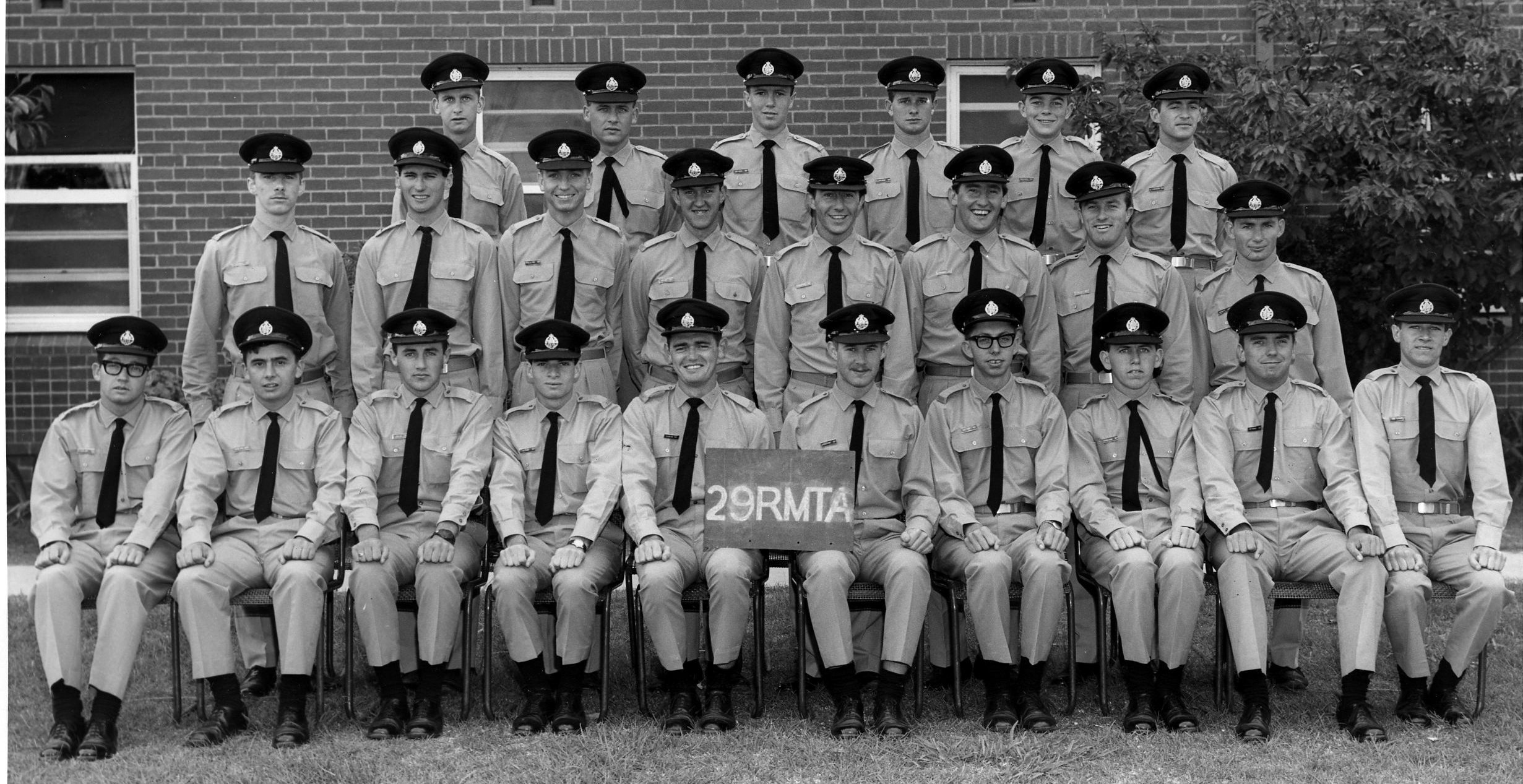 Back Row L-R: Tony Allen, Simon Smith, Gordon Wright, Roger Clarkson, Phil Palmer, ?? Sturgeons.
Middle Row L-R: Mick Powell, Ron Hickson, Roy Holding, ?? Prisk, Graham Longton, Bill Johnson, Graham Tait, Bob Scott.
Front Row L-R: Bill Fiedler, Trevor Kay, Barry Lewis, ?? Rayner, Bill Hughes, John Fenwick, Rod Totten, Don't know, John Bivard, Mark Gee.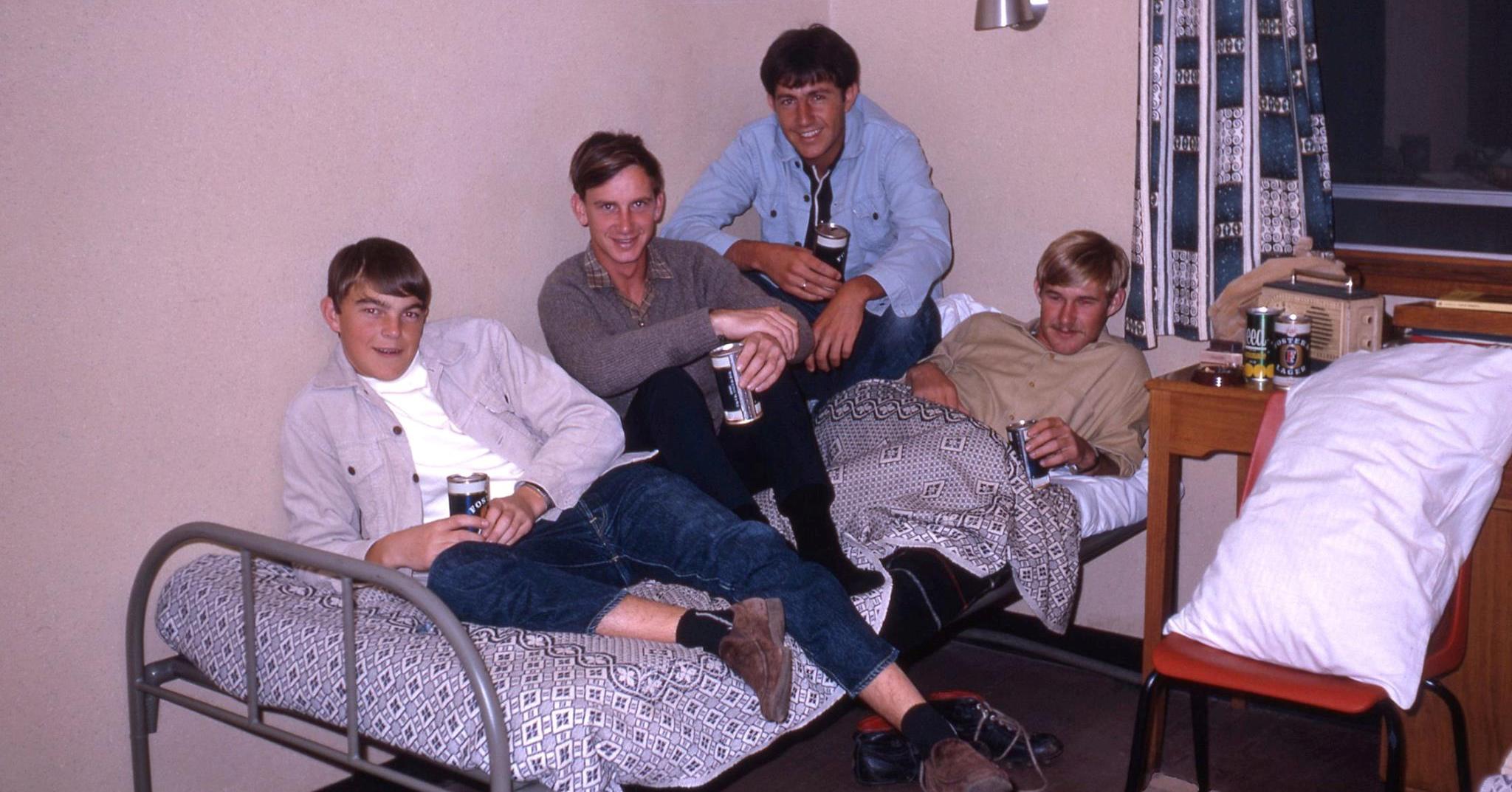 Relaxing?? In the blocks, at Laverton are:
(L-R: Phil Palmer, Tony Allen, Graham Longton and John Fenwick.
Weekend Barby??
At a 'bagers" house, Laverton, May 1970.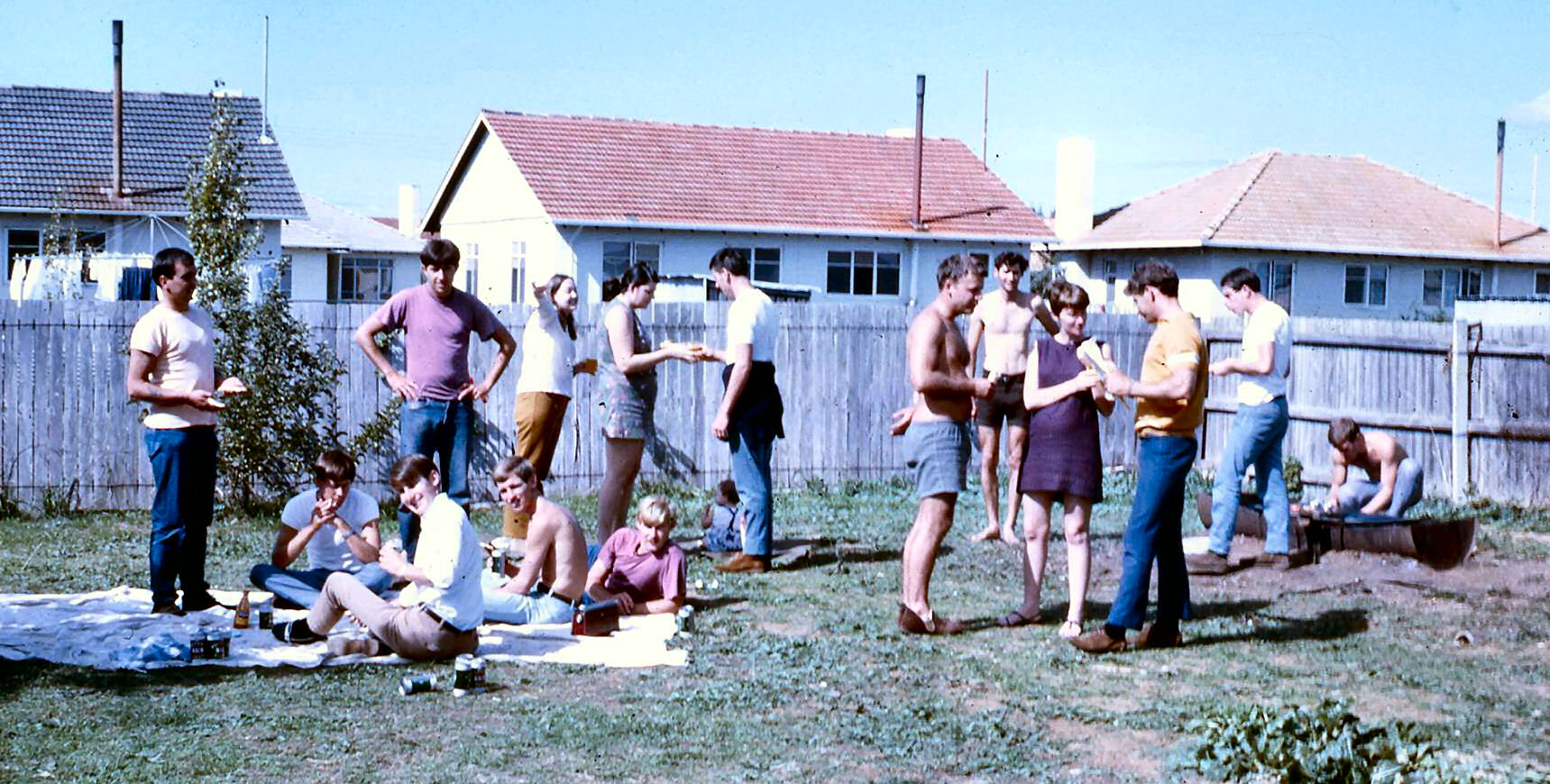 Laughter is like changing a baby's nappy.
It doesn't permanently solve any problems,
but it makes things more acceptable for a while.
32 RTC (1966/67)
Bob Mathers sent us this pic. Bob is short two names, can you help??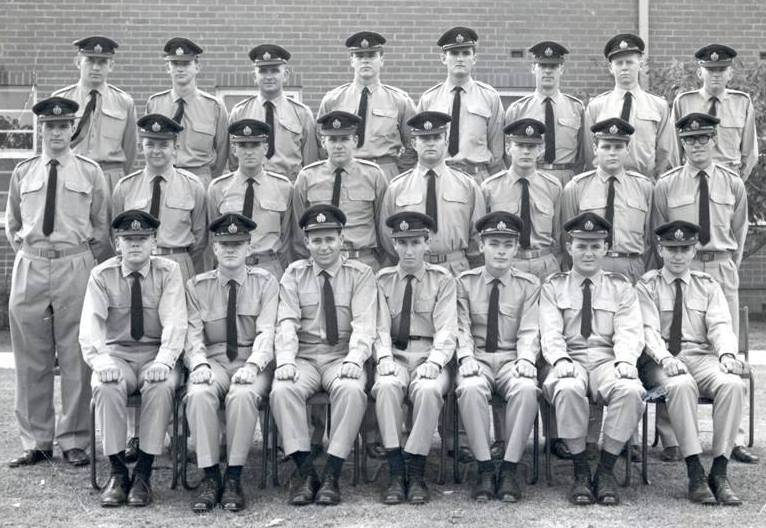 Back Row L-R: Don't know, Jim McLeary, Phil Clifford, Bob Mietus, Angus McLean, Phil Carne, John Callahan, Liam (Tex) Rossiter.
Middle Row L-R: Mark Fielding, Terry Walters, Garry Johnson, Dave Ogg, Bill Joel, Ian Lavender, Bob Mathers, Mick Johnson.
Front Row L-R: Don't know, Ian Mckellar, Murray Gill, Kym Priess, Keith Ball, Max Dennis, Garry Mitchell.
Lynette Svanosio sent us these two Rookies course photos. Unfortunately Lyn doesn't have any first names.
Course 25/85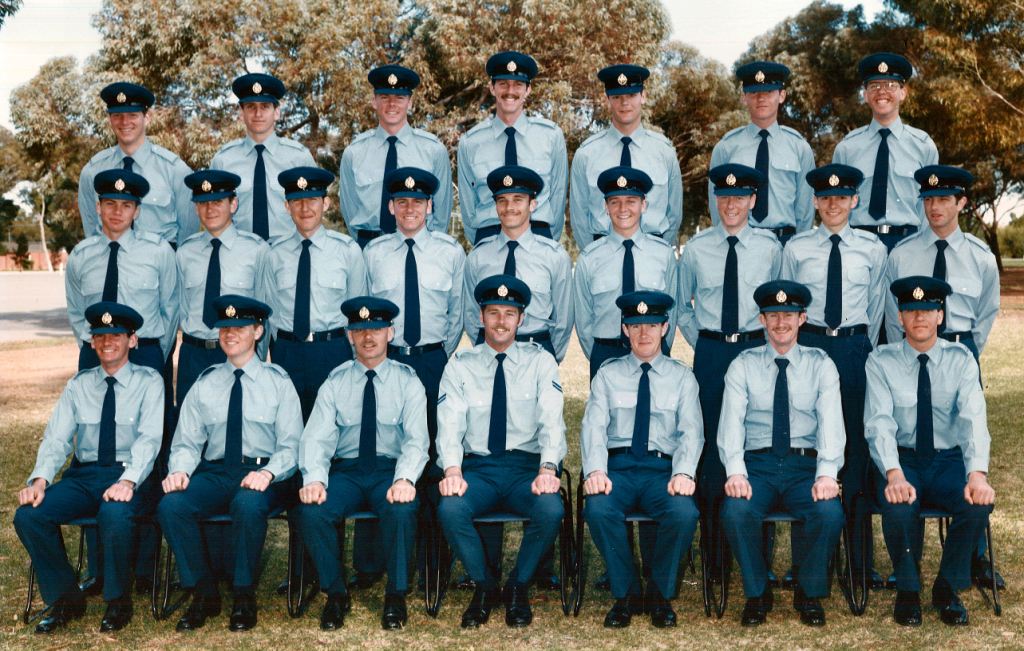 Back Row L-R: Detering, D Meirs, A Gray, A Shepard, G Maxwell, S Grosser, W Stephson
Center Row L-R: C Morris, Murfett, Curtis, K Pepper, N Gray, B Bennet, I. Crapp, D Henderson, D Wilson.
Front Row L-R: D Geck, Don't know, Sutcliff, G Campbell, Cpl Lunn, P Coulton, T Kennedy, D Buckingham.
Course 26/85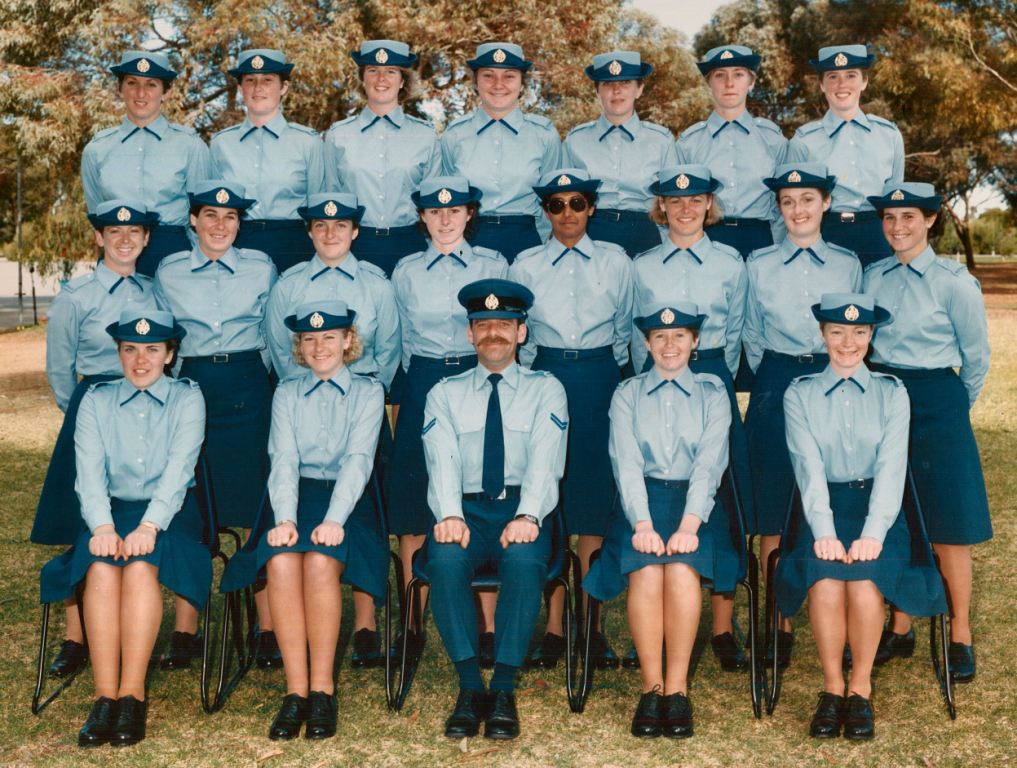 Back Row L-R: D Jantzen, W MacPherson, L Saul, A Reeves, Lynette Svanosio, H Ransom, L Barker.
Center Row L-R: C Fitzpatrick, L Vascolina, T Rodwell, K Palmer, S Westcott, D Menage, T Morris, B Harper
Front Row L-R: K Seddon, L Goodwin, Cpl Reimer, C Leslie, P Gray.
Townsville Air Show – 1972.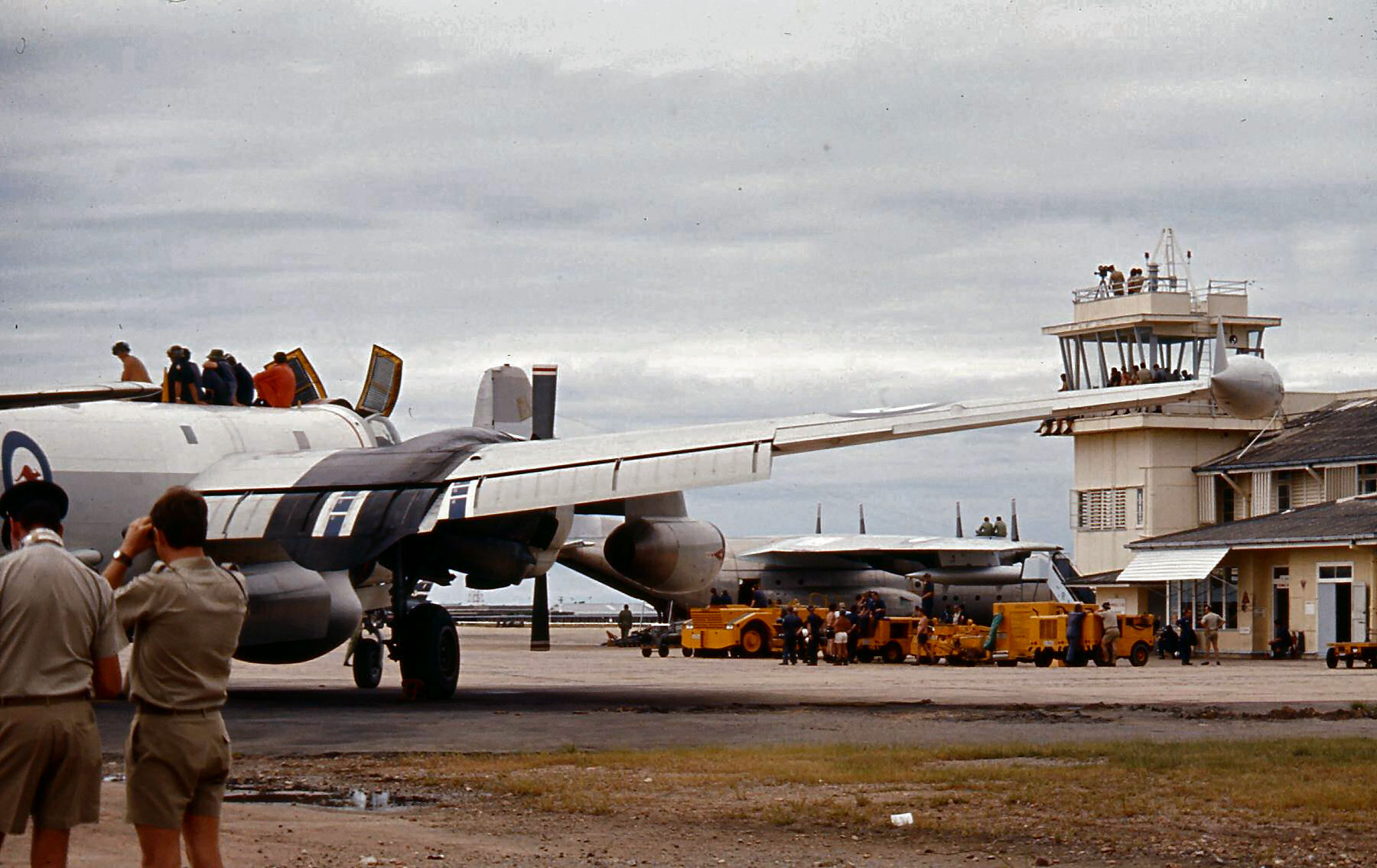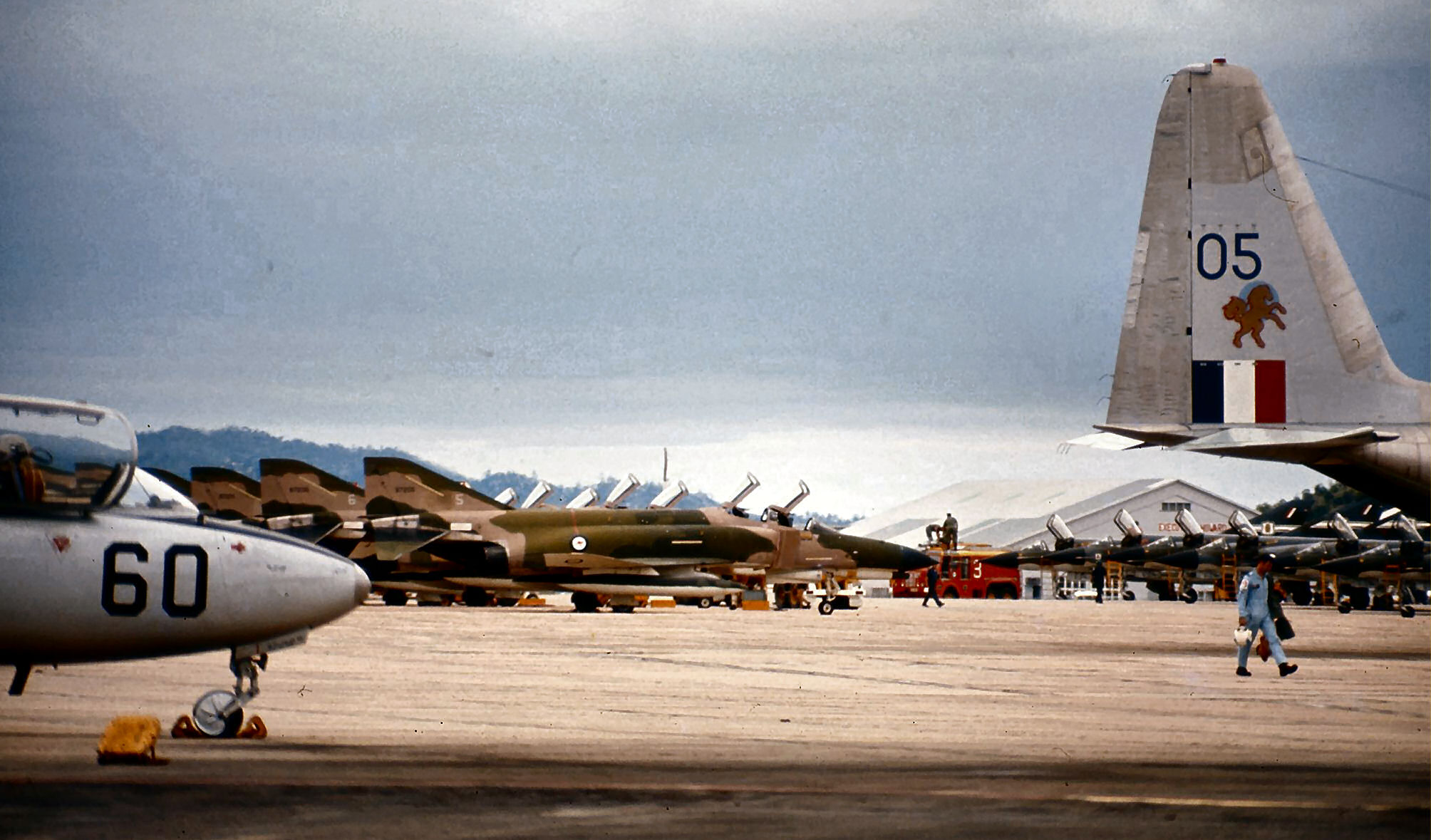 EL TACO MEXICAN RESTAURANT.
Dine in or Takeaway.
58 Blackwood St, Mitchelton, Qld.
If you like Mexican food and you're on the north side of Brisbane, you should try the El TACO Mexican Restaurant in Mitchy.
Eddie De Vivo, the owner of the restaurant reckons you won't find better anywhere and apart from offering a 10% discount to all serving persons, until Christmas 2015 he's also prepared to offer the 10% discount to anyone who mentions they saw this add in the RAM.
So, if Mexican's your thing and you don't feel like cooking, drop into the restaurant, you can eat in or take away, say you saw this advert in the RAM and you'll get the discount.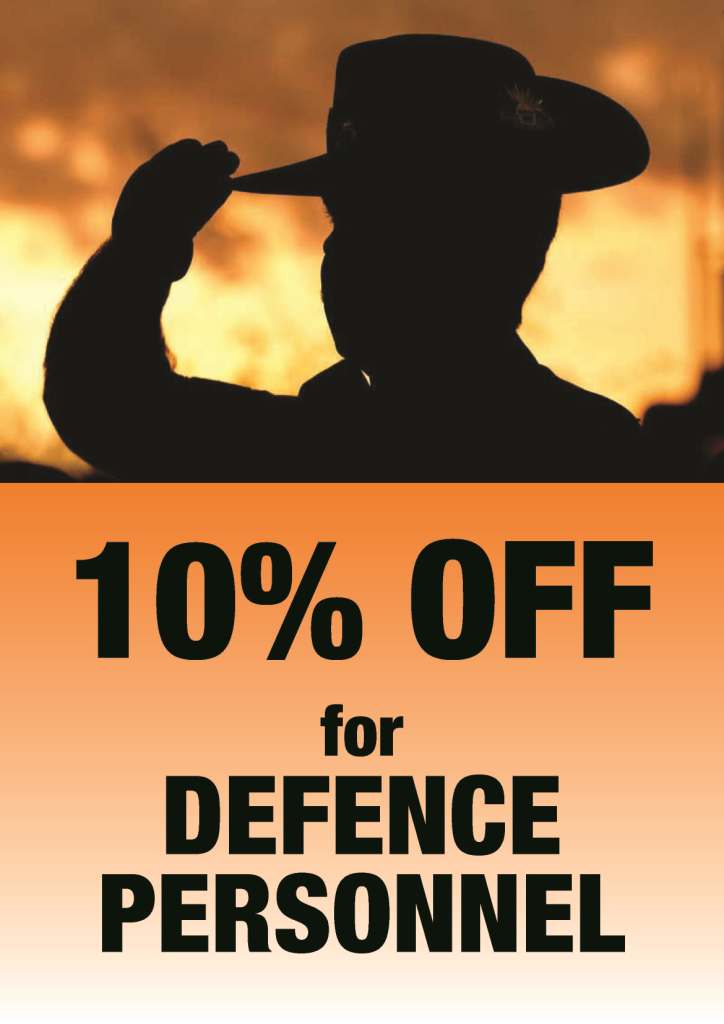 75 Sqn Family day, Butterworth, 1974.
Phil and Sandy Palmer sent us the following pics
| | |
| --- | --- |
| | |
| Phil and Sandy Palmer – today. | |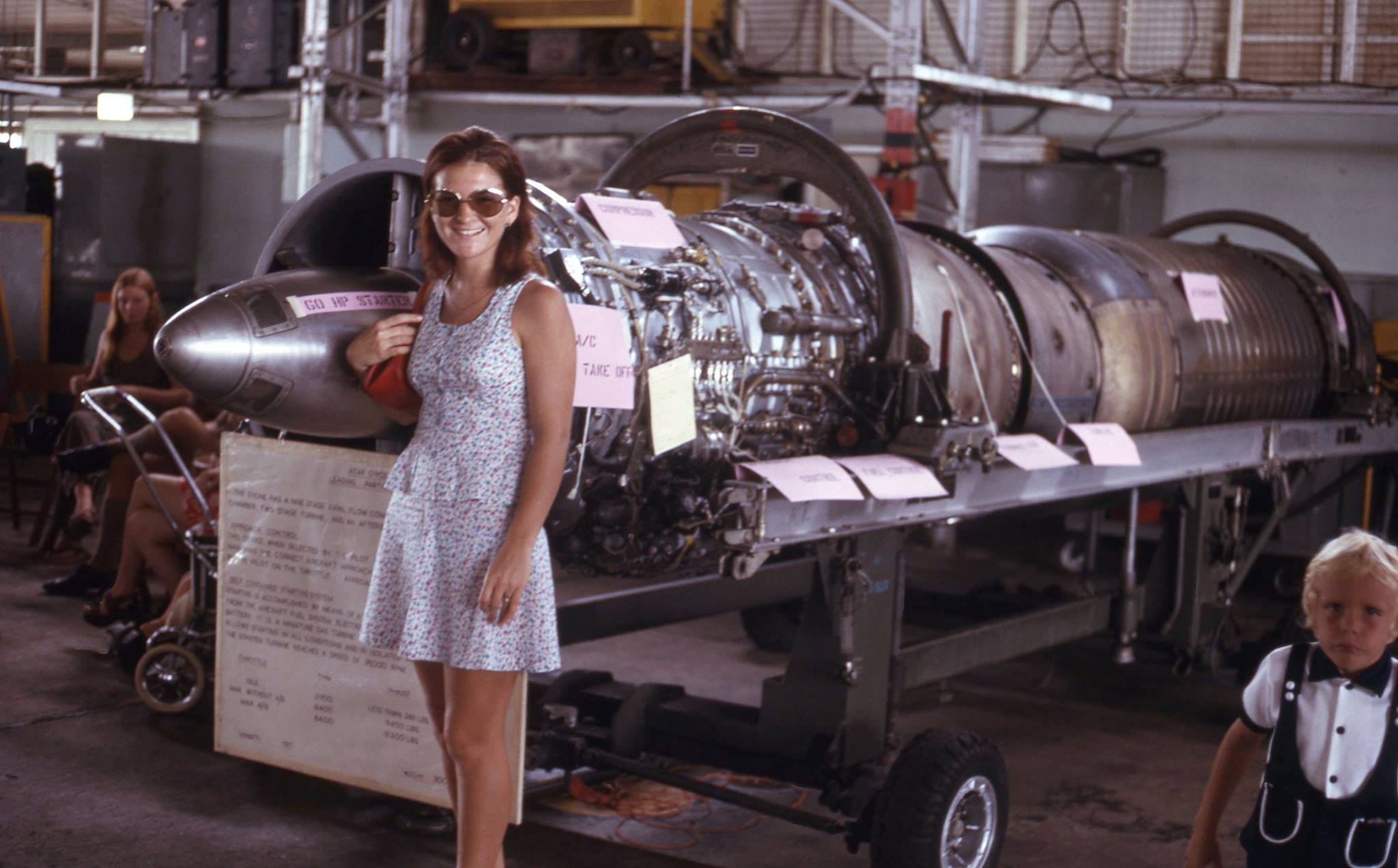 Sandy Palmer with the engine from a Mirage.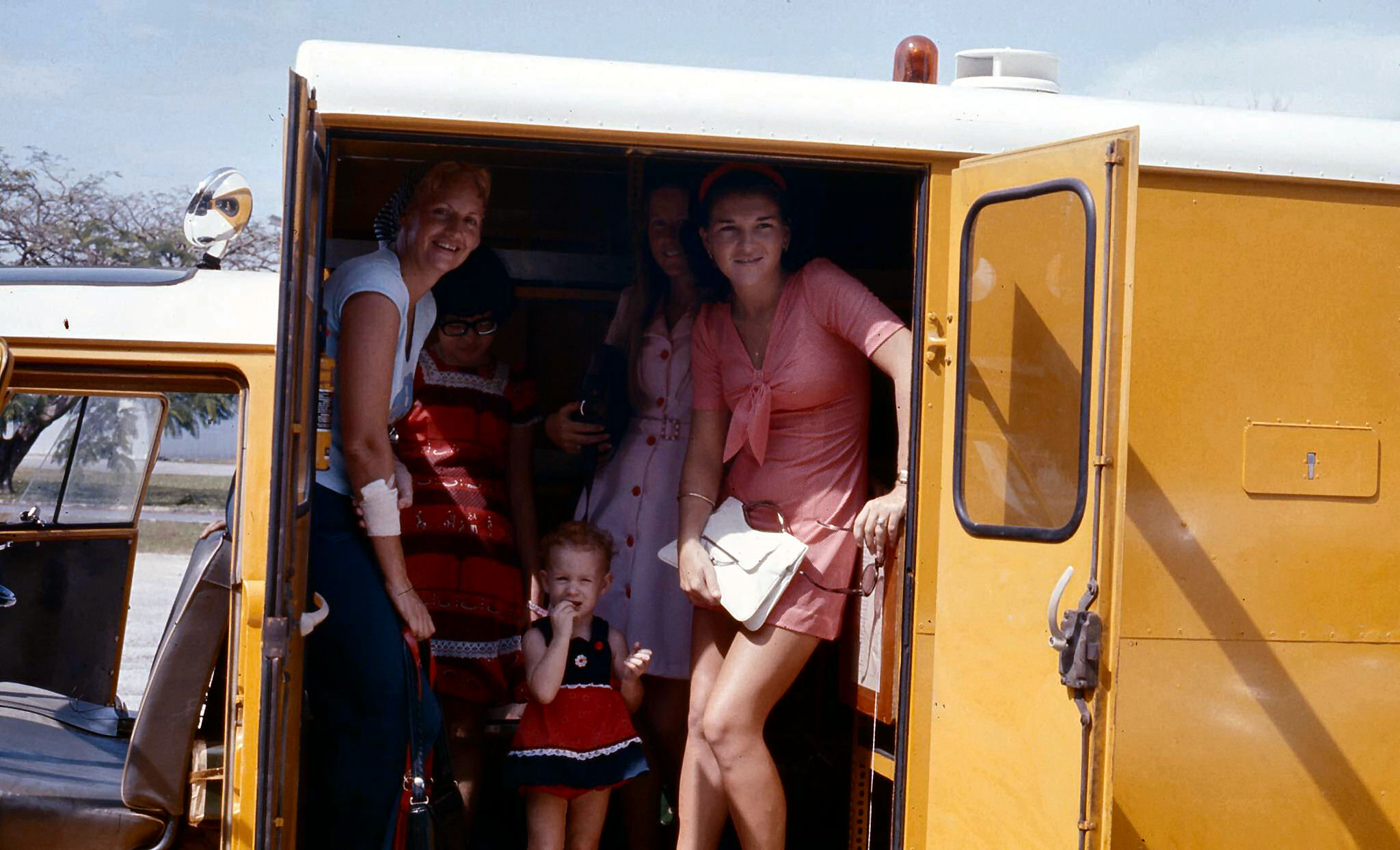 Kay Lennon and Sandy Palmer in the "Whippy Van".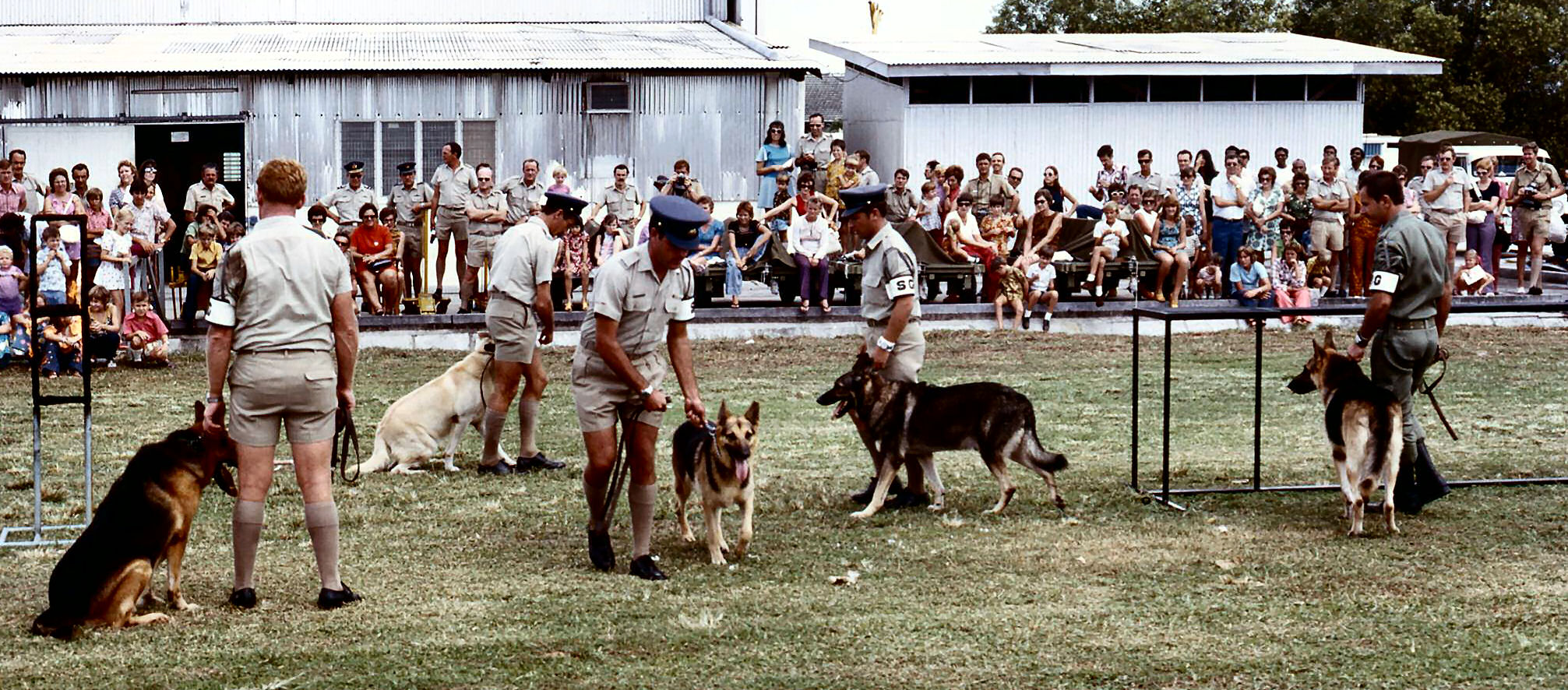 75 Sqn flight line. 1974.
A women's lib speaker was addressing a large group and said, "Where would man be today if it were not for woman?" She paused a moment and looked around the room. "I repeat, where would man be today if it were not for woman?" From the back of the room came a voice, "He'd be in the Garden of Eden eating strawberries."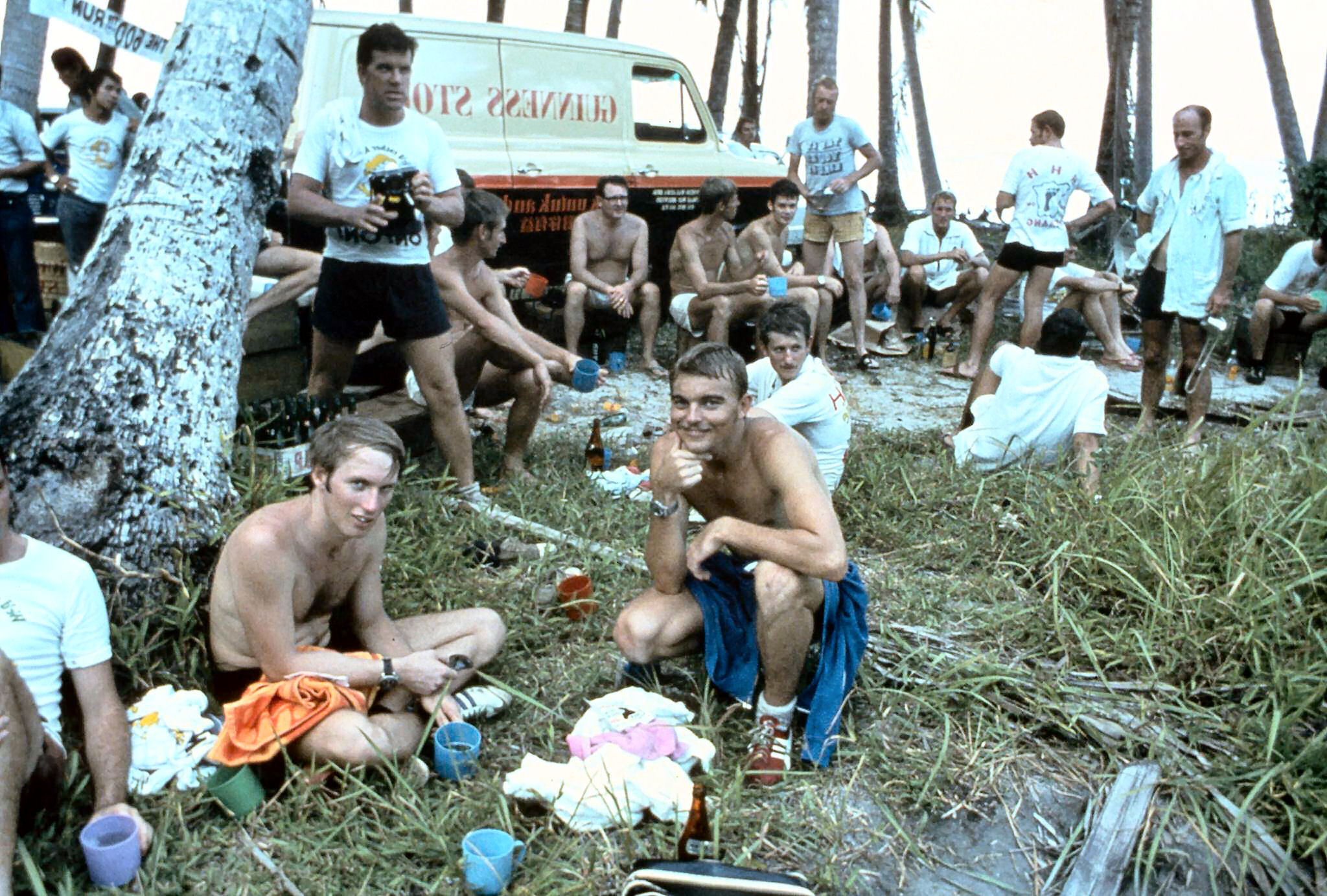 75 Sqn hash house harriers, 1975.
75 Sqn radio bods, with their bodettes, (and the hot Hilman) at the boatie, 1975.
75 Sqn Radio - 1975.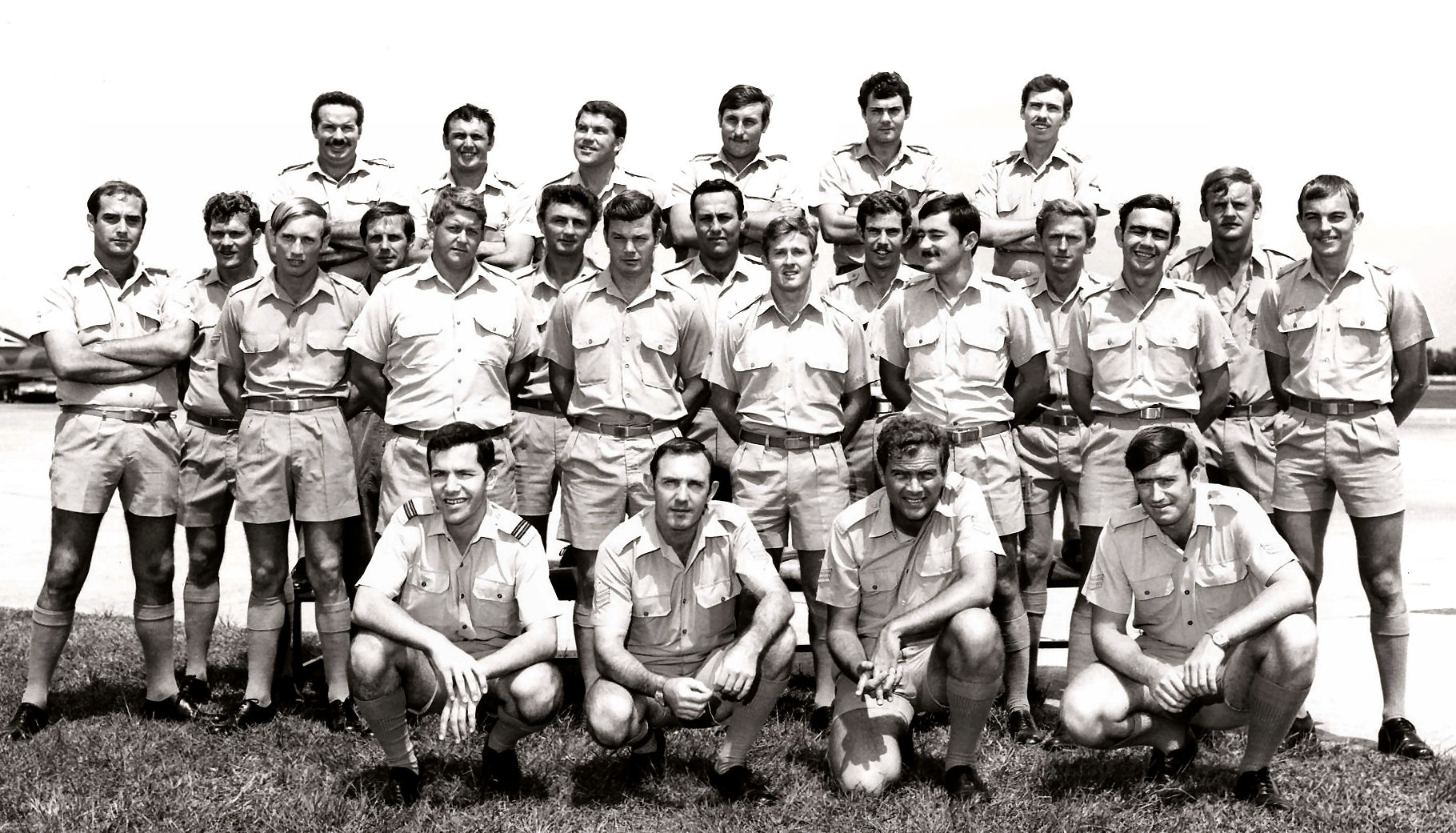 Back Row L-R: John Lennon, Ray Farley, Bruce Margetts, Barry "Gibbles" Gilbert, Mick Little, Ray Scovell.
Third Row L-R: Ken Morris, Trev Sanderson, Al Goulding, Ken Burt, Barry Willmot, Rod Holloway, Garry "Blue" Humphries, Ted Kroll.
Second Row L-R: Peter Stokes, Tony Element, Brian Burgess, John Roundsvel, Tony Harris, Brent "Spook" Villiers, Phil Palmer.
Front Row L-R: Paul Wright, Ron Thompson, Pat Baird, Gary Learnihan.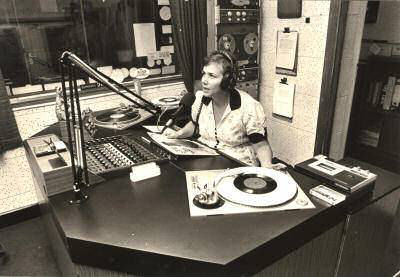 Gail Preston, your hostess with the mostess, spinning records at Radio Butterworth - 1982
Click the pic below to hear Radio Butterworth news from 1975.
478 Mntce Sqn - Butterworth. 16 June 1981.
Since its formation in 1921, the RAAF has frequently had units based overseas on operational deployments, however only once has the RAAF operated a permanent major air base outside Australia. This was at Butterworth, on the north-west coast of the Malayan peninsula opposite the island of Penang.
The pic above was taken on the occasion of a "hand-over, take-over" when the current CO, GpCapt Robin "Chummy" Wade passed the baton to GpCapt Ian "Tiny" Ashbrook.
In the mid-1950s Britain, Australia and New Zealand agreed to set up a 'Commonwealth Strategic Reserve' on the Malayan peninsula with the primary aim of countering a growing communist threat across South-East Asia. It was the reserve, rather than the need for additional forces to support 'Emergency' operations, that prompted the British government in 1955 to offer Australia the use of Butterworth. The base was handed over to the RAAF in 1955 on free loan from the British government although it was not formally operational until 1958. No 2 Airfield Construction Squadron (2ACS) (accompanied by 478 Maintenance Squadron) was deployed that year to refurbish facilities and further prepare the base for jet operations.
It was not until September that the main body of 2ACS arrived and began work in earnest. Working around the threat of attack by Communist Terrorists, by May 1958 the runway, taxiways, fighter and bomber hardstands were all ready for operational use––a month ahead of schedule.
Click HERE to read more on Butterworth.
478 Sqn Radio Section.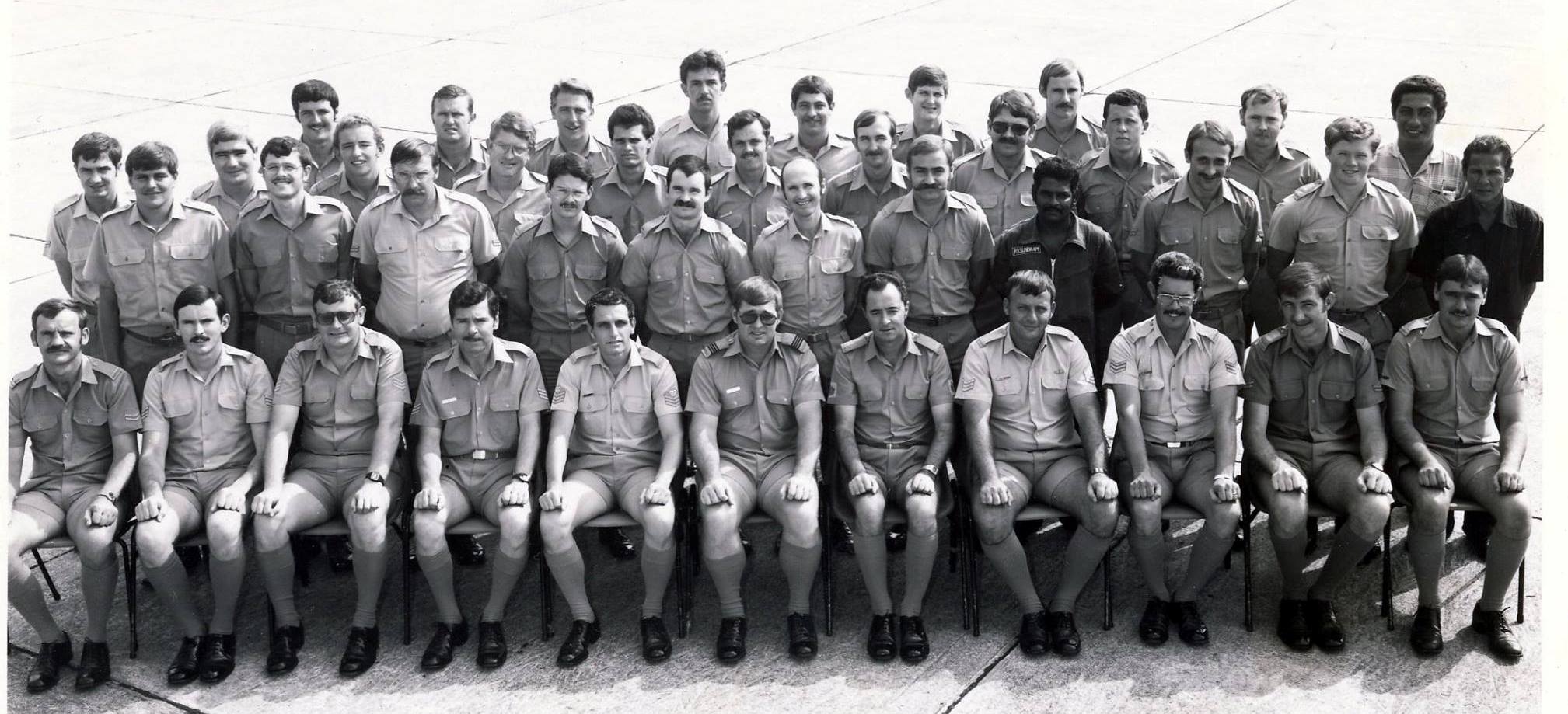 Jerry Hemy, Graham Price and George Kleinig at Daylesford in the summer of 1956, visiting from Ballarat. Daylesford, about 45 klms NE of Ballarat, is a spa town located in the foothills of the Great Dividing Range and is about 115 kilometres north-west of Melbourne.

First established in 1852 as a gold-mining town, today Daylesford has a population of 2,565 as of the 2011 census.
40 Radio Appy Course.
Back Row L-R: K Morris,. S Rockliff, P Murphy, P Johnston, .M Eno.
Middle L-R: D Bown, G Kerkham, J Gardner, C Mason, M Dick.
Seated L-R: Meghan Bender, K Wes ton, S Creanor, B Squires, G Duncan, B Mullin.
Meghan Bender was the RAAF's first female trade apprentice, does anyone know where she is today??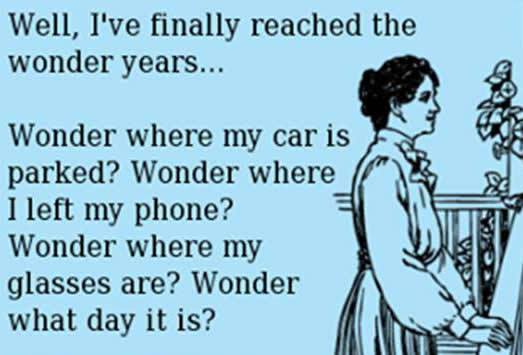 Back Go to page: 1 2 3 4 5 6 7 8 9 10 11 12 13 14 15 16 17 18 19 20 Forward