We would think being in a warship and all alone out in the middle of the ocean would put the men and women who operate the ship in some uncomfortable and scary situations so it's not surprising that the builders very wisely included some super sophisticated equipment to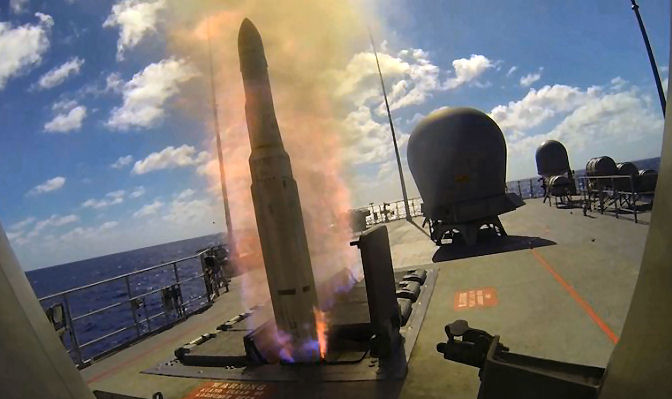 ward off the bad guys. These include an advanced package of air and surface surveillance radars, omni-directional sonar, a mine avoidance sonar and electronic support systems which talk with state-of-the-art black boxes. Knowing who is coming after you is all well and good, but unless you have the facilities to convince them to stay away, your future wouldn't be all that good. Toowoomba, and the rest of her Class, can counter simultaneous threats from aircraft, surface vessels and submarines all at the same time. They are fitted with one 5-inch (127 mm) gun capable of firing 20 rounds per minute, Harpoon anti-ship missiles, ship launched torpedoes and a vertical launch system for the Evolved Sea Sparrow anti-air missile. It also carries the Nulka active missile decoy system, off-board chaff and a torpedo counter-measures system.
Normally the ship carries 22 officers and 141 sailors.
Each ship also carries its own multi-role Sikorsky S-70B-2 Seahawk helicopter for anti-submarine, anti-surface warfare and search and rescue (SAR) capabilities. The Seahawk,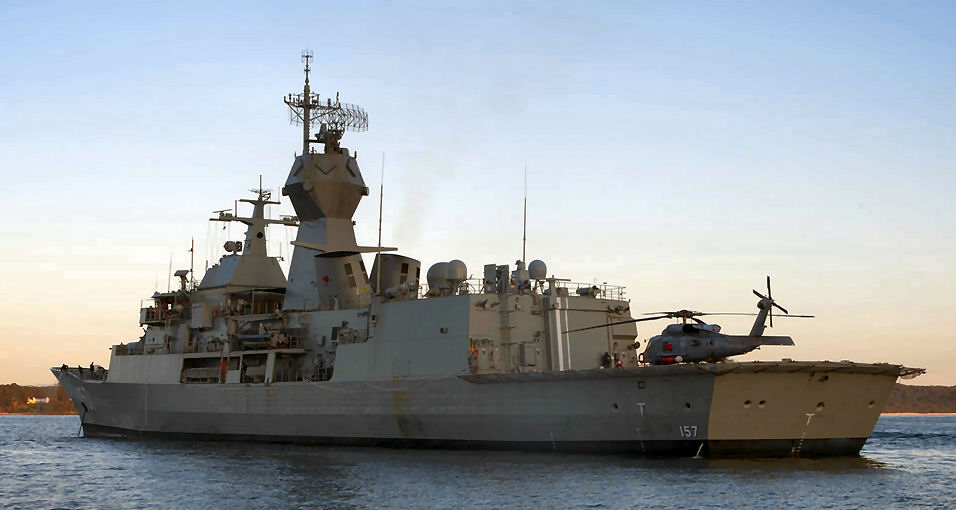 of which the Navy has 16, is a naval version of the Army's Blackhawk and these aircraft have been around since 1988. The Seahawk's main weapon is the Mk46 anti-submarine torpedo. Navy did plan to replace them with the Super Seasprite but that plan was ditched in 2008 after huge tech problems and cost over-runs sent it to the "too hard basket."
The 17-year, fixed-price contract to build these ships, valued at approximately AU$6 billion, was one of the largest and most successful Defence contracts ever awarded in Australia. From March 1996 to June 2006, 10 Anzac Class ships were delivered on time, on budget and to specification.
They are powered by a combined diesel or gas (CODOG) propulsion plant which enables them to sustain speeds of greater than 25 knots and allows an operational range in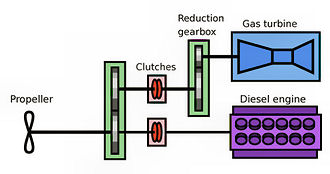 excess of 6,000 nautical miles at 18 knots. The CODOG system works much like a Toyota Prius in that it consists of two separate and different engine systems which can be used independently or together. Toowoomba has two 8,840 hp diesel engines as well as a 30,170 hp gas turbine engine. Normally the ship would run on its diesels, each one driving a variable pitch propeller, but when extra speed is needed, the gas turbine is cranked up and through a system of clutches, can input the extra power needed to propel the ship at the required increased speed.
The Spirit of Tasmania, which is 30,000 tonnes, can easily cruise at 27 knots – oh well!!!
In 2007, Toowoomba was deployed to the Persian Gulf as part of Operation Slipper. In June 2009, she sailed from HMAS Stirling for her second Middle East deployment and in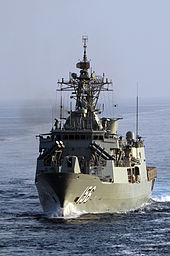 September, was assigned to Combined Task Force 151 (CTF-151). She was the first Australian warship to work with CTF-151, a US-led, multinational force tasked with protecting merchant vessels from pirate attacks off the coast of Somalia.
HMAS Toowoomba is the 58th Australian warship to deploy to the Middle East since the first Gulf War in 1990.
In support of a United Nations Security Council Resolution, she was assigned to escort merchant shipping and conduct patrols in the International Recommended Transit Corridor (IRTC), a shipping lane extending the Gulf of Aden towards the Somali Basin and the Horn of Africa. On the 20th September 2009, she responded to a call for assistance from the merchant vessel BBC Portugal and successfully prevented an act of high-seas piracy. A Japanese P-3 Orion aircraft and a naval helicopter from the German frigate Bremen provided surveillance support while Toowoomba closed in. A boarding party from Toowoomba confiscated several weapons from the attackers before the skiff was directed to leave the IRTC. While in the region, Toowoomba conducted 20 boardings, spending more than 240 hours inspecting dhows transiting the region, which ultimately saw her seize in excess of half-a-billion dollars (Australian) worth of narcotics which would have otherwise funded terrorist operations.
These drugs are put through an on board munching system then dispersed into the prop wake at the back end of the ship where they instantly and harmlessly disperse.
She returned to Stirling in December 2009, having been relieved in the MEAO by her sister ship, HMAS Stuart. The ship and her company were awarded with a "Certificate for Exceptional Services Rendered to Shipping and Mankind" by the International Maritime Organization in November 2009. In early April 2013, Toowoomba operated with the U.S. Navy's Carrier Strike Group Three in the South China Sea then in March 2014, she was pulled from asylum seeker patrols and directed to join the hunt for the missing Malaysia Airlines flight MH370.
On the 4th June, Toowoomba arrived in Brisbane for a week long visit, after another tour of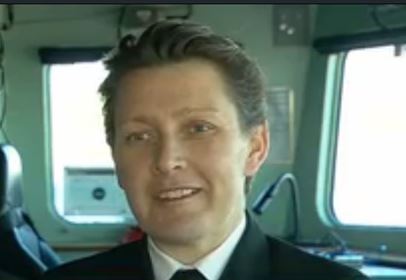 the Middle East. On the 6th June, the ship's crew travelled to Toowoomba for a celebration. The event was a Freedom of Entry ceremony, a custom based in Medieval times bestowing the honour of welcome to a group of armed troops. Cities in those times had to be very careful of allowing large bands of armed men within the city walls after bitter experience showed it was just as likely that the city would be sacked and plundered as protected. Freedom of Entry to a city was a huge honour for a group of armed forces which would otherwise have had to spend the night outside the city walls without access to food, beds or supplies. HMAS Toowoomba's Commanding Officer, Commander Cath Hayes, was issued the "Keys" by Queensland Police Commissioner Ian Stewart before being welcomed into the city.
Commanding Officer Commander Cath Hayes.
Commander Cath Hayes was born and raised in Diamond Creek in Victoria, she joined the Royal Australian Navy in 1992 via the Australian Defence Force Academy where she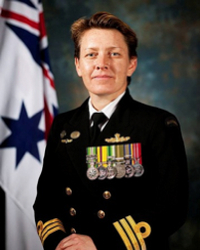 studied for and was awarded a Bachelor of Science majoring in Oceanography. On completion of University studies Midshipman Hayes commenced Seaman Officer training at HMAS Watson, during this time she was promoted to the rank of Sub-Lieutenant.
In 1996 Sub-Lieutenant Hayes was posted to HMAS Darwin where she achieved the award of a Bridge Watch-keeping Certificate in 1997. She was promoted to Lieutenant in January 1998 and completed Minor War Vessel Navigation Course before joining HMAS Geelong as the Navigating Officer in late 1998. After two years as the Navigator of Geelong she undertook a short period as Assistant Principle Warfare Officer in HMAS Arunta before undertaking Principle Warfare Officers Course in 2001.
In 2002, upon graduation from Principle Warfare Officers Course as an Air Warfare specialist, Lieutenant Hayes joined NUSHIP Stuart in the final stages of build at Williamstown Dockyard as the Operations Officer. This posting was interrupted by a short notice posting to HMAS Melbourne for training and deployment to the Arabian Gulf on Operation SLIPPER. Lieutenant Hayes returned from Operation SLIPPER to take up a short posting as the FFG Capability Requirements Manager at the Surface Combatant Group before joining HMAS Sydney in 2003 for a further deployment to the Arabian Gulf on Operations SLIPPER and FALCONER.
Lieutenant Hayes joined HMAS Kanimbla in January 2004 as the Operations Officer and was selected for promotion to Lieutenant Commander in December 2004. Following the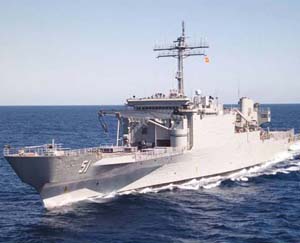 2004 Boxing Day Tsunami she deployed in Kanimbla to Sumatra as part of Operation SUMATRA ASSIST, to provide humanitarian assistance in Banda Aceh and later to provide humanitarian assistance to Nias Island following a subsequent earthquake. Lieutenant Hayes received a Deputy Commander of Joint Operations Commendation for her work as the Operations Officer of Kanimbla during Operation SUMATRA ASSIST.
Lieutenant Commander Hayes assumed Command of Armidale Class Patrol Boat Crew ATTACK FIVE in March 2006. In April 2006 she briefly deployed with the ground forces to the Solomon Islands as the Maritime Liaison Officer for Operation ANODE II, before rejoining her Crew. In June 2006, she was promoted to command HMAS Armidale and during her subsequent 18 month in Command conducted patrols in support of Operation RESOLUTE in HMA Ships Armidale, Bathurst, Albany and Ararat.
She was awarded the Peter Mitchell Prize as the most outstanding officer in the RAN for 2007.
In 2008 she joined the Joint Amphibious Capability Implementation Team which is coordinating the introduction into service of the Australian Defence Forces new amphibious capability. After completing Staff College in 2009 she was posted to the position of Staff Officer to the Vice Chief of the Defence Force and was subsequently promoted to Commander in January 2011 and was posted as the Deputy Director Surface and Air Warfare in Navy Strategic Command. In this position she was responsible for developing capability needs for Navy's future Surface and Air Warfare and Afloat Support capability replacement programs and was the lead negotiator and planner for the deployment of Spanish Armada Ship SPS Cantabria to Australia in 2013.
Toowoomba left Brisbane on the morning of the 10th June and will probably reach HMAS Stirling in about 10 days where she will be tied up for a while undergoing repairs and an equipment upgrade. A skeleton crew will remain with the ship but most will be posted off to different ships or other shore stations. Commander Hayes assumed her current post as the Commanding Officer of HMAS Toowoomba on the 19th July 2013 and upon reaching Perth, she too will be leaving Toowoomba for a different command.
As Toowoomba had a brief stay in Brisbane, we thought it would be an ideal opportunity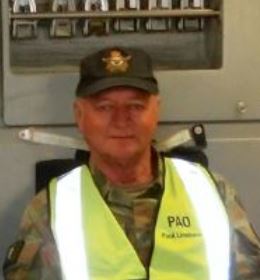 to have a look over the ship and let you know what it is like. Once again, we contacted the very helpful MediaOps in Canberra who put us in touch with Paul Lineham who is the ADF's Regional Manager Public Affairs for Southern Queensland and Paul made it happen.
Early Wednesday morning 10 June, at the un-Godly hour of 7.00am, John Griffiths and I were met at the gate to Hamilton Wharf's Pier 4 by Lieutenant Commander Ed Ellison (that's Sqn Ldr in the real money) who is the XO (2IC) on HMAS Toowoomba.
The blonde said "I always leave an empty milk carton in the refrigerator
just in case some one wants black coffee".
After a brief check-in at the "guard room" we boarded the ship via the gang way at the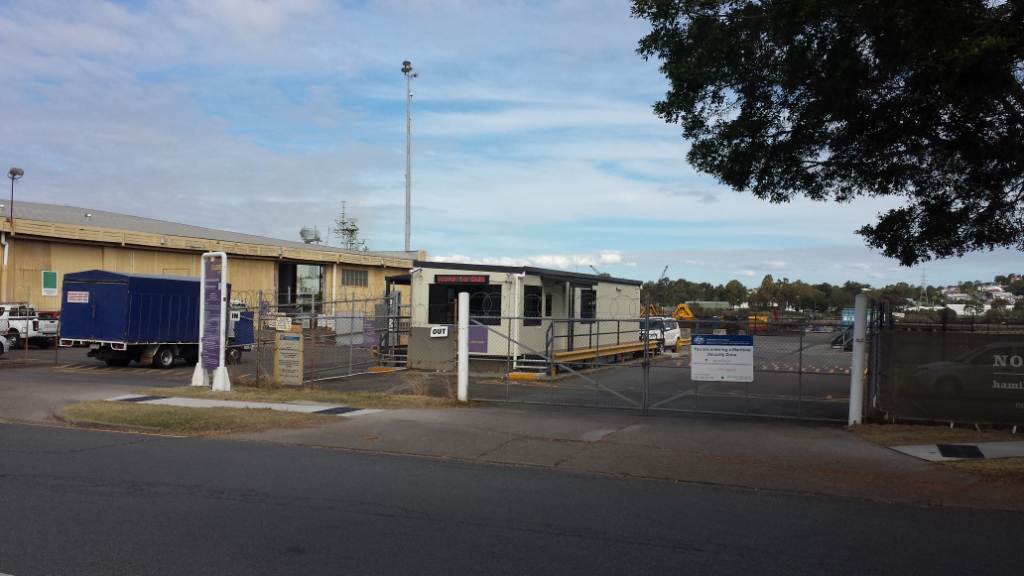 "back end" and surrendered our licences in return for a visitor's pass. We were then shown below decks, via some pretty steep stairs, to the Seaman's Mess, which they call the Galley where a very generous breakfast was being served and to which we were invited to partake.
You hear lots of stories about military food, the RAAF was always thought to have the best, but we don't think that is the case anymore.
Today, possibly because of economies of scale, both the RAAF and the Army are fed by contractors and although they do provide healthy and nutritious meals for the troops, at the back of their minds these companies have to be thinking about profits and the best way to maximise profits is to minimise costs. On this ship, the catering people, cooks and the stewards are all Navy - and it shows. We lined up with the rest of the ship's crew and although there was an excellent choice displayed in the Bain Marie, we were surprisingly asked "what sort of eggs would you like" – and when you voice your choice, Corey Lewis, the ship's cook, goes over to the stove and prepares your breakfast for you, just how you wanted it – just like they used to do at Brookvale all those years ago, in another Air Force.