Vietnam Tour.
Rod Richardson wrote, "Trade Travel are major group travel specialists and are delighted to attach their exclusive Vietnam Highlights Tour including a commemorative visit to the "Battle of Long Tan" Memorial Site in its 50th Anniversary Year. The tour, which will be held over the period 16 Days 8-23rd April 2016, is essentially an exclusive highlights/sightseeing tour through Vietnam (from the North through to the South) including all the Vietnam Highlights with one full day dedicated to visiting the Long Tan area and memorial site during its milestone 50
year anniversary year.
The special tour will be hosted ex-Brisbane by Graham Smith from the Sixth Battalion Association and a Veteran of Long Tan itself and includes return flight with Singapore Airline (ex-East Coast Capitals), 4 star accommodation throughout, most meals, all sightseeing and entries, English speaking guide, local gratuities and much more. The tour represents excellent value at $3,997.00 per person twin share.
If I could ask you to please let your membership know about this tour and generally promote it amongst Veterans, the various Association, RSL Sub-branch members, their family and friends it would be much appreciated. If you need any assistance, flyers and/or hardcopies of the itinerary itself please don't hesitate to contact me direct.
April 2016 will be here before we know it so if there is genuine interest among your members I'd encourage them to register their interest early to avoid possible disappointment in the event that it books out.
If you have any queries or you require any additional information please don't hesitate to contact me direct.
Rod Richardson <rod@tradetravel.com>
Multicultural Group.
Vic Stallan wrote: "When I retired from paid work in 1993 (aged 60 ) I became firstly a voluntary literacy tutor to adult Aussies then an ESL tutor to migrants at the Alex. Hills TAFE in the Redlands (Brisbane). I continued in this voluntary occupation until 2000.
Since then I have been involved with a Multicultural Group which meets every Thursday at the TAFE or at other venues organized by the woman from Iran, shown in the photo.
Last Thursday we enjoyed a lunch of Malaysian and Burmese foods.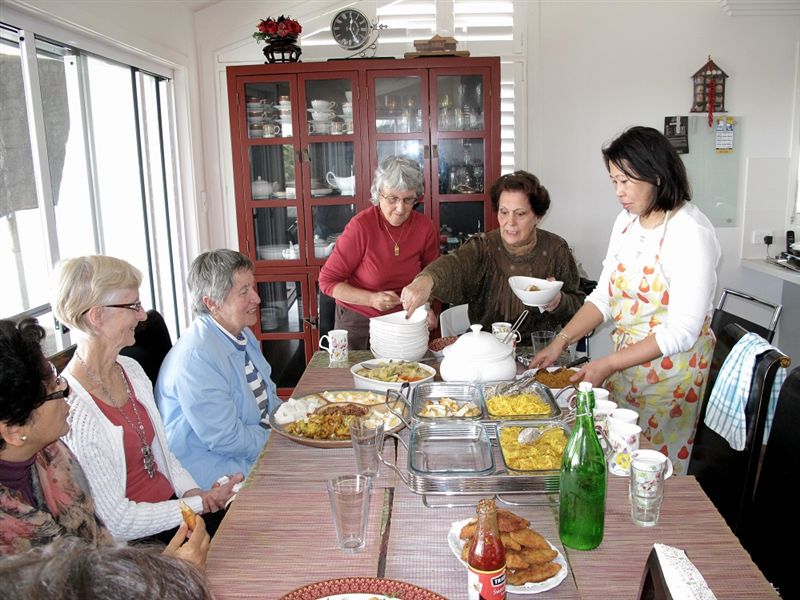 Some of the food set out at our multi-cultural lunch at the Malaysian woman's home..
I often help them with pronunciation, explanations and other relevant aids to improving their English. Lately I have been copying their VHS home movies (some dating back to 1989) to DVDs.
Mixing with these people who, with one exception, are much younger than I, keeps me feeling young".